PORTLAND, Ind. (WTHR) — There is new light in a dark mystery that has haunted the Jay County city of Portland for as long as people can remember.
Sixty-nine years ago this month, school teacher Garnet Ginn was found dead in a garage she rented just half a block from the police station.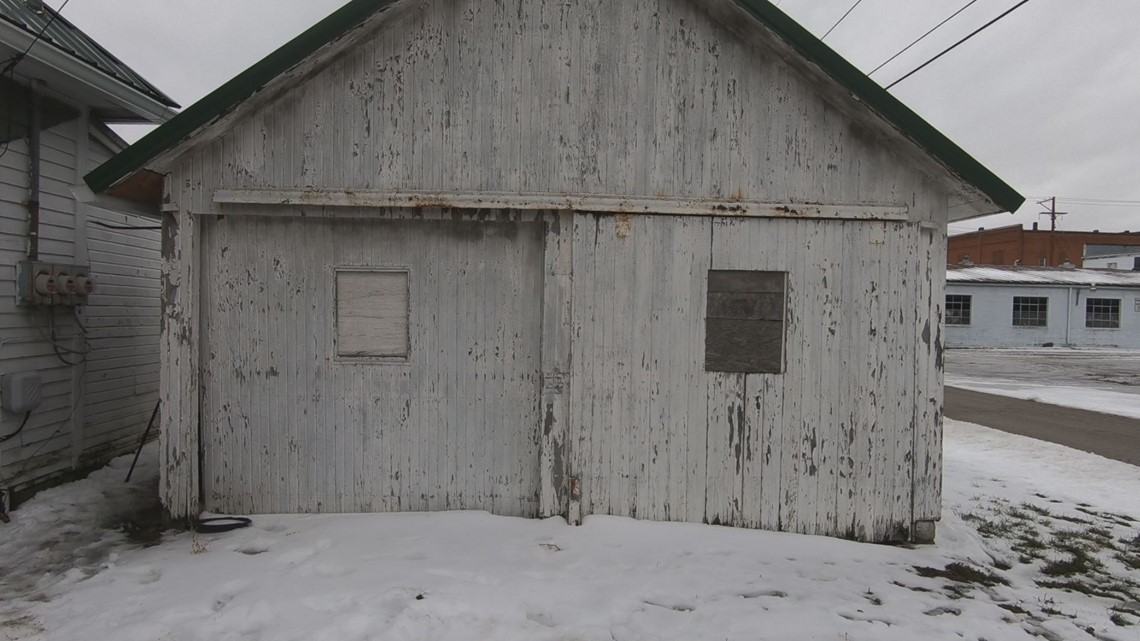 After all these years, detectives have a new lead they believe puts them closer to finding a killer.
"It's our biggest cold case and there's still a lot of interest," said Police Chief Nathan Springer.
He and investigator Todd Wickey are putting new heat on the oldest and coldest cases. They took us along on their first trip into the 69-year-old crime scene.
"The car was right over there," Wickey said as he pointed to a pile of debris.
The 1949 Pontiac belonged to Garnet Ginn. In 1950, she was found dead hanging from a sewing machine belt tied to a door handle.
"There it is," he said as he focused his camera on a broken wall support that appeared in a death scene photograph. He believes it may have snapped in a life and death struggle.
Up above he pointed to old wooden planks, resting on the ceiling joists. They fit a description in a new tip recently given to police.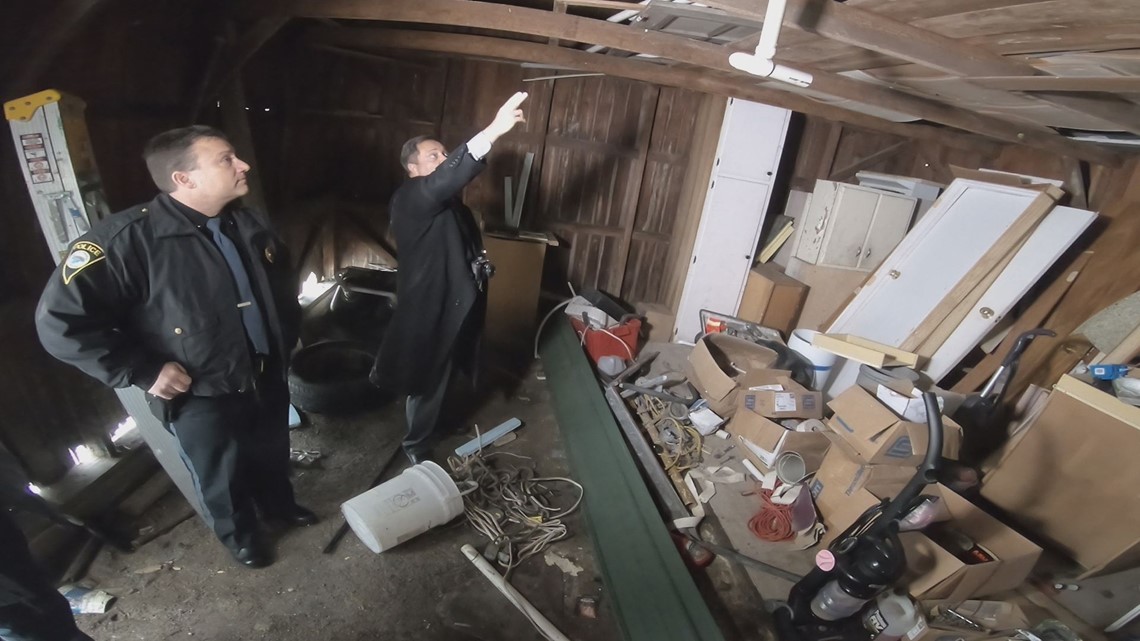 "He would have been up there waiting and as soon as the car stopped, boom!" That was how Wickey described a death that would make headlines, stymie police and stir up controversy for decades.
To this day, "I can understand why people might be scared, concerned," said Chief Springer.
Chief Springer grew up hearing the stories of Ginn, a home economics teacher, at Portland High School, single and dead at the age of 33.
"First it was a suicide. Then it was murder then it was suicide again," he explained.
According newspapers, police immediately assumed suicide. The body was removed before the coroner arrived. But according to the death certificate, it was ruled death by strangulation.
"She was happy. She was working on her master's degree," said former newspaper reporter Chris Kennedy.
As a Portland native, Kennedy spent decades researching Ginn's death.
"There was kind of a stigma to it that there had been a big cover up taken place," said Kennedy.
According to newspaper reports scoured by Kennedy and others, Ginn was a successful, well-liked teacher, excited about living on her own and proud of her nearly new car.
She was last seen alive leaving at a sorority meeting at the local country club. Ginn's friends told reporters she had $40 (a lot of money in 1950) and offered to buy everyone soft drinks when she left the meeting.
Ginn was found the next morning by the school superintendent who was checking to see why she wasn't at work.
"Her wallet was gone, driver's license was gone.. clearly foul play," said Kennedy.
Weeks later, Ginn's family had her body exhumed. An autopsy found she was beaten, most likely knocked unconscious by seven blows to her head.
On the death certificate, the word "homicide" faintly appears above "unknown" as a manner of death.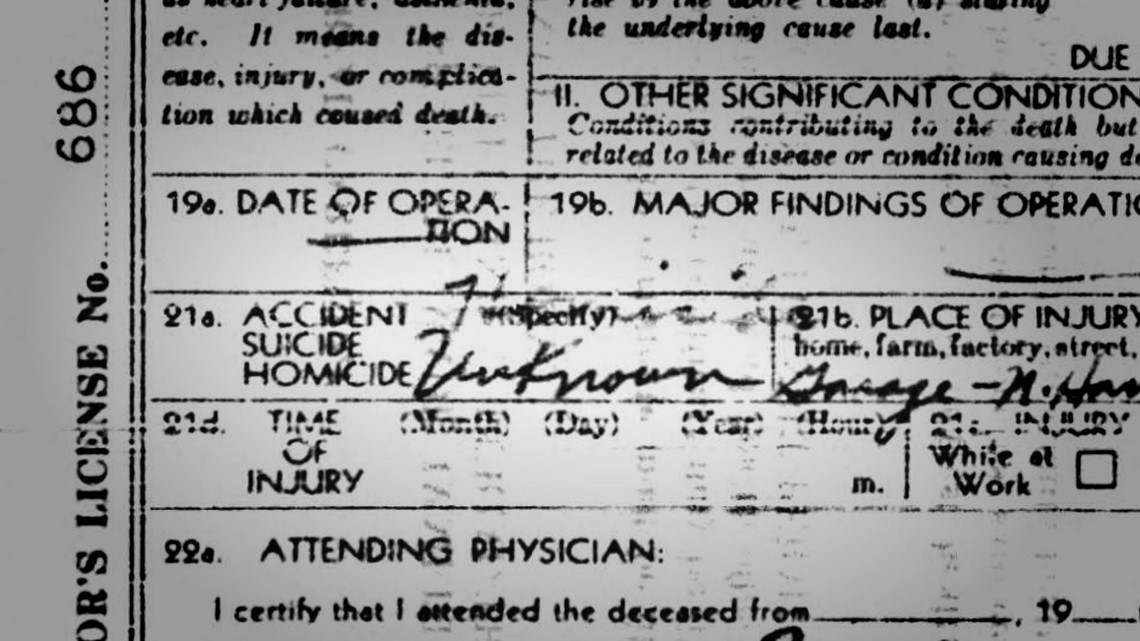 "She was ambushed and she was strangled and killed, and the suicide was staged by the killer," said Wickey.
Local and state police launched a belated death investigation. By then, gawkers had trampled though what was to become a crime scene.
Based on newspaper accounts, it appears as if the car and other evidence were not safely secured nor handled properly.
And in 1950 police training, procedures, evidence handling and forensic sciences were nothing close to what they are today.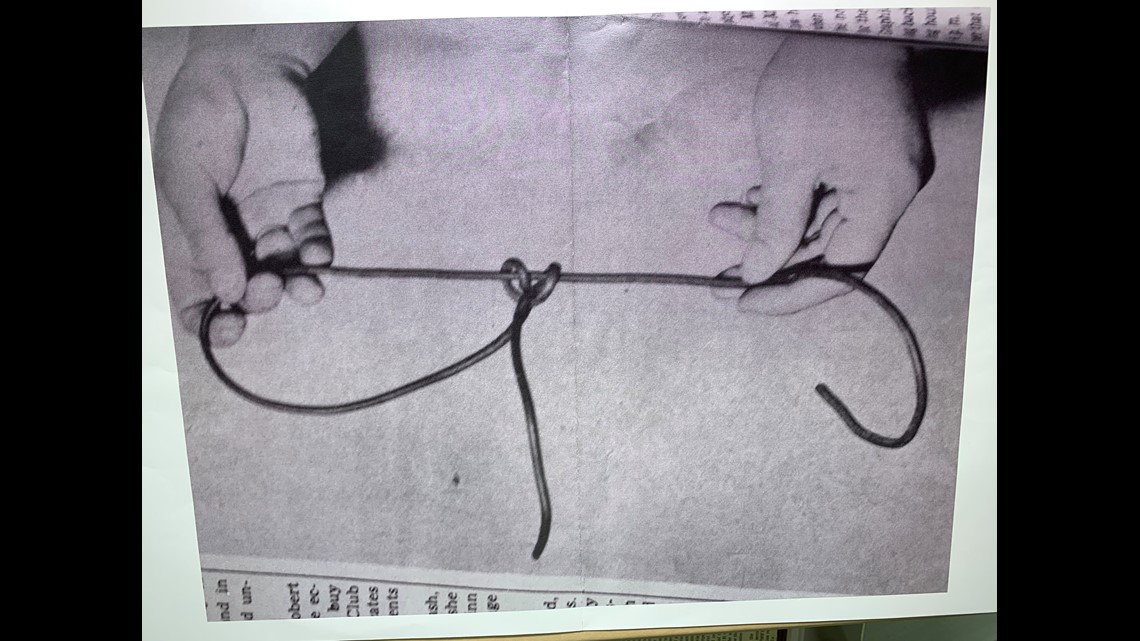 The Jay County Historical Society preserved boxes of newspaper clippings. One shows state police examining Ginn's torn jacket and soiled gloves. Another one has a picture of the sewing machine belt.
According to one article, investigators had a couple of unnamed suspect and found blood on Ginn's car. There were probably finger prints and important clues that didn't make the papers.
Unfortunately, today's investigators are building their case on faded articles and memories because there is no physical evidence of the horror that occurred in this garage almost 70 years ago. It all seems to have disappeared.
Nothing in notes, autopsy report, blood samples, coat, gloves or crime scene photos — until now.
Police recently received information indicating they may have been looking in the wrong places for that critical evidence. New searches are now underway.
"If we have evidence, our forensics are so much better, maybe we can find DNA to help solve this," said Chief Springer.
Police participated in public meetings and a radio call-in show asking for help solving the unsolved murder.
The tactic worked. A woman who apparently kept silent for most of her life contacted police. She knew Ginn and provided details about the actual crime scene and a possible killer.
"I do have a person of interest, and I've researched that individual," said Wickey.
The man who is now deceased but the investigator believes he knew Ginn.
"Something went wrong between the two of them," he said. "This person was lying in wait. That's the information I've gotten that person was waiting on her in that garage."
Over the years, people looking to solve the murder have been threatened.
Chief Springer has heard them. "Telling them, you better stop if you know what's good for you," he said. "Little comments like that coming in."
As a newspaper reporter, Kennedy got the same message. "I was definitely threatened with my job," she explained.
Solving the deadly mystery would give Portland the answers it's wanted for decades and perhaps clear the names of those rumored to be connected to the killing.
[view:swiper_image_slideshow=panel_pane_swiper_image_slideshow=1985898/showcaptions/loopslides]
"Some of those people that's lived with people talking behind their backs for many years," said Chief Springer.
Newspapers had a field day reporting the crime and mishandled investigation. They offered rewards for information. One paper had a female employee re-enact Ginn's death. She posed for a photo with a noose around her neck and tied to a car door handle.
Kennedy wants a young woman's dignity and reputation restored.
"She was an unassuming quiet woman who did her job and she died and she became a focus of such a scandal and sensationalism," she said.
And for friends and relatives a loved one they laid to rest, could finally rest in peace.