COVINGTON, Ind. — A western Indiana family is heartbroken after losing their teenage son to suicide.
The family of Terry Badger III said he took his own life last week after being repeatedly bullied at Covington Middle School where he was a 7th grader.
Now, these parents are hoping a bill in the state legislature could spare other families the same kind of tragedy.
Robyn and Terry Badger sit wrapped in overwhelming grief.
"I'm sorry," says Terry Badger, sobbing quietly, taking a moment to gather himself and wipe tears from his eyes.
The Badgers' sadness covers them like the quilt sitting on their lap, made from the sports jerseys their 13-year-old son Terry wore since he was 4 years old.
"His drive was to be an MLB player," said Robyn, explaining how young Terry would practice throwing a baseball any chance he could get.

The 7th grader's dreams of making it to the major leagues, though, are never going to become reality. Robyn and Terry buried their youngest child Monday after he took his own life a week ago, leaving behind a video telling them why.
"His exact words were, 'They made fun of me every (expletive) day and I hate my (expletive) life. I'm going to kill myself,'" Robyn recalled of some of her son's final words.
"It wasn't like him to cuss," said the elder Terry, explaining that his son got bullied by classmates because of his clothes and his sneakers.
"They asked him if he shopped at Goodwill," Terry said, adding that his daughter bought her little brother a pair of Nike Air Max shoes for Christmas.
"He wore them to school one time and then put them in his closet because he said kids made fun of him and he would never wear them again," said Terry, also recalling the time his son insisted his dad re-cut his hair after kids at school made fun of his new haircut.
"He said, 'Dad, I'm not going back to school. I'm not going to get made fun of anymore,'" Terry explained, saying classmates also picked on his son about his weight.
"There was a kid that told him he was fat and he just needed to go shoot himself," said Terry.

The Badgers say they reported the bullying to the administration at Covington Middle School this past November.
"I basically told them that my kid is very, very upset to the point where he doesn't want to come back to this school," said Terry.
"I was never contacted about anything that went on, what was said to anybody or if anything was done at all," he added.

The Badgers say Terry never said anything after that about any issues he may have continued to have.
"The first question we would ask was, 'How was your day at school?'" Terry recalled asking his son every day when they picked him up from school.
He said Terry always told him, "It was OK, dad."
"He kept a smile on his face," said Robyn.
"He had a good poker face. He kept everything in. That's just him. He carried the weight on his shoulders," she added.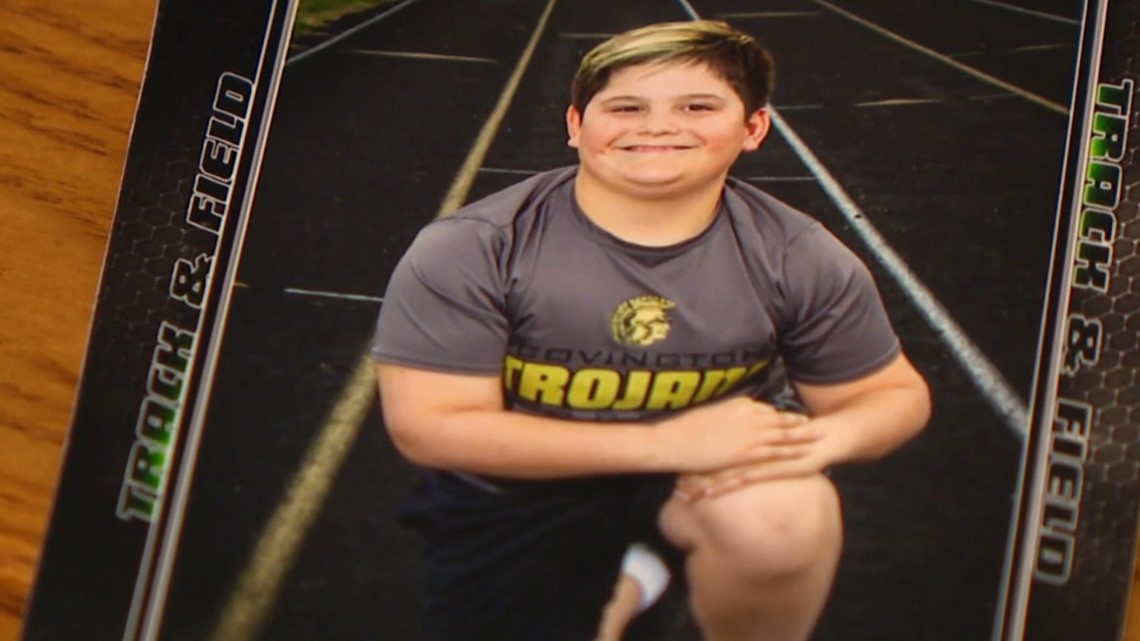 Finally, though, say the Badgers, young Terry couldn't carry that weight anymore and broke under it last week.
"We need to go back to the fundamentals. The fundamentals of life and just be respectful and love each other," said Terry, crying.
The Badgers are turning to their community and lawmakers, asking them to do something to stop this from happening to another child and family.
"Do we want to keep experiencing this with kids? I mean, we don't need to put any more kids in the ground," Terry added.
The Badgers think a proposed bill that's already passed out of the House in the Indiana General Assembly could have saved their son's life.
House Bill 1483 would require schools to investigate and report allegations of bullying to the parents of the alleged victim and bully. And if the allegations turn out to be true and were severe enough, the victim could change schools. If they didn't want to, the bully would be required to leave and go to another school.
"That's amazing," said Terry as he continued to cry.
"It needs to happen. No kid deserves this," he said.

The bill's author, Democratic Rep. Vernon Smith, said he wrote the bill after hearing from the kids he mentors about how their schools weren't doing enough to address bullying.
HB 1483 is in the hands of the Senate's Education and Career Development Committee but so far, it's not been scheduled for a hearing.
13News reached out to The Covington Community School Corporation for comment. Superintendent Brady Scott sent us the following statement:
"We have great compassion for this family as they deal with such a tragedy. We are responding to their allegations by bringing in an independent investigator. Once the investigation is complete, we will certainly share those results to the degree that we can while still protecting the privacy of those involved."