NDIANAPOLIS (WTHR) — A place to belong. We all want that, and now, women in Indianapolis finally have that place. It's a place for women that have been left feeling empty and worthless after getting paid for sex. But they're beginning to feel whole again thanks to one woman who knows the struggle firsthand.

"From the moment we opened our doors, it's just been on," said Stefanie Jeffers.

Laughter and light fills the Dream House.

"It has just been beautiful every day," Jeffers said.

In a matter of months, 859 North Parker Avenue blossomed into something beautiful. We first showed you what this place looked like back in October of 2018.
"This place is me," said Jeffers. "This place is every woman who enters because you saw it before. It was such a mess, and it was so broke and discarded. It was just rubble."
The Dream House opened its doors in January of 2019. That's when Stefanie Jeffers' dream came true. She built a safe place where women wrapped up in prostitution can turn to for help.
Jeffers added, "Look what can happen when you say this is worth it, and I'm going to put in the effort. And I'm going to put in the love and finances and the sweat and the blood and the tears and the prayer and the community and all of the people who have come alongside this dream. When you do those things, look what God can do."
Seven women walked through this door on day one. One of them was Gloria.
"I wanted help," she said.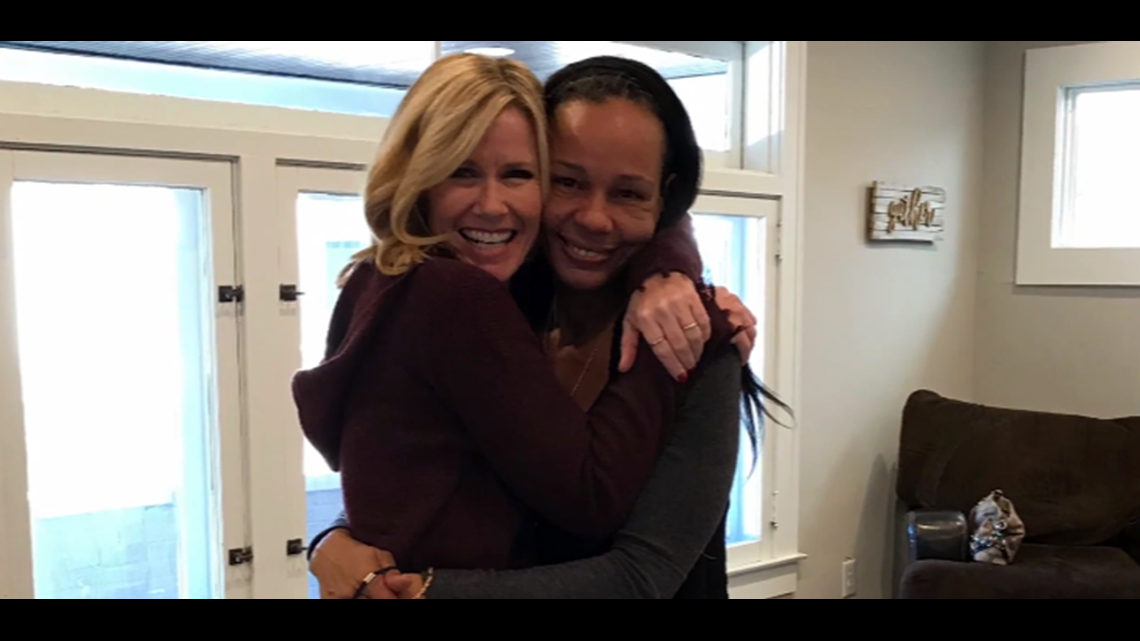 Gloria turned to Stefanie knowing she had turned her life around. They knew each other because they used to strip in the same club together. For Gloria, it started decades ago when she was just 15 years old. She says she's tried other programs, but nothing really worked until this place and these women.
"How has it helped me?" asked Gloria. "It's done more than anything has in my life. I mean, I'm already off drugs and alcohol ... clean and sober. My relationship with God is growing. I have a real job. I can feel again. I can trust."
She now has enough trust to step into the light.
"I was very aware of how much light is in the house, and it was not the lights in the house," said Dream House Case Manager Christie Cox. "Just so full of warmth and laughter. Something that transcends the people."
Dream House Case Manager Laura Coonrod added, "... Light is exposing, so I think some of these women exposure means different things for them. I think to come into a place that is full of light where light brings exposure, but it's in a really good way, and it's in a safe way, and it doesn't matter what is exposed because whatever is exposed is okay here."
Coonrod and Cox said all they do is show up for these women. But they really do much more than that. They serve the women lunch. They play games. They listen, and they don't judge. So far, about 30 women have come to the Dream House craving this escape.
"They want nothing from me," Gloria said. "I don't have to pay to come here. I don't have to do anything. All I have to do is show up. Do you know what that's like? I've never experienced that. Just me not what I can offer. Not what I can do for you. Just me. That's a frickin awesome feeling."
And Jeffers feels like her dream isn't the only one that will come true here on North Parker Avenue.
"It's been so incredible to see women begin to strive for something," she said. "To go for scholarships for college, to set dates to walk out of the industry, to setting goals and seeing them come true. It has been amazing to see lives begin to change."
The Dream House is open three days a week: Tuesday, Wednesday and Friday. They serve lunch at 11 a.m. On Tuesdays and Fridays, they offer classes where the women learn about identity and building healthy relationships. They're also encouraged to keep track of their feelings in personal journals.