INDIANAPOLIS (WTHR) - Mayor Bill Hudnut stood out among mayors, and not only because he was 6'5" tall.
Mayor Joe Hogsett laid a wreath at the statue of the city's longest-serving mayor at Hudnut Commons downtown Sunday afternoon.
Edward O. Frantz, director of the Institute for Civic Leadership and Mayoral Archives at University of Indianapolis, says, "You really could say he was Indy's FDR. Four terms, the length of the service. And if you had grown up in the city when I was born he was the only mayor you would remember til you graduated from high school. So really for so many people he was THE mayor."
Mayor Hudnut, who followed Republican Richard Lugar, not only built on Lugar's momentum but built his own legacy, constructing the Hoosier Dome even before luring the Colts to town - a gutsy gamble. Winning the Pan Am Games in 1987 helped cement Indy's image as the world's amateur sports capital. The convention center, Union Station and the new zoo all followed.
"It's clear he sometimes described himself as the city's cheerleader. He felt it was his role to go out and boost morale both within the community and then go out really around the world talking about Indianapolis," Frantz said. "He certainly wasn't a shrinking violet. Loved to ham it up."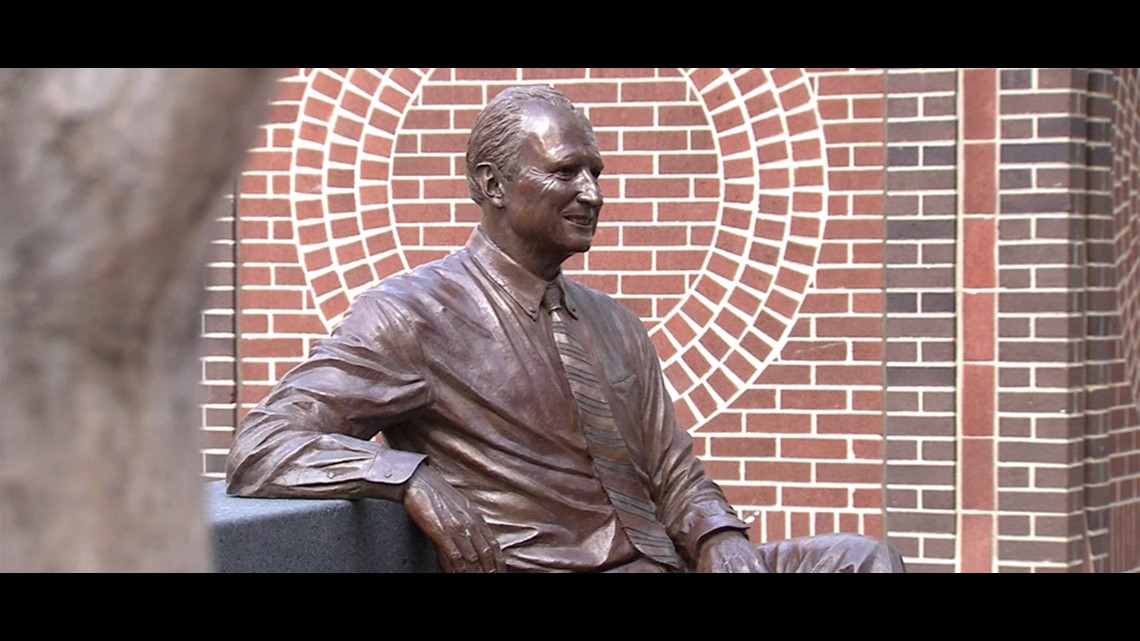 "He did a great job for our city," said Janice McHenry, now a Republican City-County Councilor. He was the first mayor that I ever voted for."
"He was a transformative figure for our city," added Mayor Hogsett,
Mayor Hogsett ran against Bill Hudnut for secretary of state in 1990. Hogsett won, but called Hudnut one the most powerful Indiana politicians of his generation.
Looking at the Hudnut statue on Hudnut Commons, Mayor Hogsett said, "The statue itself captures the spirit. With a great smile for the great presence, and energy that he possessed....It was a transformation that we all now benefit from."
Mayor Hudnut's family first announced his death Sunday morning in a statement, which is copied below in its entirety:
The family of William H. Hudnut III today announced his death in Maryland, following a lengthy illness. Services are being planned for the former Indianapolis Mayor and former senior pastor at Second Presbyterian Church in Indianapolis. Hudnut was 84.
"On behalf of our family, I would like to thank everyone for their outpouring of love and support during this difficult time. It was a real gift to Bill that he had an opportunity to hear how much he meant to family, friends, colleagues, and neighbors—and to the communities he served—through your notes, cards, letters, personal visits, and comments on his CaringBridge posts," said his wife, Beverly Hudnut.
"So many wonderful people helped us in so many ways these past couple of years— and we will be eternally grateful. In particular, I would like to thank our employers for their steadfast support in recent months. That includes Georgetown University and Bose Public Affairs Group (where Bill worked) and the Campaign Legal Center (my previous employer) and the Bipartisan Policy Center where I now work.
"Our family is very grateful for the organizational support and longtime friendship of former colleagues John Ryan, Lesa Dietrick, and Dave Arland, as we finalize details for two public memorial services. One will be in Washington, D.C. and the other will be in Indianapolis," said Beverly Hudnut.
"My husband Bill loved writing updates for his CaringBridge website, under the site name 'Mayor Bill Hudnut.' He developed themes for his posts about, among other things, the importance of perseverance, the tender love of pets, and reflections about his time as Indianapolis Mayor and other life-changing moments. It meant a lot to him that readers found his words inspiring and wise.
"In September 2016, Bill finished My Valediction Prohibiting Mourning and he asked me to post his intended final reflections upon his death."
Biography of William H. Hudnut III
A Princeton University and Union Theological Seminary graduate, former pastor in Indianapolis, Buffalo, and Annapolis, and Congressman representing Indianapolis, Hudnut was also the longest serving Mayor of Indianapolis. A third generation Presbyterian minister, he came to Second Presbyterian Church in Indianapolis in 1963. In 1972, he was elected to represent the people of Indianapolis in Congress where he sponsored 17 bills that became law.
After winning his first Mayoral bid in 1975, Hudnut was sworn in on January 1, 1976 and was re-elected three times. During his 16 years as the City's chief executive, dozens of major building projects were completed downtown, including the expansion of the Indiana Convention Center. In 2014, a larger-than-life-size statue of "Mayor Bill" was dedicated in his honor near the Convention Center.
During the Hudnut years, more than $4 billion was committed to downtown Indianapolis redevelopment. Hudnut oversaw the effort to bring Colts professional football to Indianapolis, following the construction of a domed stadium. During Hudnut's time as Mayor, Indianapolis hosted the 1987 Pan American games, created the Indiana Sports Corporation, and made major investments to burnish the city's image as an amateur sports capital. Mayor Hudnut was honored as the "Nation's Outstanding Mayor of 1988" by City and State magazine, named "Man of the Year" by The Indianapolis Star in 1979, and awarded Princeton University's highest alumni honor, The Woodrow Wilson Award for Public Service, in 1986. Hudnut was a past president of the National League of Cities and the Indiana Association of Cities and Towns.
"The vision I have for Indianapolis is a city that is both economically competitive and compassionate toward urban and human problems," Hudnut said during his last term as Indianapolis Mayor. "To make the City more livable involves more than just creating beautiful spaces and buildings. It's more than a solid economic foundation, and more than good jobs. It's embracing future change. It's dealing with tough human issues that touch the compassionate side in all of us. It's a good future for our kids."
After leaving office in Indianapolis, Hudnut relocated to Chicago and then the Washington, D.C. area. He later was elected to the Town Council of the Town of Chevy Chase, Maryland and also served as Mayor of the town of Chevy Chase.. Hudnut wrote five books on leadership and urban planning. Most recently he was Senior Fellow Emeritus at the Washington-based Urban Land Institute, Advisor to the Senior Vice President and Chief Operating Officer at Georgetown University, and Senior Policy Advisory for Bose Public Affairs Group. Hudnut was also recognized with 13 honorary degrees in his lifetime.
Hudnut is survived by wife Beverly and four children. Hudnut had seven children: Michael (deceased), Laura (deceased), Timothy, William Theodore, George (deceased), and Christopher.
My Valediction Forbidding Mourning
One cannot choose how one finishes the race, only how one runs it. I would not have chosen a long, slow slide into complete heart failure, but I tried to cope with it with "gaiety, courage and a quiet mind," to borrow from my mother who in turn was quoting Robert Louis Stevenson.
It has often been remarked that life is a journey, not a destination. About the destination, "I believe, Lord, help thou mine unbelief." I leave this earthly life at peace, with faith and trust in a future that will carry me beyond the bourne of space and time, but also with wariness of plotting the furniture of heaven or the temperature of hell. There is much I cannot fathom about the afterlife. Will there be recognition? What part of me, if any, survives? Forever, or just until I am forgotten? A little reverent agnosticism seems to be in order, because "now we see through a glass darkly." More positively, "we walk by faith and not by sight."
About the journey, it's been a wonderful trip. As I have said many times, I hope my epitaph will read: "He built well and he cared about people."
I have tried to lead a useful life. Of course, I've made mistakes. I've displayed some real shortcomings and caused some hurts along the way. I'm sorry. But overall, I look back with gratitude. I have been blessed in so many ways—by my loving wife Beverly for more than a quarter century; by my chances to move from a one-room schoolhouse in the cornfields of Illinois to graduate school in New York City; by living in America, and spending most of my professional career in Indianapolis; by having a beautiful cottage in the serenity of the Adirondack mountains; by manifold opportunities to lead a life of service and usefulness, as mayor, congressman, Presbyterian clergyman, academic, think tank fellow; and by the people in my life like doctors, staff, academics, co-workers, (certain!) media types, political allies (and adversaries!), church members, fellow citizens who have worked with me and wished me well across the years. There's no such thing as a self-made man or woman. We're all indebted to others, a point I always tried to make whenever some thoughtful recognition like Hudnut Commons would come my way.
In my last years, I have become deeply aware of the love from family and friends and well-wishers with which I have been surrounded. Starting with my wife Beverly, I think about my children, grandchildren and great grandchildren. Also, I think about my cousins (ranging from 90 down to infancy), my parents and siblings and other relatives in our family circle. I cherish the affection and support of friends too numerous to count. I have appreciated the posts on the CaringBridge website expressing appreciation, encouragement, and loving concern. I can't be sure, but it seems as though great love must endure. I depart this life believing with St. Paul (I Cor. 13): "Love can outlast anything; it still stands when all else has fallen."
As Cardinal John Henry Newman wrote, "O Lord, support us all the day long, till the shadows lengthen, and the evening comes, and the busy world is hushed, and the fever of life is over, and our work is done, and then in Thy great mercy, grant us a safe lodging, a holy rest, and peace at the last. Amen."