CONNERSVILLE, Ind. (WTHR) — An honor student. A talented artist. A budding scientist. At 18 years old, Denise Pflum had a bright future until March 28, 1986, when she would vanish without a trace.
"It was Good Friday. A beautiful Good Friday weather-wise," her father, David Pflum, recalls.
But it would turn into the worst Friday for the Connersville family.
Now, 32 years later, there are still no answers as to what happened that day, whether she is alive, or where she is now.
"It is a terrible thing to simply say your daughter is missing without having any concrete knowledge as to whether she is missing or whether she is dead," David explained.
That has been the struggle for the Pflum family for more than three decades.
It started with a gathering the night before. Denise would forget her purse. The following day she would tell family and friends her plans to go out looking for it. It would be the last time anyone would hear from her.
"We do not believe that she ever went back to that to that area – something or some person interrupted that opportunity to do that," David believes. "We knew right away that something was wrong because she had never been out without our knowledge about where she was going to be. When the time unfolded into the next day and the subsequent next days then we knew we really had a problem and the problem has continued on now for 32 years."
The Pflum family has been desperate for answers ever since.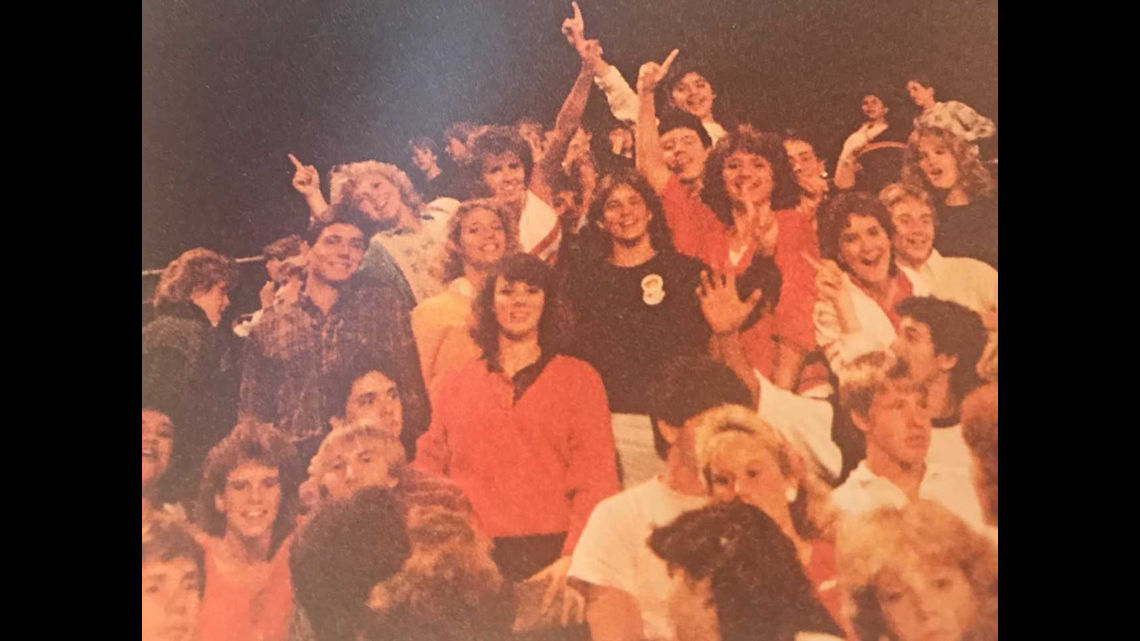 "This is my favorite picture of her. It's just a crowd picture," her mother, Judy Pflum, said while flipping through Denise's yearbook and stopping on a page of her at a football game.
Pictures and memories are all they have.
"She achieved a lot in her 18 years," Judy said.
Active in four sports — track, volleyball, basketball, and softball — along with 4-H, she also ranked in the top of her class. Denise had plans to go to Miami University in Ohio and major in microbiology, but her bright future would never get a chance to fully shine.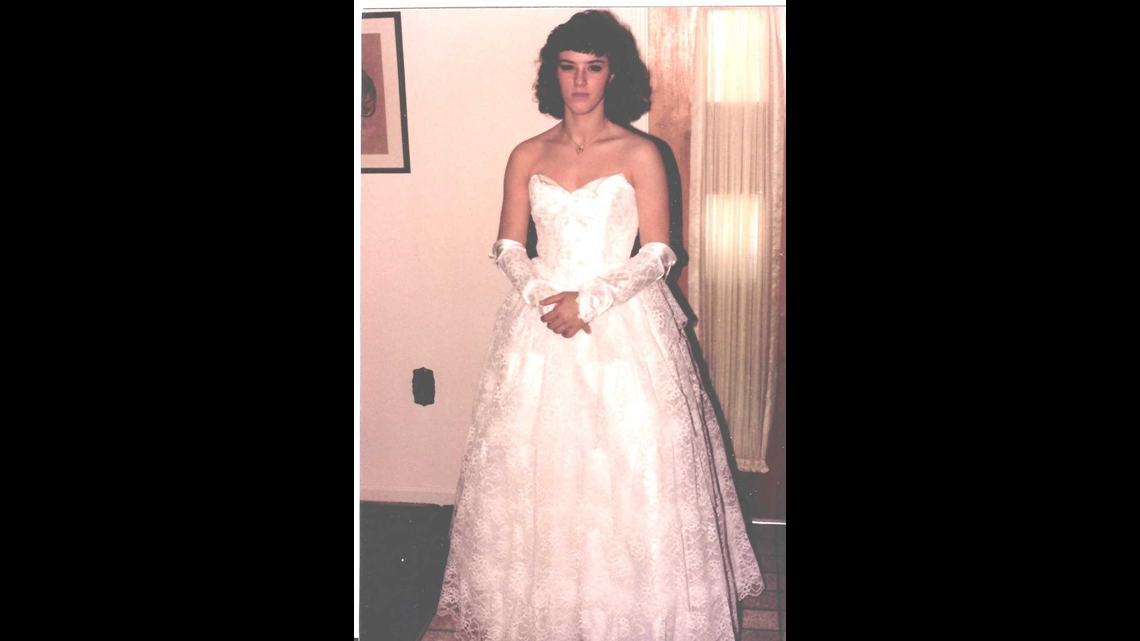 A month before prom, the Connersville High School senior would disappear. She had her dress. A just-released photograph from her family shows her in the gown that she would never get to wear to the dance.

"There are days that go by and it is almost like you are floating because you are so consumed by the thought and the various thoughts about what has happened to your daughter, who is responsible, what kind of action took place," David Pflum said.
For 32 years, that's been this family's torment.
A day after she disappeared, her Buick Regal would be found in a rural farm in neighboring Glenwood, but without any evidence, including fingerprints.
"I have always believed that the person or persons responsible for our daughter's appearance is someone that she likely knew. God will punish them someday," David said.
Now in their 70s, David and Judy Pflum fear their lives will end without ever knowing what happened to their daughter.
"We feel compelled to keep looking. You don't give up you spend your life looking," Judy said.
"When people pass away, there is a need for closure, we don't have that. In the absence of the inability to make a closure, we hold out hope that she is alive even though we know that is most likely false," David said.
Many important holidays, gatherings, and milestones have come and gone without Denise. Milestones like her 21st, 30th, and 40th birthdays and just this past January, her 50th birthday.
"We didn't do any celebrating," David sighed.
"We basically just tried to get through the day. It was just a day that you try to get through, to live through," Judy said.
"Birthdays for your kids are supposed to be joyous occasions, you don't ever have joy anymore," David said.
Judy then adds, "but we do next door."
Next door is where their youngest daughter and her family lives. The tragedy of what happened to Denise has brought them all closer and in constant contact.
The Pflum family is able to find some comfort in the room in which they talk about her.
Their living room walls are filled with her art and creations, providing some solace amid the heartbreak.
"They are my favorite things. I cannot buy a picture that is better," Judy said. "I liked needlework and I showed her how and so she did those and she did far better than I ever thought about doing. It was just so easy for her."
"It allows her to be with us," David said. "Those pictures and artwork on the walls just makes her closer to us because they are things that she created."
As time goes on, the family has wrestled with every scenario, including the possibility that she is still alive.
"We hold out the hope. We don't think she had any reason to run away. She had so many things going for her, her future was so bright. With the Internet, if she is alive then she knows what is going on with us. We are on Facebook. Social media has changed the world and she could find us even though we have moved," Judy said.
Faith is another way the Pflums push on.
"There is a myth that cardinals represent the spirit of people who have gone on and last year on her birthday, I looked out the window and there was a whole flock of cardinals," Judy said with a smile.
The Pflum family did not live in the city limits of Connersville, meaning the case went from the city police department to the Fayette County Sheriff's Department. The Indiana State Police also got involved. All three agencies have a role in the case to this day.
"I can only recall two leads we received directly in the past few years and those were unfounded," said Indiana State Police Detective Sergeant Scott Jarvis.
He collected DNA samples from the family, along with a DNA sample from Denise they were able to pull from evidence. It has been put into the National DNA Database System.
"Several years ago evidence was resubmitted to the Indiana State Police lab to check for any new results given the technology advances," Jarvis continued.
Those tests did not provide any new clues.
[article_tokens:suggested_links]
Help has also come from a southwest Indiana police officer. Stacy Reece works for the Vincennes Police Department as a detective. She grew up in the Connersville area and is passionate about helping solve it.
"Denise was one of the reasons I became a cop. I remember thinking even as a child how wrong it was that someone could hurt someone else and never face justice. I looked into her disappearance in college and I do believe it is a solvable case," Reese said in a Facebook post.
"I will always offer my assistance to helping solve this and I am willing to help free of charge," Reese said.
For Fayette County Sheriff Joey Laughlin, it is also personal. "I grew up in the area and was seven years old when it happened," he said. His agency is leading the investigation and he is quick to say it is not a cold case.
In Sheriff Laughlin's office today sits three boxes all tied to the case. He says he looks through them almost daily.
They contain details from a fresh start the case got in 2017.
"We re-interviewed several people," he said. That includes talking to a new person who has never been questioned before.
"We are very hopeful we are going to find a resolution," he said.
Days before the 32nd anniversary of Denise's disappearance, he met again with her parents to touch base.
"It has been an emotional and physical roller coaster that has taken us from some highs to many lows," David Pflum said while fighting back tears.
Detectives have filtered through evidence, conversations, interviews, rumors, and gossip.
Sheriff Laughlin adds that no detail is too small. The number to call is (765) 825-1110 extension 604.
"It is the great mystery of Fayette County," he said.
In the weeks since this story first aired, the Pflum family has scraped together $25,000 to offer as a reward for information about what happened to their daughter.
They hope it will be enough to finally shatter the silence about what happened on March 28, 1986.
The family encourages people to go through an attorney to give information, if they wish to remain anonymous.