CARMEL, Ind. — A Carmel priest has been suspended after calling demonstrators with the Black Lives Matter movement "maggots and parasites at best, feeding off the isolation of addiction and broken families."
Father Ted Rothrock initially wrote the comments in a message on the website for St. Elizabeth Seton Catholic Church on June 28.
On Wednesday afternoon the Diocese of Lafayette-in-Indiana announced Father Rothrock's suspension on its website and Facebook page:
"By decree of Bishop Doherty, effective 12 p.m. noon July 1, 2020 Father Theodore Rothrock is suspended from public ministry according to Canon 1333. The suspension comes in the wake of Father Rothrock's June 28 bulletin article. The Bishop expresses pastoral concern for the affected communities. The suspension offers the Bishop an opportunity for pastoral discernment for the good of the diocese and for the good of Father Rothrock. Various possibilities for his public continuation in priestly ministry are being considered, but he will no longer be assigned as Pastor of Our Lady of Mt. Carmel. Deacon Bill Reid will serve as Administrator of St. Elizabeth Seton."
Earlier that day, Father Rothrock issued an apology, saying he did not mean to offend anyone with his comments.
"I am somewhat surprised that my recent article has received such extensive coverage and has aroused such interest and debate," Rothrock wrote. It was not my intention to offend anyone, and I am sorry that my words have
caused any hurt to anyone.
His original message prompted the new group Carmel Against Racial Injustice (CARI) to call for Father Ted Rothrock's removal as pastor of St. Elizabeth Seton Catholic Church.
"There's nothing to defend in the statements, it was one of the most heinous things I've read," said Ashten Spilker, one of CARI's founders. "He's calling people who support a human rights movement serpents, referring to them as being like Satan which is completely uncalled for."
The comments were part of a weekly message Rothrock wrote in the Sunday bulletin, which is handed out after Mass and available online, though his message has since been removed from the church website.
Rothrock wrote, "The brutal murder of a black man in police custody has sparked a landslide of reaction to the alleged systemic racism in America," with Americans being told "reforms must be sweeping and immediate to crush the rising wave of racism that pervades our nation."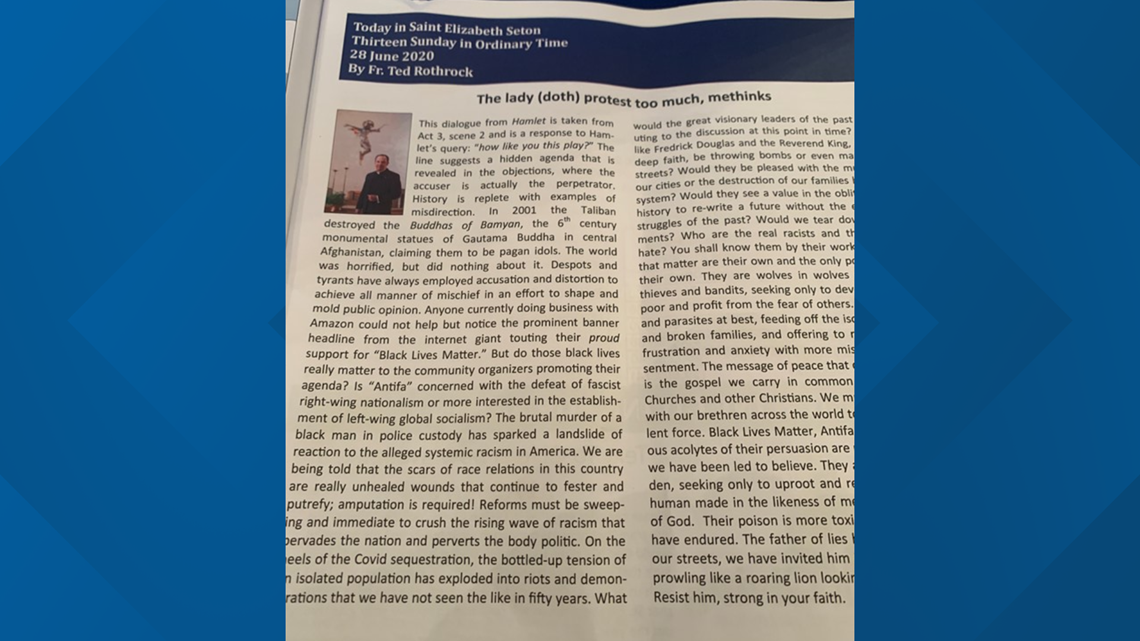 Of community organizers, Rothrock said "They are wolves in wolves clothing, masked thieves and and bandits, seeking only to devour the life of the poor and profit from the fear of others."
Rothrock goes on to question whether men like Frederick Douglass and Dr. Martin Luther King Jr. would be marching in the streets, which Spilker called "almost comical because that was something Martin Luther King obviously did and we think he would be present today with us if he was not shot for protesting."
"As a Black woman, it's hurtful. It's just a lack of concern and it's tone deaf," said Breanna Hargrove, another CARI founder.
13News was unable to reach Father Rothrock for comment.
Church staff referred 13News to the Lafayette Diocese. We received this statement from Bishop Doherty:
"I neither approved nor previewed that article. Pastors do not submit bulletin articles or homilies to my offices before they are delivered. I expect Father Rothrock to issue a clarification about his intended message. I have not known him to depart from Church teaching in matters of doctrine and social justice.
I reaffirm my own public statement following the killing of George Floyd which was posted online on June 2,2020, and printed in our bi-weekly edition of The Catholic Moment on June 15, 2020.
"Peaceful demonstrations in the streets are one way to elevate voices for fairness and justice. Not so the wanton destruction of property and violence. Each of us is called to be a healer and peacemaker by virtue of our baptism.
This same baptism calls us to link arms with others whose work is to set wrongs right and promote respect for each human being."
While someone at the church told 13News they had received several calls of support for Rothrock, parishioners arriving for the mid-day Mass at St. Elizabeth Seton declined on-camera comments with one woman simply saying "everyone has First Amendment rights," and another man saying his family was "trying to understand" the situation and wishing for "more kindness."
Spilker said CARI plans a peaceful protest outside the church Sunday from 7 a.m. until 6:30 p.m. "to make it clear that Father Rothrock needs to be removed. We don't want him as a priest anywhere. We don't think hate has a home in Carmel."
Prior to the events of this last weekend, Rothrock had already been assigned to become the pastor of Our Lady of Mt. Carmel in August.
As of Monday, there was no indication that would change.