INDIANAPOLIS (WTHR) - My five-year-old is about to start kindergarten, and I've been thrown into the unknown world of school uniform shopping. I haven't had to go back to school shopping since I graduated from college (which was also in the last century, but late in the last century, I'm not that old!). But I love the hunt for a good bargain, and I figured I'd enjoy this new adventure.
Right off the bat, I knew I needed advice from parents who had been through this before, so naturally I turned to Facebook. I asked where was the best (and by that I mean cheapest!) place to buy uniforms. I got a lot of responses, but the consensus was Target, Old Navy and Shoppers World had the best deals and selection for uniforms. With that information, I began my research. My husband likes to call me obsessive, even anal, about these things. But he just doesn't understand the rush of a good bargain!
Here's how I began: I took the three stores listed above, and I added in JC Penney (because that was always where my Mom got my back to school clothes) and Kohl's because my favorite 30% offer just arrived in the mail. Funny how those offers always arrive right before you need to buy a bunch of stuff. The marketing people at Kohl's must be pretty smart.
I went online and opened a window for each of the stores. I actually did this on my desktop computer instead of my usual iPad while sitting on the couch, so you know I was serious! From there I built a shopping bag at each store, adding one item of clothing each that my daughter would wear (pants, skirts, shorts, jumpers and polos.) JC Penney was almost immediately eliminated. Maybe if I had a coupon, but I didn't. Oh well - plenty of other stores to choose from. The remaining stores came very close in price, within 10 bucks for the most part, but Target was the cheapest. Now I needed to see the clothes in person to decide. My daughter is on the small side, and hard to fit, which means everything needs to be tried on. I absolutely loathe returning items bought online. It may require a physical trip to the post office!
First to Target. I was able to find in store everything in her size, mostly from their "Cat & Jack" brand. The fit was great, and all pants had adjustable waistbands which is a must for my skinny girl. I was also intrigued by the promised "reinforced" knees of these pants. My kid blows through knees of pants like nobody's business, and I hate sewing on patches!
Next was Kohl's. I only visited one location, but unfortunately they had far fewer items than Target. And only one pair of pants in her size. Still I had her try on what I could, but I was not as impressed with the items as I had been at Target.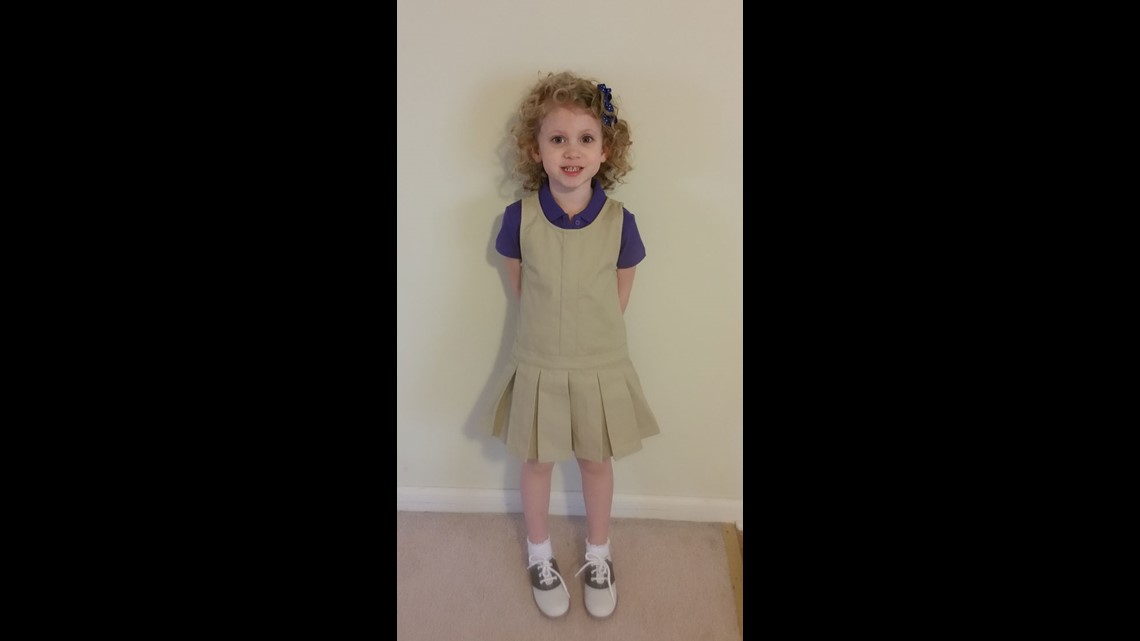 Finally we stopped at Old Navy. Mind you, this was store number 3 with a five-year-old who had just about reached her limit of trying on clothes. Also here I had a hard time finding all her sizes, and she was only able to try on a few items.


I decided Target was the clear winner, but by this time I was beat, and I made up my mind to go back tomorrow to buy everything. Lucky for me, what was just 25% off in store the day before, was 40% off online the next day. Score! I got everything I wanted: 2 pairs of pants, 2 skorts, 2 shorts, 2 jumpers and 5 polos for less than $100 including tax and free shipping! This bargain hunter was on cloud 9! They arrived in the mail just a few days later, and my little girl was happy to put on a school uniform fashion show in our living room. Now I just have to get her off to that first day of school without bawling like a baby(me, not her). Wish me luck, and happy bargain hunting!