INDIANAPOLIS — 13 Investigates has obtained a database that details property state agencies have reported missing or stolen. The data shows dozens of state offices reported hundreds of missing and stolen items in recent years, costing taxpayers millions of dollars.
What's missing
State agencies own a lot of stuff – more than 200,000 assets worth more than $21 billion, according to the state auditor. The state departments are asked to track every one of those assets.
Each year, department administrators are required to conduct an inventory of their property and then report any missing or stolen item valued at $500 or more to the auditor's office.
13News submitted requests through the Indiana Access to Public Records Act to obtain the lists of missing assets reported by state agencies, institutions and universities from 2018 to 2022.
The missing asset data shows:
During the past five years, state agencies and universities have reported more than 1,700 missing items worth more than $3.6 million.
Indiana State University listed 412 missing items, including "Desirous of the Fantasies" and "Scarce O' Fat House." Those are among 100 lost pieces of artwork reported by the university in 2019. The university also reported missing a $3,000 portrait of Howard Sandison, who served as ISU's vice president from 1886 to 1917.
Indiana's Family and Social Services Administration reported 346 missing and stolen assets, including hundreds of items missing from several state hospitals it operates. Computers, medical equipment and items lost from the recently-shuttered Larue Carter psychiatric hospital top the agency's list of missing assets. Among the missing items reported: patient exams tables, a commercial potato peeler and a security fence valued at more than $24,000.
The state's Office of Technology tracked 178 missing assets consisting primarily of laptops and computer network hardware assigned to workers within other state agencies.
Indiana State Police and the Indiana Department of Corrections reported only a few missing assets, but among those items are several firearms and body armor stolen from the agencies.
About a quarter of the items included on the state's list of missing assets are categorized as stolen. Of the 322 stolen items tracked since 2018, the Indiana Department of Transportation, the Indiana Department of Homeland Security and Logansport State Hospital reported half of them.
While the missing and stolen property reported over the past five years represents only a very small percentage of the state's total assets, state auditor Tera Klutz told 13News she is still troubled by the numbers.
"I'm not happy about that and we can do better," said State Auditor Tera Klutz, whose office maintains the missing assets list for state agencies (state universities report separately). "We promise the taxpayers that we're here to safeguard those [items] and we intend to do it."
Poor business practices lead to lost state property
Computer equipment tops the list of missing state property. In recent years, state agencies and universities reported more than 600 missing laptops, printers and other computer hardware, totaling more than $1 million in technology lost by the state. Many of the devices were reported missing or stolen by the Indiana Office of Technology (IOT), which manages nearly 40,000 devices spread among dozens of state departments.
"Keeping in mind the inventory list goes back, in some cases, more than a decade ago – and that IOT retires or introduces approximately 20,000 to 25,000 assets annually – the rate of loss represents approximately less than 0.18% of IOT's asset inventory during the five-year time period," IOT communications director Graig Lubsen told 13News.
Once the computers are distributed to state agencies, it is each agency's responsibility to track the equipment – but that does not always happen as it should.
A few weeks ago, the state inspector general issued a report about 33 missing laptops assigned to Indiana's Family and Social Services Administration (FSSA). The laptops, purchased for FSSA in 2020 to support the state's vaccination call center during the COVID-19 pandemic, were assigned to contracted workers hired by a temp agency. The OIG report cites "poor business practices" for the laptops turning up missing after temp workers were laid off and their state-owned computers were not returned.
"[T]he lack of clear policies, as well as the assumptions that another agency or the contractor would be responsible for the missing assets, contributed to the loss of over $20,000 of state equipment," the inspector general concluded. "Such loss is not acceptable, and the State must make efforts to reduce and remedy such loss in the future."
FSSA says many of the missing laptops have since been recovered, but the agency has not yet provided 13News with proof of that claim – a claim that contradicts information presented in the recently published inspector general report.
FSSA has also lost track of many items at its state-run hospitals.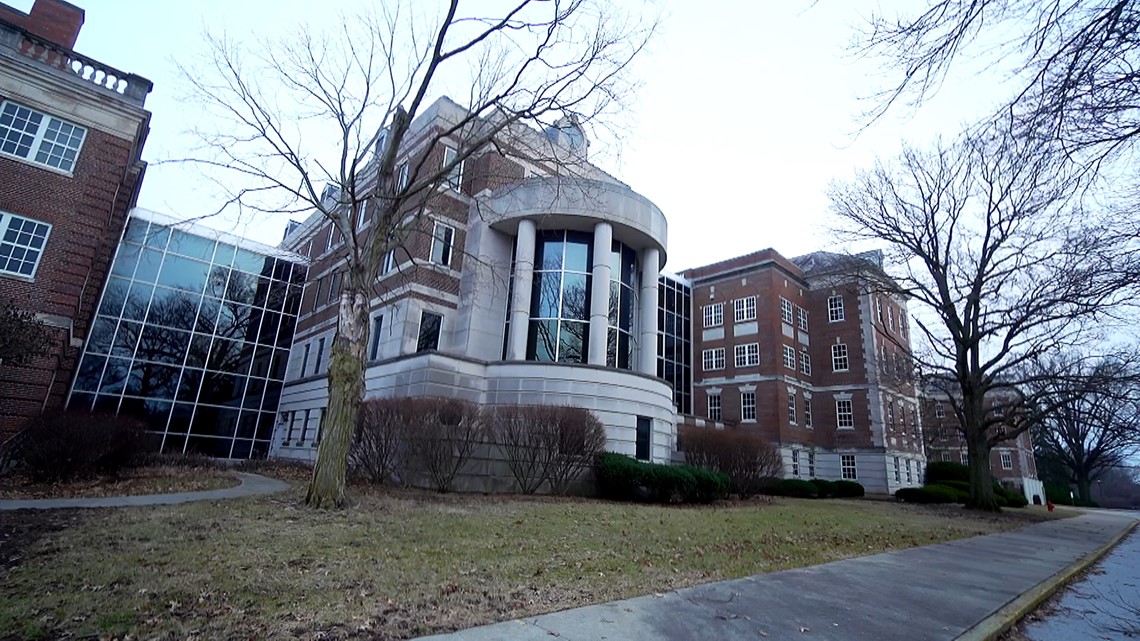 The agency shut down the Larue Carter psychiatric hospital several years ago, but not before FSSA reported 229 items missing from the Indianapolis facility. Among the missing items: hospital beds listed with a value of $585, an $858 commercial potato peeler, $5,127 patient exam tables and a $24,000 security fence.

How does a state agency lose a $24,000 security fence?
FSSA says that item was reported missing by mistake and is still somewhere on the hospital grounds, but the agency would not tell 13News where we could find it.
An FSSA spokeswoman said many of the other items the agency added to the missing assets list might not be missing either.
"In many cases, the issue is a reporting error within the data, marking items as lost or stolen when they were retired or put to another use. For example, when staff was preparing for Larue Carter to close, many items were transferred to other hospitals in our state psychiatric hospital system. The transfers were not recorded and many items were reported missing or stolen," explained FSSA deputy communications director Marni Lemons.
The state auditor said failing to track items when they are moved or transferred within an agency – which means an agency cannot say for certain whether an item is lost or not – is not how the state's asset tracking system is supposed to work.
"That's a problem," Klutz said. "Let's get this tracked because we do want to find that. We want to know what happened to every item … It can't be missing forever."
She added that "missing" is considered a temporary status within the state's asset tracking process. If an item cannot be found, it must eventually be reported as stolen or simply considered retired. Some of the items on the state's missing asset inventory were purchased decades ago and have outlived their useful lives, according to some of the state agencies contacted by 13News.
Burglars target state agencies
Hundreds of items have been stolen from state agencies over the past several years, and the Indiana Department of Transportation is a frequent target.
In June 2021, burglars cut through a barbed wire fence at INDOT's Anderson facility and stole 33 items worth more than $25,000, including power tools and a John Deere Gator utility vehicle.
A few days later, INDOT lost a $24,000 brush chipper when someone broke into an INDOT garage in Salem.
Late last year, another burglary took place at INDOT's facility in Demotte. A 17-page police report details dozens of stolen items valued at $21,507.
INDOT reported additional burglaries at its facilities in Rensselaer and Angola. A review of police reports shows the agency has lost nearly $120,000 in assets due to theft during the past five years.
Other agencies also reported significant losses due to theft, including a boat and ATV stolen from the Indiana Department of Environmental Management and dozens of stolen items such as a forklift and computer servers that disappeared from the Logansport State Hospital.
The state's missing assets database also shows several handguns and law enforcement body armor stolen from Indiana State Police and the Indiana Department of Correction.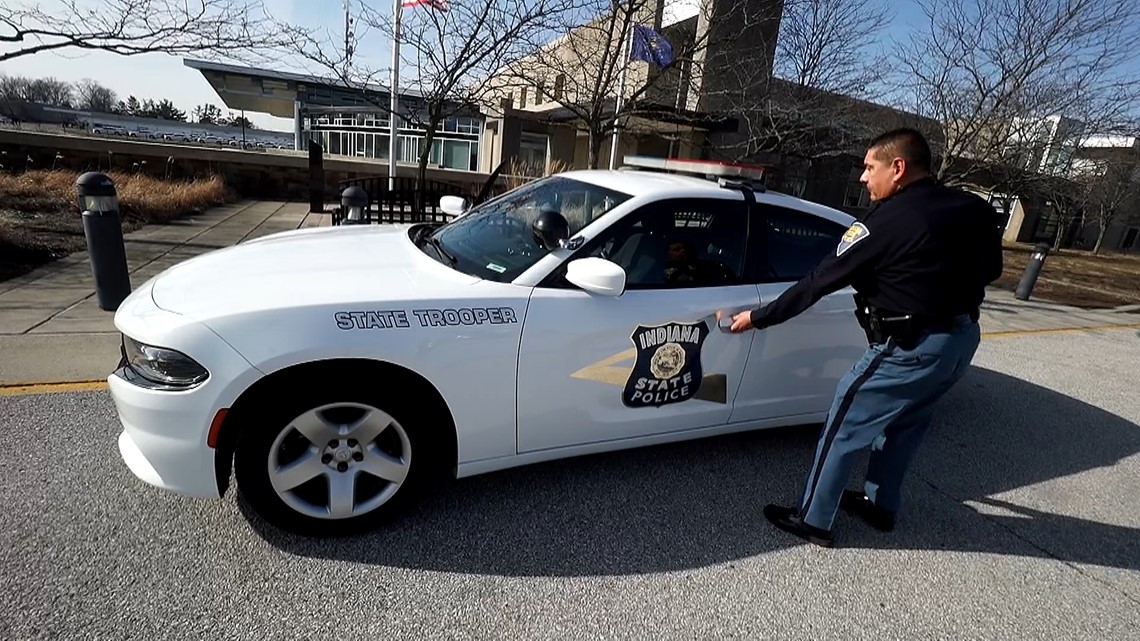 "The handguns, that's certainly a concern. We work very hard to find those and get them back," said Indiana State Police Capt. Ron Galaviz.
Galaviz said state employees are victims of crime just like everyone else. "Police officers have their vehicles broken into, their homes broken into. We are not immune from that and it does happen," he told 13News.
Two Sig Sauer handguns are on ISP's list of missing items after the firearms were stolen out of troopers' locked cars in their own driveways, according to police reports reviewed by 13 Investigates. A Department of Correction investigator reported his state-issued Glock 9mm handgun was stolen out of his Jeep while he was parked in downtown Indianapolis.
"Those situations are taken very seriously," Galaviz said. "There is the safety aspect … and those things are coming from taxpayer money, so we need to be held accountable."
State worker arrested
At times, state workers are held accountable for missing items – especially when the missing state property turns out to be an inside job.
When Indiana's Department of Homeland Security discovered some if its emergency radios missing and listed for sale on Facebook, the agency suspected a former employee was involved.
In March 2019, Indiana State Police served a search warrant at the Cass County home of former IDHS emergency preparation coordinator Jonathan Thompson. On his property, investigators found state-owned communications equipment worth more than $31,000, according to a probable cause affidavit.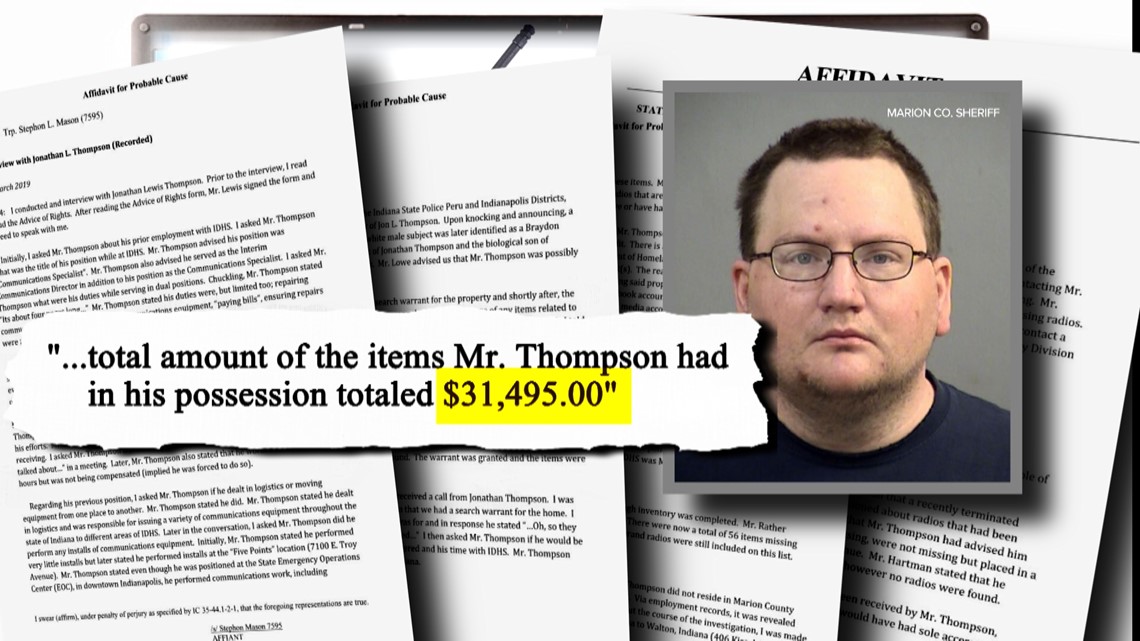 Court records show Thompson, who was terminated from the department ten months earlier for violations of the state's workplace harassment prevention policy, was arrested and charged with felony theft. He eventually agreed to community service and a theft education class in exchange for the charges being dismissed.
While most missing and stolen state property is never found, the state auditor said the goal of Indiana's annual asset management program is to identify and track down those items.
"It's amazing what happens when an administrator sends a department e-mail asking about something that's missing," she said. "All of a sudden, some of these missing assets start showing up. Every state employee has the responsibility to maintain and safeguard the assets, and I do believe our system is working."
After 13 Investigates contacted state departments about items on their missing assets list, some of the agencies notified 13News that they were able to locate some of the missing property.
State agencies are now in the midst of their latest asset inventory, with missing and stolen asset reports due to the auditor's office this spring.
EDITOR'S NOTE: This report has been updated to include missing and stolen asset information from several state universities that had not provided their asset data to 13News by the original publish date.