INDIANAPOLIS (WTHR) - For the first time in two months, CBD oil is back on shelves at Fresh Thyme grocery stores in Indiana due to an apparent change of heart by Indiana State Excise Police.
In June, state excise agents raided the Fresh Thyme market near Greenwood, confiscating thousands of dollars of CBD oil products.
CBD is growing in popularity as an herbal supplement because of its ability to ease pain and anxiety. But because CBD comes from cannabis plants – also the source of marijuana – state excise police felt compelled to take action.
"CBD oil is not legal to sell or possess in Indiana," an excise spokeswoman told WTHR. "The businesses found in possession are cited ... for the preliminary charges of possession of marijuana and possession of a counterfeit controlled substance."
13 Investigates exposed the raid in late July, and it triggered outrage and confusion among Hoosiers who had come to rely on CBD to treat chronic pain and other medical issues.
"There's no legal reason to pull that off the shelf. None, so I don't understand. It makes no sense to me," said Angela Hopkins, who had been taking CBD oil since falling and breaking her ankle in three places. The CBD oil she purchased at Fresh Thyme was so effective in reducing her pain, it helped her wean off of addictive painkillers provided by her doctors.
"It really worked, and then it was just gone," Hopkins said. "They told us they were raided and couldn't sell it anymore."
The Fresh Thyme raid also caused an immediate chilling effect around the state as other CBD oil retailers chose to pull their products until they received more legal clarification.
[article_tokens:suggested_links]
For many, that clarification came over the weekend, as Indiana State Excise Police public information officer Heather Lynch emailed 13 Investigates a short statement:
"After a review of the situation, the Indiana State Excise Police will not confiscate CBD oil products from stores unless the products clearly violate Indiana law. We will continue monitoring this issue and remain prepared to take enforcement action whenever appropriate."
WTHR has asked Lynch to clarify what the agency means by "unless the products clearly violate Indiana law." She has not yet provided a response.
To date, there is no evidence to suggest any of the CBD oil products confiscated from Fresh Thyme violated any law in the first place. Unlike the cannabis plants grown for medical marijuana and containing high levels of THC, the majority of products containing CDB oil come from industrial hemp that has only trace amounts of THC – or none at all. CBD manufacturers like CV Sciences say their products contain .3% of THC or less and provide users with no "high."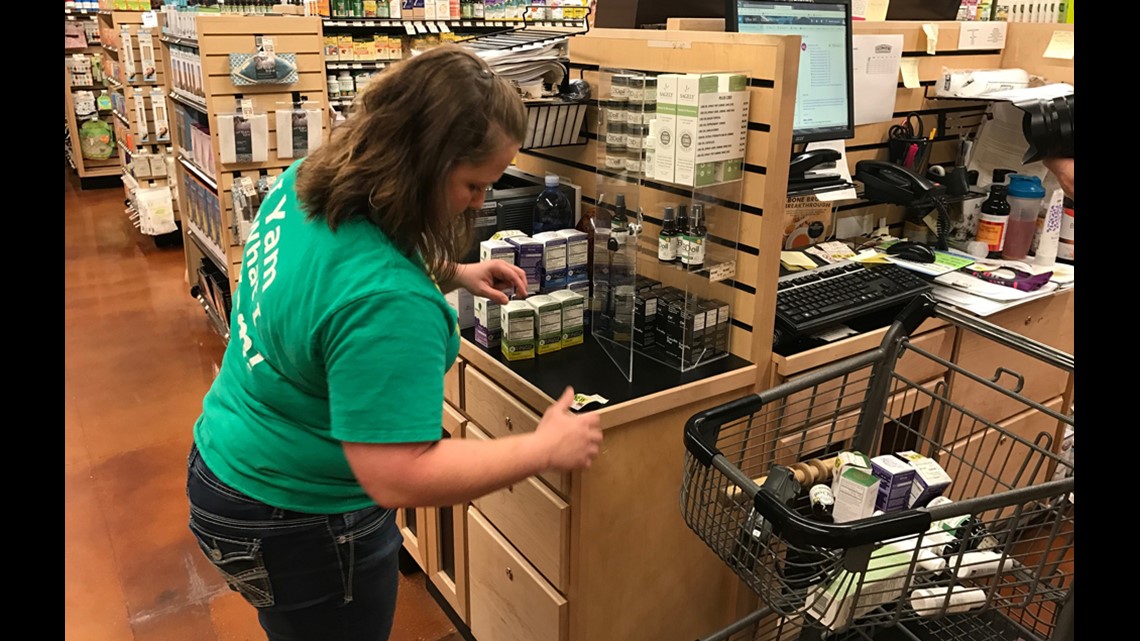 Monday morning, Fresh Thyme's legal counsel and its Greenwood store staff had not yet heard that Indiana State Excise Police had an apparent change of heart regarding the sale of products containing CBD oil. Once contacted by WTHR, corporate executives contacted their Indiana stores Monday afternoon.
"I just sent out a notification to stores that they can put it back on their shelves," said Jonathan Lawrence, Fresh Thyme's director of vitamins, body care and general merchandise. "I think that will be happening today."
By 2:00 p.m., the Greenwood Fresh Thyme store was restocking its shelves with CBD products it obtained from another store in Kentucky.
"It's really exciting and I've sold four bottles in just the past few minutes," said Fresh Thyme employee Ashley Beasley. "I'm ordering another shipment now, and we hope to have it in by Friday or Monday."
The Greenwood store has not yet received its confiscated products seized two months ago by excise police, and the company does not know the status of the citations issued by state agents.
Other stores across the state are now selling CBD again, too. The owner of Georgetown Market, a small health food store on the west side of Indianapolis, says his CBD oil sales have been "bananas" since restocking his shelves with CBD.