Prosecutor says school board member who helps train school police 'lied,' tried to hide past discipline
Chase Lyday remains in leadership roles that impact thousands of school children in Indiana.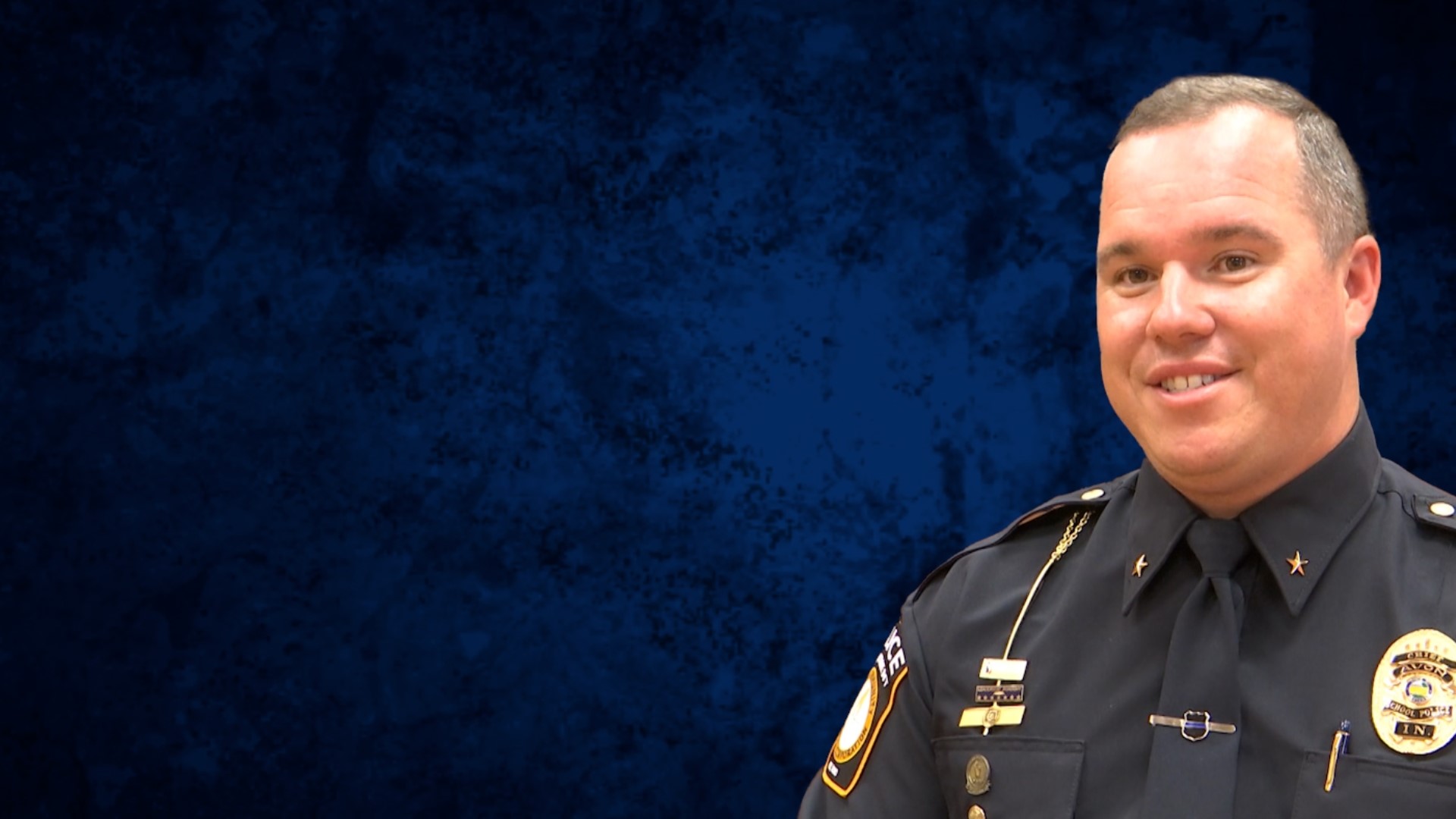 The Hendricks County prosecutor took steps to warn other law enforcement agencies that the former Avon Schools police chief may not be truthful in his work-related duties, records show. 13 Investigates learned the prosecutor sent a letter to the school district, reporting he found evidence Chase Lyday "lied," "failed to disclose" past discipline and, under Lyday's leadership, school police "negatively affected... investigations."
Lyday resigned from his position as police chief in October 2022, while under investigation but before the letter was sent. Law enforcement experts tell 13 Investigates such a determination from the prosecutor is often career-ending because it calls into question whether an officer's testimony or investigation can be trusted.
While running for school board, Lyday promised to "hold everyone accountable." He declined multiple 13News requests for an interview about the allegations.
Instead, Lyday provided the following statement:
"I am proud of my career in law enforcement and the impact I made on the people I served. It was an honor to work alongside some of the best officers in the profession. Although I have moved on from that chapter of my life, my mission to glorify God through loving my family and serving our community remain unchanged."
Name on a list
:
At the end of 2022, 13 Investigates spotted Chase Lyday's name on a list of three officers the Hendricks County Prosecutor's Office considered possibly problematic if they were called to testify as a witness. Lyday's was the most recent addition — added Dec. 5, 2022. That list is often called a Brady or Giglio list.
Many prosecutors and law enforcement agencies create these lists in an effort to comply with two Supreme Court decisions. Brady v. Maryland requires the state to reveal exculpatory evidence — or information that could prove a defendant is not guilty. Gilgo v. United States later broadened that information to include evidence that could impeach a state witness. An officer could be placed on a Brady or Giglio list for a host of reasons, but one of the most serious reasons is for untruthfulness.
For prosecutors and police alike — ending up on one of these lists can be career-ending, especially if the officer's truthfulness came into question, even though an issue may not rise to the level of decertification — a process that strips a person's ability to serve as a law enforcement officer.
When 13 Investigates emailed Lyday, he said it was the first time he learned his name was on such a list. As recently as May, Lyday said no one from the county had contacted him about it.
Lyday told 13 Investigates by email he was "incredibly hurt and frustrated by it."
Investigation started with a text
:
On Sept. 30, 2022, police say an Avon school resource officer received a text message from "Chief Chase" asking them to lead a drill. The reason? Lyday was "going to be stuck in a meeting at the Avon PD."
In an email, Deputy Chief Brian Nugent wrote, "I found this deception to be very alarming and notified Avon Schools Superintendent Scott Wyndham."
The police department told Prosecutor Loren Delp that was one of two incidents of untruthfulness that they documented during Lyday's nearly three years serving as school chief. The second involved him arriving at work late in the afternoon. Police say Lyday told a subordinate he was assisting a group training with other first responders at a local school. Avon Police wrote "Lyday never assisted" at the school event.
The incidents may seem innocuous to many people but not to the deputy chief.
"These incidents yield a tremendous concern regarding Mr. Lyday's credibility," wrote Nugent in an email to the prosecutor.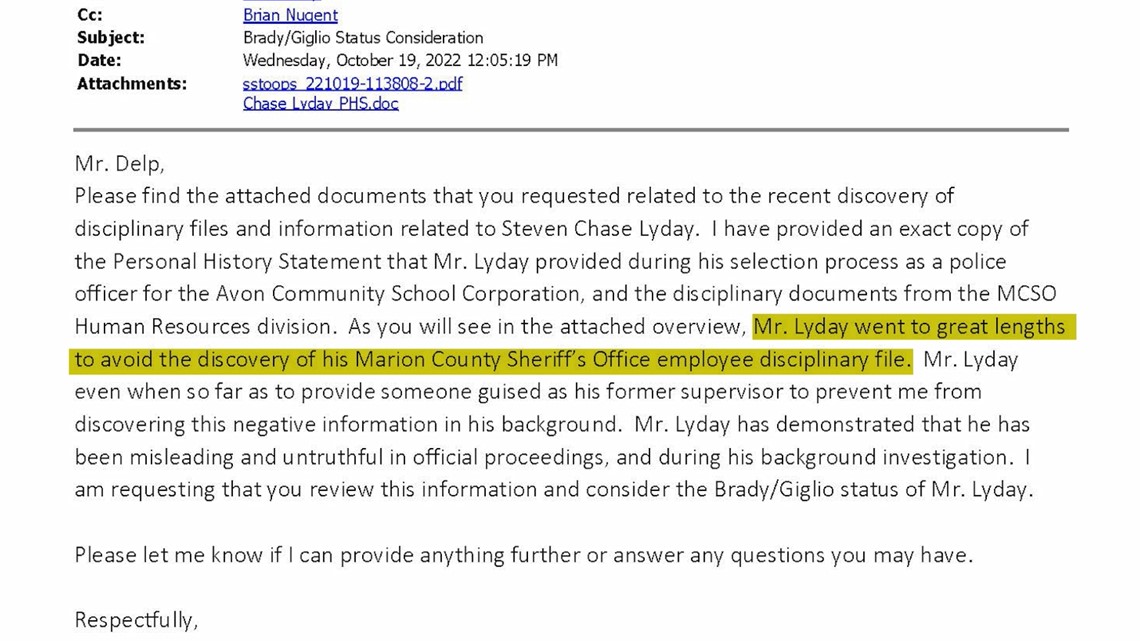 Nugent went on to write, "My personal and professional concerns are relevant to his engagement in court proceedings where we are compelled to disclose materials associated with Brady and Giglio matters."
Sex offenders left unchecked
:
In that information, Avon police learned Lyday was accused of failing to check on five sex offenders in 2018 while serving as a reserve deputy for the Marion County Sheriff's Office.
13 Investigates reviewed a three-page written reprimand from Lyday's supervising lieutenant addressing the problem. It showed that one of the men Lyday was supposed to supervise went unchecked for seven months.
The letter states, Lyday received three email notices to check on the sex offenders before a lieutenant spoke to Lyday in person and told him to complete the checks by the end of the week. The letter states at the end of the deadline, Lyday reported he had "attempted multiple times" to reach the sex offenders "with no luck."
However, the lieutenant reported what Lyday told him was not true, writing Lyday "ignored" an order to complete the checks, and Lyday's claim he physically tried to check on two of the sex offenders was "not truthful."
Lyday received a 10-day suspension as a result. In the Avon Police report, it is unclear if Lyday served the suspension. A letter from the Marion County Sheriff's Office's legal representative to 13 Investigates shows Lyday resigned from his position with Marion County the day after that suspension was supposed to be completed.
Lyday served from June 2012 to March 2018 with the Marion County Sheriff's Office. He was a full-time deputy for about two years and then became a non-paid reserve deputy in 2014. Over that time, Avon Police found he had four written disciplinary actions and was suspended for a total of 41 days.
The Avon Police department says Lyday did not report all of those issues when he applied for school police chief. The department sent a report to the county prosecutor stating, after reviewing Lyday's file, investigators found he "falsely answered" more than a dozen questions in his Personal History Statement — including omitting the 2018 incident.
Avon Police Chief Sean Stoops flagged 14 questions in the history statement, including questions about lying at work and falsifying documents, according to a memo he sent to the county prosecutor.
Chief Stoops wrote, "Lyday went to great lengths to avoid the discovery" of his disciplinary history and that he believed Lyday, "provided the contact information of a friend and co-worker at the MCSO under the guise as his supervisor to subvert the discovery of his negative disciplinary file. Mr. Lyday knowingly and intentionally answered these questions deceptively."
Concern about other cases
:
13 Investigates shared the police investigatory documents and the prosecutor's letter with three people with legal and law enforcement expertise.
Girod, who has both a law degree and a Ph.D. in criminology, stated he thought it was unusual Avon Police pushed for the investigation based on what could be considered a minor incident. Girod noted the investigation still led to significant findings.
"From the documents I read, there were some issues that came up where full disclosure was not made," Girod said.

Todd Sallee and David Staples are both Indianapolis defense attorneys. They say knowing if an officer has been untruthful could be important for a client's defense.

Sallee says the issue with the sex offenders was most alarming to him.
"That jumped off the page at me as being very concerning," Sallee said.
He thinks prosecutors and police should review every case.
"If there were cases that Mr. Lyday had supervised as an investigator that they need to now discover those issues to defense counsel, both going forward, if those cases are still pending, but also retroactively," Sallee said.
The goal is to make sure no one is wrongly punished or prosecuted.
Sallee and Staples commend Avon Police and the Hendricks County prosecutor for acting and flagging Lyday's history. Staples says Avon Police's willingness to investigate another officer stood out most to him.
"That jumped off the page at me to see another officer say we're accusing this officer of being dishonest," Staples said.
Resignation / Missing weapons
:
While the prosecutor's office was reviewing Avon Police's report about Lyday's background, he resigned as school police chief on Oct. 28, 2022.
Upon resignation, he was supposed to return his equipment, including three school police-issued service weapons.
A weapons log from Avon schools shows Lyday's Taser, Glock 43 pistol and Sig Sauer AR-15 style rifle were listed as lost or unaccounted for. On Nov. 1, a few days after resigning, a police report shows Lyday reported to Indianapolis Metropolitan Police the weapons were stolen.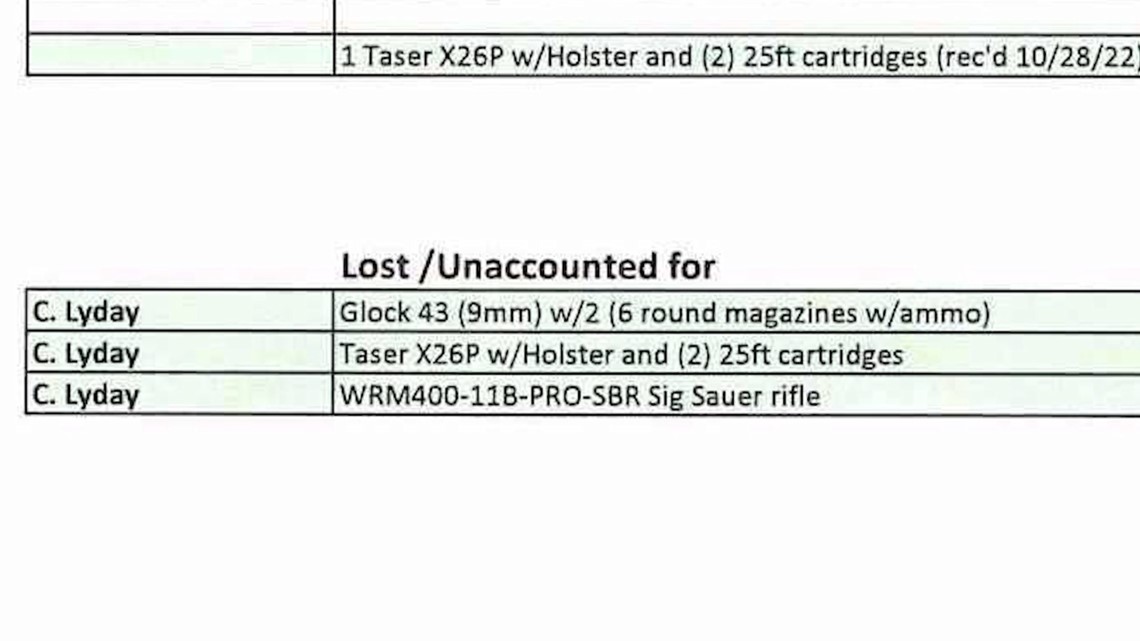 The police report narrative stated Lyday reported there was a "theft of department issued items from department vehicle."
13 Investigates requested a more detailed narrative from IMPD, and a spokesperson sent the following narrative:
"Victim reported an Avon School Police rifle, handgun, a taser, and a ballistic vest were stolen out of his vehicle sometime in the last month. He also reported a personally owned rifle plate was stolen. There was no sign of damage from a break-in."
Lyday reported the items missing three days after he resigned and a week before Election Day. He won his seat on the school board by one vote.
Avon Police would later learn the Glock was found in Essex County, New Jersey. Law enforcement in New Jersey have not released the details of how it was found. At last check, the other two weapons have yet to be found.
Continued to serve
:
Late last year, Lyday also stepped down from his position as regional director for the National Association of School Resource Officers.
After winning the November 2022 election, he took a seat on the Decatur school board. Lyday also maintained his position as executive director with INSROA.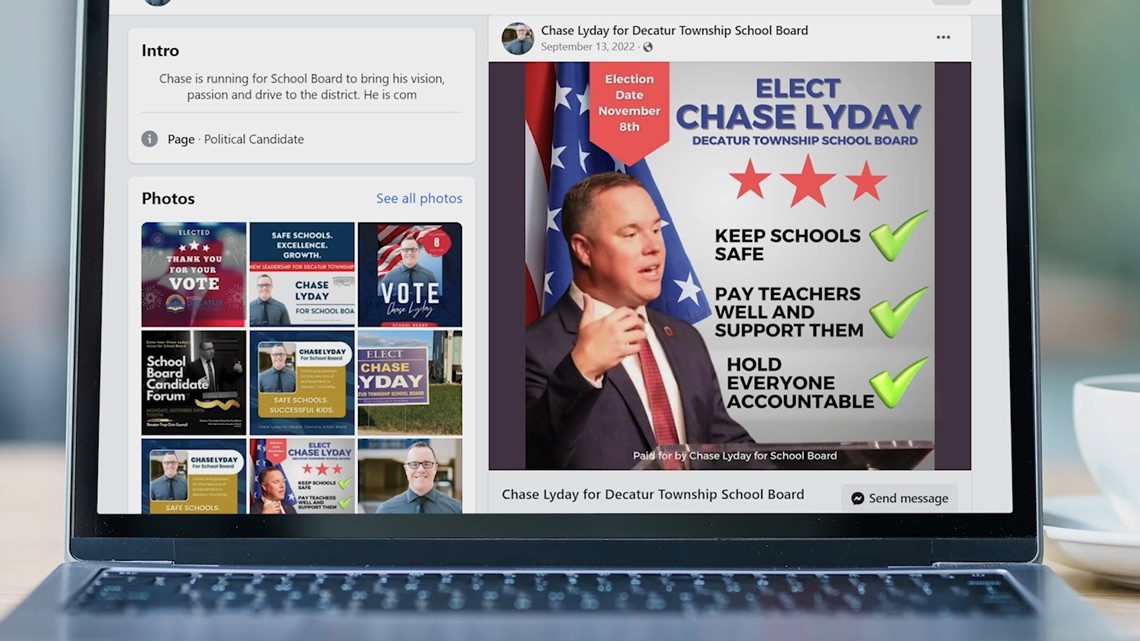 13 Investigates reached out to the association to see if it was aware of the allegations against Lyday.
President Julie Smith noted that Lyday is not facing any criminal charges. She wrote, "INSROA exists to ensure that Indiana SROs and school staff alike have the tools and training necessary to excel in the arena of school-based policing and keeping our kids safe. Mr. Lyday has been and remains a vital part of our organization as he continues to tirelessly volunteer his time to work on legislative priorities surrounding school safety."
She also noted the organization serves 271 members and trained nearly 500 school resources officers and officials at its annual 2022 conference.
Smith pointed to an online Brady list compiled by Level Playing Field Solutions. The group says it collects information from federal and state sources, as well as information "curated by journalists and private citizens." The CEO of Level Playing Field Solutions Johann Drolshagen told 13 Investigates it is not an exhaustive list.
Declines to respond
:
Over several months of reporting, 13 Investigates corresponded with Lyday via email. At some points, he seemed willing to do an interview.
In May, Lyday sent an email, in which he stated, "As I'm sure you can imagine, everything in me wants to set the record straight but I'm not convinced it would be a fruitful exercise. I am trying to be thoughtful about my response and determining the best course of action in consultation with my attorney, family and trusted advisors."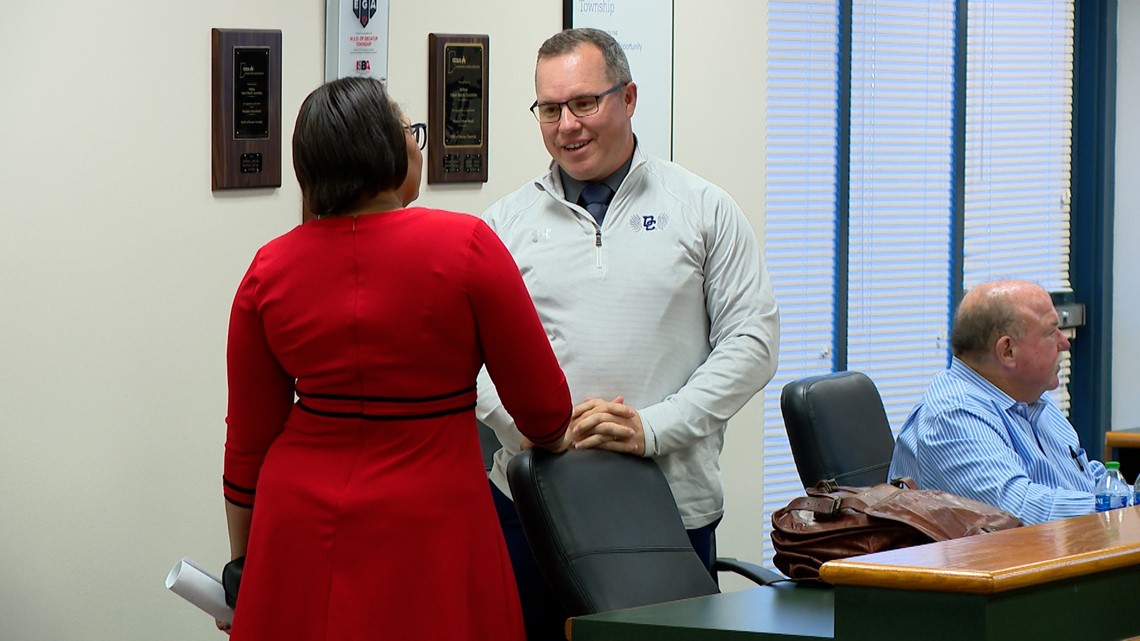 That same month, 13 Investigates approached him at a school board meeting to attempt to schedule an interview to discuss the allegations and missing guns.
"I'm declining to comment on an on-camera interview," Lyday said. "I'll craft a statement."
Ahead of this story, 13 Investigates also sent Lyday the documents from Avon Police and the letter from the Hendricks County prosecutor. Lyday did not respond to the allegations in those documents.