FISHERS (13 INVESTIGATES) - The Hamilton Southeastern school district has quietly issued an unpaid, week-long suspension to the head football coach at Fishers High School months after he was accused of confronting a student in his classroom.
The HSE school board voted December 14 to approve a five-day, unpaid suspension for longtime Fishers High School football coach and teacher Rick Wimmer. The suspension is noteworthy for several reasons:
First, it comes three months after a widely-publicized incident in which the coach received what the school district reported as a paid leave of absence.
Second, it appears the school board took unusual steps to keep the discipline a secret.
Third, HSE still will not clarify exactly what the suspension is for.
Back in September, WTHR reported Wimmer was placed on paid administrative leave for a brief classroom altercation involving a student. According to a police report, a Fishers High School student arrived late to class and refused instructions from Wimmer to move to the back of the classroom. Police say that's when Wimmer placed his hands on the student's shoulder and upper chest. The entire incident lasted about five seconds, according to police - but long enough for both the school district and Fishers Police to investigate.
The police department quickly announced there would be no charges. The school district reinstated the coach after he served approximately eight days of paid leave. He was also sidelined for two of his team's football games during the investigation. Following the reinstatement, the school district said it would have no further comment, and the situation appeared to be over.
But three months later, at its final board meeting of 2016, the HSE school board issued Wimmer an unpaid suspension. The move went unnoticed for weeks, because the school board's agenda does not list Wimmer by name. It mentions him only as "Employee #10042," referencing his employee identification number.
Asked for clarification, school district spokeswoman Beverly Redmond told WTHR "Hamilton Southeastern Schools respects the privacy of our students and employees. Consistent with that, we do not reference employees engaged in disciplinary action by name."
But that statement is inconsistent with other HSE board agendas reviewed by 13 Investigates. On multiple occasions dating back to 2013, the HSE school board has listed the names of employees subject to discipline – including employees who were considered for both suspension and termination.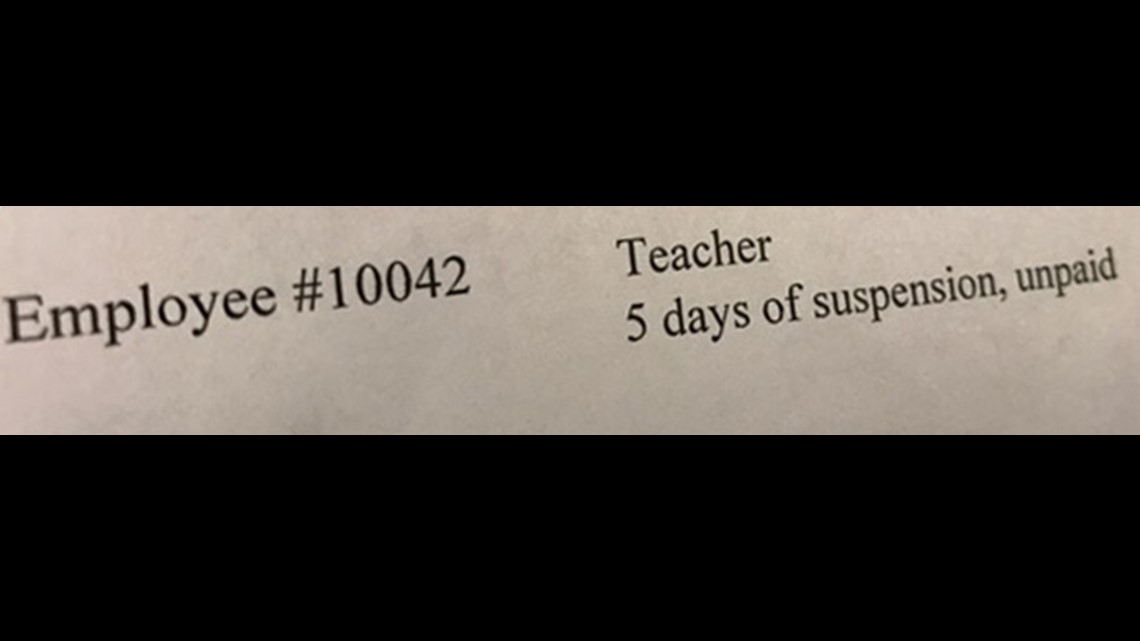 Redmond told WTHR the suspension issued on Dec. 14th was the first time Hamilton Southeastern Schools implemented a new policy of only identifying disciplined teachers by employee number.
"This is a situation that stinks because they are not playing by the same rules," said another HSE teacher who requested anonymity for fear of reprisal. "Some teachers get special treatment and get protected while most do not."
Late Tuesday afternoon, Redmond confirmed Employee #10042 is Wimmer. She said the coach was suspended "due to not following Board of School Trustees Policy G02.06." That policy requires staff to "demonstrate behaviors which contribute toward an appropriate school atmosphere."
Late last week, HSE superintendent Dr. Allen Bourff told 13 Investigates that Wimmer was suspended "due to not implementing instructions for classroom management strategies."
Neither would elaborate on the specific incident, nor would they confirm whether the December school board vote was related to the classroom incident reported in September or for a separate incident that occurred after.
Wimmer told WTHR he does not want to meet to discuss the board vote.
"I'd really rather not comment on it. It's kind of a done deal. It's behind us now," Wimmer said when contacted by phone. "They did what they felt they needed to do. They have to put things in public to a degree, but they can also protect people if they choose to. From my perspective, it's over."
Wimmer, who led Fishers High School to the state 5A state football championship in 2010, is in his 11th year at the school.