GREENWOOD, Ind. (WTHR) — This afternoon Barbara Arteaga buried her father.
The south-sider, who her dad affectionately called "sis," is not simply mourning. She is also angry: angry at the powerful virus that invaded her father's body, angry at the nursing home that chose not to send him to a hospital, and angry about the secret she never knew until today.
"They could have warned all of us so we could have done something … before it got so bad, but they wouldn't tell us anything," Arteaga told 13 News. "It's like they wanted to keep it hidden from everybody. That's not right."
The secret, publicly exposed today by 13 Investigates, is that Arteaga's father is one of more than 100 residents at Greenwood Meadows nursing home who tested positive for COVID-19. At least 14 of those residents have died. It's the latest example of a nursing home withholding information from the public and from residents' families. Arteaga says the lack of transparency was deadly.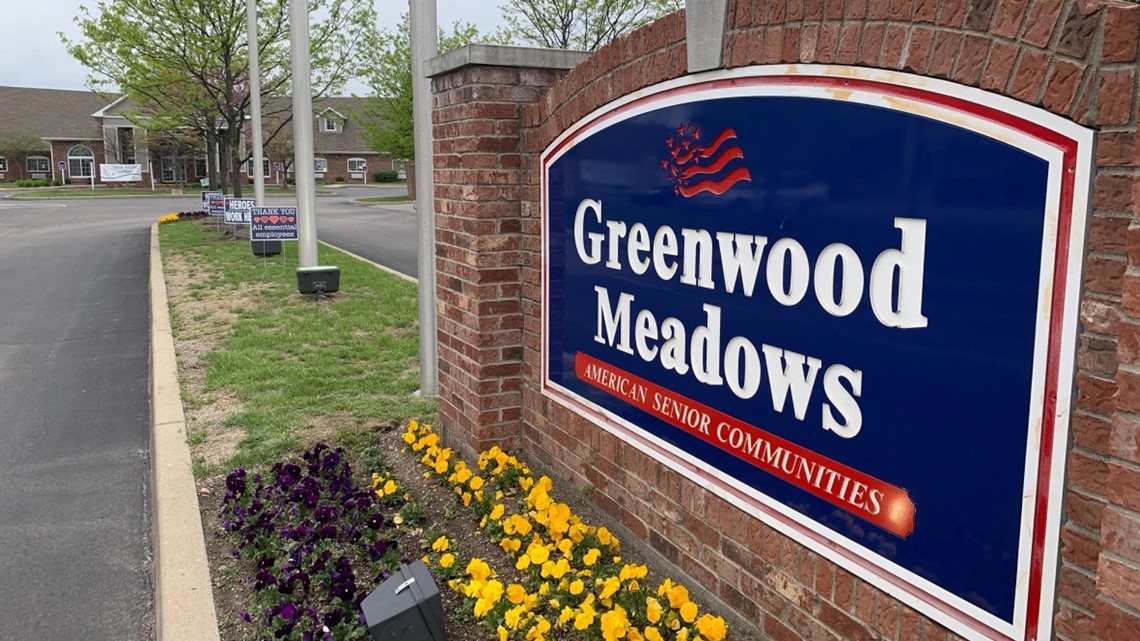 "My dad could be alive right now if they had only provided that information sooner so we could have done something to take him out of that place. At least he would have had a better chance of surviving," she said.
Family told "not to worry"
Daugh Hubbard was a coal miner from Kentucky who moved to Indiana in 1965. He later became a construction foreman and a machine operator. His family says he worked hard and also loved to have a good time.
"He was always dancing and making up songs, and he knew how to tell great stories. Everyone loved him," Arteaga said.
Two years ago, showing signs of dementia, Hubbard moved into Greenwood Meadows where he quickly befriended other residents and staff. The "old man," as his children called him, was in relatively good health, still showing off dance moves during his birthday celebrations at Ponderosa steakhouse. But a few weeks ago, he developed a fever.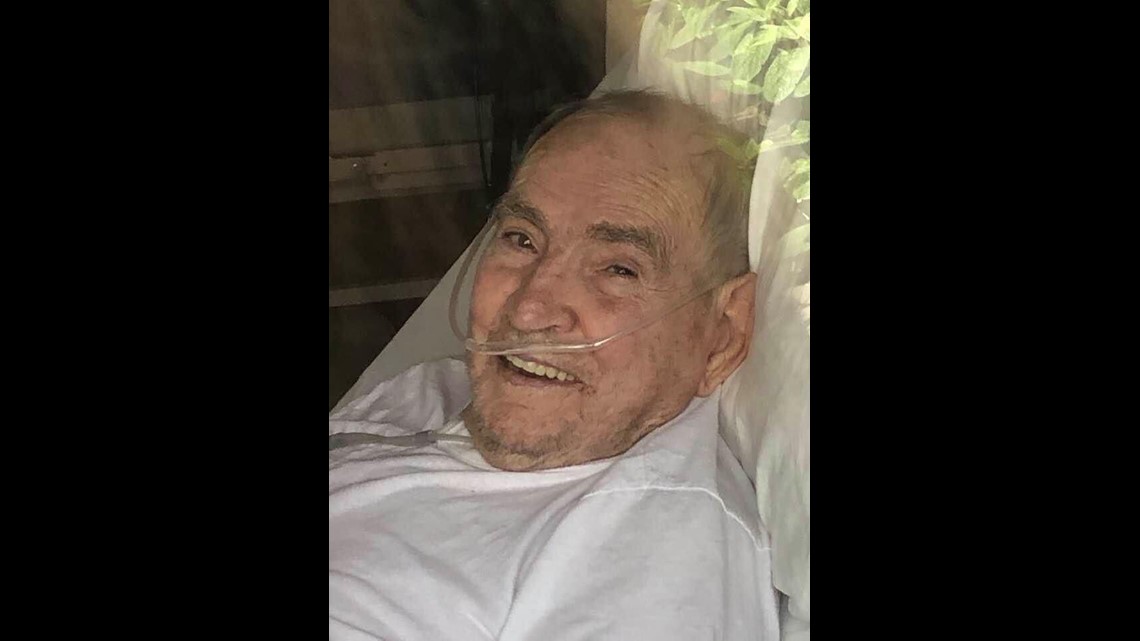 "They told us they tested him for coronavirus and it came back negative, but they moved him into an isolation wing with other people that had it. Then they tested him again and he was positive," his daughter said. But staff at Greenwood Meadows reassured Arteaga that there was no reason for concern.
"The doctor examined my dad and said he was doing fine, just had a fever, and not to worry. They said they were keeping him comfortable," she recalls. Even when the nursing home wouldn't tell Arteaga and her sister how many other residents had been diagnosed with coronavirus, the family tried not to worry because they said their dad had always been a fighter.
"We asked how many people in there had the virus. They tried to tell my sister they couldn't tell her, like that was confidential or something," Arteaga told 13 News. They had no idea COVID-19 had been sweeping through the nursing home, present in every wing of the facility.
Death of a fighter
Within a few days, Hubbard's fever worsened – reaching 106 degrees early last week – and a nurse called his family to say they might want to come to his window to pay their last respects.
"I drove over there right away. I could tell he was suffering and carrying on, but at one point he looked up at me and told me "Sis, I'm OK and he gave me a thumbs up," Arteaga said.
When she returned to visit her father again later that night, Hubbard's fever had again spiked and he appeared to be in severe pain. To Arteaga's surprise, the nursing home did not send her 91-year-old father to a nearby hospital.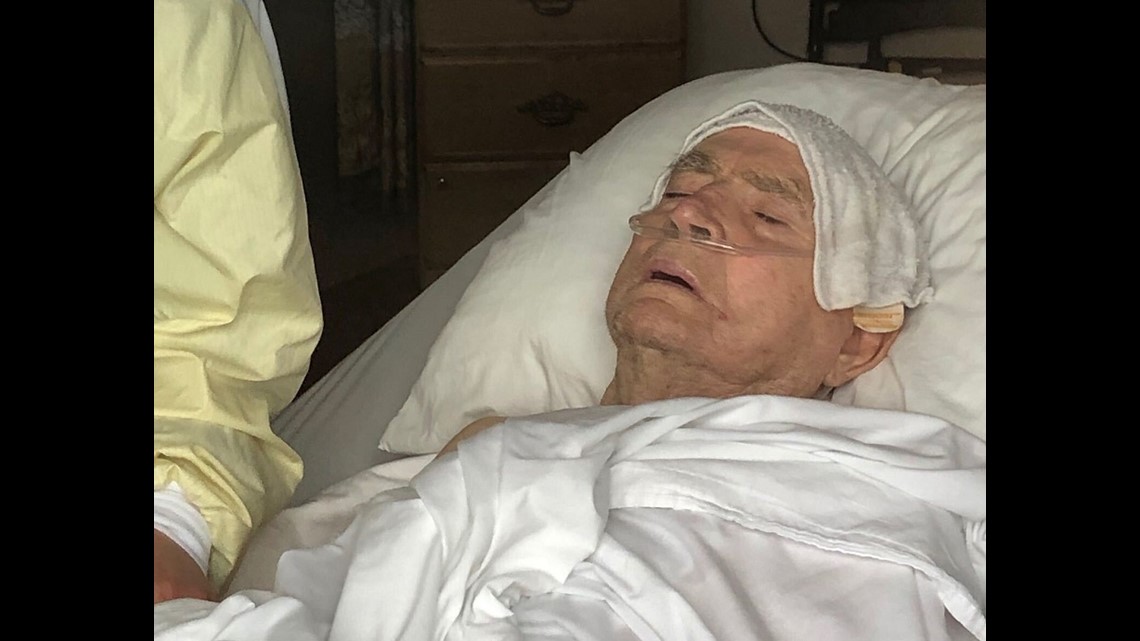 All the family could do was watch from a distance and take photos from outside room 117 as Hubbard's condition continued to worsen. Eventually the COVID-19 patient was hospitalized, but not because the nursing home took action. Hubbard's children called an ambulance on their own and demanded he be transported to a hospital, where he died two days later on April 30.
"It's so hard to be outside a window and can't do anything to keep the person you love alive, and you just stand there and watch him die in front of your eyes and no one will listen to you," Arteaga said. "They should have let us know how many people had it before it was too late."
Fighting for the data
State guidelines now say that's exactly what nursing homes should be doing. Those guidelines, released three days before Hubbard died, advise each long-term care facility in Indiana to inform their residents (and each residents' family) about how many COVID-19 cases and deaths are present in the nursing home. But even after those guidelines were released last week, Greenwood Meadows management still did not share COVID-19 data with Hubbard's family, according to Arteaga.
"The facilities are supposed to be doing that, and families can call and get that information if it's not being released," said Robin Kimp-Willis, a local Long-Term Care Ombudsman for eight central Indiana counties, including Johnson County where Greenwood Meadows is located. "We cannot give out information that's protected by HIPAA, but the number of positive cases and deaths is information that should be shared with families that want it."
"The number of positive cases and deaths is information that should be shared with families that want it."
Robin Kimp-Willis, Long-Term Care Ombudsman
Families that cannot get information about COVID-19 cases within a loved one's nursing home are encouraged to contact their local LTC ombudsman's office or to contact the state's LTC complaint hotline at 800-622-4484.
13 Investigates has also repeatedly requested information about COVID-19 cases and deaths inside Greenwood Meadows – both from the management company that operates the facility and from the state health department. Both have denied to release that information – even though the nursing home is owned by a county-run public agency.
Greenwood Meadows is one of dozens of long-term care facilities owned by the Health and Hospital Corporation of Marion County. The county-owned public agency collects millions of public tax dollars but did not provide any comment for this story. Instead, its management company, American Senior Communities, sent 13 Investigates a statement that claims it is now adhering to state guidelines.
"Communication with families is very important to us. Greenwood Meadows has been working very hard to communicate regularly and effectively with residents and family members regarding the novel virus. In response to the April 27th COVID-19 guidance by Governor Holcomb which was most recently updated on May 3, we are providing all information as requested by the Indiana State Department of Health to residents and designated representative under guidance and will continue to keep families informed.

Within each facility, we have an assigned staff person to be the primary contact for residents and their designated representatives. This is someone they can speak to about any concerns they may have. We also provide a secondary number, which serves as a customer service hotline, in case the primary contact is unavailable or has a full voicemail box.

We send daily communications to residents' designated representatives, informing them of the total number of COVID-19 cases and new cases in the last 24 hours. We also discuss the actions being taken to prevent further spread of COVID-19 and how to reach a staff person if they have questions.

We are also providing contact information for the local long term care Ombudsman to every resident and resident representative as well. Anyone may contact their local Ombudsman if they feel they are unsuccessful in reaching facility staff or are not being heard."
Transparency still lacking
But Daugh Hubbard's family said the company's statement does not match their experience. Several ASC staff members also told 13 Investigates that they were instructed to not speak to family members about the high number of COVID-19 cases spreading through the nursing home.
And American Senior Communities is still attempting to keep its COVID-19 data out of public light. Tuesday, the company again denied 13 News' request to provide COVID-19 data showing how many residents had tested positive and how many had died. It is the sixth time ASC has declined to provide that data to 13 Investigates in the past six weeks. Other nursing homes in Johnson County, such as Otterbein Senior Living and The Hearth at Stones Crossing, have been very transparent, publicly releasing their COVID-19 data to anyone who requests it.
Tuesday afternoon, 13 Investigates instead obtained the Greenwood Meadows data through an open records request to the Johnson County Health Department, which identified specific COVID-19 nursing home data as a public record that must be provided under the state's Access to Public Records Act. The Johnson County Health Department agreed to provide 13 News with coronavirus data for all six of the county's long term care facilities, and it shows nursing home residents currently account for nearly 75% of all COVID-19 deaths in that county:
Greenwood Healthcare: 107 positive resident cases; 26 resident deaths
Greenwood Meadows: 103 positive resident cases; 14 resident deaths
Otterbein Senior Living: 48 positive resident cases; 10 resident deaths
The Hearth at Stones Crossing: 7 positive resident cases; 1 resident death
Morning Pointe: 3 positive resident cases; 2 resident deaths
Compass Park: 3 positive resident cases; 1 resident death
The county's health officer told 13 Investigates the number of COVID-19 cases and deaths in Johnson County nursing homes is likely even higher than what it reported because of a delay in collecting data. Nursing homes are required to send their COVID-19 data to the Indiana State Department of Health, which then shares the information with local health departments. That process can take several days. ISDH maintains detailed COVID-19 data on every nursing home in the state, but state health commissioner Dr. Kristina Box and Governor Eric Holcomb have both said they will not release the data publicly.
As part of our ongoing fight to provide Hoosiers with information about COVID-19 in Indiana nursing homes, 13 Investigates has filed a complaint with the Indiana Public Access Counselor against the Indiana State Department of Health for failing to release the COVID-19 data it is collecting from every nursing home in Indiana.
"Everybody should be able to see that information," Arteaga told 13News. "This virus is real and if you have family in a nursing home, you need to demand it and know how much is there. If we had known, I think my dad would still be here."