LOUISVILLE, Ky. (WTHR) — When John Taylor suddenly began experiencing seizures in 2008, the businessman nearly lost everything.
"They were happening so regularly, I wasn't able to work. I was looking at bankruptcy. I was looking at moving in with my parents," he recalls.
That's when Taylor heard about an oil made from cannabis plants that helps reduce seizures in some epilepsy patients. He headed to Oregon to try some, and it changed his life.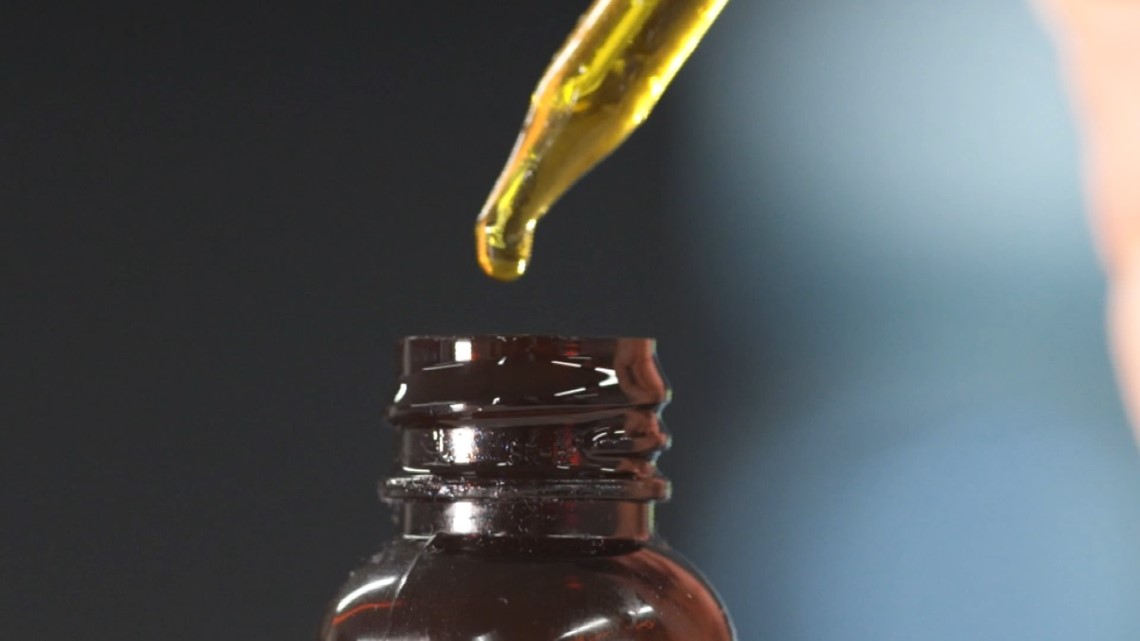 "I started taking CBD oil and I immediately stopped having seizures. I got well. I paid off my medical debt and was able to go back to work," the Army veteran told WTHR. "The evidence is pretty clear: this stuff helps a lot of people."
Taylor believes so strongly in CBD oil, he now makes it – thousands of bottles of days – in a high-tech processing plant in Louisville.
What he's doing in Louisville is illegal across the river in Indiana, where the state's attorney general recently announced the possession and sale of CBD oil violates state and federal law.
But in Kentucky, CBD oil is not only considered legal; it's at the center of a rapidly-growing industry that could result in thousands of jobs and millions of dollars in revenue. While state leaders in Indiana try to address confusion and misconceptions about CBD oil, Kentucky has clarified its laws and implemented a statewide program designed to capitalize on the product's growing popularity, economic potential and promising health benefits.
How it's made
Taylor invited 13 Investigates to tour his CBD processing plant, housed in a large warehouse that sits about one mile from Indiana.
Most of the facility is used to store thousands of pounds of raw cannabis, lined up in one-ton bags that stretch the length of a football field.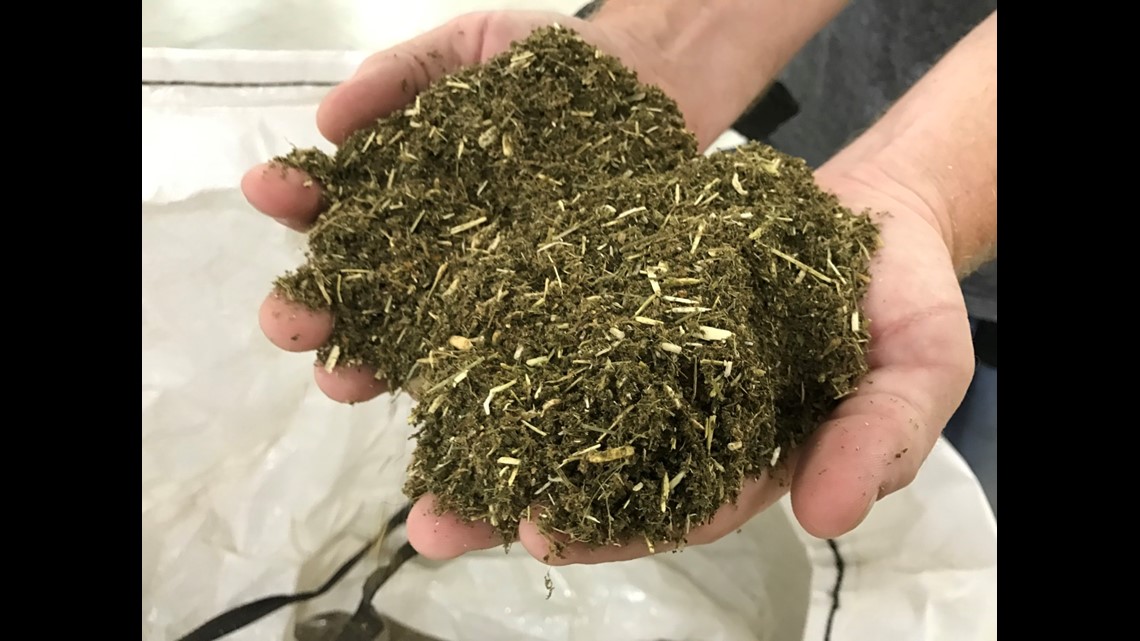 The dried, shredded plant material is called industrial hemp, and Taylor is quick to point out it is not marijuana.
"No, absolutely not," said the chief operating officer of Commonwealth Extracts. "It's from the plant Cannabis Sativa which is the same plant as marijuana. However, the THC levels are so low that's it's considered hemp. It's less than 0.3% THC. It doesn't get you high."
The hemp is loaded into supercritical fluid extraction machines, where carbon dioxide and high pressure draw out valuable compounds inside the plant. Those compounds shoot out of the extractors into large beakers in the form of a sticky mud. The brown, pungent substance is then distilled and refined until it becomes a clear, yellow liquid rich in cannabinoids.
It is bottled, packaged and shipped to stores as a liquid tincture, or added to other products such as balms or gummies.
A few months ago, Commonwealth Extracts produced about 300 bottles of CBD oil a day. A major expansion this fall will help the company meet growing demand. By year's end, Taylor expects to be making more than 80,000 bottles of CBD a day — and he has a license from the Kentucky Department of Agriculture to do it.
"I wouldn't be able to do this if we didn't have the support, authority and approval of our department," he said. "They are just behind this in a way that we feel blessed to be a part of."
Licensed and legal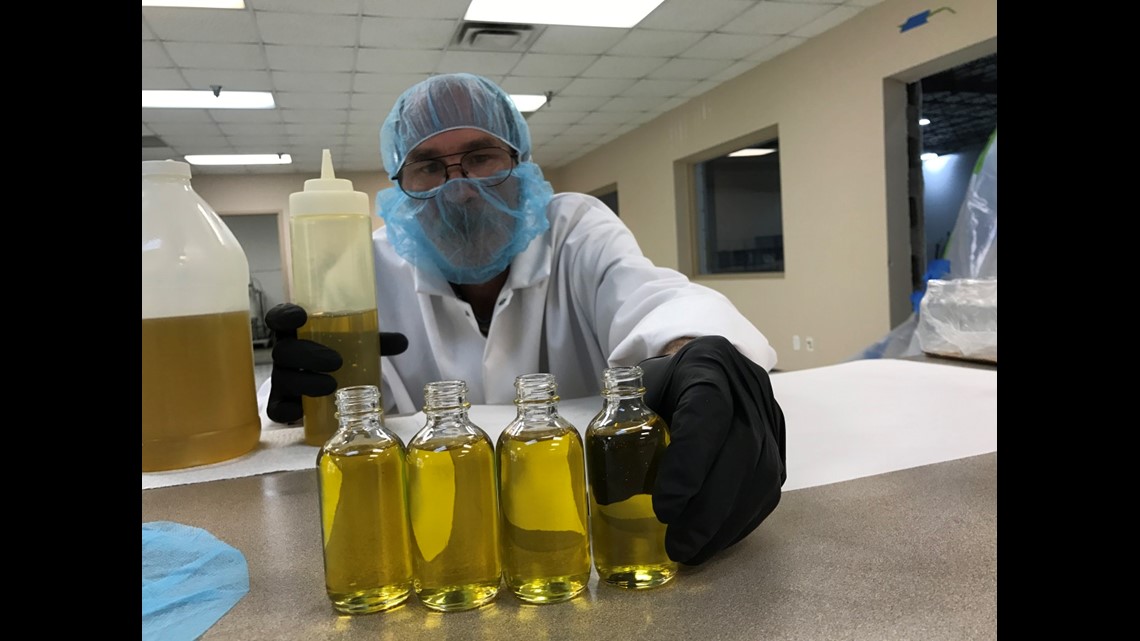 Growing hemp has been illegal in the United States for more than half a century – until Congress passed the 2014 Farm Bill. The law allows state universities and agriculture departments to create programs to grow, research and develop industrial hemp. Kentucky lawmakers quickly created an Industrial Hemp Research Pilot Program, and ever since, state leaders have been determined to lead the nation in the production of industrial hemp.
"We get calls from nearly every state in the country because we are more advanced than they are"
"Hemp is part of our heritage and part of our state history," said Doris Hamilton, who manages the Kentucky program. "Everything takes time and it takes education of the public, but now we get calls from nearly every state in the country because we are more advanced than they are. We're one of the leaders in the nation."
Commonwealth Extracts is one of 48 companies now licensed to process industrial hemp through the Kentucky program, and the state's department of agriculture has licensed 196 farmers to grow it.
All of the hemp is closely monitored by state inspectors, and it is tested before being released to processors. If the hemp contains more than 0.3% THC – the psychoactive compound in cannabis that creates a high sensation – it is destroyed.
"We have had to destroy some of the crop because it was too high [in THC], but that's been less than one tenth of one percent," Hamilton told WTHR.
Cannabis plants are now grown on nearly 13,000 acres of land across Kentucky.
Why can't Indiana do the same thing?
It can. It's just chosen not to – at least not yet.
Lots of Indiana hurdles
Indiana doesn't have a single CBD processing plant. Purdue University, which operates Indiana's federally-approved Industrial Hemp Research Pilot Project, holds the only state license to grow industrial hemp. The program receives little attention. Most Hoosiers don't realize Indiana grows cannabis on several acres of land in Tippecanoe County.
"We think hemp has a lot of potential," explained Janna Beckerman, a Purdue professor who helps oversee the state's hemp research project. "As of right now, it is a very high value crop — much higher than corn or soybeans."
Researchers at Purdue are eager to help Indiana develop industrial hemp into a thriving industry, but they need help from the legislature.
"We're in this pilot program. We've shown we can pilot this pretty well. When do we get to make it go somewhere?" wondered Ron Turco, head of Purdue's Department of Agronomy.
Indiana farmers and entrepreneurs are asking the same questions.
Austin Rhodus and Jeff Schafer are Indiana businessmen who founded Dreem Nutrition in 2015. The CBD oil company has been very successful in its first two years, and Rhodus says demand for his products is high. But while Dreem Nutrition's founders are in Indiana, the expanding company is not. The growing, the manufacturing, the jobs — none of it is in Indiana because the state has a hostile position towards CBD and industrial hemp.
"We definitely have a lot of hurdles to go through," said Rhodus. "It's so frustrating having so many gray areas and sitting on the sidelines just waiting and hoping and praying it all gets worked out."
"It's not getting people high. It doesn't have THC. It doesn't come from marijuana. What's the issue with it?" added Schafer, pointing out Dreem Nutrition CBD oil products contain 0.0% THC.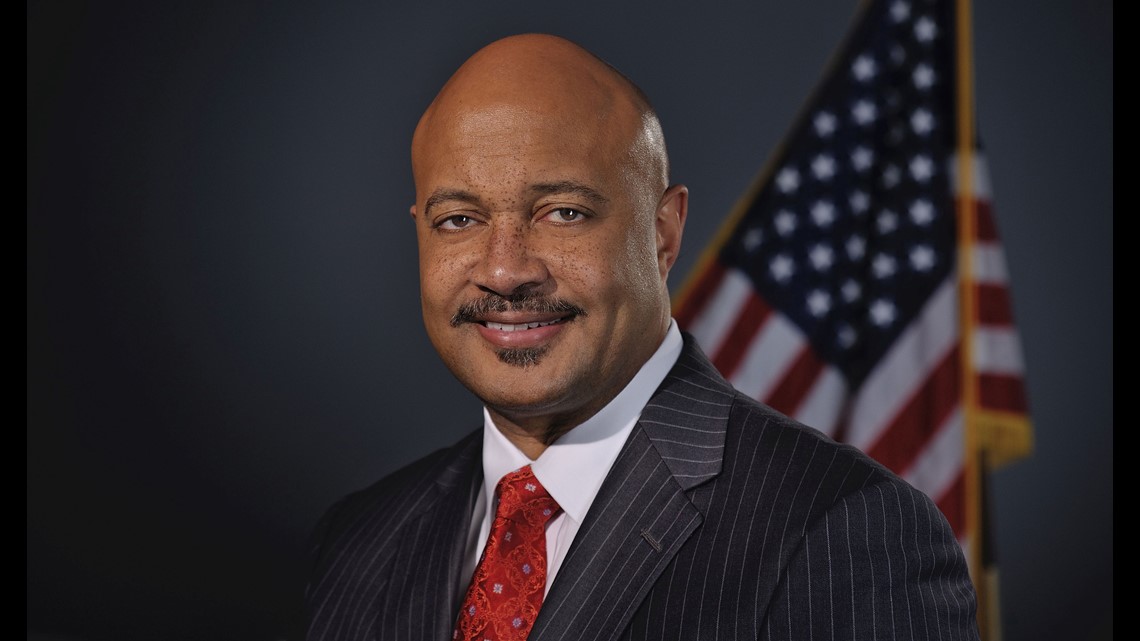 Even CBD oil that contains no THC is illegal in Indiana, according to Indiana Attorney General Curtis Hill. He says Indiana lawmakers created an exception only for certain epilepsy patients who suffer from specific non-treatable seizure conditions and who sign up for a state CBD registry. Otherwise, Hill believes those who use CBD oil do so at their own risk.
"CBD is not legal to possess and sell in the state of Indiana," he told WTHR. "CBD oil or cannabidiol is still a derivative of marijuana. Marijuana is a Schedule I controlled substance which is still illegal in the state of Indiana, as well as in the United States."
But state leaders in Kentucky analyzed the exact same federal law and came to a completely different conclusion. While Hill believes federal law prohibits CBD oil (a position shared by the U.S. Drug Enforcement Administration), former Kentucky Attorney General James Comer determined the intent of the 2014 Farm Bill exempts hemp pilot programs from the federal Controlled Substances Act, thereby "allowing the sale of hemp in Kentucky by those programs." Comer is now a U.S. Congressman, and he is trying to pass legislation to clarify the legality of industrial hemp on a federal level.
CBD jobs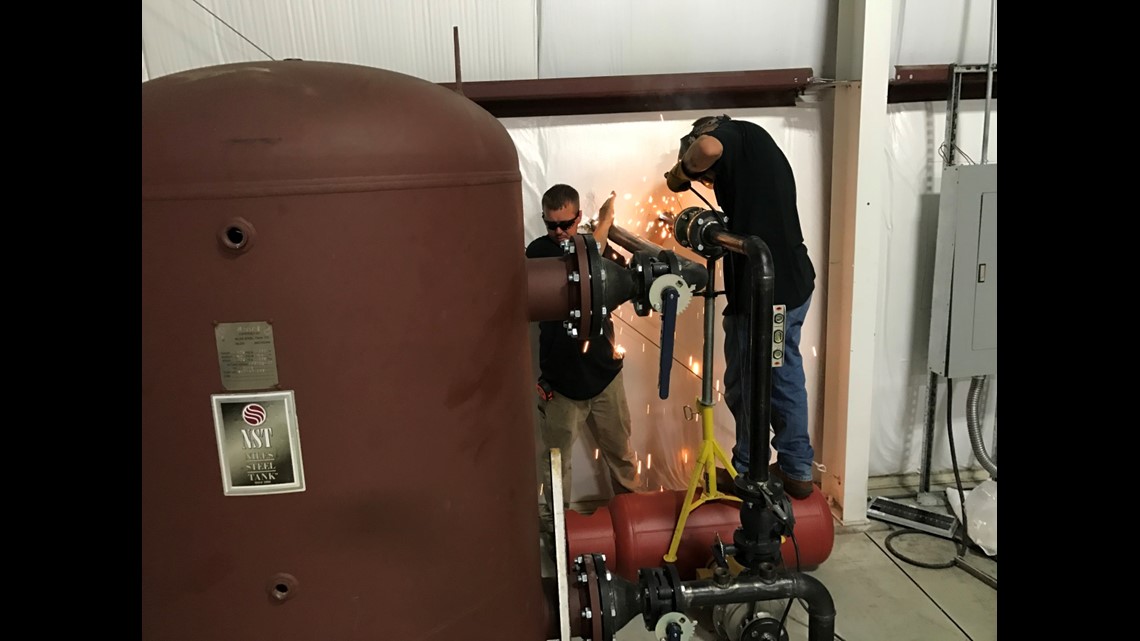 Lawmakers in Kentucky recently passed a revised CBD law that clarifies its status in that state. The new law makes a clear differentiation between marijuana and hemp, stating "the term 'marijuana' does not include a cannabidiol product derived from industrial hemp." As a result, CBD oil is legal to possess and sell in Kentucky, and processors are hoping to compete in an industry that created $65 million in U.S. sales in 2015. Kentucky's industrial hemp pilot program is already credited with 300 new jobs across the state, and some expect those statistics to climb.
"We think we're going to see a multi-million dollar industry turn into a multi-billion dollar industry
"We see the hundreds of jobs turning into thousands," said Jonathan Miller, Kentucky's former state treasurer who recently visited the Indiana State House as a lobbyist for the hemp industry. "I'm trying to help Indiana come to where Kentucky is in being a leader in industrial hemp. We think we're going to see a multi-million dollar industry turn into a multi-billion dollar industry."
Taylor says, for him, creating a CBD oil processing company has never been about the money.
"I'm doing this because I decided I didn't want to be sick and this can help a lot of people," he said. "This is about being well. This is about living life to the fullest and not being debilitated. It's a travesty that Indiana is arguing over something that is non-toxic and helping human health."
Asked what advice he has for Hoosiers who might now have trouble finding CBD oil, Taylor smiled. "I'll be happy to ship," he said.