INDIANAPOLIS (WTHR) — 13 Investigates has been digging to find out more about an Army doctor who sent a pregnant Indiana soldier into combat.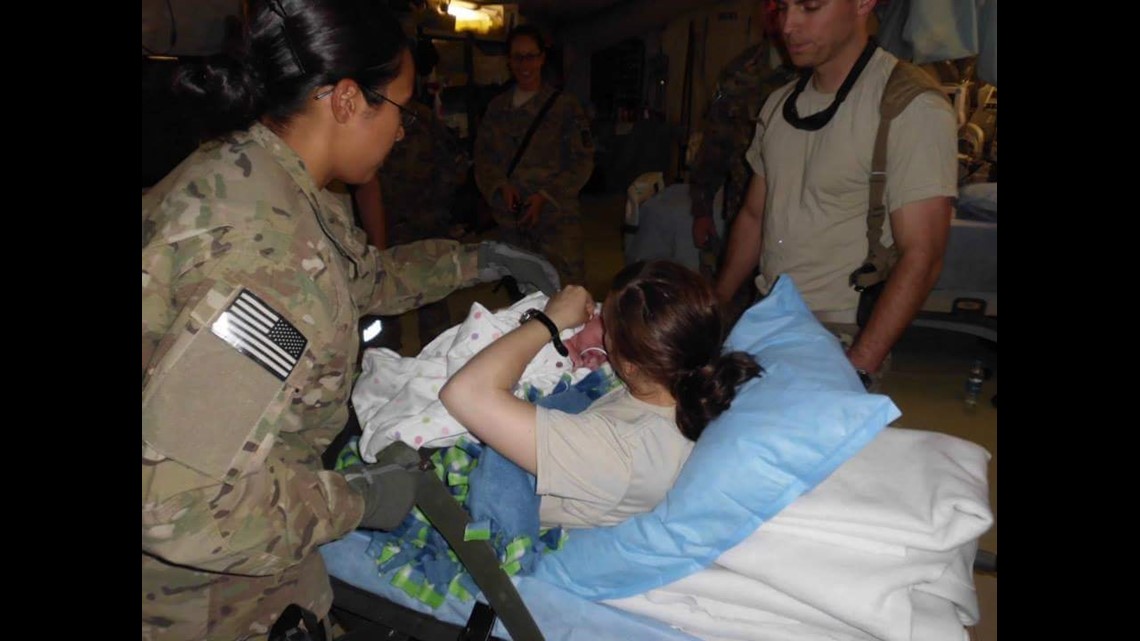 "They gave me shots for deployment plus I was working around chemicals that were hazardous," she told 13 Investigates.
Private Ashley Shelton unexpectedly gave birth in an army latrine. Now her 5 year old son lives with disabilities.
The only person who can say why Shelton was sent to Afghanistan despite five positive pregnancy tests is Dr. Jonathan Richard Coyle.
Coyle is an Osteopathic Physician assigned by the Army to perform Shelton's pre-deployment screening. But Dr. Coyle isn't talking about it.
"Why? Why? Why did you deploy me?" she asked, repeating the same nagging question as if she were talking directly to Dr. Coyle.
"I was pregnant, but he still said I was not pregnant." she told 13 Investigates.
13 Investigates has now confirmed those positive results included three urine tests and two blood tests. Blood tests are considered more accurate in determining pregnancy than urine tests. According to Army deployment protocol, the positive pregnancy test results should have kept Shelton from being deployed.

The doctor said the positive tests were a result of the soldier's exposure to mice.
Shelton believes the U.S. Army is covering up what happened by refusing to address how Dr. Coyle could blame mice for her positive pregnancy tests.
But despite repeated requests by 13 Investigates for reports about that investigation, the Army won't say what action was taken or if Dr. Coyle was disciplined.
Army Doctor's Service Record
Records show Dr. Coyle deployed to Afghanistan in April 2012, the same month he ruled Shelton "deployable."
He was assigned to the 12th Aviation Brigade as a surgeon; the same brigade Shelton was assigned to in combat.
Army records also show Coyle left Afghanistan two months after Shelton gave birth in October 2012.
13 Investigates wanted to ask Dr. Coyle about Shelton's deployment, but finding him took us across the country.
According to the Army, Coyle was sent back to Germany until January 2014.
He was then assigned to an army clinic in Fort Stewart, Georgia before leaving the service in 2016.
Following that stint, Coyle worked at the Winn Army Community Hospital in Georgia before taking his doctor's license west along I-70 into the Rocky Mountains.
His final destination was Grand Junction, Colorado.
13 Investigates Discovers Former Army Doctor Working in Colorado

13 investigates followed his trail to the Grand Junction VA Medical Center where he worked as a fill-in emergency room doctor and asked a receptionist if Dr. Coyle worked as part of the staff.
"He does work here occasionally yes," she said.
Coyle was not on duty that day and she could not say when he was scheduled to return.
"I don't know, their schedules are all over the place," she added.
One of Coyle's friends also told 13 Investigates Dr. Coyle was out of the country vacationing in Amsterdam.
13 Investigates sent several messages to the doctor, but he did not return our calls.
New Questions Emerge
Inquiries by 13 Investigates into Dr. Coyle's status in Grand Junction raised many questions in Colorado. 13 Investigates went to check his medical license at the Colorado Department of Regulatory Agencies and could not find Coyle in the database.

Under Colorado State law, doctors, including those who do fill-in work, are "required to obtain and hold a license as a physician in that State."
The requirement includes former military doctors unless they are "commissioned" and working under military orders.
Colorado also works with the Interstate Medical Licensure Compact to help doctors who work state-to-state get screened and licensed faster.
The State of Colorado reports "there are no public documents or records for licensure for Jonathan Richard Coyle."
Officials from the Interstate Compact tell 13 Investigates Coyle has not applied either.
Controversial VA Policy Overrides State Licensing Restrictions and Allows Doctors to work in VA Facilities Nationwide
So how is Dr. Coyle working in the emergency room of the V.A.?
A controversial VA policy allows doctors with a valid license from any state to work in VA facilities across the country. The VA relaxed its rules so that doctors do not have to get a license in the state where they are working, as long as they have a valid medical license somewhere.
Dr. Coyle has an active license in Nebraska but hasn't worked in Nebraska for years.
Critics of the VA policy worry background checks are inadequate.
The Grand Junction V.A. refused to answer questions about its verification standards and told 13 Investigates Dr. Coyle was hired as a contractor through one of two staffing agencies.
But A-Team Solutions, the staffing agency that currently holds the V.A. Contract in Grand Junction, told 13 Investigates Dr. Coyle is not one of its doctors. The contractor also revealed it requires a three month verification process for the doctors it places in temporary jobs.
A second staffing agency, Loyal Source, that worked the Grand Junction VA did not answer our questions about Dr. Coyle.

Back in Indiana, Pvt. Shelton wants to know if Dr. Coyle was held accountable for what happened to her and ultimately her son, Benjamin.
Doctors warned Ben could suffer from congenital birth defects after being exposed to anthrax and other vaccinations.
"My son is suffering," said Pvt. Shelton. "No one is looking out for him, like no one is looking out for me. But he (Coyle) is getting taken care of."
Grand Junction VA Severs Ties With Doctor
Days after 13 Investigates started asking questions, the Grand Junction V.A. decided to end its relationship with Dr. Coyle.
In an email Shawn Montgomery, the public affairs officer with the hospital, wrote:
"The VAMC no longer uses (Dr. Coyle's) services."
Montgomery would not say why the VA took action.