INDIANAPOLIS — Friday's latest updates on the coronavirus pandemic.
Marion County fall sports
13News has learned the Marion County Public Health Department is relaxing restrictions on fans at fall sporting events. Schools had been limited to only 250 fans in attendance.
They will now be able to allow 25 percent fan capacity up to 1,000 people. The 250 fan limit is still in play for indoor events.
Marion County football games begin Friday, Aug. 21.
Additional restrictions remain in place including:
Contests canceled due to COVID-19 will not be required to pay a cancellation fee.
If a contest is canceled due to COVID-19, it should be recorded as "No Contest".
Anyone who is not engaged in strenuous physical activity should be wearing a mask.
Athletes can wear neck gaiters and should slip them up over their nose when they are not participating in the contest.
If a school decides to sell concessions, it is recommended that all items sold in the concession stand be pre-packaged prior to sale.
Spectators will be allowed at the discretion of the host school with guidance from local health officials and in accordance with the governor's stage 4.5.
Spectators must wear masks.
IHSAA by-laws 9-14 (Practice Attendance Required to Participate in a Contest) and 50-1/101-1 (Pre-Participation Practice) will remain in effect.
ISDH update
The Indiana State Department of Health is reporting 1,079 new cases of COVID-19. That brings the total number of cases in Indiana to 78,632. The average of the 7-day positivity rate dropped slightly to 7.6 percent.
The state also recorded eight more deaths for a total of 2,906.
AG Hill calls for special session to address pandemic
Indiana Attorney General Curtis Hill sent a letter to Gov. Eric Holcomb and leaders of the Indiana General Assembly calling for a special legislative session to address the COVID-19 pandemic.
"In a republican form of government, we do not govern by executive decree," Attorney General Hill wrote in the letter. "We govern by legislation, enforcement, and adjudication carried out by separately elected (and appointed) officials. The Indiana Constitution so divides government functions to prevent concentration of power and to facilitate public debate."
Hill said the emergency used to justify executive actions has now become a long-term issue that deserves the attention of the people's representatives, Attorney General Hill adds.
Latest US, world numbers
There have been 5.24 million confirmed cases of COVID-19 in the U.S. as of 3:30 a.m. ET Friday, according to Johns Hopkins University. There have been more than 167,000 deaths and 1.77 million people recovered.
Worldwide, there have been 20.91 million confirmed cases with more than 759,000 deaths and 12.99 million recoveries.
For most people, the coronavirus causes mild or moderate symptoms. For some, especially older adults and people with existing health problems, it can cause more severe illness, including pneumonia and death.
VERIFY: Fact vs. fiction on back-to-school COVID-19 claims
The choice of whether or not to send your child back to school is a difficult and personal decision. While the internet can be a great place to find resources and information, it's also the source of a lot of confusion right now.
There have been claims about reopening schools all the way from the president down to local social media groups.
Newly-released data shows where and when COVID-19 swept through Indiana nursing homes
For months, 13News and other Indiana media pushed the Indiana State Department of Health and the governor to release COVID-19 data in nursing homes.
AARP also joined 13News in an urgent request to state officials, asking them to release detailed coronavirus data for each Indiana nursing home — data they had been keeping secret since the start of the pandemic.
After fighting for months to keep the information private, the governor and state health commissioner finally made good on a promise to be fully transparent about coronavirus inside Hoosier nursing homes.
Thursday morning, ISDH released its verified data for every long term care facility in Indiana, giving Hoosiers a much clearer picture of where and when COVID-19 has struck the state's most vulnerable residents.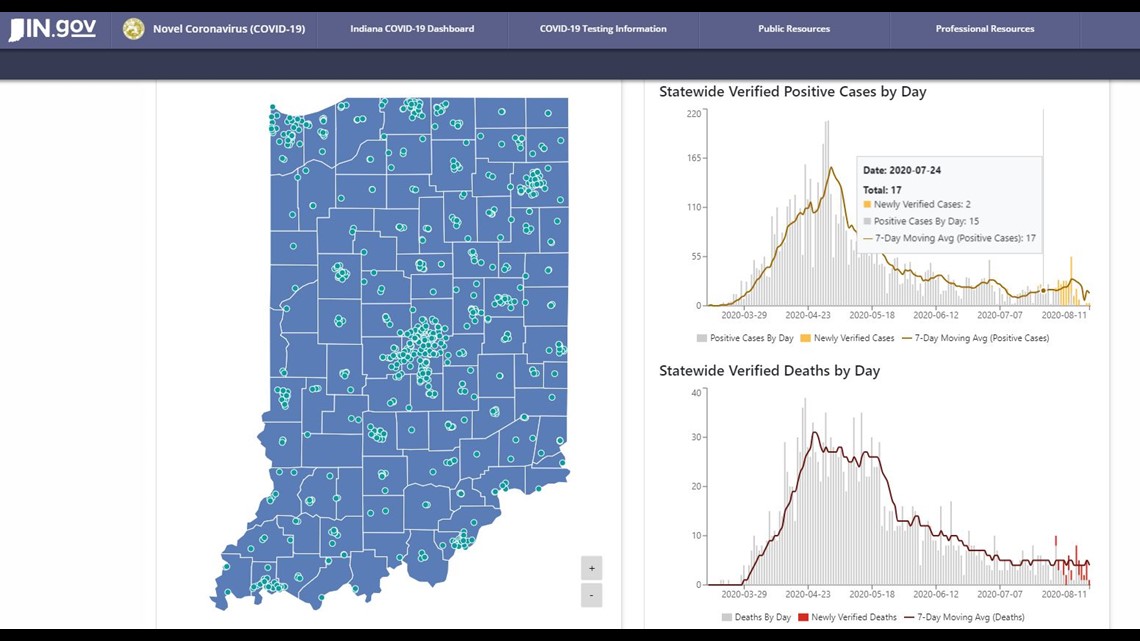 The COVID-19 long term care (LTC) digital dashboard allows users to see aggregated COVID-19 statistics across all Indiana nursing homes — information the state has been reporting for months. According to that data, 6,664 residents in LTC facilities have tested positive for COVID-19, and 1,753 have died from coronavirus-related complications since the start of March. 215 of the cases and 30 of the deaths are newly reported as of Aug. 5.
State Representative and School Superintendent Terry Goodin in isolation after positive COVID-19 test
State Representative Terry Goodin (D-Austin) says he is recovering at home after testing positive for COVID-19.
"Last week, I was alerted that I had possible contact with someone who tested positive for COVID-19 and on Monday, I received test results confirming my diagnosis. For several days, I have had full throttle flu-like symptoms with a skull-cracking headache, constant chills and a fever. I am isolated at home and the rest of my family has tested negative. I am hoping the worst days are behind me as I do feel like I am on the mend, but I will be quarantined until I am released by my doctor," Goodin said.
Goodin is also the superintendent of Crothersville Community Schools in Jackson County.