INDIANAPOLIS — One of the leading doctors on the White House Coronavirus Task Force warned state and local leaders on a private phone call that 11 cities, including Indianapolis, needed to take "aggressive" steps to limit the virus' spread, a report said.
According to a report from the Center for Public Integrity, Dr. Deborah Birx, a leader of the White House Coronavirus Task Force, identified St. Louis along with Baltimore, Cleveland, Columbus, Indianapolis, Las Vegas, Miami, Minneapolis, Nashville, New Orleans and Pittsburgh as cities needing to get outbreaks under control.
"What started out very much as a southern and western epidemic is starting to move up the East Coast into Tennessee, Arkansas, up into Missouri, up across Colorado, and obviously we're talking about increases now in Baltimore," she said. "So this is really critical that everybody is following this and making sure they're being aggressive about mitigation efforts."
In the phone call, Dr. Birx said local health departments should be monitoring positivity rate closely.
"When you first see that increase in test positivity, that is when to start the mitigation efforts," she said in a recording obtained by Public Integrity. "I know it may look small and you may say, 'That only went from 5 to 5-and-a-half [percent], and we're gonna wait and see what happens.' If you wait another three or four or even five days, you'll start to see a dramatic increase in cases."
According to figures released Wednesday, Marion County now has more than 13,000 cases of coronavirus, with 101 cases added Wednesday. The "donut counties" around Marion County added 78 cases to that number.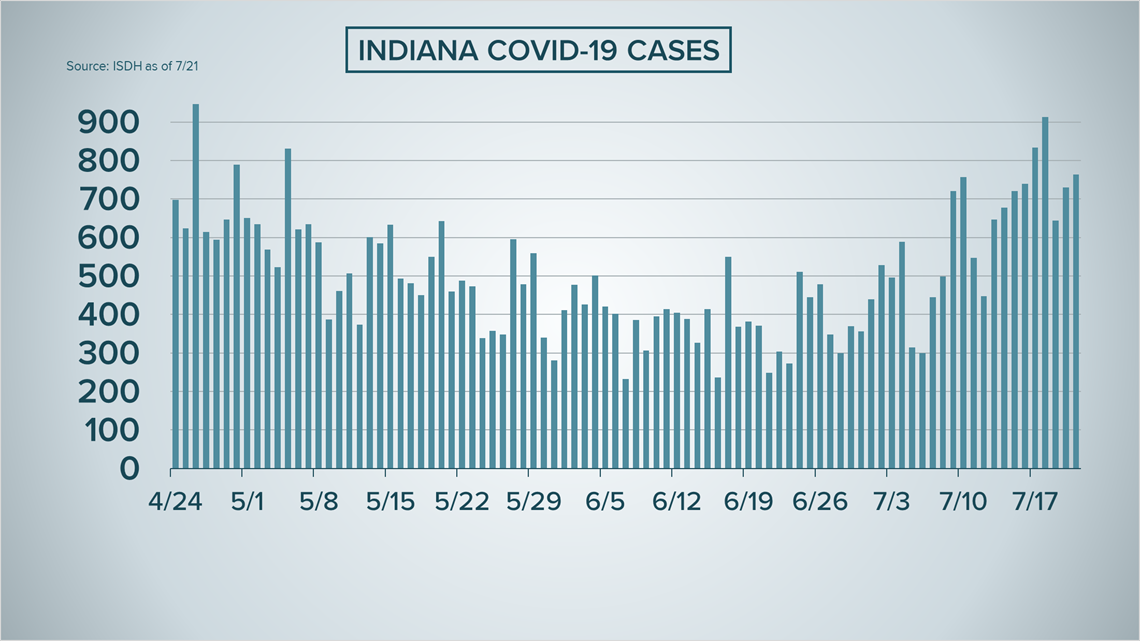 In the latest numbers from July 15, the state's 7-day positivity rate was 6.9%, which is down slightly, but still above the close to 4% rate we saw in mid-June. A factor in the shift is likely the number of tests being done bumped up.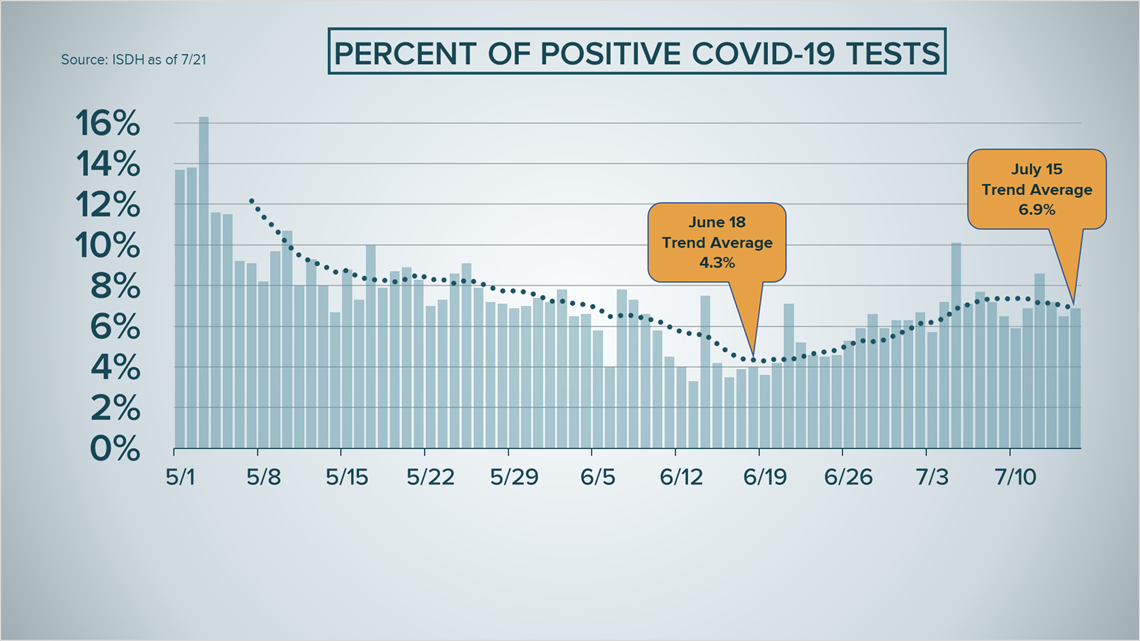 Indiana also saw a big jump in hospitalizations, climbing to levels we haven't seen since mid-June. Sixty-six more people are filling hospital beds Wednesday compared to Tuesday. The number of ICU beds in use also climbed, with 60 more patients in intensive care on Wednesday than a day earlier. The question will be whether the increase is a one- or two-day bump or a trend.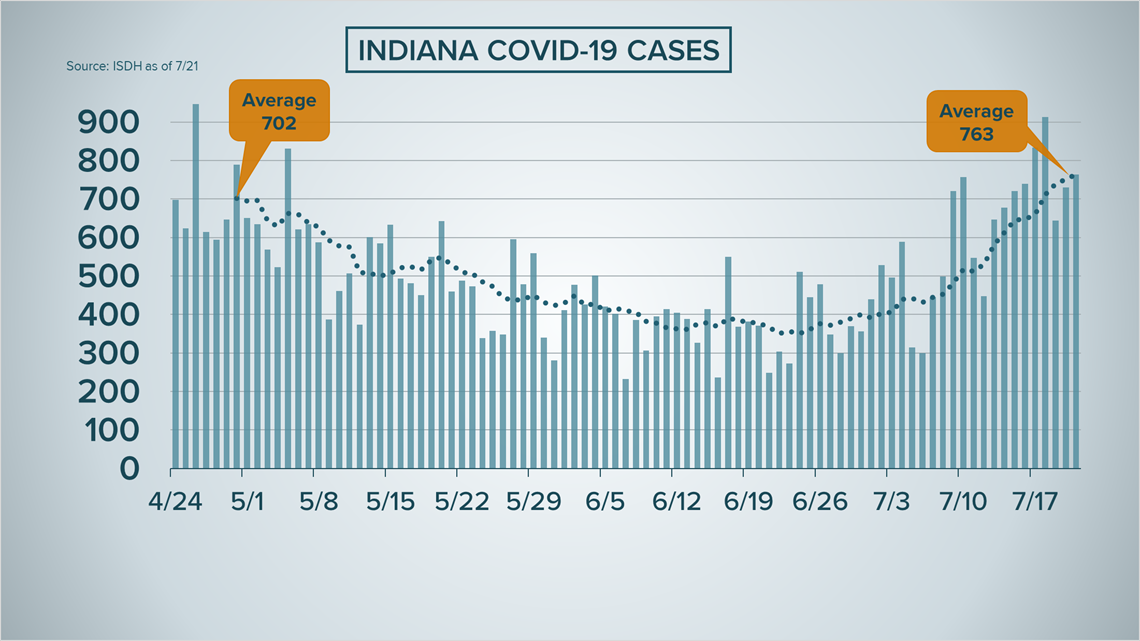 The moving average of cases of COVID-19 hit a record high on Wednesday, with an average of 763 Hoosiers diagnosed every day in the last week. The previous peak was 702 cases on April 30. Indiana has recorded more than 600 cases per day for nine days in a row, the first time that has happened during the pandemic.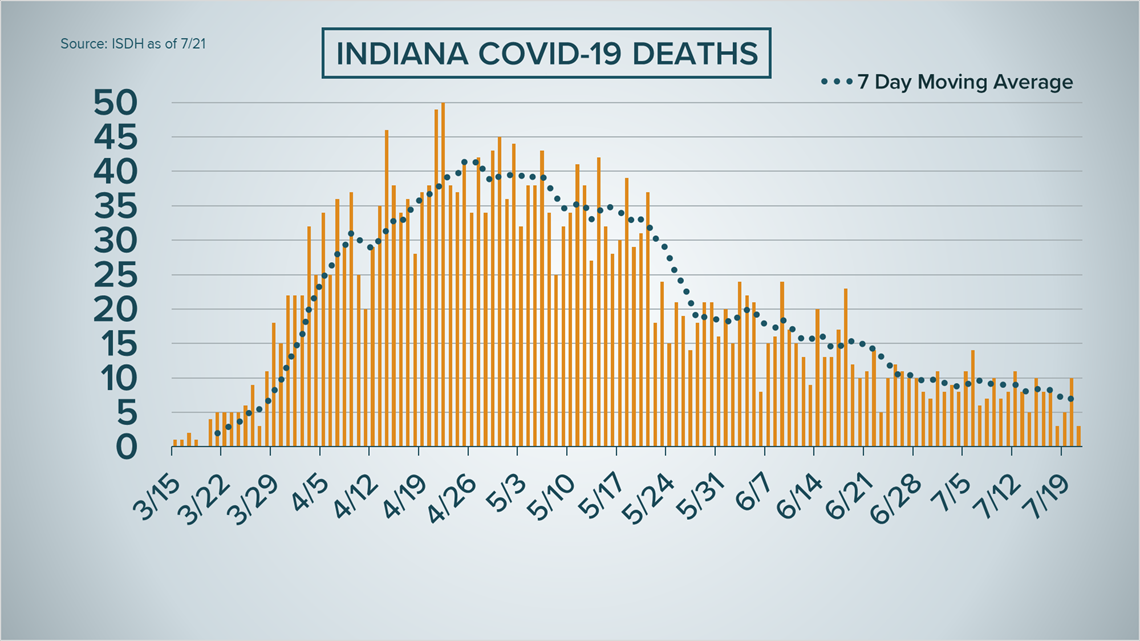 Indiana has not seen the marked increase in deaths from coronavirus that other states are experiencing.