INDIANAPOLIS (WTHR) — Governor Eric Holcomb signed legislation Monday, March 23, 2019, that could potentially save the lives of countless Hoosier children.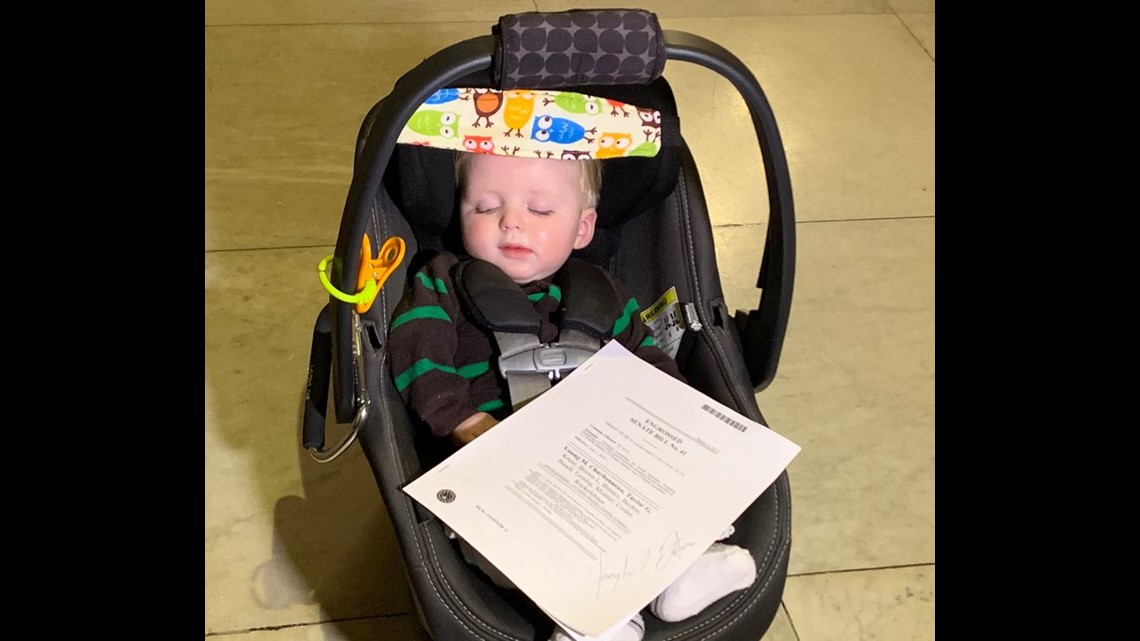 It adds three rare, genetic diseases to Indiana's newborn screening panel, including Krabbe Disease, which Bryce Clausen is living with right now.
His family, despite that deadly diagnosis for their son, made it their mission to help future Hoosiers survive.
Governor Holcomb's office was full of family members Monday all celebrating the victory for Bryce Clausen.
The Governor acknowledged his parents' persistence in getting a change in Indiana law.
"Thank you both. Thank you. We would not be here without you all," Governor Holcomb told them.
The ceremony was about more than a signature. It's about saving lives. Turning Bryce's Bill into Bryce's Law took a family's courage to publicly share personal tragedy about a deadly diagnosis.
"Since they put it all out there for everybody to see, it makes it easier for families like us," said Lauren Runyon, whose four-year-old son has Hurler's Syndrome.
"This little guy led the charge. It's all about Bryce and his willingness to come forward," said Rep. Doug Gutwein (R-Francesville), who first contacted the family about making a change at the Statehouse.
It took that swift action from lawmakers to make something happen politically, in less than two months, which some call unprecedented.
"It's a great day for Indiana. It's a great day for the Clausen family and I'm excited to be here," said Gutwein.
"I never imagined it would happen this fast," said Andrea Clausen, Bryce's mom. "I never imagined that it would happen in this legislative session, let alone be the first bill to be signed by the Governor."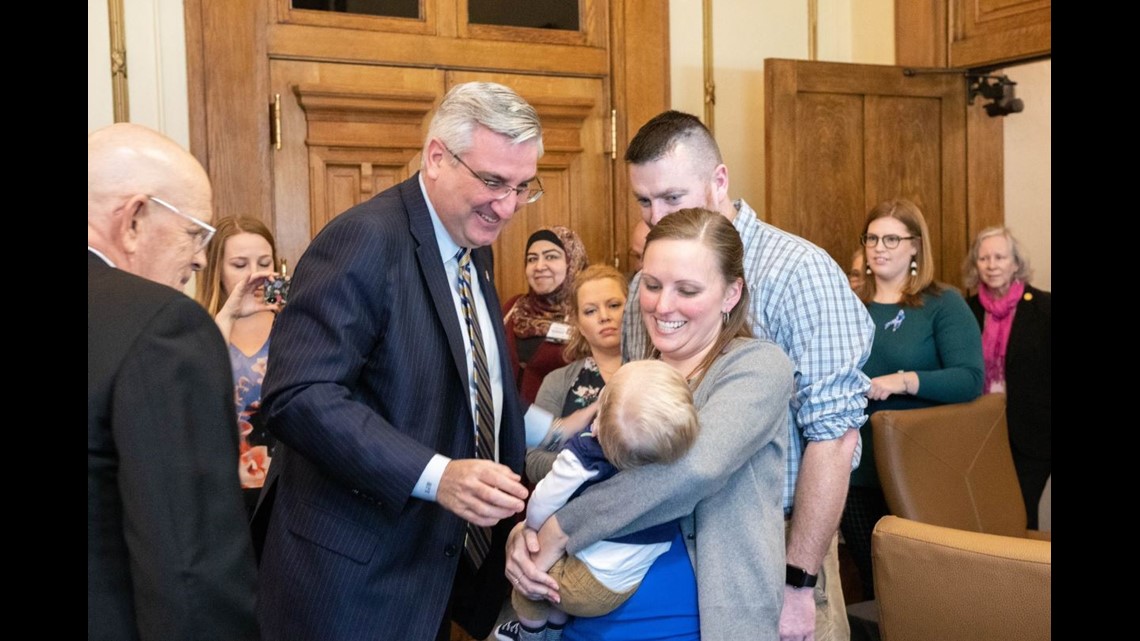 That signature will protect Hoosier babies.
"It's a good day. Today's a good day," said Joel Clausen, Bryce's dad.
"Huge day. We're so excited and for it to happen on his 14-month birthday, that's pretty cool, too. We're just so proud of him and all he's allowed us to do to help other babies," said Andrea.
Starting July 1, 2020, all Hoosier newborns will be tested for Krabbe Disease, Pompe Disease and Hurler's Syndrome, in addition to the 49 other disorders already on Indiana's newborn screening panel.
The cost is $10.70 per infant, paid for through Medicaid and insurance.
The state, to reimburse Medicaid, will pay an extra $154,000 per year.
Compared to most expenses for the state, that amount is miniscule and the benefit could be life-changing. It will give parents whose children might be affected by Krabbe a chance to try stem cell transplants before symptoms show and it's too late for any sort of treatment.
Bryce won't get that chance, since he wasn't tested and has already developed symptoms. But because of his battle, other babies will. It's a law and a bittersweet legacy this family fought for and won.
"We're really excited," said Andrea. "We're sad that we can't help him, but you know, helping others is all we can do right now and we're really happy to be able to do that."
"I'm so excited for Bryce's Bill and I'm so excited for what we got done," added Joel. "But bittersweet is a good word. Again, it doesn't help Bryce and as a parent, that's tough. But you know, you try to turn a positive from a negative and today is a positive."
This family has made such an impact that other states are getting more pressure to change their laws when it comes to Krabbe and newborn screening.
Oregon and South Carolina are considering bills right now as well.