INDIANAPOLIS (WTHR) — The Marion County Prosecutor's Office announced Monday that it will no longer prosecute simple marijuana possession cases.
"Too often, an arrest for marijuana possession puts individuals into the system who otherwise would not be. That is not a win for our community," Prosecutor Ryan Mears said. "The enforcement of marijuana policy has disproportionately impacted people of color, and this is a first step to addressing that."
That means when someone is picked up for having an ounce or less of marijuana, they won't be prosecuted.
"Our priority is violent crime." Mears said. "We are not going to mess around with these small possession of marijuana cases."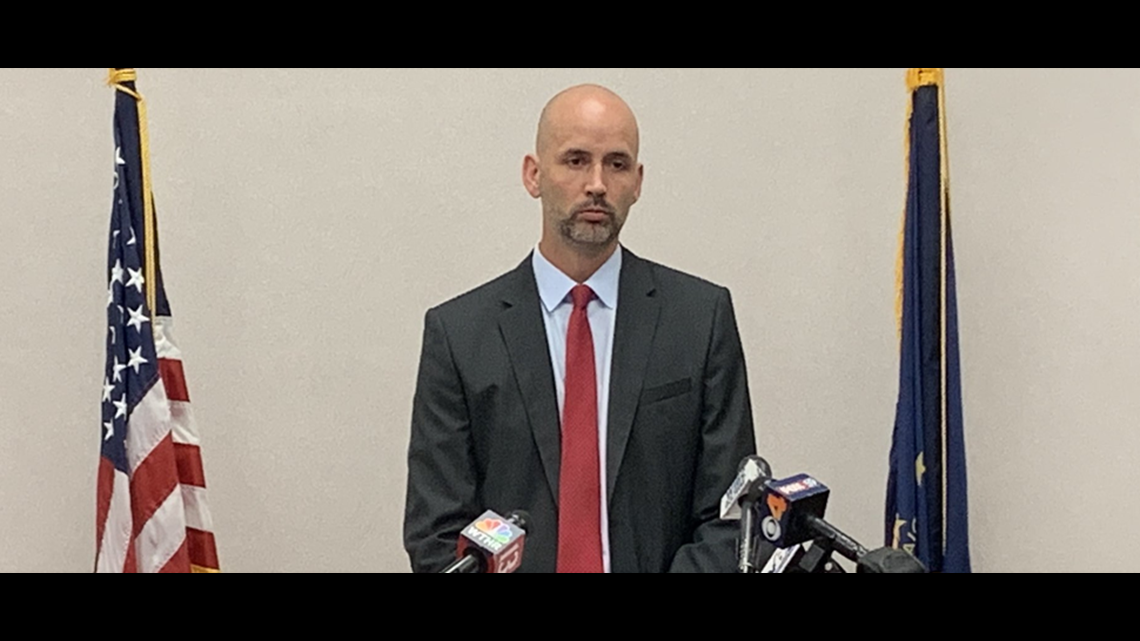 According to Indiana state law, possession of marijuana in an amount less than 30 grams can be prosecuted as a Level B Misdemeanor punishable by up to 180 days in jail and a fine of $1,000.
The prosecutor clarified what will happen if police do make an arrest.
"It's not being sold. It's not being smoked. We are not going to be filing those cases," Mears said.
According to the former chief deputy prosecutor, minor marijuana possession cases are clogging courts, over crowding jails, and taxing resources that could be better spent fighting violent criminals.
"We want people thinking about what will have the greatest impact on public safety," Mears said. "This does not have an impact on public safety, that's why we are walking away."
According to Mears, the prosecutors office is already dismissing eight out of 10 minor possession cases. Mears insisted he's found no connection between people arrested having a small amount marijuana and violent crimes.
"Just because you are arrested on B misdemeanor possession of marijuana does not mean you are going to be a murderer or a robber," Mears said.
The policy does not apply to persons under the age of 18.
The crimes of public consumption, driving under the influence, growing, trafficking or dealing marijuana will continue to be prosecuted.
The prosecutor is reviewing almost 400 pending drug cases, and is preparing to help expunge the records of people who have been convicted of minor marijuana possession charges.
Indiana Attorney General Curtis Hill issued a statement about the prosecutor's decision:
"I respect and support the fact that prosecutors have absolute discretion in deciding when to file criminal charges and how to allocate their resources. Typically, though, prosecutors carefully exercise this discretion on a case-by-case basis rather than proclaiming that in all cases they will ignore a particular state law not to their liking. I am concerned that this proclamation in Marion County will attract to Indianapolis people with a particular interest in communities where drug enforcement is lax. It seems to me a curious strategy to put out a welcome mat for lawbreakers in a community already facing challenges related to crime, homelessness and other social problems stemming from drug abuse."
The Indianapolis Fraternal Order of Police issued a statement in response to the announcement by the prosecutor's office:
"Today we learned of the decision of the Acting Prosecutor to not prosecute misdemeanor violations of possession of marijuana in Marion County. Our collective rank and file had no prior indication of this decision and we are trying to ascertain if others within the criminal justice community and city county government were aware of this move beforehand. Such an across the board decision not only impacts our local community, but has implications for jurisdictions throughout our region and state. While we recognize and value prosecutorial discretion, our law enforcement officers have significant concerns anytime a single person elects to unilaterally not enforce a state law as a matter of practice or policy. We are attempting to better understand the basis for this decision and any potential unintended outcomes. In the interim, it is our understanding the IMPD Chief of Police has directed officers to continue to enforce the laws as proscribed by the State of Indiana and we strongly concur."
The decision by the prosecutor's office is getting mixed reviews in the community, especially since Mears appears to have not discussed the huge decision with any of the other municipalities impacted by it.
Community leaders are trying to educate as many people as possible about the change. Pastor James Jackson of Fervent Prayer Church on Indy's far east side is concerned that the message will come with a lot of misunderstanding.
He stressed during an interview with Eyewitness News that no matter how it's prosecuted or not prosecuted possessing marijuana is still against the law in the State of Indiana.
"A little surprising at this point," said Jackson. "We knew it would possibly happen one day, but no one expected it this soon. Especially since it has not been legalized in Indiana like in other states."
The east Indianapolis community leader shared that he has mixed emotions about the surprise announcement.
"It's a step in the right direction. It will free up the system and to make sure that people's lives are not getting messed up over this," Jackson said.
The change not only caught many law enforcement partners by surprise, but also organizations like Drug Free Marion County. They focus on drug prevention and showed Eyewitness News one of their brochures to stop marijuana use. Executive Director Randy Miller fears it will send the wrong message to people. One of his biggest concerns is young people who often use marijuana as a gateway drug to more addictive drugs.
"Does it subliminally tell them or give them some permission to passively do some things they might not consider doing or consider the ramifications of that as being less consequential?" Miller said.
That's one of Jackson's concerns, too. While he is glad that the relax in the prosecution will help people caught in the system possibly get their lives on track, he wants people educated about what the announcement really means.
"It's not a free pass. It's not a get out of jail free card. The law is still the law," said Jackson.
Jackson plans to reach out to several civic organizations including the concern clergy about the change in policy. Jackson also wants as many community meetings about the change as soon as possible.