Indy Rama: Stop 4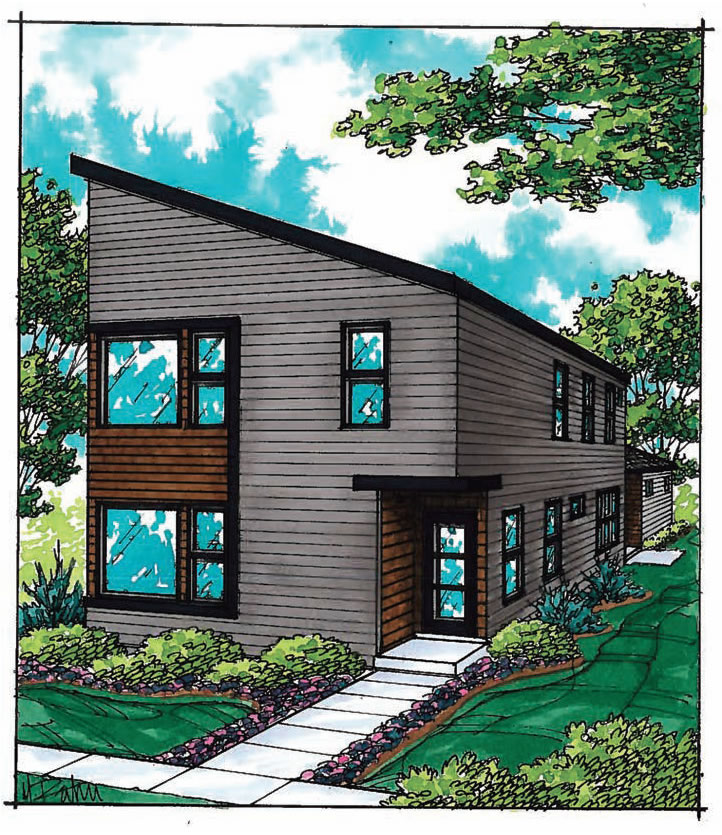 1917 BELLEFONTAINE ST.
H•E Homes
This year's home is a version of our "Thrive" design, one of our most popular layouts. Flexible and functional, the home has tons of amenities and design ideas for a variety of families. On the main level, a spacious entry welcomes you with a sitting area and connection to the living space, including a custom-designed hardwood feature wall that adds modern flair to the home.
Corner-wrapped windows show off the wide-open space, perfect for entertaining. The open kitchen and dining room are connected to a gorgeous outdoor living area, nestled next to the home for better function and greater privacy. Cedar-wrapped walls add some warmth to the space. The attached garage provides convenience to the owner's lifestyle and additional storage space, usually forgotten in downtown living. The upper level shows a flexible open office, the master suite with a large walk-in closet, separate vanities, and a skyline view of downtown.
Floorplans
Builder: H•E Homes
H•E Homes was designed to transform the market with greater transparency and a streamlined project that makes sense from start to finish. We help guide and answer your questions to ensure your next home is the best fit for your lifestyle and price point. We work to exceed your expectations at every step. We include a 10- year fully transferrable warranty on your home to add peace of mind and additional value if you ever decide to move. Our upgraded energy-efficiency and soundreducing wall construction are included standard in every home. Plus, our guided web portal showcases all the information about your project from start to finish, providing the answers you need in one place. Scheduling, customizations, and upcoming steps are all clearly organized and presented so that you know exactly what to expect each and every day.
Community: Kennedy King
Kennedy King, located just north of 16th Street and bisected by College Avenue, is filled with new homes, as well as historic ones dating back to the late 1800s. Mature trees line the sidewalks in this quiet neighborhood. Grab dinner at some of the city's best restaurants and bars on nearby Mass Ave, and then enjoy a leisurely walk back home on the Monon Trail. The jewel of the neighborhood is the beautiful Martin Luther King Memorial Park, home to the sculpture from which the neighborhood draws its name. It honors both Martin Luther King Jr. and Robert Kennedy. kennedykingnbhd.org
Community Partner
Cannon Ball Brewing Company

Suppliers
Airtron Heating & Air Conditioning
Aqua Systems
B&F Roofing
Best Flooring
Blair Windows and Doors
BRS Mechanical
Carter-Lee ProBuild
CKV Finished Products
Dave Spurlock Painting
Dunbar Carpentry
Edwards Trimworks
ICC Floors
Indianapolis Concrete
Jay Troy's Sewer & Septic Service
Lee Supply
LP Building Products
Nelson Drywall
R.D. Tisdale Landscaping
Scott Hofer Home Staging & Art
SEA Group
Sims Lohman
Weber Concrete Construction