The latest data into the Live Doppler 13 Weather Center continues to point toward more of a "nuisance" snow Friday into Friday night in central Indiana. That means for many areas, accumulations will be under an inch (the exception being northwest and south-southeast) but enough at times to create some slick roads — especially Friday night after temperatures drop well-below freezing.
Winter Weather Advisories and/or a Winter Storm Watch are up all around central Indiana, hinting of where the more impactful travel conditions emerge with this system.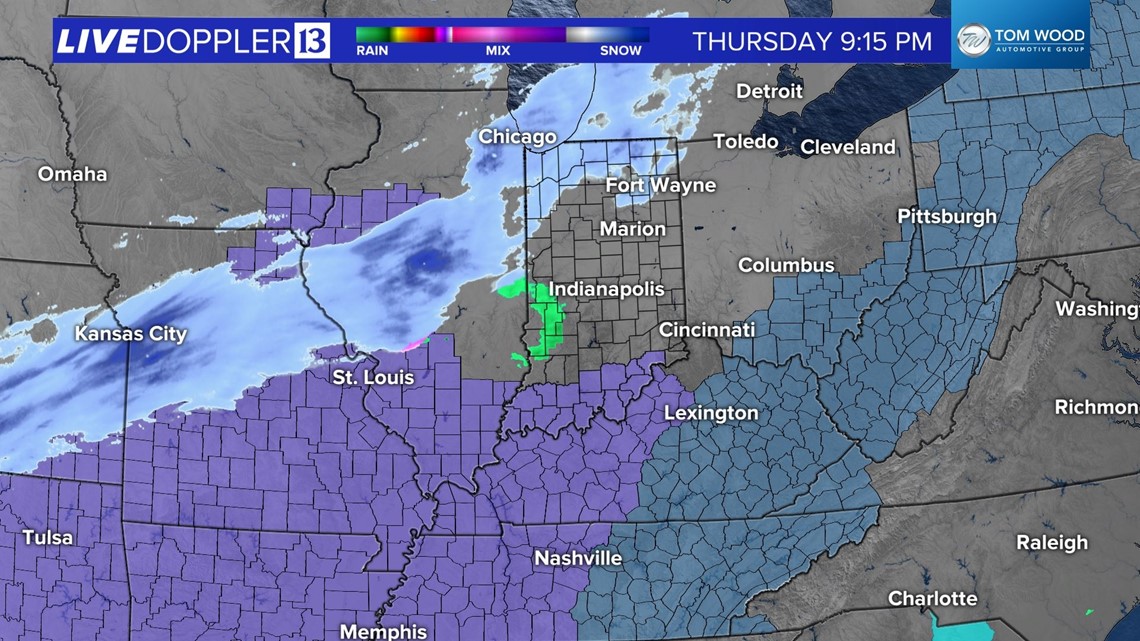 At this hour, the air remains relatively dry, and we expect this to "eat away" at some of our potential snowfall the next 24 hours.
With that said, a narrow band of snowfall should develop to the north-northwest of Indianapolis later tonight into Friday morning. This will be the first of two waves of snow/precipitation in the viewing area and what delivers most of the forecast snowfall for the 1-3-inch zone in north-northwestern Indiana.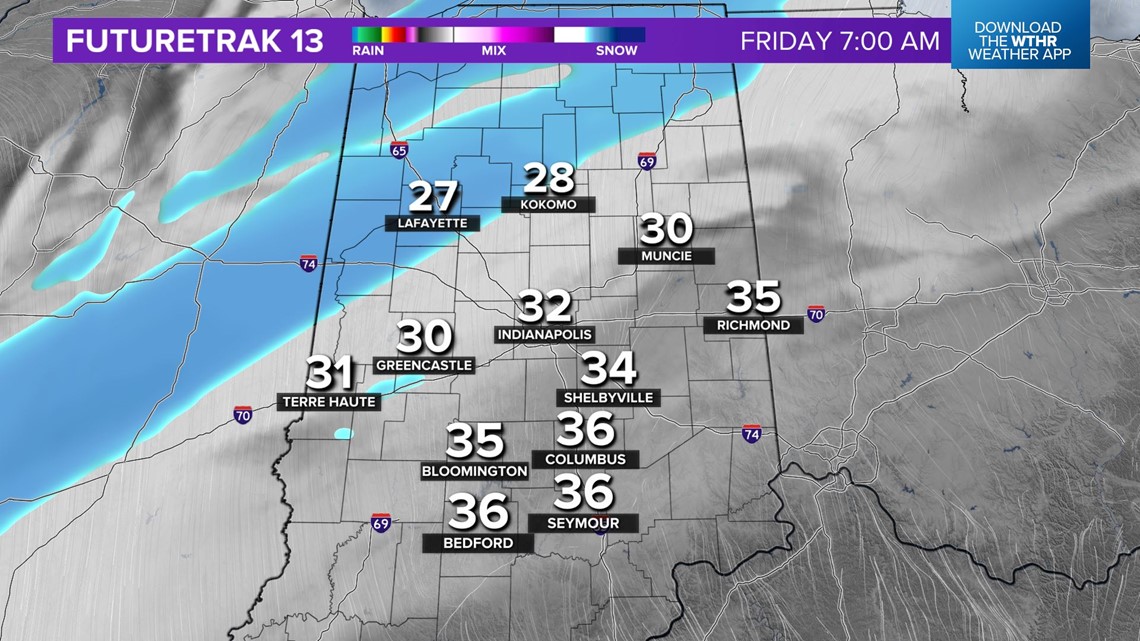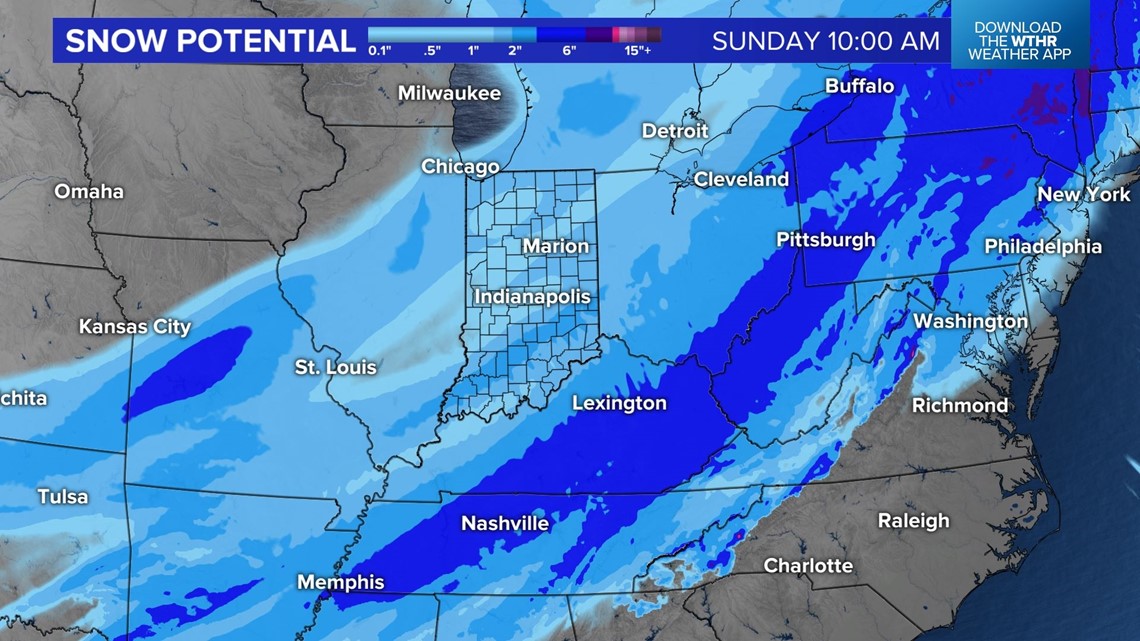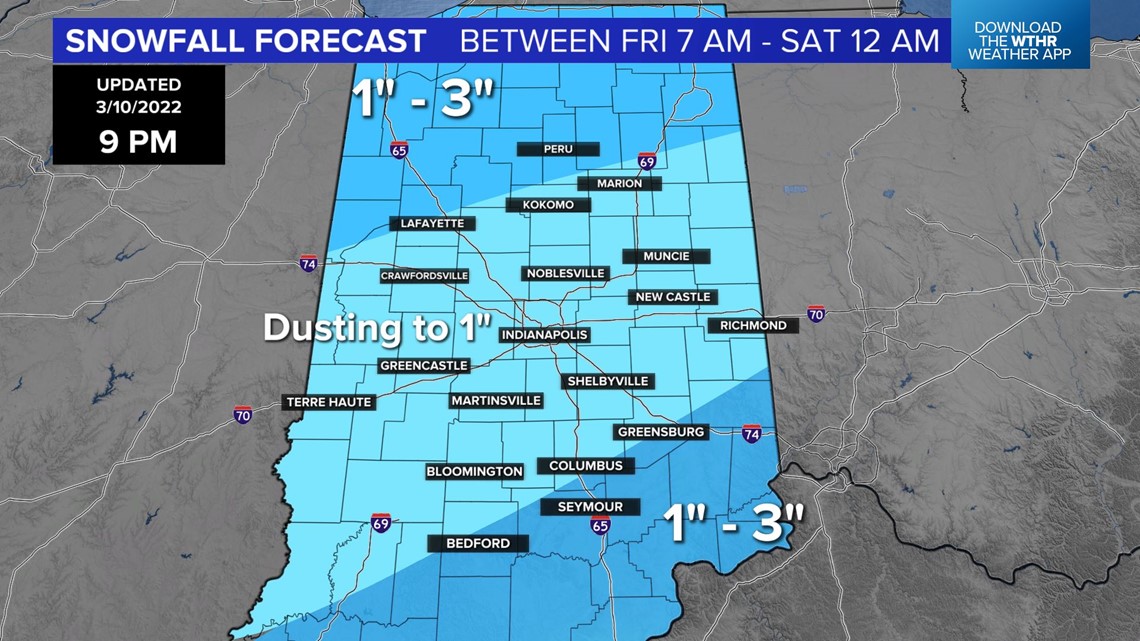 Some light snow/flurries will be possible around Indy Friday morning, but at this time, we don't envision major commute issues for the metro area Friday.
The second wave of precipitation (combo of snow/rain, perhaps) develops late morning into early afternoon and will be more focused along/south of I-70. The snow will be falling onto surface temperatures in the low/mid-30s, which is expected to keep roads only wet where it does occur.
Temperatures drop below freezing toward sunset Friday, and there may be some heavier snow rates developing over southeastern Indiana as the storm system begins to strengthen some.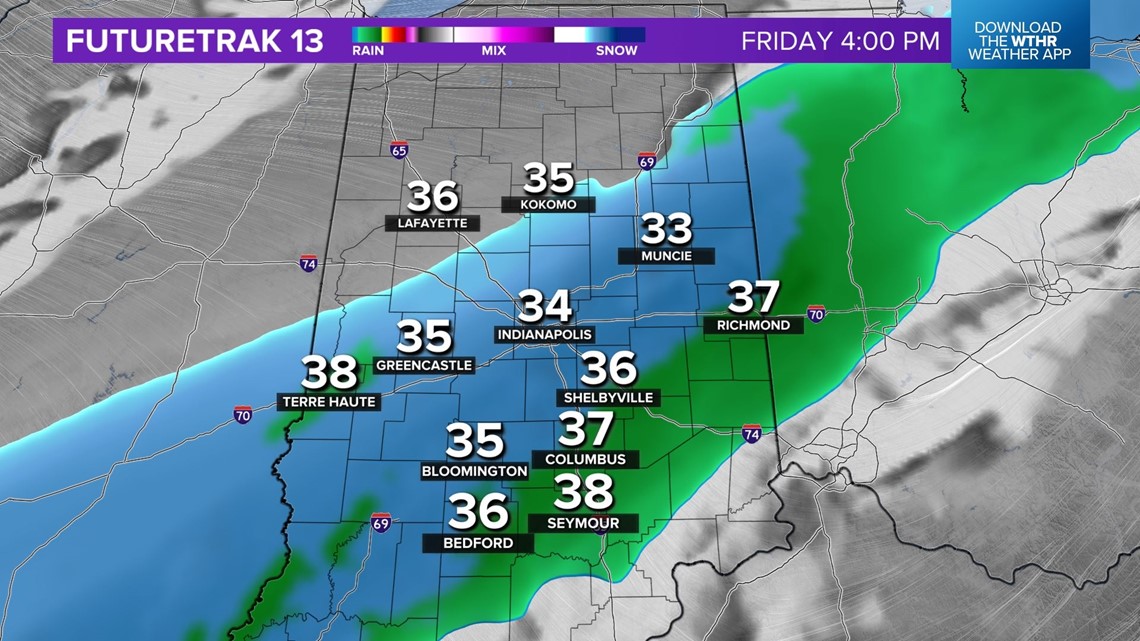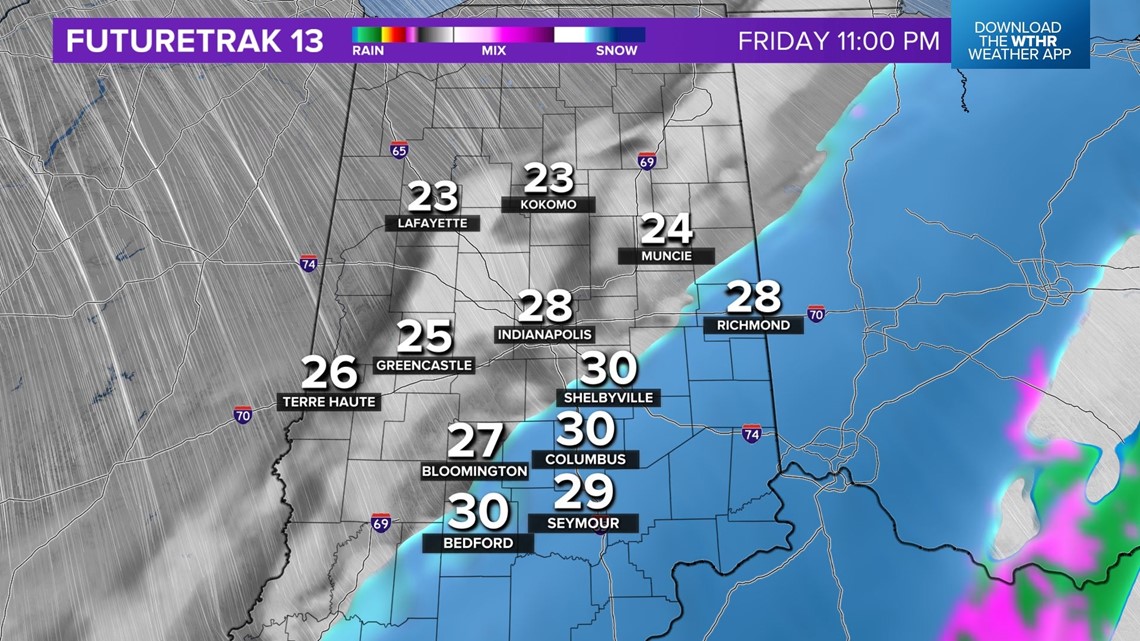 The location of this potential band will be key as it would have a greater chance of producing 1-3 inches and slick roads. After reviewing the latest data, we're keeping that zone southeast of Indy with a broad dusting to locally a 1-inch zone over the central part of the state.
It's conceivable that both pieces of energy from the morning and late afternoon/evening could mostly bypass central parts of the state, producing only a dusting or less.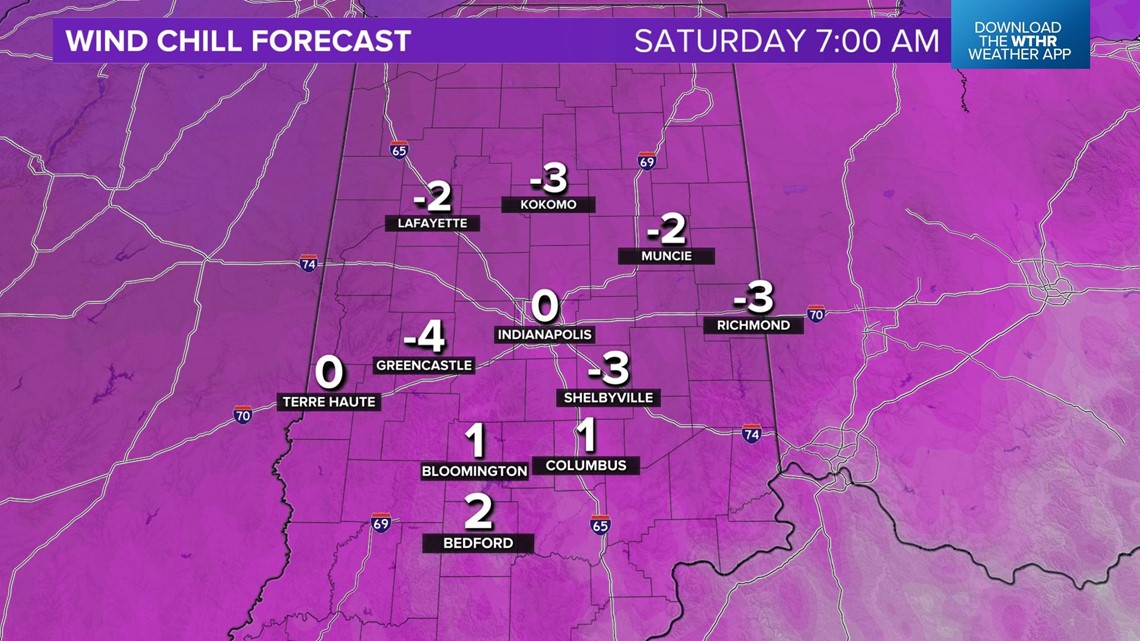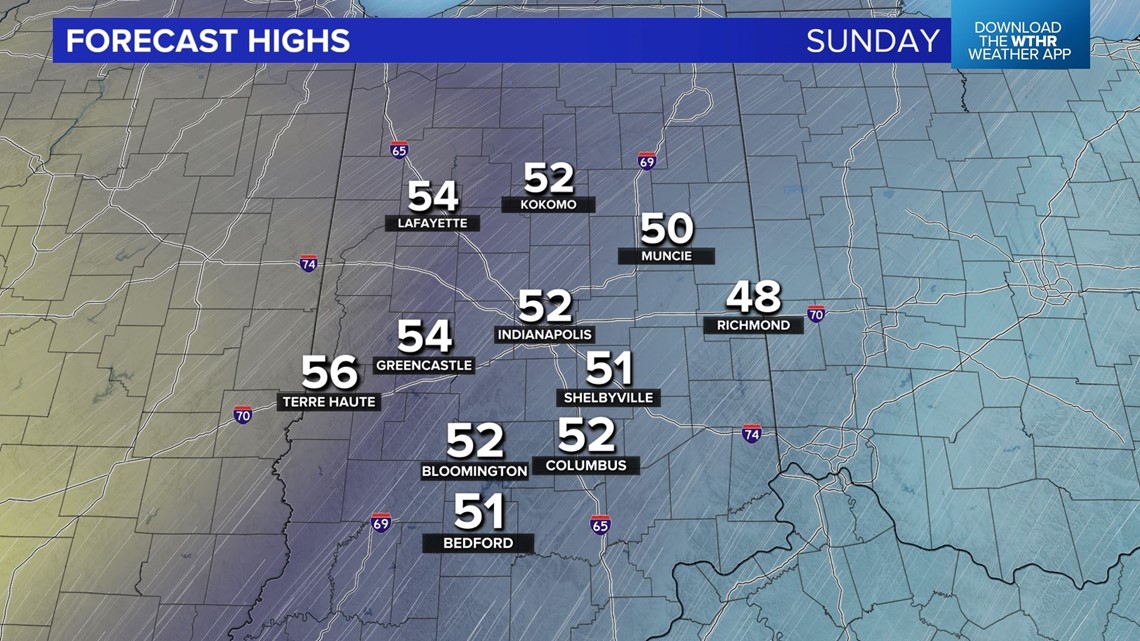 Either way, we're not expecting major issues, but you'll definitely want to check conditions before heading out Friday night as untreated surfaces will become slick where it snows as bitter air blasts into the state, setting the stage for -5 to 5 degree wind chills Saturday morning.
A stinging north-northwest wind also drives down some lake effect snow showers/bands into the central/eastern part of the state.
Warmer wind from the southwest on Sunday offers a rapid rise with highs in the 50s to finish the weekend. Check back for updates.