INDIANAPOLIS — Rain arrived on schedule Thursday evening and gradually diminishes from west-to-east between now and just after midnight.
As we noted the past couple of days, temperature profiles on the far northern-northeastern WTHR viewing area periphery could be cold enough to support a period of light show overnight and early Friday morning. We don't envision any travel issues in our viewing area, but slushy travel is possible along the Michiana border, where winter weather advisories are in place.


This system does mark a trend to below to much-below average air into early next week. Friday will be blustery, mainly cloudy, temperatures hovering in the 35°-40° range, wind chills in the 20s, and with some light rain/snow showers to boot.

The weekend begins chilly with wind chills of 15-20° Saturday morning. Saturday looks like the better outdoor option with precipitation-free conditions until around sunset. Computer modeling agrees there will be a clipper system cutting through the state between Saturday evening and Sunday morning, but there's some differences on its track.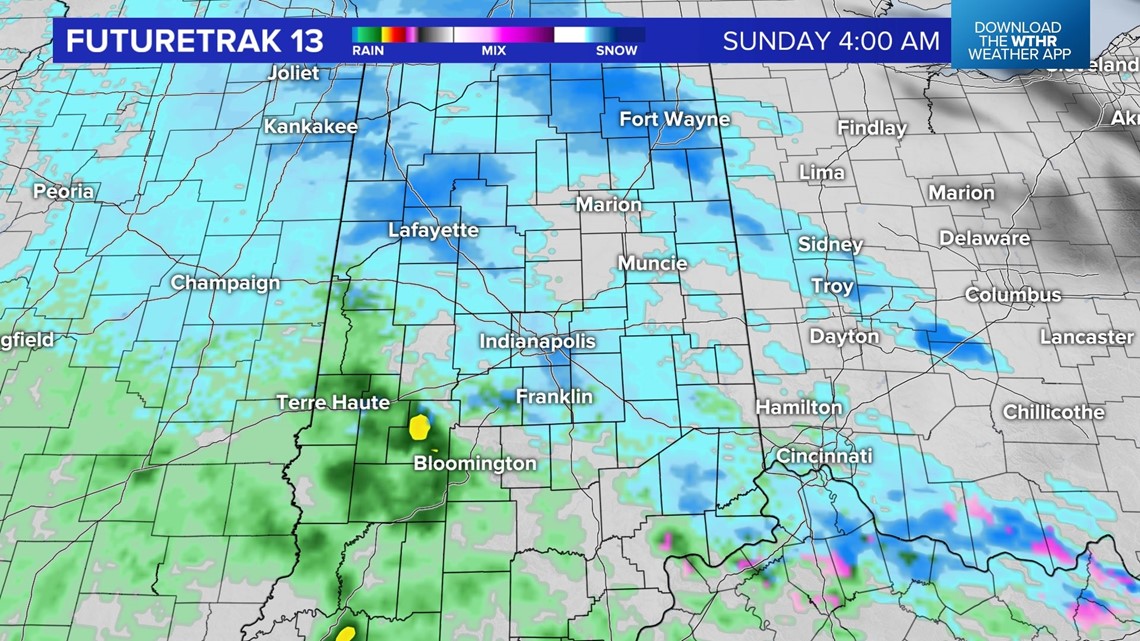 That will be the difference between more rain or more snow. But it should be noted that some snow accumulation is possible by sunrise Sunday morning if the clipper track is farther south. Updates to come, but we feel more confident today on this system being out of the state by Sunday afternoon so that we can salvage more outdoor time.
Unseasonably cold air early next week delivers scattered to numerous snow showers on Monday with chilly highs in the 30s into Tuesday.
However, latest guidance is becoming more bullish on a warm-up in the middle to next week. Stay tuned.