INDIANAPOLIS — After a beautiful weekend, more heat and, eventually, more humidity, moves in this week. But humidity will remain low at least for today, with dewpoints in the 40s.

The ridge in the upper levels returns, allowing temperatures to soar into the low 90s.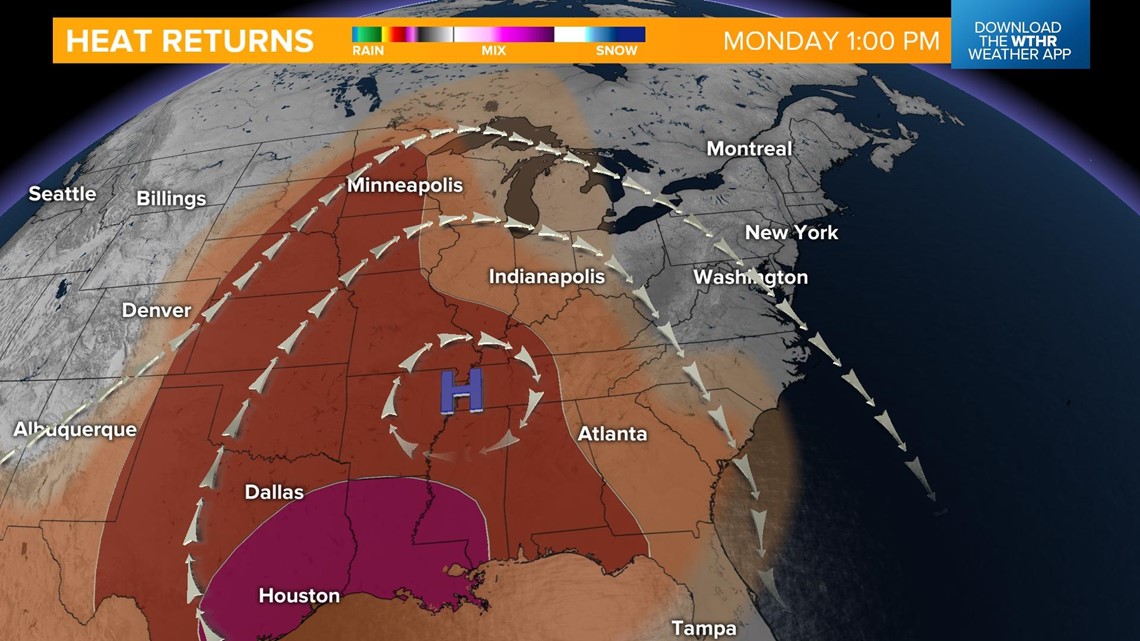 Monday will be sunny and hot with a light wind out of the southwest. Afternoon highs will climb to 90 degrees. Humidity remains low, keeping our "feels like" temperatures near 90 degrees.

With the dry air in place, temperatures will easily fall into the low 60s, which is near normal for this time of year.
Tuesday marks the astronomical first day of summer. The summer solstice occurs at 5:13 a.m.

Temperatures will soar into the mid 90s, making the longest day of the year - as measured by daylight hours - also the hottest day yet this year. At least Tuesday will be a bit breezy with winds gusting around 20 mph.

Tuesday night will be warm and a bit muggy as temperatures only fall into the low 70s.
More humidity arrives on Wednesday with dewpoints climbing into the upper 60s and low 70s.

The air temperature Wednesday will climb back into the mid 90s with heat indices rising into the triple digits.

An isolated thunderstorm will possible too, but most areas will remain dry Wednesday.
Otherwise, the hot and dry conditions will continue through the weekend.