INDIANAPOLIS — As meteorologists, we know that severe weather can happen anytime of year. However, climatologically speaking, the probability of severe weather in central Indiana begins increasing in the coming months, and you'll need to be Weather Aware when called upon. But what exactly does that mean?
Weather Aware means having a safety plan in your home and/or business, rehearsing the plan, having multiple ways to receive watches/warnings and being prepared to take action if/when severe weather strikes your area.
To help you and your family, we want to discuss some severe weather safety tips and terminology we may use during days of severe storms.
Let's begin with Severe Weather Outlooks that are issued by the Storm Prediction Center in Norman, OK. Theses outlooks are issued on the probability of severe storms and/or tornadoes to occur. Below is an example of what a Severe Outlook map looks like. Risk areas are on a 1 through 5 scale.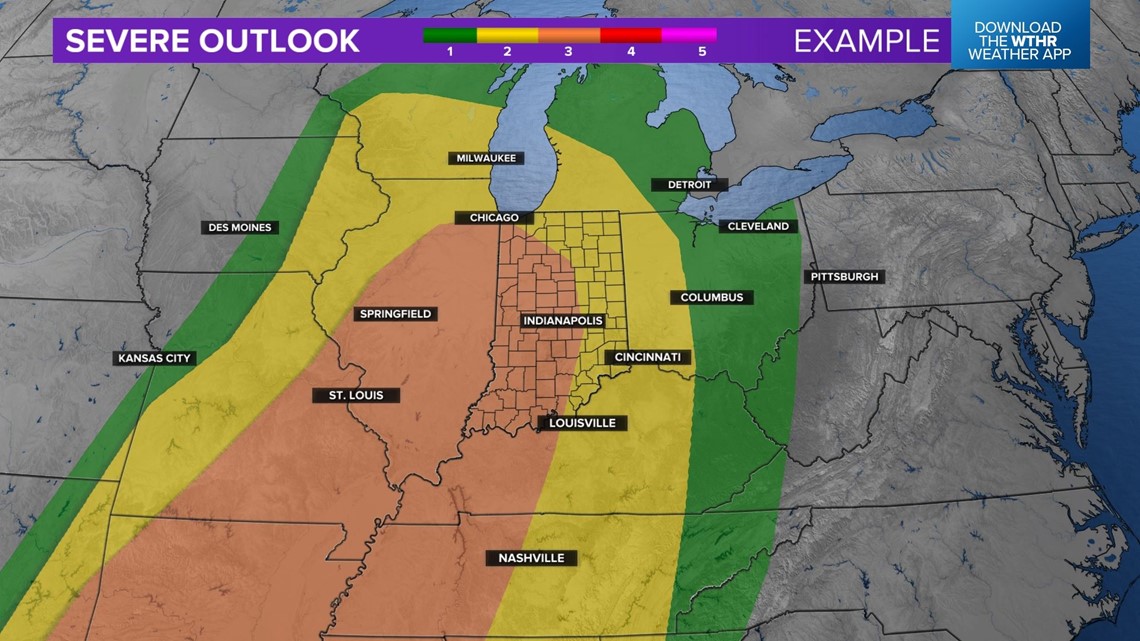 Level 5 (or High Risk) is where it would be most probable for severe storms and the likelihood of severe weather outbreak featuring long-track/violent tornadoes, destructive hail and widespread high wind. Those are the most rare to be issued.
Level 1 (Low Risk) is the lowest probability on the map, but it should be noted that areas within green (Level 1) can see severe weather — and sometimes tornadoes and/or severe storms occur outside of these zones.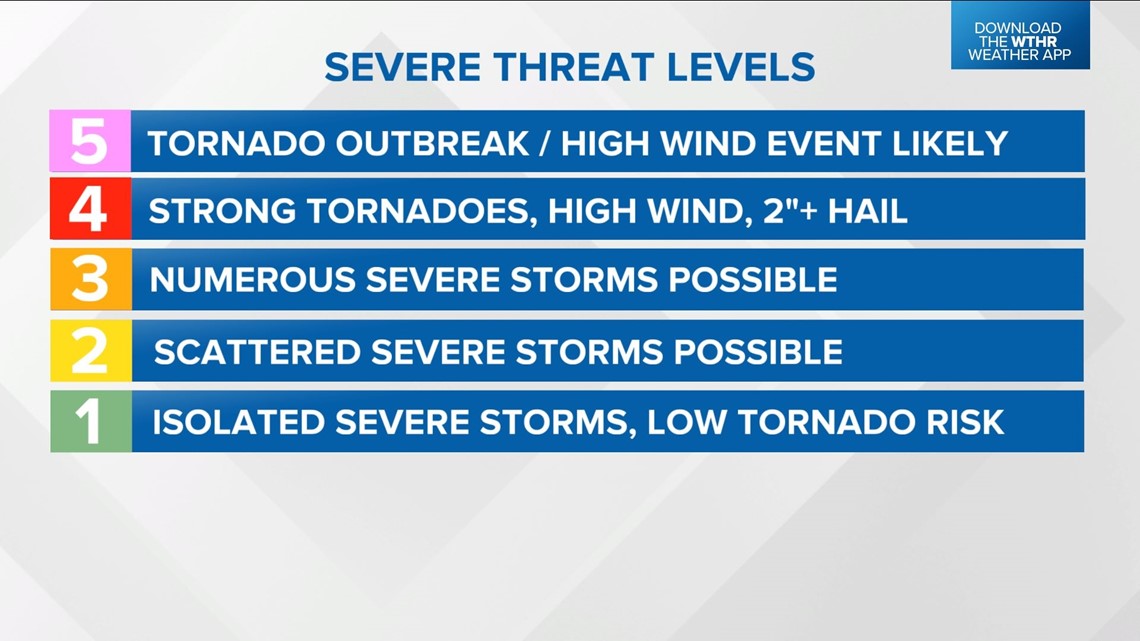 It's why it's imperative for you to follow our forecasts for updates and potential changes to the local environment that can produce severe storms within a highly conditional environment.
When it comes to thunderstorm safety, it's important to know the difference between a Severe Thunderstorm Watch and a Severe Thunderstorm Warning.

During a watch, think "be prepared." Severe thunderstorms are possible and near your area. During a warning, think "take action." Severe weather has been spotted, indicating imminent danger.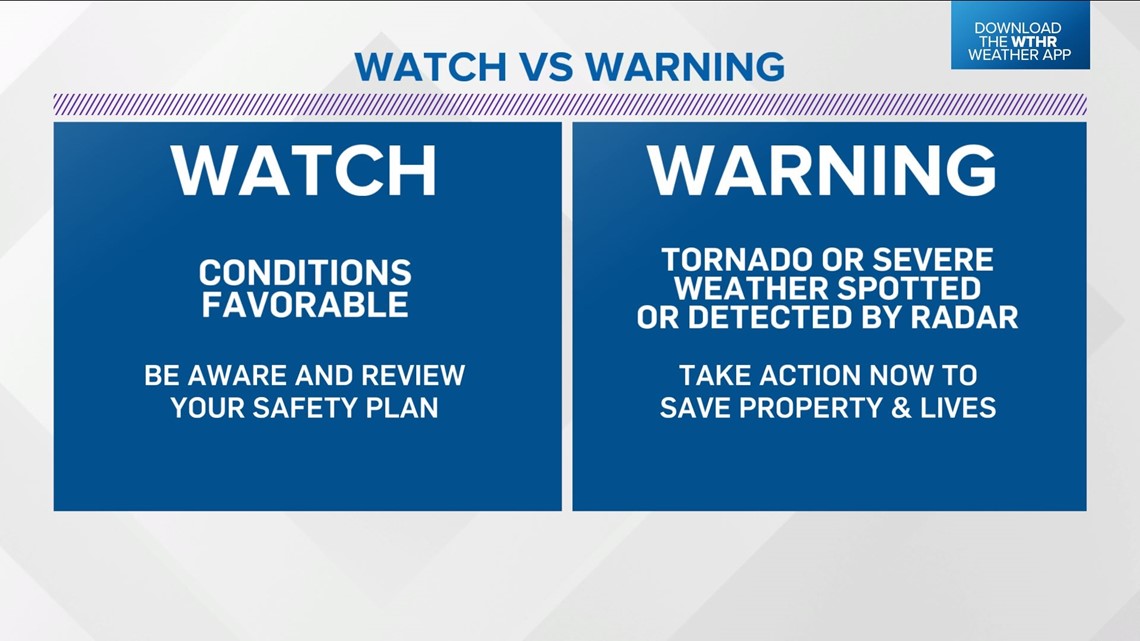 In simpler terms, think of a watch as having all the ingredients for severe weather to take place, and a warning is when those ingredients come together.

Watches will be issued for hours at a time over portions of states, and they are typically provided hours in advance of severe thunderstorms or tornadoes. This is when you get the plan that you've made ready to be activated when needed.
Warnings are shorter in duration and typically cover sections of counties. We highly recommend that you know not only the county you live in but also surrounding counties and which direction they are relative to your location. These warnings provide minutes of notice, and it's when you should take cover in whatever structure you're in.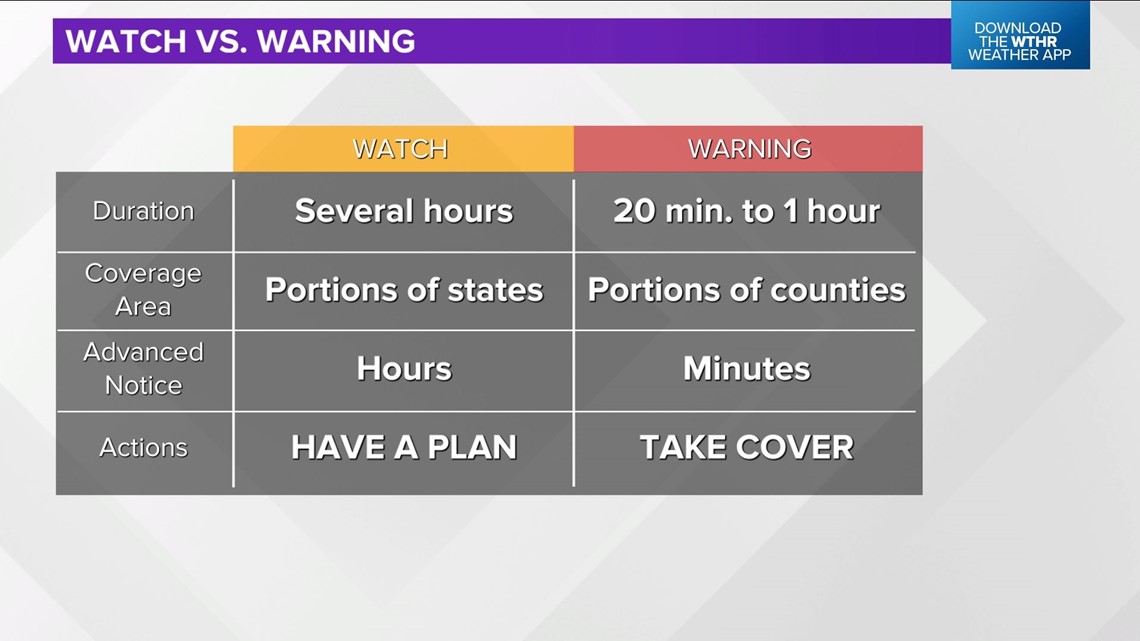 Below is great checklist to use for finding the safest place of whatever structure you're in. Please note that mobile/manufactured homes are highly unsafe and during severe storms/tornadoes. If you live in one, you will want to find a safer place for shelter. Some mobile/manufactured communities have shelters for this reason.
Please never park your car underneath an overpass as windspeeds actually increase there and make you susceptible to being hit.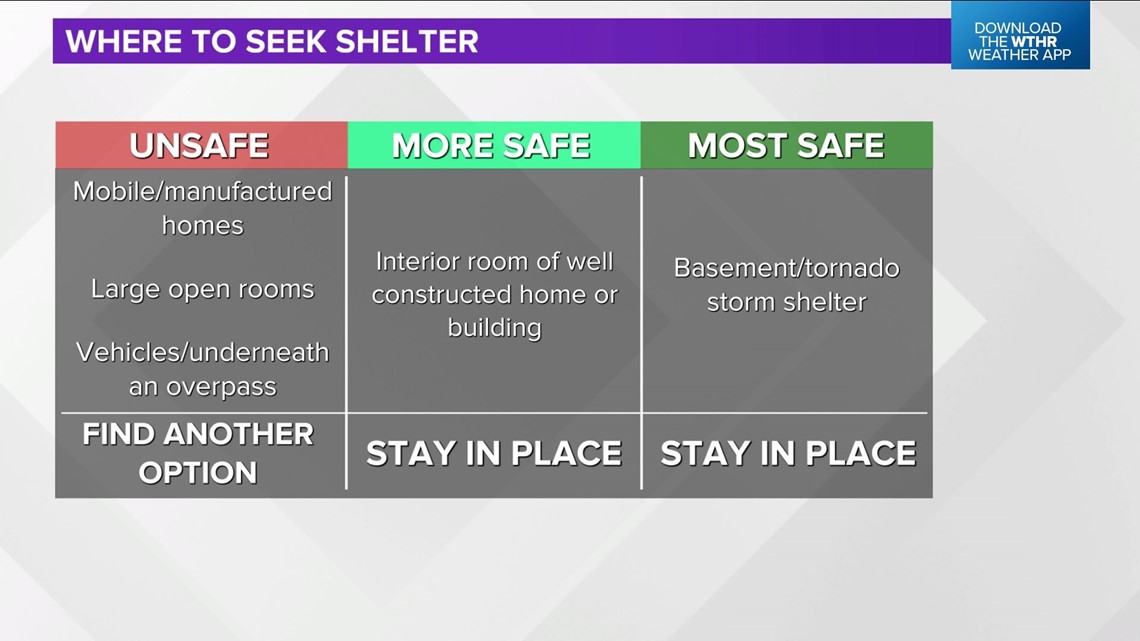 The general rule is to be in the lowest level of your home, preferably a basement, but the lowest floor if not.
Then, you want to put as many walls between yourself and the outside portion of your structure.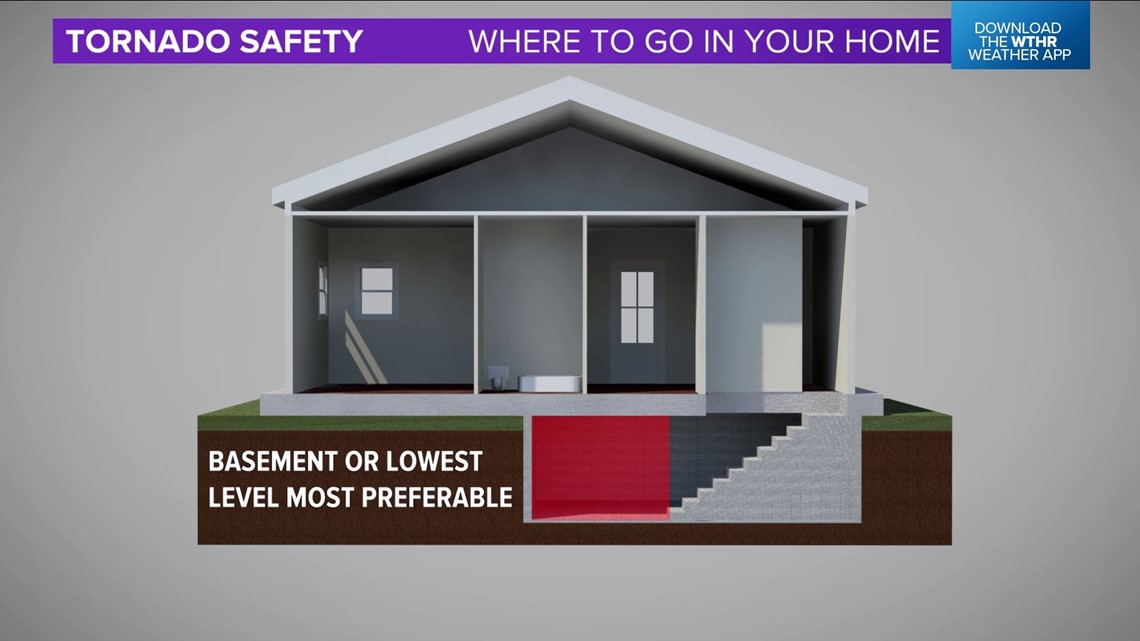 Your safe room should not have windows.
You should cover your head with either a pillow or bike helmet because many fatalities in tornadoes occur from brain trauma.
Interior bathrooms can be an ideal location as the plumbing offers extra support to those rooms.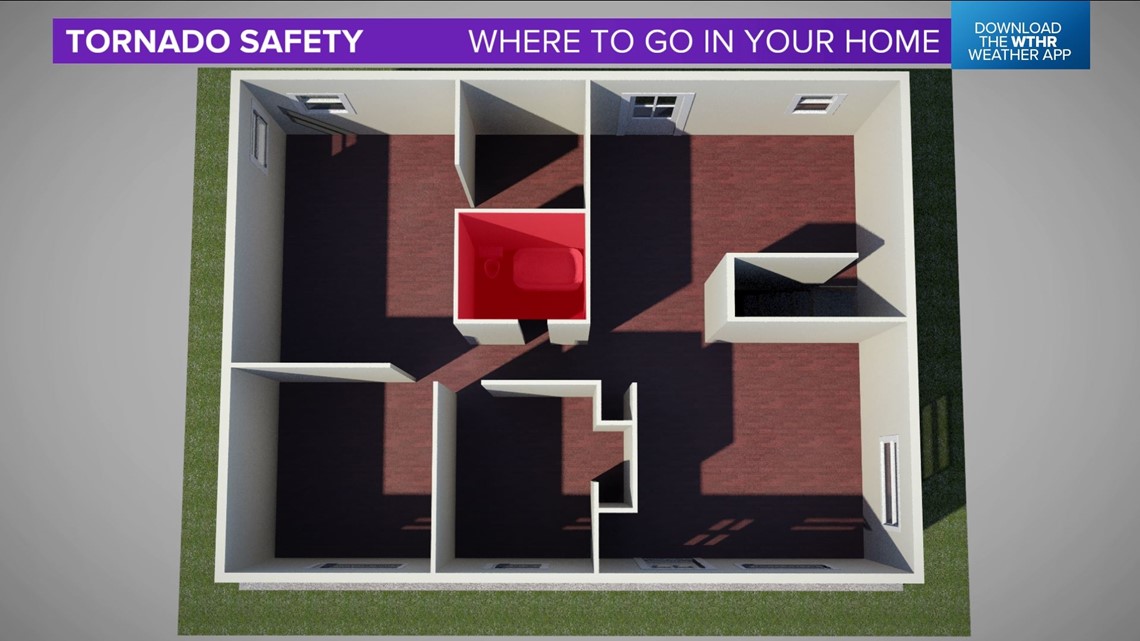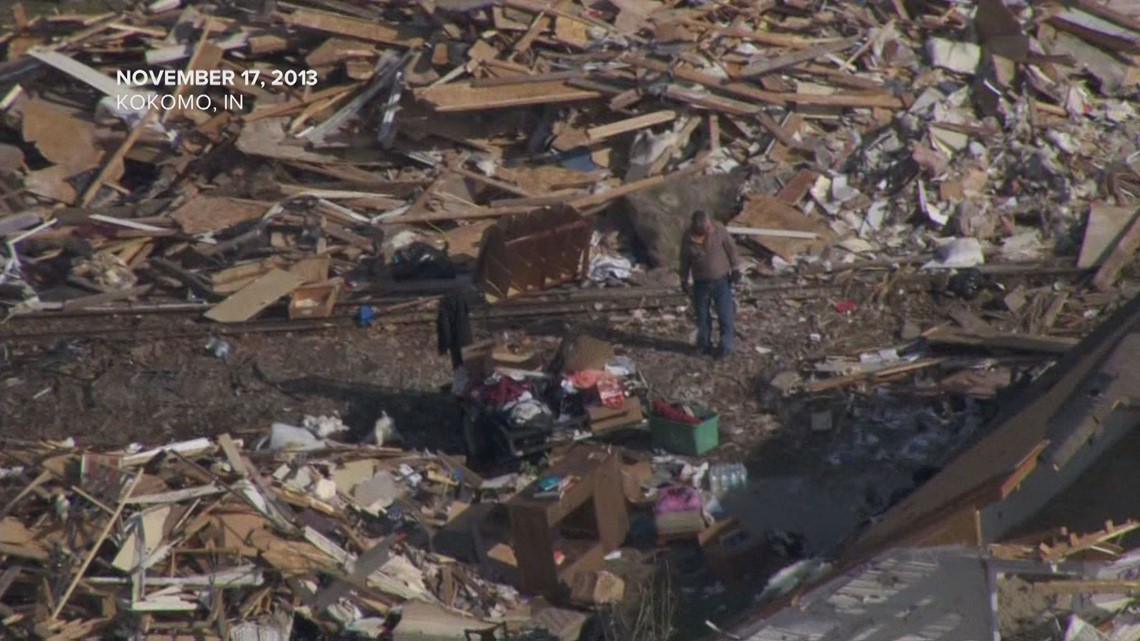 But the spring season brings more opportunities for severe weather to set up as temperatures start to warm.
Typically, central Indiana averages 12 tornadoes per year. However, the entire state averages 27 tornadoes per year.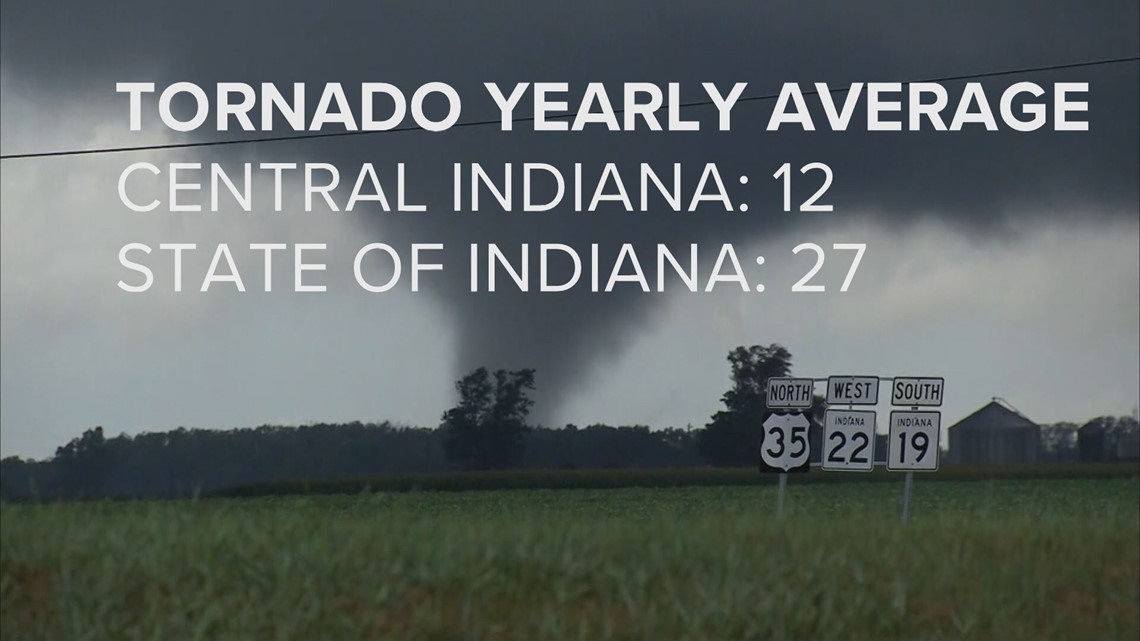 It's a good idea to have a NOAA weather radio handy, just in case the power goes out and your phone dies, you'll still know what's going on.
Choose a friend that's out of state as your go-to "check in" contact.
As for lightning, there's the "30/30 rule." If you spot lighting, count to 30. If you can't get to 30 before hearing thunder, it's best to go inside. Stay indoors for 30 minutes after hearing the last boom of thunder.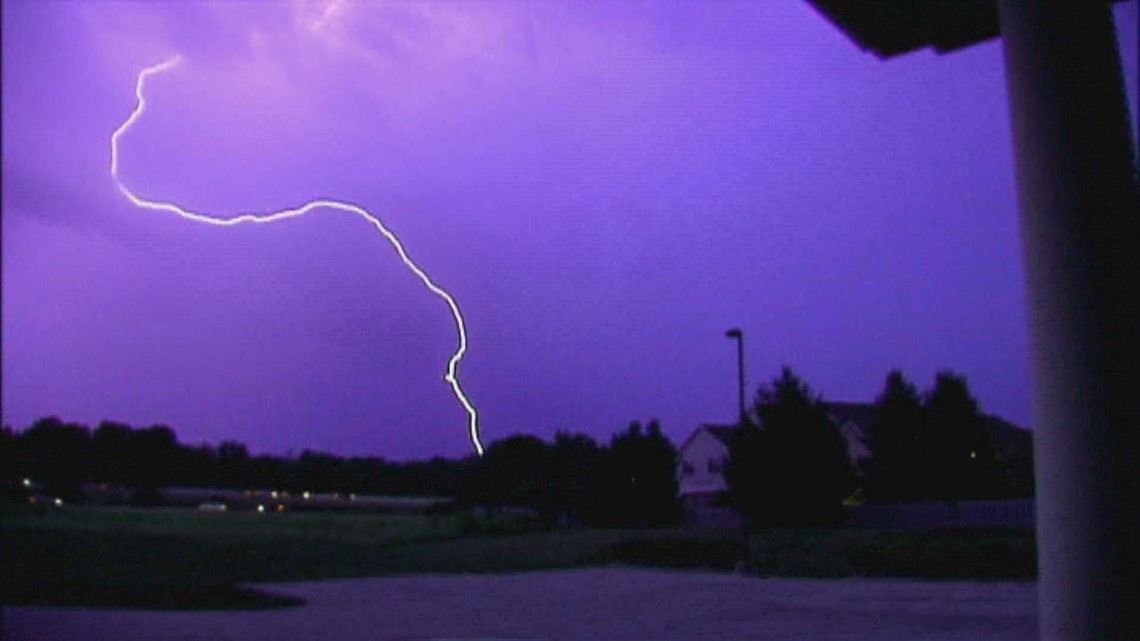 To stay prepared for all severe weather, make sure you have the Live Doppler 13 Weather app.