NEW ORLEANS — 4 a.m. Wednesday update
Zeta is stronger with top winds of 85 miles per hour and continues its brisk pace across the Gulf and towards a Louisiana landfall sometime late Wednesday afternoon.
Zeta is expected to get stronger today as it makes landfall on southeast Louisiana this afternoon between 3-4 PM as a Category 2 hurricane.
Things will start to go downhill around 10 AM along the coast and around 1 PM in Metro New Orleans. The worst of the hurricane will be in New Orleans between 3 PM to 7 PM. We can expect very strong winds around 50-70 mph with gusts over 80 mph in the city and surrounding areas with some areas seeing gusts near or over 100 mph. This will cause plenty of tree and power line damage. Expect widespread power outages.
The storm surge will be around 3-5 feet in the lakes, around 5-7 feet from Port Fourchon to the Mouth of the Pearl River and 6-9 feet from the Pearl River to Dauphin Island.
Rain totals will not be very high since Zeta will be moving through quickly. Expect 2-5"+ with some minor flooding issues. A Flash Flood Watch is in effect until 7 AM Thursday.
Lastly, we could see a few tornadoes today from the outer rain bands of Zeta.
Tonight's weather will quickly improve as Zeta moves into Alabama and the cold front will move through Louisiana. The rain will end and the clouds will start to clear out by sunrise with some gusty winds. We will turn much cooler and less humid with lows in the upper 50s to around 60.
A hurricane warning continues from Morgan City, Louisiana, to the Mississippi/Alabama border, including Lake Pontchartrain, Lake Maurepas, and metropolitan New Orleans.
A storm surge warning continues for all of southeast Louisiana outside the levee protection system and south Mississippi.
A flood watch is in effect on Wednesday for our entire area excluding northern Tangipahoa Parish.
Zeta is expected to get a little stronger over the southern Gulf as it moves over warm water Tuesday night into Wednesday. The storm will be drawn northward by a trough of low pressure and cold front moving in across the southern US.
Once in the northern Gulf of Mexico on Wednesday, Zeta will have some obstacles that could keep the storm from strengthening greatly. It will be moving over cooler waters, and there will be wind shear, dry air and the approaching cold front/trough. These factors could make it hard for Zeta to intensify much and could keep some of the biggest impacts far east of the center.
Zeta will be moving quickly, so rain should end overnight Wednesday. The cold front should dry us out by Thursday morning.
Here is a look at the impacts expected in southeast Louisiana - the most intense of these impacts will be Wednesday evening.
STORM SURGE
We are expecting storm surge in southeast Louisiana. Surge for the lakes will be around 2-4 feet and for most of our coast around 4-6 feet. From the mouth of the Pearl River to Dauphine Island, surge could be 5-8 feet.
One good thing is that the storm surge won't be prolonged, because Zeta will be moving so quickly. The cold front on Thursday will bring a strong west breeze that should return water levels to normal rather quickly.
WIND
Winds could gust to 80 mph for locations close to the center of Zeta, so expect power outages. A few brief tornadoes will be possible too on the eastern side of the center.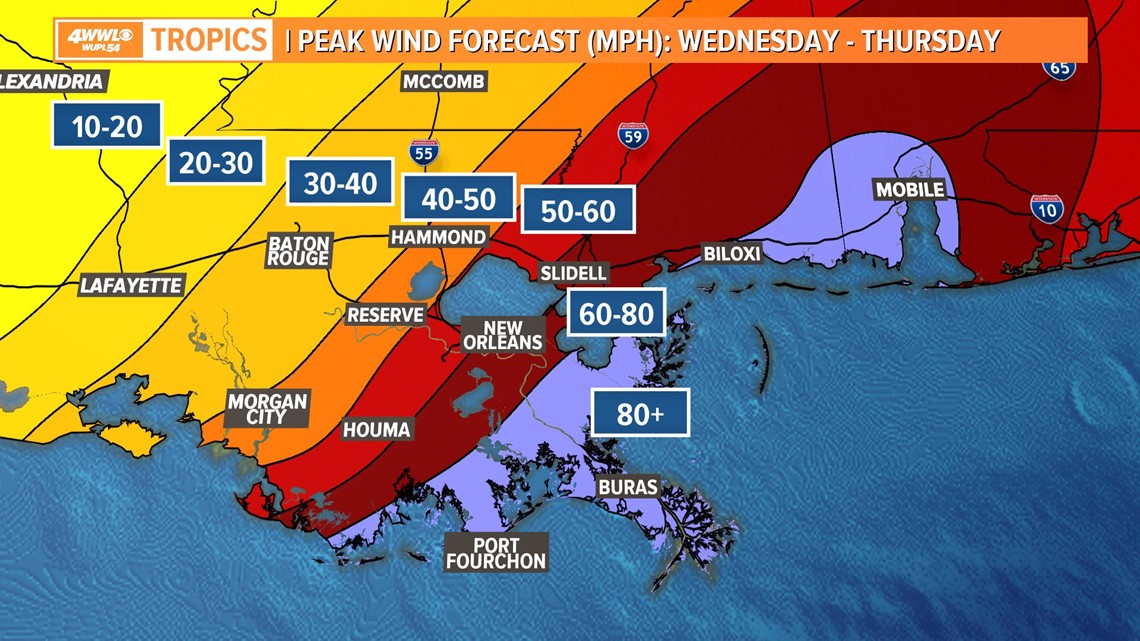 RAIN
Since the system will be moving fast, flooding is not a huge threat, but some minor flooding will be possible Wednesday evening when the heaviest rain arrives.
The most intense rain will likely come from roughly 5 p.m. Wednesday to midnight.
Rain totals look like 2-5 inches for most with isolated higher amounts.


► Track the tropics with live updates delivered directly to your phone. Text APP to 504-529-4444 to download the FREE WWL-TV News app now or find us in the iOS App Store or Google Play.