We should expect another hot one in central Indiana with temperatures nearing record levels this afternoon - in the lower 90s. Spotty storms remain possible before 7 p.m. but many areas likely don't see a drop. Look for a situation much like yesterday as we get close to the record of 94 set back in 1940.
We're still targeting Friday afternoon for the arrival of a cold front and eventual break from this heat wave. However, temperatures climb into the mid-to-upper 80s with heat indices above 90 degrees on Friday before the front clears.
There's plenty of wiggle room on timing and coverage, but right now downpours and storms appear likely along the front between noon and 7 p.m. Friday. And some of the storms could produce severe wind and/or hail.
It's possible much of the storm activity may be in southern Indiana by the time most Operation Football games kick-off. Areas south of Interstate 70 could see the rain a little longer.
A cooler change emerges behind the front for the weekend with highs in the upper 60s to mid 70s. The front stalls along the Ohio River but will be close enough to warrant the mention to potential of showers Saturday.
The astronomical start of autumn occurs at 9:54 p.m. Saturday evening.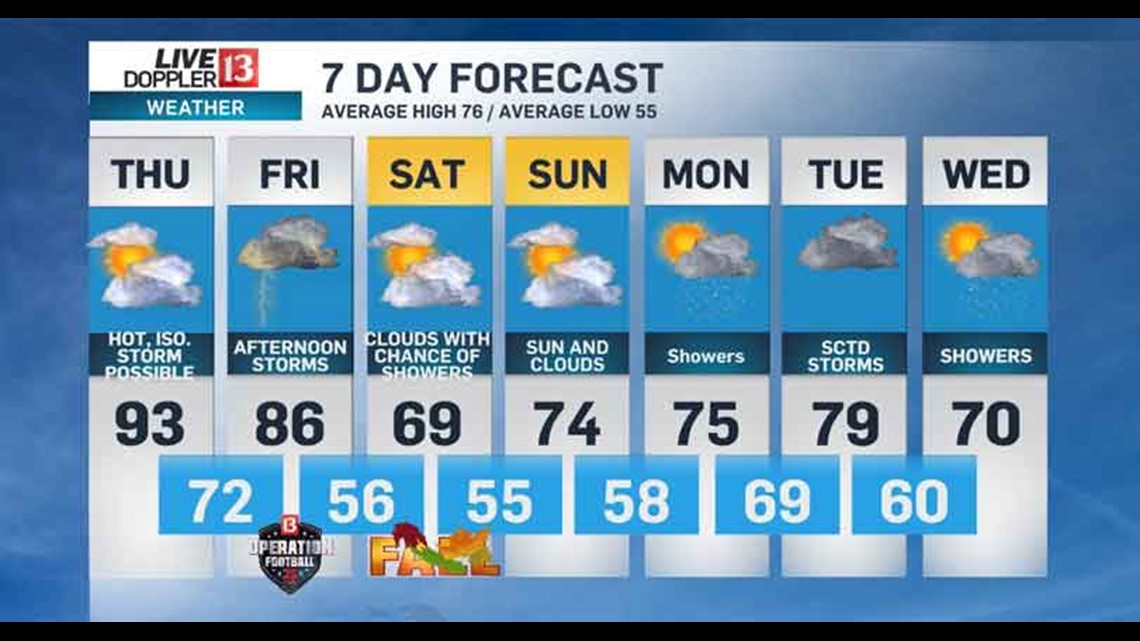 An active pattern seems likely next week as we transition from summer warmth to much below average temperatures. In fact, there's growing consensus of lows in the 40s late next week into next weekend - our coolest temperatures since late April.