LAKE BUENA VISTA, Fla. (WTHR) — As they say mom knows best, and when it comes to Disney World, the moms (and some dads) that make up the Disney Parks Moms Panel really do have all the answers.
The Disney Parks Moms Panel is made up of about 40 panelists. For 12 years, this panel of Disney experts have answered thousands of questions for people online.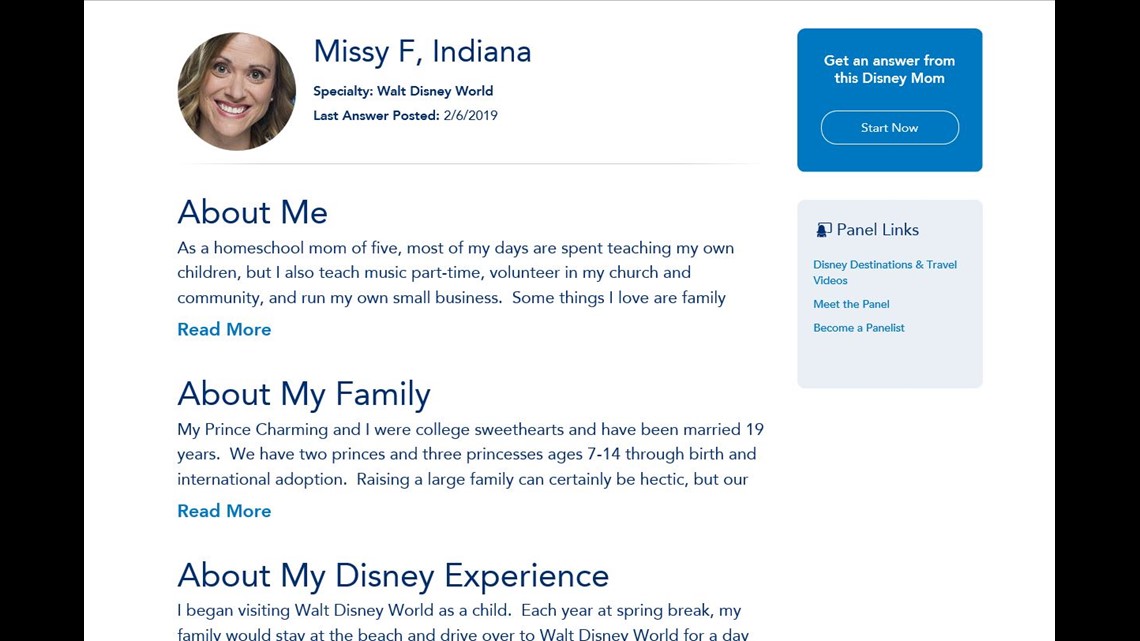 One of those moms currently on the panel is from right here in Indiana. Her name is Missy F. According to her "About Me" profile, she married her Prince Charming nearly 20 years ago, and they have two princes and three princesses ages 7-14 through birth and international adoption.
Missy says she fell in love with Disney as a child and made it her mission to keep the magic alive within her children.
From the website, it looks like Missy has answered hundreds of questions. One woman asked Missy if she could bring in food and drinks for her autistic grandson. Missy responded by letting this grandmother know that she could bring food and drinks into the theme park. Missy even added a personal touch by saying, "as the mama of a child with autism myself, I also wanted to encourage you to bring anything else with you that might be helpful." Missy also shared a link to some other services available for guests traveling with special needs.
Any question you could think of, Missy and the rest of group will find an answer to.
The 40 Disney Parks Moms Panelists have taken a combined 1,536 Disney vacations and can answer questions in English, Spanish, French and Portuguese.
Some of Missy's answered questions:

Question: "We have a sensory autistic grandson and will be visiting Disney world the week of 2/16/19 can we bring in food and drinks go for him into the park"

"I'm happy to let you know that yes, you may absolutely bring food and drinks with you into the theme parks…Also, did you know that there are some wonderful services available for Guests traveling with special needs?"

Question: "When can I book rooms in a Disney hotel for January 2020?"

"I'm happy to let you know that room-only reservations may be made 499 days in advance, so you're actually able to book a room at any point. If you'd like to book a Disney Resort Hotel Package, those have historically become available to book mid-June of the year prior to your travel, so you'll just to wait a few more short months…You'll be able to begin making dining reservations 180 days in advance, and some restaurants are quite popular and full up very quickly."

Question: "Good Morning! I am planning a trip which must (unfortunately) take place during spring break. I have many reservations for dinner in Epcot . When the park is at full capacity, how long should I plan to spend at dinner? (all table service)"

"My family has found that, on average, we usually spend around an hour and a half at a Table-service meal, although that time may certainly vary if we're ordering multiple courses or are in a hurry because of an upcoming show time or FastPass+ selection that we don't want to miss."

Question: "Since we are practically neighbors, I wanted to ask you about driving to WDW. How long is the drive and do you drive straight through? If you stop overnight, where do you usually do that? Thanks, Missy!"

"While every family is different, my husband and I prefer to drive all in one day. It usually takes us between 14 and 15 hours or so, depending on traffic, but I do admit that we are pretty hardcore travelers… When I was a little girl, we did stop partway through the drive, usually in southern Georgia. We'd have just a little over three hours to drive when we woke up in the morning, and I remember feeling like those last few hours felt just as long as the entire day's drive from the previous day."

Question: "Do you know how much it is to rent a double stroller? I seem to remember there is a special offer for long term hire? Many thanks"

"I'm happy to let you know that you'll find stroller rentals available at each of the four theme parks as well as Disney Springs, and the current rental rate for a double stroller is $31 USD per day. You are exactly right that if you decide to rent a stroller for multiple days, you may prepay for your stroller rental and receive a discount. You'll simply prepay $27 USD per day and will just need to show your receipt each day to pick up your stroller."