RIDGEDALE, Mo. — For the latest Chuck's Big Adventure, we traveled to Missouri for a trip that took us from big-city oddities to historic sites and showed us the magnificence of nature's creativity.
Big Cedar Lodge
No place highlights the beauty, mystery, and spectacular views of Missouri like Big Cedar Lodge.
Located near Branson, at the highest elevation in the area, the beauty of the properties are simply breathtaking. Big Cedar Lodge isn't one thing, it is several sights and attractions.
Lost Canyon Cave and Nature Trail images
Dogwood Canyon Nature Park
We were treated to the amazing Dogwood Canyon Nature Park when we arrived. It is a 10,000-acre park of jaw-dropping beauty. Imagine the unspoiled beauty of Missouri combined with pristine detail of a Disney park.
We took a guided tour and traveled a couple of miles seeing waterfalls, creek beds, towering bluffs and beautiful animals from elk to bison to deer that come right up to you, ready to introduce themselves or beg for a treat.
If you are real lucky, you can, like me, try your hand at fly fishing. My guide helped me get my line in the water, aiming for a rainbow trout. I caught one, but he was only as large as my longest finger! We moved from one carefully maintained landscape to another.
Dogwood Canyon Nature Park images
Payne's Valley Golf Course
Johnny Morris, the founder of Bass Pro Shops and Big Cedar Lodge, wanted to create an incredible golf experience for guests, and he did. There are five golf courses here, and we visited the newest and most spectacular of those courses, the Payne's Valley Golf Course that was designed by Tiger Woods.
The other courses are designed by Tom Fazio, Jack Nicklaus and Gary Player, but this course is over-the-top in beauty. From flashy bunkering to a 650-foot hole, to the valley of holes and the mountaintop clubhouse, this is a thrill to play and a sight to behold.
The dessert of this golf dinner is the 19th hole, a treat that honors the late Masters champ Payne Stewart. With a sheer multi-story rock face in the background and a gorgeous island to house the hole, this hole is the most talked-about golf hole in the world.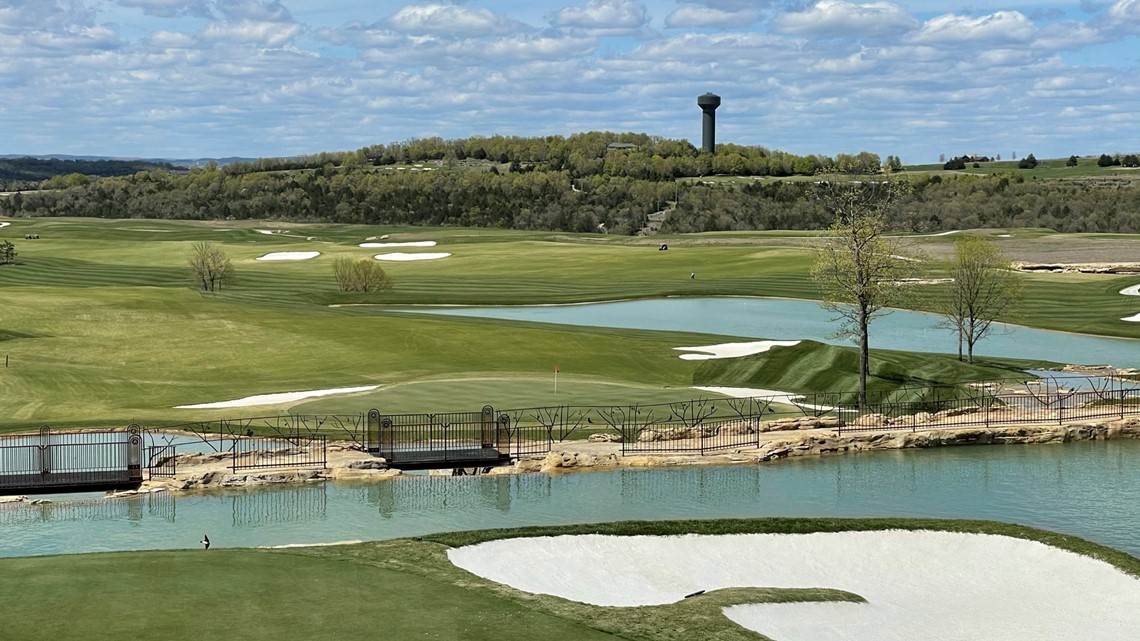 Assistant Director of Golf Sales, Matt McQueary, really pinned down what makes the end of Payne's Valley experience so important.
"It's just the experience, the views of the Ozark Mountains and obviously you have this 19th hole behind me, but once you finish it, you actually take this cave trail up through the mountain to the rock back to the clubhouse, you're going up a 200-foot limestone cliff side through ancient caves to get back to the top. It's an experience unlike any other," McQueary said.
Can you imagine my excitement at getting a shot just a few feet from the pin? It was the golf thrill of a lifetime for me.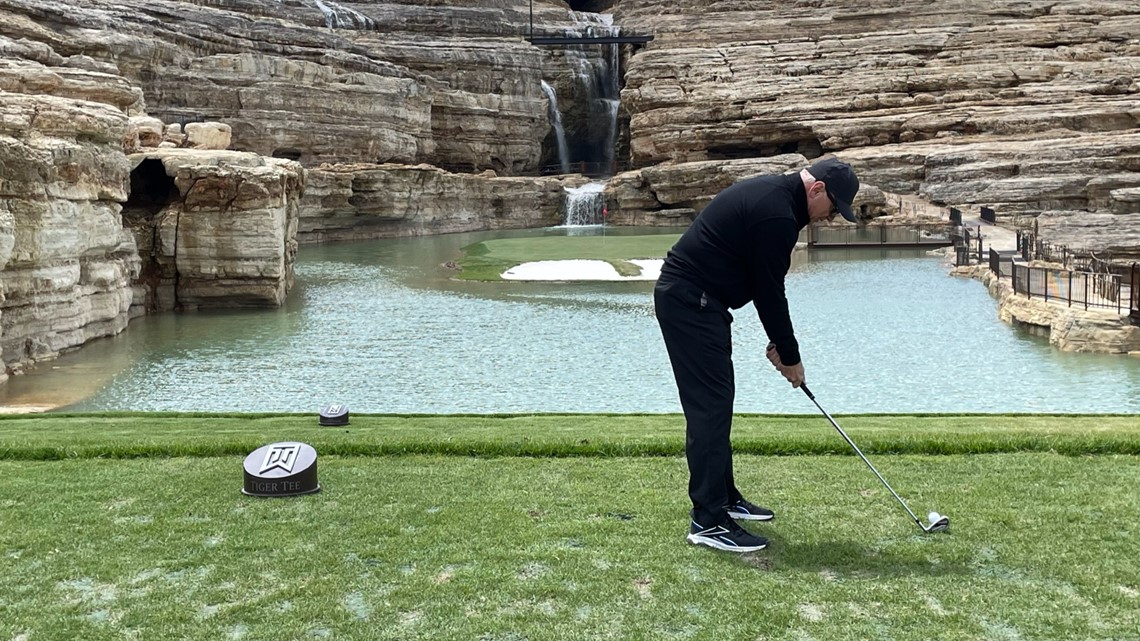 You can't fully experience this place without seeing the sunset off of Table Rock Lake. From the world class Osage Restaurant, we enjoyed Top of the Rock's signature Sunset Ceremony after having a delicious steak dinner. Seeing the sun set behind the beautiful "End of the Trail" statue and hearing bagpipes play while a cannon blasted was moving.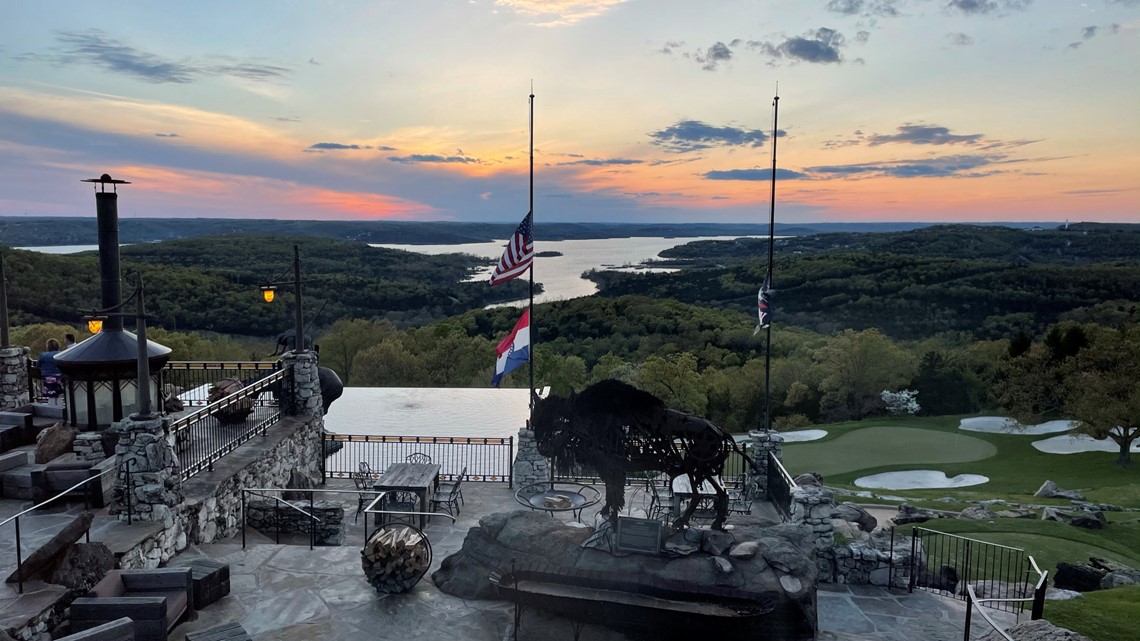 Our host, Janet Glaser, said 2020 was a great year despite COVID because Big Cedar Lodge celebrates the great outdoors.
"2020 was actually our busiest year on record, and we think that's because we saw people finding the basic need to just get outside again, you know, after being cooped up after lockdowns and all the other things, it was just nice to see people reconnect with nature," Glaser said. "That's all of our properties are really surrounded around is connecting people with the great outdoors. So if you're on Top of the Rock or if you're at Big Cedar, any of our golf courses, all of them are centered around getting outside."
If you were in another country and visited this place, it would very well be the highlight of your trip. It's in Missouri though, and I am going back!