HANNIBAL, Mo. — For the latest Chuck's Big Adventure, we traveled to Missouri for a trip that took us from big-city oddities to historic sites and showed us the magnificence of nature's creativity.
Mark Twain's hometown
Hannibal, Missouri would just be another small spot on the Mississippi River, but one man, putting pen to paper, changed this small town forever.
Hannibal is the birthplace of Samuel Clemens, better known as Mark Twain, author of "The Adventures of Tom Sawyer," and "The Adventures of Huckleberry Finn."
Those books, read everywhere for over a century, have made Hannibal the most well-known American small town around the world.
For decades, thousands of visitors have come here every year to get a glimpse at the life of the great American author.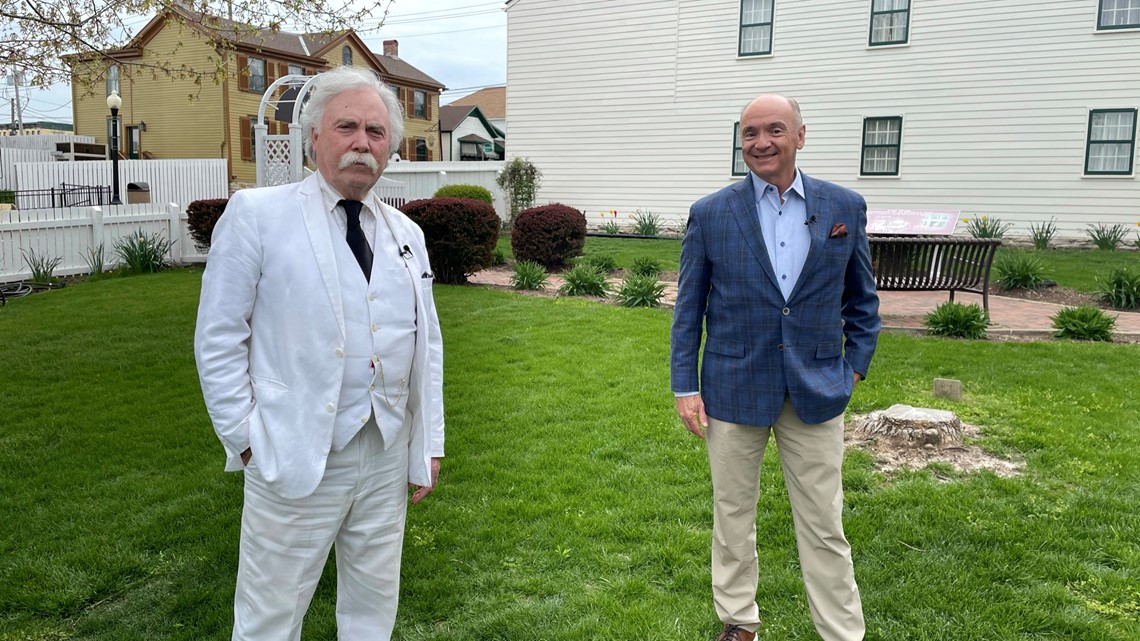 Richard Garey's "one man show" about Mark Twain has drawn crowds for years in Hannibal and around the nation.
It features this town's favorite son, in his own words.
"I don't think, if he had grown up in some other part of the country, he would have been the writer he was because I think growing up here shaped [him], and you have to understand this was the frontier, kind of brand new, this is untried," Garey said.
Twain's books are still read, more than 100 years later in almost every nation in the world. He has been called the greatest American author and the greatest humorist our country has produced. His books also put on the map, forever, this small town in northeast Missouri.
"It's the best known small town in the word. If you go to almost any corner of the world and you say Hannibal, they know what you are talking about because of the books. I don't know how many languages, somewhere around 300," Garey said.
His memory is also kept alive through a unique program that features outstanding seventh graders portraying Tom and Becky each year.
The winners are selected through interpersonal and scholastic skills, citizenship and responsibility. The program began in 1956 and is a yearly event.
The students who are picked meet tourists, attend festivals and ribbon cuttings, and even travel around the nation representing Hannibal.
This year's couple, Colin and Riah, showed me around town and even challenged me to a whitewashing contest on the original fence portrayed in the famous Mark Twain book.
"It's fun seeing the tourists' faces when they get to see us in costume, and they run up to us and ask for pictures. That's a real fun part of being Tom and Becky," Riah said.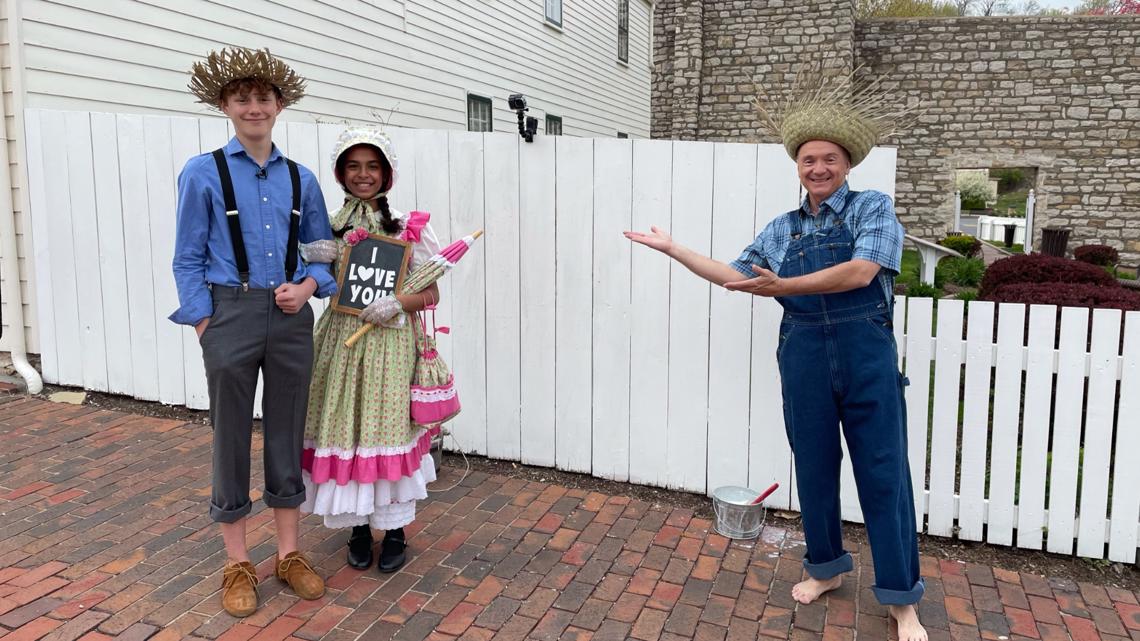 Despite COVID-19, this town is doing well. Tourism will increase this year as more people discover the Twain heritage and try out the trolley tours, steamboat dinner cruises, theatre productions and incredible food offerings that make Hannibal so popular.
I enjoyed simply sitting on a bench while producer Megan Simpson and photographer Steve Rhodes were getting some beauty shots, thinking about the history and legacy of this town.
Garey put it well, telling me, as Mark Twain in his own words:
"Not a day goes by, I could be on the other side of the world and I think of Hannibal...always on my mind, my muse, everything started here, ability to tell a good story, love a good story, that's why I'm obliged to tell them."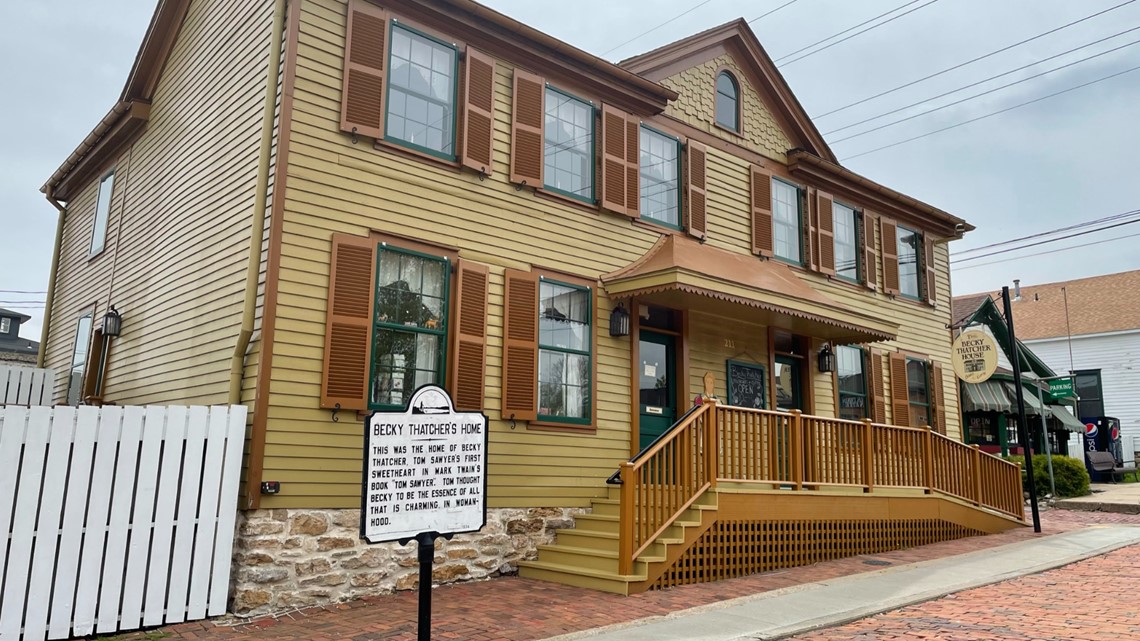 Hannibal is a wonderful place to discover for the first time or for a refresher trip. It is 311 miles west northwest of Indy.
America's National Churchill Museum
March 5, 1946 at small Westminster College in the small town of Fulton, Missouri – former British Prime Minister Winston Churchill gave a speech that changed the world forever.
The war was over, and the British people decided to go in a different direction. That's a polite way of saying he was fired. Westminster, boldly, asked him to come and give a speech on the state of the world.

When President Harry Truman said he would join him, Churchill accepted. The rest is history. A concerned Churchill, fresh over the Allied victory over Hitler, warned of a new menace: Russia. He also coined the term the "Iron Curtain."
"I think if you really have to look to Winston Churchill, who himself believed that it was one of the most important speeches he ever gave — and this is someone who gave some incredible speeches over the course of the 20th century — the speech that Churchill made here at Westminster College in 1946 changed the course of history," said curator Tim Riley. "It really did outline how the West in the Anglo-American Alliance would ultimately wage and ultimately win the Cold War, and that happened through words on the campus here at Westminster College by Churchill."
Think of it. We just exited World War II but faced another kind of battle.
Around 25,000 people lined a parade route with Churchill and Truman waving to the crowd. Some 2,700 packed themselves into the college gym for the speech. Churchill's comments made international news.
The showpiece part of the museum is a church that was originally built in the 12th century, destroyed in the Great Fire of London in 1666, rebuilt by Christopher Wren, one of the great architects of history and bombed in 1940 by the German Luftwaffe.
In the 1960s, it was painstakingly taken to America and put back together at Westminster College. It's moving, beautiful and is the event center for the museum.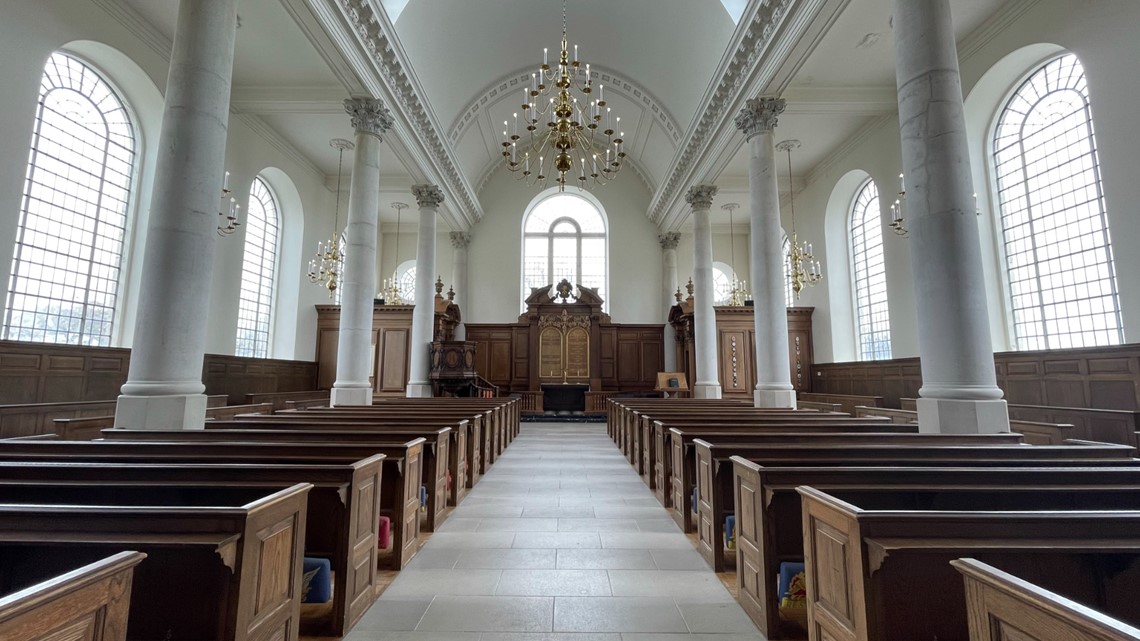 Downstairs, an interactive museum shows the life of Churchill, highlights his career in the face of war and gives a new generation of young people an insight into one of the 20th century's great figures.
"If history seems old, we're not doing our job. There are great stories in every stone in this church. There's great wisdom in every word in the speech, and all you need to do is explore that, spend some time with it and learn and let these objects here at the museum and get a glimpse of the importance of the past. As Churchill himself said, I'm paraphrasing here but he said, 'You know the farther you look back, the farther forward you will see,'" Riley said. "And, you know there's truth to that concept. And I think we can be inspired and informed by the past so that we don't repeat the mistakes of the past, but more importantly that we use the wisdom and the lessons learned from history to build a better future."
America's National Churchill Museum
I found myself wishing I would have come here years ago, to see the speech on video, experience the life of this great man interactively and see the remnant of the Berlin Wall on campus — a sign that the West would prevail in the fight against communism in Europe.
This museum is a great experience and a great way to have children see what courage in the face of adversity looks like.