LOUISVILLE (WTHR) — The next morning, we got up early for a full trip to Louisville.
Churchill Downs
Nothing says Louisville like Churchill Downs! Our visit included a trip to the track and the historic museum that not only chronicles the history of the Kentucky Derby but offers hands on examples and colorful video presentations showing the importance of horse racing in the state.

We also got a behind-the-scenes look at the romantic Bourbon and Dessert offerings for Valentine's Day in the cafe at the Museum. It was easy to see why, especially during Derby season, the track is such a romantic spot.
Kerns Kitchen
Nothing says Louisville quite like a slice of Derby Pie! Get this: Kern's Kitchen's Derby Pie recipe is so protected, the pies are mixed in a closed-off space before being pumped out to a filling machine! After more than six decade, they say the key to success to consistency.
Brown Hotel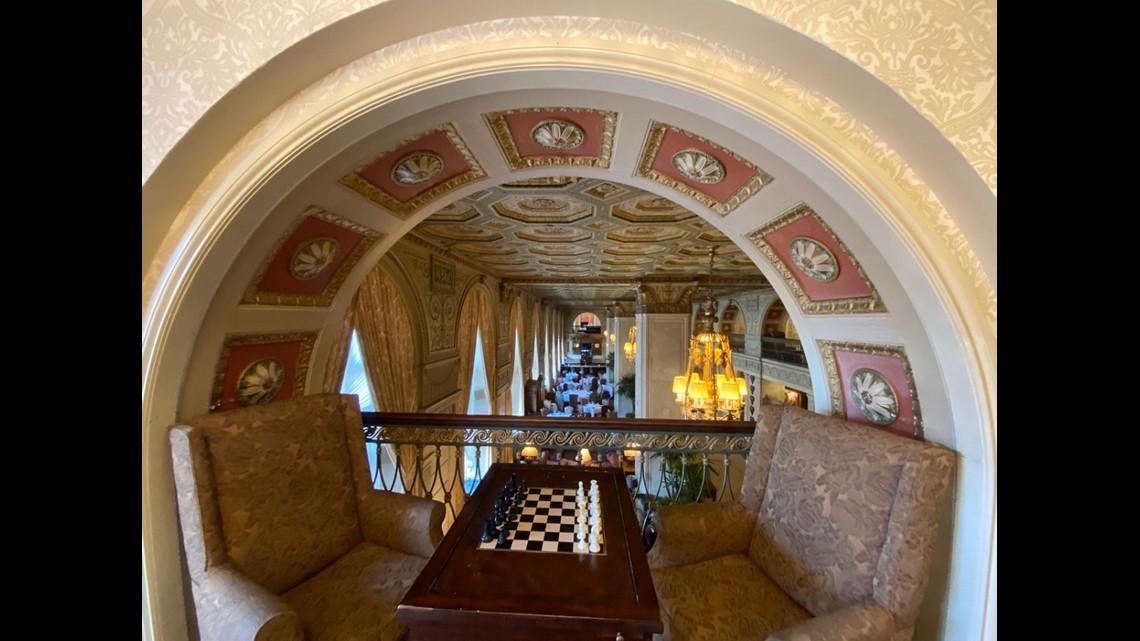 We had lunch at the Brown Hotel and sampled the world-famous Hot Brown sandwich which features turkey, tomatoes and a wonderful sauce. This hotel is a look back at the early 1900's, and the sandwich has been a staple since the 1920s. Loving couples have enjoyed the sandwiches at the hotel now for nearly 100 years.
Louisville Slugger Museum
[view:swiper_image_slideshow=panel_pane_swiper_image_slideshow=2038225/showcaptions/loopslides]
Our history trip continued with a trip to the Louisville Slugger Museum, a place where a patient wife can show her husband a great time. Bats, memorabilia and the one-of-a-kind bat factory highlight the visit. Even non-baseball fans will enjoy this look at baseball history. This really is an interactive museum and a lot of fun.
21c Museum Hotel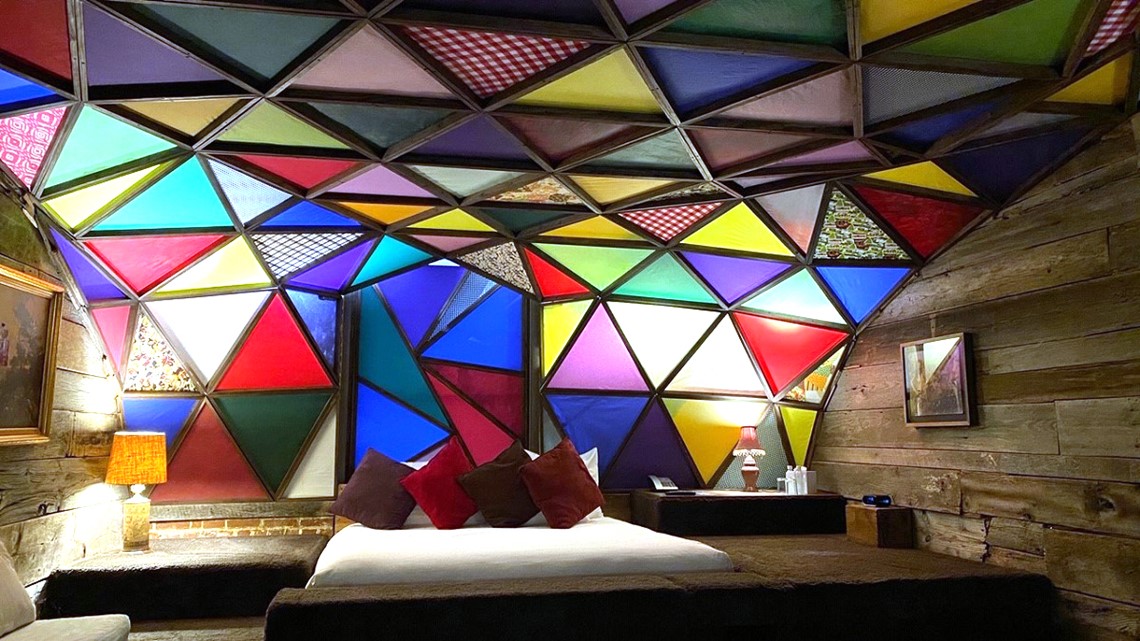 Romance was the highlight at our last stop, the 21c Museum Hotel near the riverfront. Founded by Laura Lee Brown and Steve Wilson, the hotel is a place where you can literally sleep in a multi-venue contemporary art museum that is coupled with a 91-room hotel and restaurant. The most unusual and romantic part of this hotel was a suite called Asleep in The Cyclone...a multi-colored fabric work of art above your head that doubles as a guest room. This hotel was quiet, fun and thought-provoking.
We found our first day in Louisville to be lovely!
Louisville Mega Cavern
The longer we go on this trip, the lovelier it gets, even if our visit takes us below ground! It was a rainy day in Louisville, but we headed underground to the Louisville Mega Cavern. Once called Louisville Crushed Stone, this one-time quarry was obtained in 1989 by private investors. Since then, this underground attraction has hosted everything from zip lining and exploring to bike tours and tram riding. We immediately fell in love with the place and its 100 acres of space. Always 58 degrees, it doesn't matter what the weather is above ground — it never changes here. We all wanted to zip line, but since I have back and shoulder issues, I only tried the bunny zip line — a ride so safe and easy that a 94-year-old woman gave it a try just days before.
[view:swiper_image_slideshow=panel_pane_swiper_image_slideshow=2038301/showcaptions/loopslides]
Producer Megan and photojournalist Steve Rhodes tried the zip courses and enjoyed flying through the air on the long courses. Even though our visit was short, this is an attraction that can bond couples and yes, you can spend hours here having fun.