ASHEVILLE, N.C. — Chuck Lofton and his "Big Adventure" team traveled more than 450 miles southeast of downtown Indianapolis for a one-of-a-kind trip to Asheville, North Carolina.
Jerry Read Smith
In a heavily wooded neighborhood in the hills surrounding Asheville, the sweet sounds of Appalachian music can be heard if you listen very carefully.
For 46 years, Jerry Read Smith has created some of the most sought-after, hammered dulcimers in the world. Each instrument is made in his Asheville workshop.
The music is undeniably beautiful, and Smith, who has also been a popular performer for more than 30 years, decorates each dulcimer with rosettes to make each instrument unique and valuable.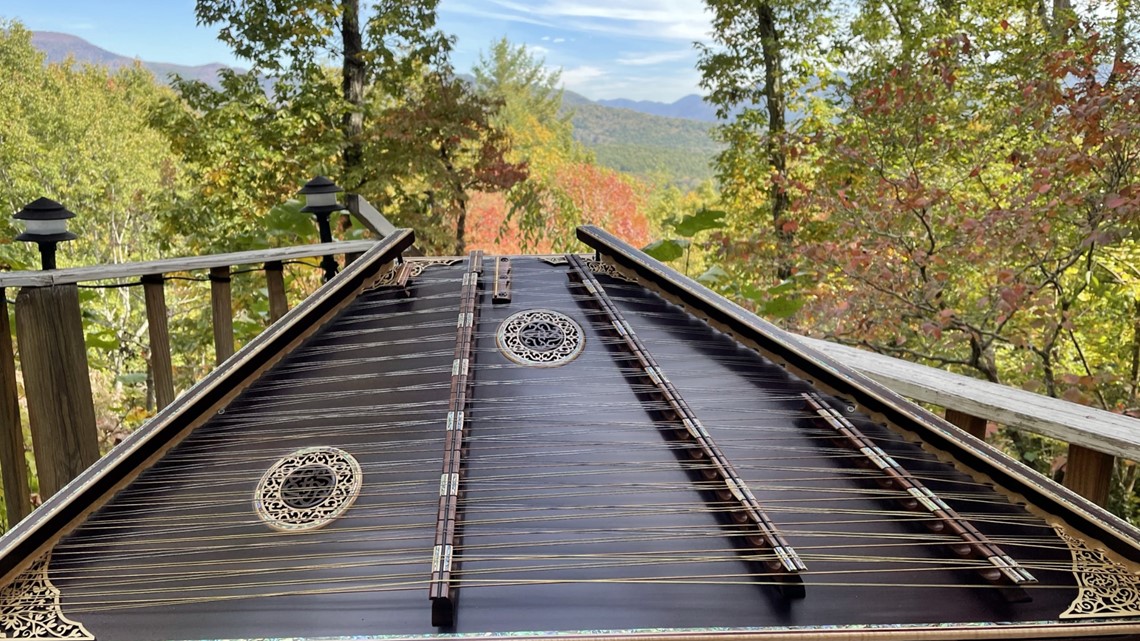 While the dulcimer is a tough instrument to play, it has been called a replacement for an orchestra because of its unique sound.
"The beauty of a hammered dulcimer is it can be totally by itself, and it is pleasing to the ear," Smith said. "It stirs your imagination, [and] you can add another instrument, like a flute."
Smith and his former wife, Lisa, toured for years, with no drums or guitars — just a hammered dulcimer and a flute. They were frequent performers, from concert halls to the Biltmore Estate.
"My goal was to make the two, completely different instruments blend so the audience is asking, 'What is that sound? Was that the flute? What was that sound that I heard?'"
Since the hammered dulcimer is such a personal instrument, Smith has met with many of his customers personally before he starts the building process.
"I have to consider every customer. The reason I enjoy what I do so much is I don't simply ship these things off to somebody else who's going to sell them. I love that I get to know every customer I have," Smith said. "There's a lot of possibilities: You can spend $300, you can spend $7,000. Most people don't need to spend $7,000. Most people shouldn't spend $7,000, so I consider the customers first."
Smith and his assistant make six dulcimers at a time with decades-old techniques that now include laser guidance.

His compound also includes a beautiful studio that faces the hills of the east side of Asheville. During the COVID-19 pandemic, he outfitted the studio with cameras to broadcast concerts around the world through the internet to keep his music and business alive.
When you watch Smith work, carefully choosing and cutting the wood, creating the soundboards, gently laying the strings and creating the rosettes, it becomes obvious that these hammered dulcimers are works of art.
"Somebody said, and I'm not sure who said this, but somebody said that 'If you if you build it to function, to its optimal ability, it will attain its own beauty.'"
It has, and it does. Smith is an instrument maker, a business owner, and as you hear him play this ancient instrument, an artist. He is also an Appalachian music legend.
Asheville Guitar Bar
Travel down the winding road in Asheville that leads to the River Arts District and stop.
What you'll hear is a rock sound of days gone by, played by musicians who have a lot of gray in their hair but haven't lost a step in playing guitars, drums and keyboards.
The sounds come from the Asheville Guitar Bar, a music lover's paradise founded by Mark and Julia Goldthwaite.
If you notice the guitarists on stage, you'll see that the performers have been around music for a while.
Mark said they came up with the concept for the bar after meeting many retired musicians in Asheville.
"You know, you don't really retire from playing music. You want to play the rest of your life, but you're not into being on the road," Mark said. "This is a meeting place for musicians. We formed a lot of bands from here, and they formed every weekend."
Mark and Julia are giving these musicians a much-needed chance to play — and almost all have done so professionally. Just recently, former band members of Blood Sweat & Tears and Roadmaster took the stage.
It's that love of the area and the musicians who live here that fuel Mark and Julia's passion. On any given night, you'll hear music from artists such as Led Zeppelin; Crosby, Stills, Nash & Young; and Carpenters.
Every Sunday for the past five years, people are invited to "Mark's House Jam & Beggar's Banquet," where they play music and provide food as a way to give back to the community.
The COVID-19 pandemic put a strain on this business, like many others, but the crowds are back, and so is the sense of community. During the pandemic, they had musicians played in the parking lot with people socially distanced in folding chairs.
"It kept us going, being connected with community, having people drive in our parking lot and stay in their own space so they stayed safe," Julia said. "We've met new people in the community because they walked by and heard us playing so, yeah, they were like, 'We want to come back when you're open.'"
The night I visited, the crowd ranged in age between 20s and 70s. While the crowd was enjoying the music, the biggest smiles though came from the guys on stage, showing the audience they still could play — and they did — for hours.
Donna Ray Norton
"Young Emily was a fair maid...
She loved the driver boy.
He drove in the main for some gold to gain...
Way down in the lowlands low."
Those are the first lines of "Young Emily," an Appalachian ballad that is being performed around the South by eighth-generation ballad singer Donna Ray Norton.
I met Norton on our "Big Adventure" trip to Asheville and was mesmerized by her singing and the haunting melodies she delivers. She performs with no musical accompaniment — just her voice and her stories of love, loss, and sometimes, death.
Ballad singing is an art form that Norton wants to keep alive. With a mother from Mississippi and a father from Alabama, I was familiar with ballad singing and had always regarded it as a singing soap opera.
"This is what I tell all the kids that I'm kind of coaching about ballad singing: You'll see the ballad singers kind of closing their eyes when they're singing. That's because I feel like it's easier to play out the story in your mind," Norton said. "So let's say hundreds of years ago, there wasn't newspaper, there was no telephone. You know, people traveled around on horseback. And so like, what's the easiest way for you to remember? You make up a rhyme or sing it, and that kind of helps you keep track of the story. So that to me, I feel like that may have been how it all kind of got started."
She may be right. Her family started singing these ballads in the Appalachian Mountains before the Civil War. Norton knew of the legacy growing up but was reluctant at first to participate.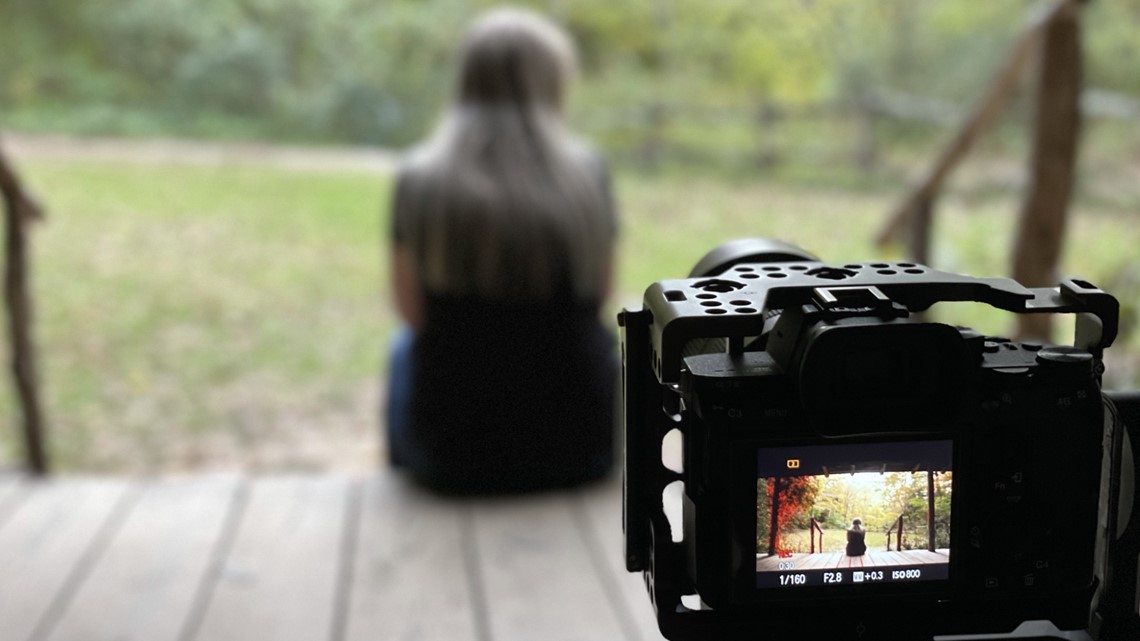 She would watch her mother perform in festivals and events and finally came around.
"I did enjoy doing it whenever I was in high school, so it was fun to just go out and be with my cousins and my momma and, you know, get to actually experience the festival part of everything," Norton said. "I didn't really actually consider doing it all the time until I was probably in my 20s. And at that point, I realized how important it is for everything to carry on because it is such a dying art form. It's something that I don't want to die out."
"My father runs a public house,
Go ye then in and enter in and in this night abide."
Not only does she sing in festivals and events, but her daughter is joining her now, making nine generations of the family involved in ballad singing.
She also is making new disciples of the craft by teaching students at the University of North Carolina at Chapel Hill. Norton has worked one-on-one with students in the Southern Music course in the Department of American Studies.
Norton said it has been a labor of love for her to keep Appalachian music alive.
"I feel like history is getting erased a little bit. I just feel like it's important to keep as many good things involved and around as we can, and I feel like singing is one of them," Norton said. "It doesn't matter what you know, what type of music — music speaks to everyone. So, I feel like it's just a good thing, it's something great."
Spending time with Norton, sitting on the cabin steps, gave me what a glimpse of what life was like in the mountains 200 years ago. It was a time before phones, TV, and podcasts, and a time when messages truly came from the heart.
Mournful, soul stirring, haunting — Norton's ballad singing comes from her heart, and the time we spent with her was one of my most cherished "Big Adventure" visits.
More of Chuck's Big Adventure in Asheville: