ASHEVILLE, N.C. — Chuck Lofton and his "Big Adventure" team traveled more than 450 miles southeast of downtown Indianapolis for a one-of-a-kind trip to Asheville, North Carolina.
Blue Ridge Parkway
"It's a dream come true. I mean, really working in any national park is a dream come true, but to be able to come to a place that means so much to you personally, that is obviously so incredibly beautiful, is fulfilling and it's a career-high." - Tracy Swartout, superintendent at Blue Ridge Parkway
Tracy Swartout's dream came true when she returned home as the superintendent of the Blue Ridge Parkway. The South Carolina native visited the parkway as a child and always wanted to come back.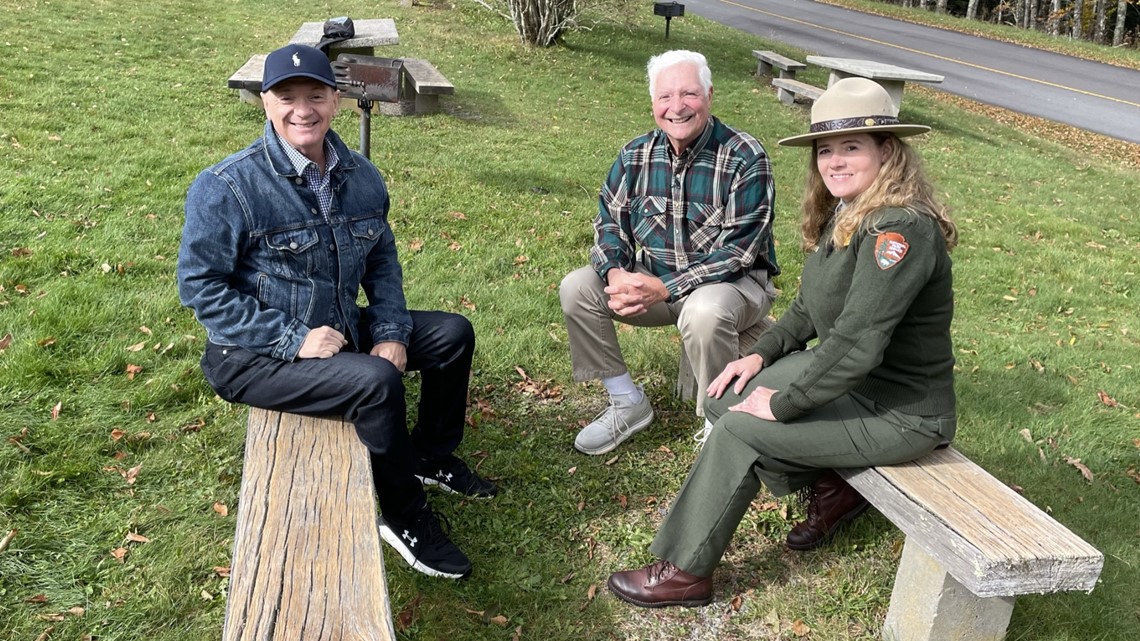 For the past nine years, she ran things at the beautiful Mount Rainier National Park in the state of Washington, but in her view, nothing matches the 469-mile Blue Ridge Parkway with its elevation, beauty and history.
"I think it has a little something for everyone. So, if you are into wilderness hiking or your idea for a good time is, 'I don't want to see another human,' well, there are plenty of trailheads you can get to that take you out into national forest lands where you won't see another person for your entire hike," Swartout said.
"Similarly, you can also go to some really developed areas and get a great meal at a restaurant. You can spend the night in one of the ends on the Parkway, and I think there's everything in between," Swartout said. "We have a lot of really great historic sites all along the Parkway to search for history or culture. There's an experience waiting for people to have."
Blue Ridge Parkway is one of America's biggest tourist attractions. For instance, in 2017, 11.1 million people visited this ever-changing stretch of road.
On our trip, it was amazing the difference between Asheville at 2,200 feet and Mt. Pisgah at 5,000 feet. We saw changes in leaf color, weather conditions and views of the North Carolina mountain range.
Dan Brown is retired now, but he is the former superintendent. Even though he ended his job years ago, it's the magical draw of the Parkway that, even now, keeps him coming back.
"We can accommodate a lot of people because there are so many places visitors can enter and leave the Parkway. Unlike a traditional national park, the Parkway is a gateway into dozens of communities all along the Parkway," Brown said. "The Parkway, in particular, offers just a tremendous experience for visitors and also for people who came as kids and they continue to come."
The efforts to build a mountain road began in the early 1900s but didn't end until 1936. Built during the Great Depression, the beauty of the road has withstood the test of time.
Generations of families continue making this part of their vacation destinations. I truly wanted to stay and not leave when our Chuck's Big Adventure crew had to depart. The Parkway is, despite the traffic, a place to stop and look at, and listen to, this beautiful part of America. To keep that peace sustained, there must be constant maintenance by crews literally every day of the year.
"The [roads] weren't designed for 15 million people to come down, so we have to keep investing in them every so often to make sure they can be sustained," Swartout said. "Over the next four years, we'll probably invest 20 to 30 years worth of work and resurfacing, paving over 100 miles."
If you visited a place like this overseas, you might say it was the highlight of your trip, but this beautiful parkway is only an eight-hour drive from downtown Indianapolis.
Let's go again, I'm ready!
Joyride Slingshot Rentals
The Blue Ridge Parkway is, in every sense, "America's road." It runs 469 miles through two states and draws millions of visitors a year. Look at the road and the travelers on it, and you'll see lots of cars, a few RVs and bikes. Since 1936, this is the way most people see the national parkway.
It isn't the only way though.
My Chuck's Big Adventure trip to the Parkway just couldn't be average, could it? That's why we enlisted the help of Chris Johnson, owner of Joyride Slingshot Rentals in Asheville.
Joyride Slingshot Rentals
The name says it all: My drive along the beautiful color of the changing leaves on the Parkway was more than enhanced by the Polaris Slingshot. Driving one of these vehicles is more than an open-air rush — it's a 360-degree thrill.
"When I first drove this on the parkway, I saw more things that I didn't even know existed," Johnson said. "Even just having the blue sky above, most people would compare this to a convertible, but even in a convertible, you still have that closed-in feeling. This just has that more exposed, open-air feeling without having to feel that exposure of being on something like a motorcycle."
The Slingshot has a front windshield that came in handy. It kept me from eating some bugs while cruising through the mountains.
The rush of driving on the tight corners kept me feeling like I wanted to drive all day, which Johnson said was a common reaction.
"It's the exhilaration when you get on the pedal in this thing. The speedometer goes up to 220 and has 180 horsepower," Johnson said. "You don't have much weight in the back. A lot of people have to be warned about that before they go out but once they go out, as long as they're safe, they can take these curves like they're in a race car."
It did feel like a race car, but I had to be careful. There is a hard speed limit on this National Parkway.
The experience is breathtaking. From the majestic and open views of Mt. Pisgah to the changing colors at different elevations, this was a bucket list trip.
Being a person in his 60s, I'm no longer comfortable riding on a motorcycle, but the Slingshot is a cross between a car and a motorcycle.
"We've had folks that have ridden motorcycles their whole lives, they're getting a little later in life, they still want that open air exposed feeling. They aren't as comfortable riding a motorcycle anymore, so they feel like riding this, such as newlyweds on vacation or their honeymoon in the Asheville area, to do something new and fun that they've really never done before," Johnson said. "These vehicles are so new that for the most part, I've found that the majority of the folks renting from us, it is their first time driving [the Slingshot]. "
It won't be my last time driving them either. The Slingshot gave me an unparalleled look at the beauty of nature with no roof, no closed compartment and no large windshield. It was the drive of a lifetime and a memory that will always be with me.
The North Carolina Arboretum
One of the beautiful sites we toured on our latest big adventure was the beautiful North Carolina Arboretum. This gorgeous park is just along the Blue Ridge Parkway and is a living, breathing example of plant life, flower displays and art near Asheville.
The leaves were changing on the property when we visited, and the forests and displays took on a life of their own silhouetted against the autumn sky.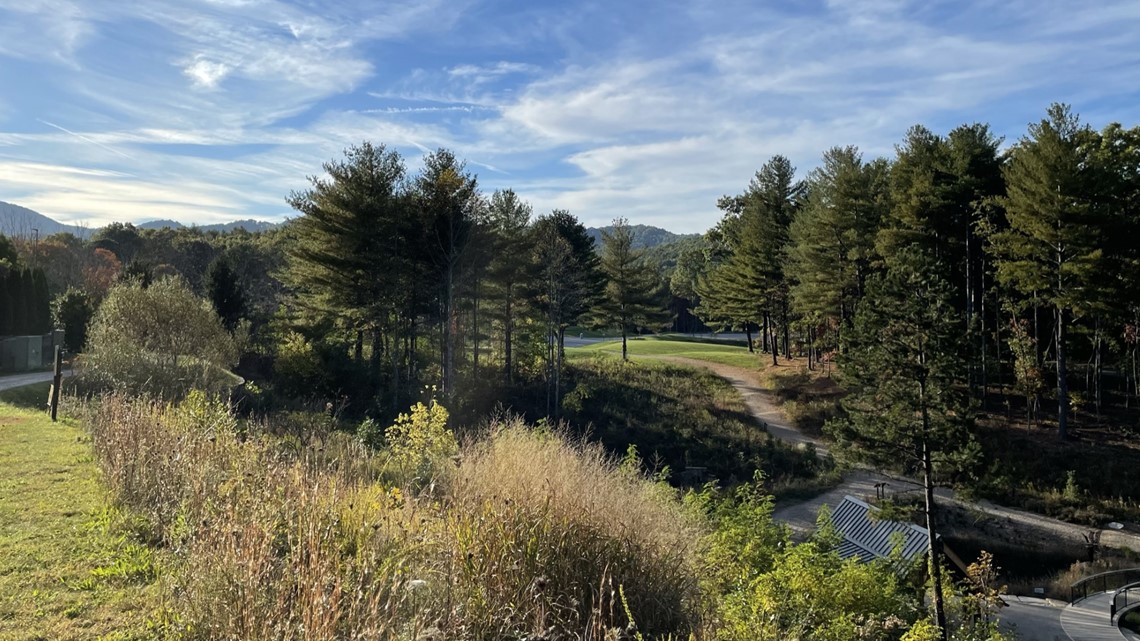 More than 17,000 people are members of this park, and the staff here feels like they run America's best arboretum.
From orchid displays to hiking trails, from bike paths to garden displays, there is something here for everyone.
As we get closer to the Christmas season, the arboretum is going to play host to their annual Winter Lights Christmas display, a walk-through experience that will draw tens of thousands to this destination spot. Winter Lights kicks off Nov. 19 and runs through Jan. 1.
The Bonsai Garden exhibit is a favorite of many, and there is also fine dining and areas for children to play.
Beautiful plants, trees and a mountainside experience that is pure peace, the North Carolina Arboretum is an Appalachian treasure.
Folk Art Center
Just off the Blue Ridge Parkway, near Asheville, is a one-stop celebration of Appalachian art.
The Folk Art Center is the home facility of the Southern Highland Craft Guild, an organization committed to preserving and encouraging this unique regional art. The guild is made up of members from nine states who encourage and mentor each other in continuing and improving on their art form. The guild has been together since 1930 and prides itself in elevating the quality of art in the region.
From woodworking to painting, from fabrics to glass making and much more, Parkway visitors have made this center a popular stop.
Every day, juried artists — some traveling hours to get there — give personal demonstrations for guests. Those demonstrations are a glimpse of mountain traditions that are still alive to this day.
The gift shop highlights regional artists who have made a name for themselves in this area and by selling their work here as a sustainable way of life.
The Folk Art Center is a can't-miss stop along the Blue Ridge Parkway.
More of Chuck's Big Adventure in Asheville: