ASHEVILLE, N.C. — Chuck Lofton and his "Big Adventure" team traveled more than 450 miles southeast of downtown Indianapolis for a one-of-a-kind trip to Asheville, North Carolina.
Biltmore Estate
Drive along the winding road outside of Asheville, and the suspense builds.
Here, is a brick fence. There, is a precise, Disney-like edging job on the road. Here, is a beautiful collection of southern plant life. Then, as you make one more turn along one more hill, you are hit with majesty: Your car has reached the entrance to the Biltmore Estate.
It was, is and probably always will be, America's largest house.
The facts about this house are simply staggering:
8,000 acres of property
175,000 square feet
250-room French chateau
35 bedrooms
43 bathrooms
65 fireplaces
George Vanderbilt had this "country home" built in 1889, and six years later, it was ready to open. Visitors have toured this majestic, grandeur Gilded Age monument for well over 100 years.
Ross Randall is an expert on this home and took our "Big Adventure" team to the roof of this structure to reinforce just how popular the Biltmore is as a destination.
"You'll always get a different perspective from a different spot at Biltmore, and since it's a 175,000 square feet house — the largest house ever constructed in the United States — there are many vistas and viewpoints, with the rooftop here being a very spectacular one."
Vanderbilt could have built a house anywhere in the world. His brothers and sisters built homes closer to the family base in New York City, but he decided to come to the Carolinas to build his house.
"Coming here would be a respite from the city," Randall said. 'And while he was a single man when he built the house, [Vanderbilt] was expecting lots and lots of company — and we have about 1.6 million visitors a year. So indeed, he's getting lots and lots of company."
I especially loved the library. Vanderbilt was an everyday reader, and he wanted his guests to have access to the latest and most popular books and newspapers.
"Vanderbilt shared his love of knowledge with his guests. The library would be stocked with over 10,000 volumes in this room alone, almost 23,000 in the Biltmore collection," Randall said. "These books are collected per his interests, but also through the interests of his guests, what his guests might wish to read as well, so it would have been a lovely spot for guests to come here on a rainy day and grab a book."
Christmas at the Biltmore has been a legacy experience for thousands of families. According to visual displays director Lucinda Ledford, the process actually begins a year in advance, all because the staff knows that this event is such a part of the Christmas experience for so many.
"It's fun to reconnect each year with people who make it a family tradition of their own," Ledford said. "The theme this year in the banquet hall is '12 Days of Christmas,' so with that, we want to do subtle interpretation of the 12 days. An example would be I have five golden wreaths that I'll be hanging on the fireplace."
The Christmas festivities began Nov. 5, and it's all there to see — hand-tied bows; large, elaborate ornaments; elegant, one-of-a-kind trees; food; and music — it's all part of November and December at the Biltmore. From the Vanderbilt library to the vestibule to the Christmas hymns, this time of the year makes the Biltmore, which is always a must see, a can't-miss trip for the holiday season.
There are shops on the property to buy festive gifts, rooms to stay in for a few days, and, of course, food, which is as delicious as any you'll find in the state.
We loved our Biltmore visit and cannot wait to return.
Stargazing
Before we even left for the "Big Adventure" trip to the Blue Ridge Mountains, our team wondered aloud if we would be able to get to a mountain for a night view of the stars. We wanted to see the night sky without the light pollution from nearby towns.
To get to that opportunity, we took a 45-minute car ride to the Grassland Mountain Observatory, a beautiful facility about 4,000 feet up that offers members of the Astronomy Club of Asheville a beautiful look at the sky.
However, it was not the night for us as a cloud deck rolled in over the mountain range. On the cold night with a 30-mile-per-hour wind, we still got to meet club members, see the rolling roof of the beautiful facility and enjoy stories of astronomy from members.
For member Bernie Arghiere, who has a mountain home nearby, facilities like this are crucial because they open up a love of science to people.
"Astronomy is a gateway science that most young kids are interested in. You don't see too many young kids talking about chemistry, but you see lots of young kids that are talking about astronomy," Arghiere said. "If you can expose science that's engaging at a young age, does it mean they are all going to be astrophysicists? Probably not. Probably most of them won't, but they will become an engineer, maybe a doctor, maybe a chemist of biologist. It's going to get them introduced to science."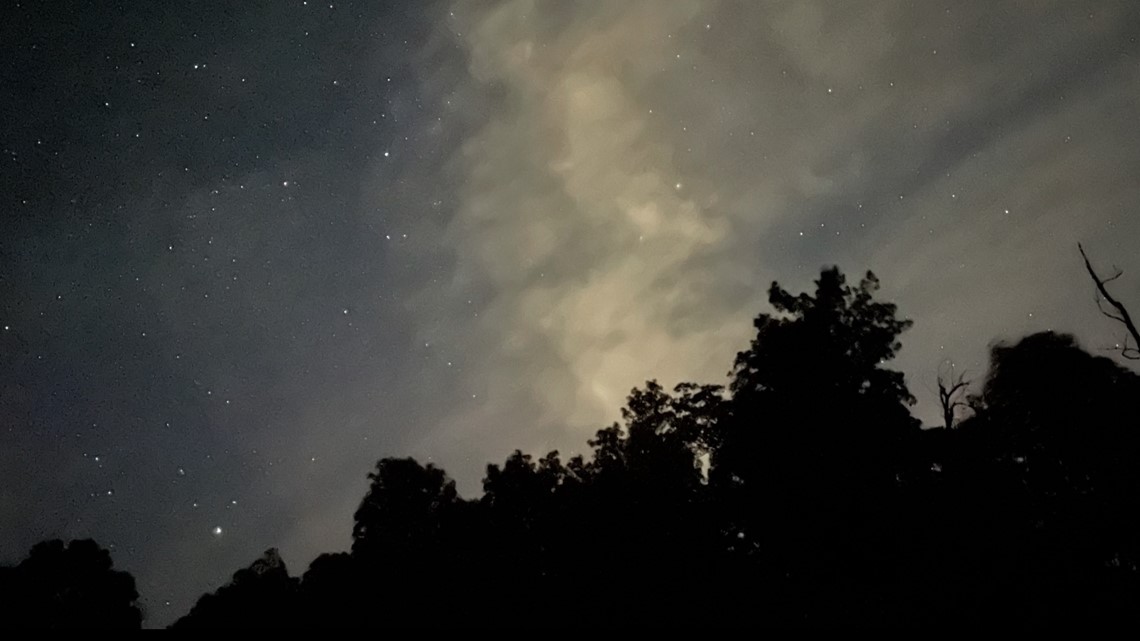 The observatory has two powerful telescopes that the members use, but they also have a long, concrete pad that is used by members to use their own telescopes. There is even an electrical hookup to use.
I was admittedly sad that we couldn't have a "crystal clear" sky, but I will hopefully be back, and I can't wait. The views and pictures members showed us are spectacular and just another reason to come back to the beautiful, mysterious Blue Ridge.
More of Chuck's Big Adventure in Asheville: