SANDUSKY, Ohio — UPDATE: The following story has been updated to include new information made available in a comment by a Cedar Point spokesperson.
A piece of urethane tire tread separated from a wheel on the Corkscrew rollercoaster Monday, a Cedar Point spokesperson told WTOL 11 Wednesday.
This comes after a photo circulated social media Monday, claiming to show a large piece of red and blue debris near the Corkscrew. The photo, which was taken by a Cedar Point visitor who wished to remain anonymous, is included below: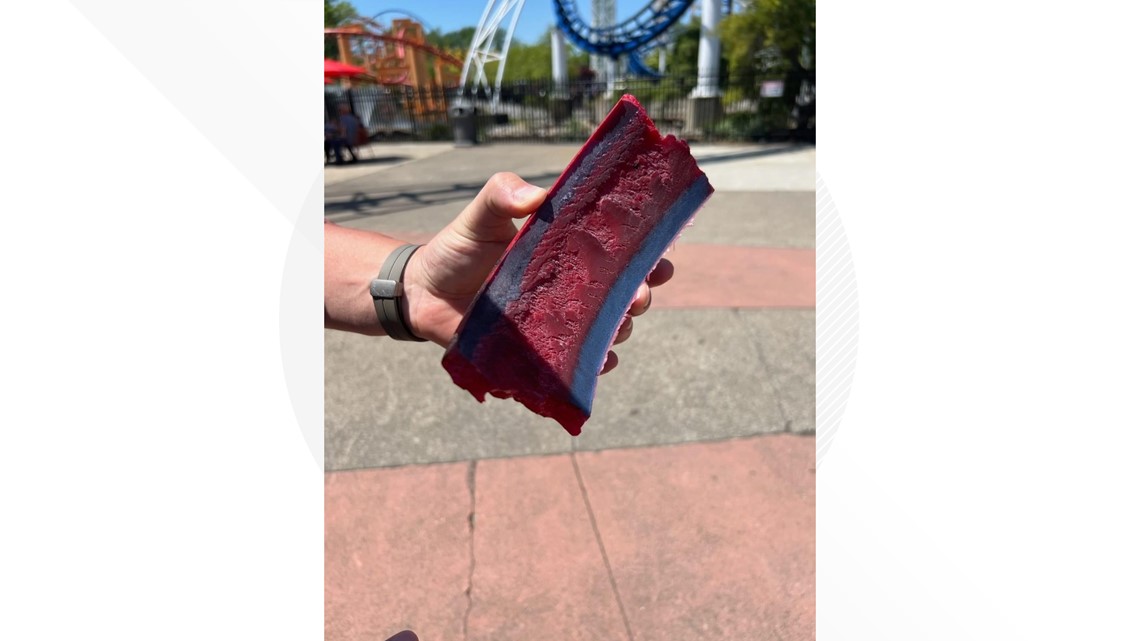 According to the spokesperson, the wheel was replaced and the Corkscrew resumed normal operations. The tread was recovered on the midway without incident, they said.
The Ohio Department of Agriculture (ODA), which licenses and inspects amusement rides and fairs, told WTOL 11 they had not been made formally aware of any incident involving the Corkscrew as of Tuesday, but confirmed they had inspected and permitted all of the park's rollercoasters prior to its opening earlier this month.
Cedar Point is only required to report accidents or serious injuries to ODA, per Ohio law. Cedar Point is responsible for daily maintenance and inspections prior to opening rides.
ODA contacted Cedar Point regarding the incident. On Wednesday, ODA told WTOL 11 that Cedar Point confirmed the piece had come from the Corkscrew.
No injuries related to the incident have been reported.
Cedar Point faced scrutiny after a woman was seriously injured when an L-shaped bracket fell off the Top Thrill Dragster ride in 2021. ODA cleared Cedar Point of any wrongdoing in that incident.
The Dragster was permanently closed.
MORE LOCAL HEADLINES FROM WTOL 11
➡️ Get a fresh start to your morning and wrap up your day with the latest news and your WTOL 11 Weather forecast delivered right to your inbox!
WTOL 11's Your Morning Blast and Your Evening Blast deliver stories from northwest Ohio, southeast Michigan and beyond to keep you informed.