INDIANAPOLIS — The South Madison Avenue bridge over Interstate-465 is scheduled to close Sunday evening, Feb. 27, for demolition and replacement. This is a long-term closure that is expected to last through most of the summer.
INDOT expects the project to take six months and cause delays on I-465 between the I-65 interchange and the Kentucky Avenue exit.
Detours and delays
The Madison Avenue project detour will follow Thompson Road, Keystone Avenue and Hanna Avenue (see map).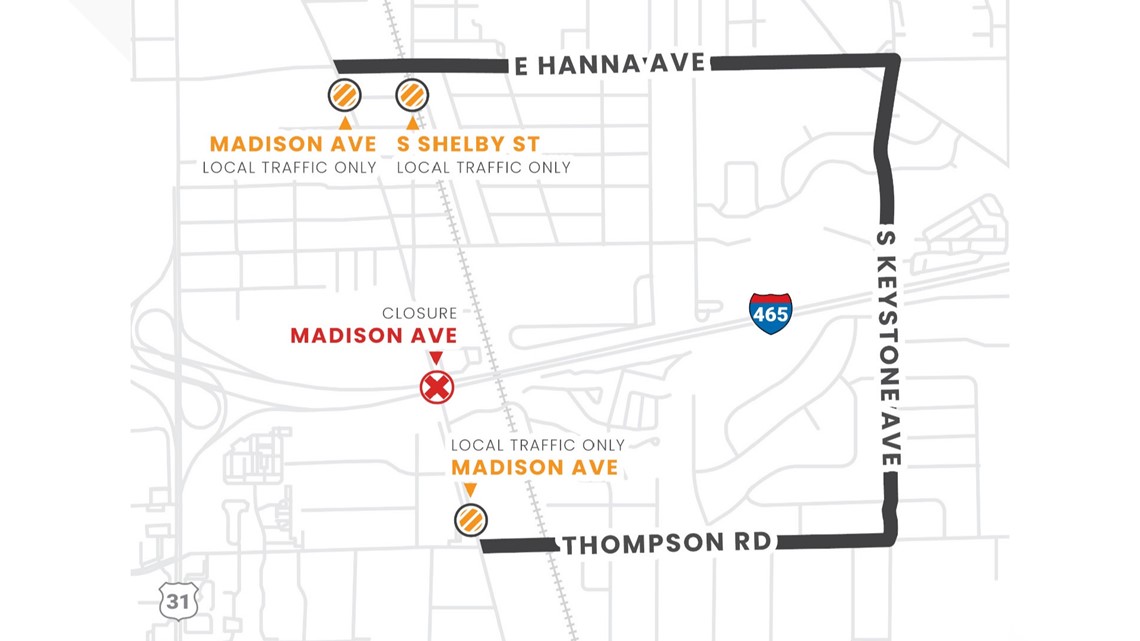 I-465 traffic should seek alternate routes and expect ongoing nighttime delays in both directions during the early weeks of the project. Crews are placing temporary concrete barriers in the center median, demolishing the Madison Avenue overpass and removing overhead power lines.
Crews can close I-465 lanes between 9 p.m. and 4 a.m. and stop traffic for up to 20 minutes between 11 p.m. to 4 a.m. Demolition of the overpass also requires closing the U.S. 31/East Street on-ramps to I-465 eastbound between 11 p.m. and 4 a.m.
Thompson Road closure March 4-7
Utility crews expect to close Thompson Road on the first weekend of March between U.S. 31/East Street and the Taco Bell entrance for underground sewer work. The closure is scheduled between 9 a.m. on Friday, March 4 and 6 a.m. on Monday, March 7. The detour will follow S.R. 135/Meridian Street, Edgewood Avenue and U.S. 31/East Street.