TIPTON COUNTY, Ind. (WTHR) — A semi crash has closed northbound U.S. 31 north of State Road 28 in Tipton County, and an acid spill has led to evacuations in the area.
Authorities say the crash just before 5:30 a.m. Friday involved two semi trailers. One was a tanker carrying hydrochloric acid that spilled near the area of Tipton County 100 South near the railroad tracks that cross U.S. 31 north of the Chrysler plant.
Residents of six homes on east side of 31 have been evacuated.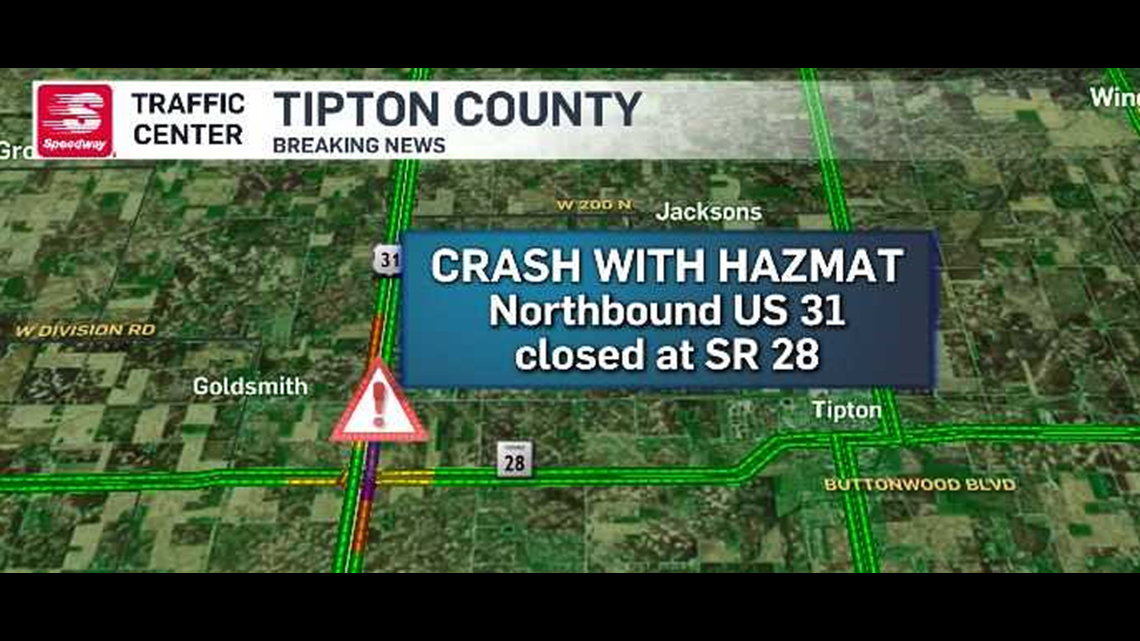 There are no serious injuries.
Indiana State Police Sgt. Tony Slocum told Eyewitness News the tanker was traveling north on U.S. 31 when it stopped, as law requires, at the railroad crossing near Tipton County 100 South.
A FedEx tandem trailer struck the tanker, rupturing its tank and spilling the acid.
Slocum said nobody at or near the scene was in danger.
Police have diverted northbound traffic on U.S. 31 at SR 28 and traffic is using county roads to go north to Division Road to get back onto U.S. 31. According to Slocum, the U.S. 31 will be closed most of the day and people should avoid the area. Workers will need to mill the road due to the damage.
In addition to state police, Hamilton and Tipton County emergency crews are all on scene, and the Indiana Department of Environmental Management is also investigating.
At this point, police have issued no citations.