INDIANAPOLIS — Construction zone crashes continue to plague parts of I-65 in Boone County, causing lengthy backups for drivers.
The latest accident closed sections of the interstate near Thorntown for almost four hours Sunday.
The crash involved a semi, which had its rear axle detached in the incident, with construction zone barriers destroyed and pushed out of place.
It's far from an isolated incident. Just in the past few weeks, there have been a handful of crashes within a 14-mile stretch of I-65.
The Boone County Sherriff's Office said some crashes are freak accidents while others are caused by distracted drivers.
"We deal with crashes a lot but to see them in a frequent spot is a little concerning, but we have definitely been taking measures with the fire department in Lebanon, INDOT and the construction crews to try and make necessary changes where we can," said Deputy Wesley Garst, Boone County Sheriff's Office.
Garst said his department has also increased patrols in the area, saying it's important for drivers to pay attention to changing traffic patterns and speeds.
He said one of the problem areas is the US-52 ramp onto I-65 South, saying drivers need to yield because it can be dangerous when merging.
"We ask that you just slow down, be mindful and be courteous to your fellow driver that is beside you because we don't want to see anybody get hurt," Garst said.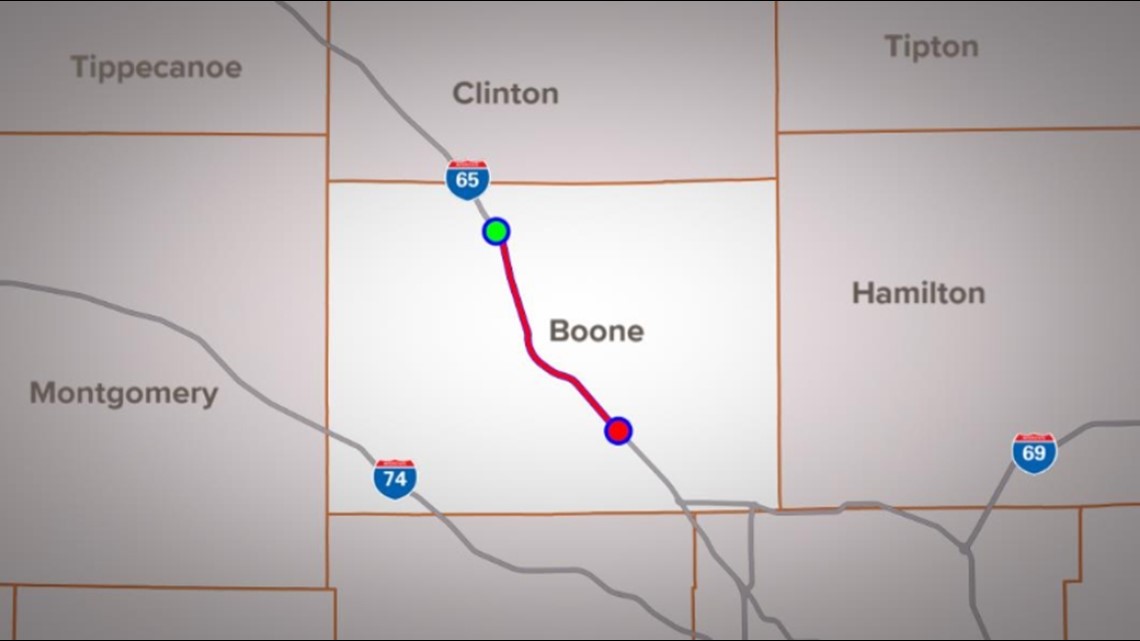 Back in June, 13News also rode with a state police trooper after multiple crashes where people were driving too fast.
"I think people get selfish and they want to get to their destination quicker or they find themselves familiar with the construction zones enough where they think they can drive a little faster," said Sgt. John Perrine, Indiana State Police.
When an accident happens, it also takes longer for first responders to arrive because of the construction challenges. Right now, the southbound lanes on I-65 are split into two sections making it difficult for emergency vehicles to fit through.
"Usually we can use the shoulder or a median to try and get around stalled traffic but, in this case, when the traffic stalls there's nowhere for anybody to go," said Lt. Jason Hendricks, Lebanon Fire Department. "The only way we can get access to the incident is to shut the interstate down, which just causes a giant headache for everybody."
Hendricks said the fire department developed a plan with INDOT before construction started and they continue to work on solutions to improve response and clean-up time.
Currently, INDOT has two projects happening on I-65 in Boone County. One project is to widen the interstate between Indiana 32 and Indiana 47, which should wrap up in May 2023.
The other project is to improve the I-65 and Indiana 267 interchange, which should be finished by the end of October or the beginning of November.
State Police is urging drivers to follow reduced speed limits and leave plenty of room between cars.
What other people are reading: