INDIANAPOLIS — Every fall, hundreds of millions of migrating birds aiming for the Southern Hemisphere's warmth get sucked into the bright lights of American cities.
They become disoriented, lose sight of stars that act as their compass, then meet an untimely end by slamming headlong into skyscrapers.
Now, the tallest building in Indianapolis is dimming its lights at night in an effort to decrease those deaths during the fall migration season.
Salesforce Tower will shut off all lights not in use for the duration of the migration, the conservation group Lights Out Indy announced Tuesday.
Austin Broadwater is in charge of the Lights Out program and said the group's volunteers see firsthand how many birds are killed in Indianapolis due to collisions.
"Usually, we try to get there about an hour before sunrise, because you want to do it, for lack of a better term, at the sweet spot - and be right after the bird strikes before they get cleaned up by the cleaning crews. Oftentimes, they get scavenged as well," Broadwater said.
That's because many bird species migrate at night, using the night sky to help them navigate. As birds fly over the many artificial lights in cities, they become disoriented and collide with buildings or windows.
Some birds that land safely overnight may also collide with windows as they take off in the morning.
"Birds cannot perceive glass as a barrier, they only see the reflection from the window. So as a bird approaches a building, they think their path is clear, only to have their journey abruptly interrupted," William Schaust, manager of Eagle Creek's Ornithology Center, told 13News.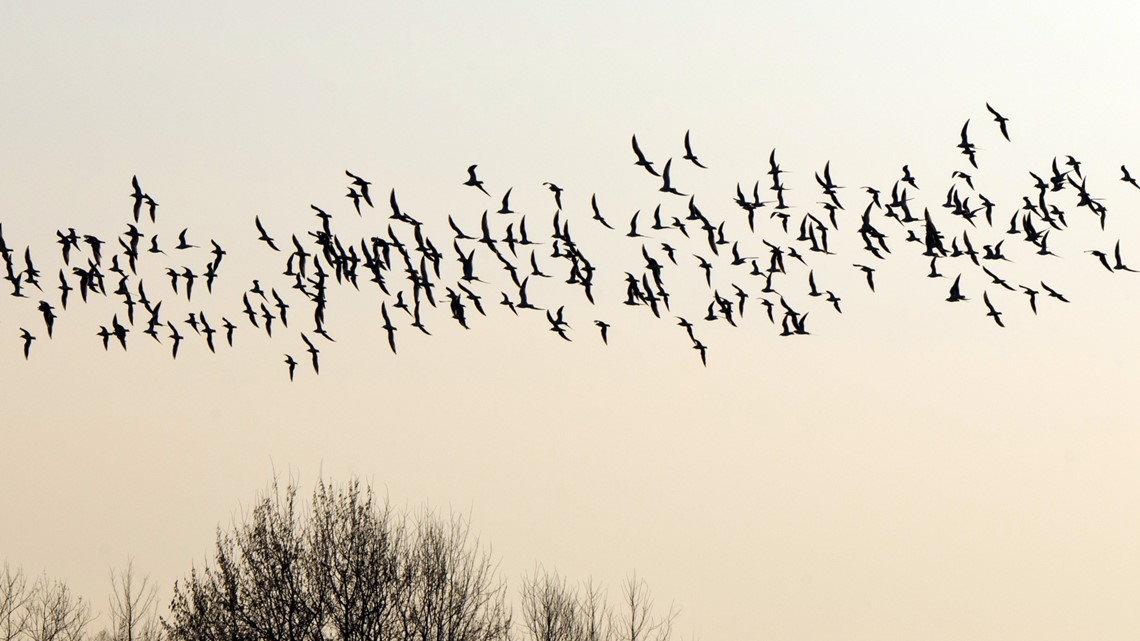 The Indianapolis Zoo, the City-County Building and Newfields have all announced bird safety measures recently.
Conservationists say getting local businesses on board is crucial because although Salesforce Tower may be the tallest skyscraper in Indianapolis, one 2014 study shows those are not always the biggest culprit of bird collision deaths. Research published in "The Condor: Ornithological Applications" found 56% of the mortality events happened at low-rises, or buildings four to 11 stories tall, 44% happened at residences, and just 1% happened at high rises.
But when businesses step up, it shows others they need to do the same, conservationists said. Amid a swell of support from the community in recent months following a mysterious bird illness that killed birds throughout the state, they hope people continue to pay attention.
"I think, you know, COVID got a lot more people indoors or staying at home, so they started noticing that there are birds outside. We've got more people paying attention to nature," Broadwater said.
The fall migration lasts from August through Nov. 15. Salesforce did not specify if they would participate for the duration of that migration.
Here are some ways to help:
If you work at one of those large structures, try to speak with management to get them to turn their lights off during the migratory seasons.
Support bird-friendly legislation.
Turn off decorative outdoor lighting.
Extinguish pot lights and floodlights.
Turn off interior lighting on higher stories.
Install motion sensors and controls whenever possible.
Install bird-safe glass products that reduce transparency and reflectivity.
Provide each window with exterior screens, netting or shutters.
Apply films, bird tape or decals using the appropriate spacing.
Print ceramic patterns onto glass, which also adds to aesthetics.
Turn off lights when not in use.
Be cognizant of where vegetation is placed around buildings.
Note: The above video is a story from KARE 11, a WTHR sister station, which further highlights how birds have trouble navigating tall buildings - even stadiums.