INDIANAPOLIS — The Indiana Fever made the most of the first No. 1 draft pick in franchise history, selecting Aliyah Boston.
The South Carolina star had a stellar college career, leading the Gamecocks to a national championship her junior year and losing only nine games total. She was a three-time Associated Press All-American and also the Player of the Year as a junior.
"It's really special, I'm thankful to God for putting me in this position," said the 21-year-old Boston, from the U.S. Virgin Islands. "Everyone in Indiana, they saw something in me, I'm ready to get there and get to work."
The Fever had the worst record in the league last season, going 5-31.
"Aliyah Boston will have an immediate impact on our franchise on and off the court," Fever GM Lin Dunn said. 'We are excited to pair her with Kelsey (Mitchell) and NaLyssa (Smith) as we reload the Indiana Fever. We are very impressed with Aliyah's post skills as well as her natural leadership skills. This a a great day for our franchise!"
Boston, like many other players, have had to choose whether to return to college for a fifth season because of the extra year granted for the COVID-19 virus or turn pro. She decided to enter the WNBA draft, joining 111 other players to declare.
"Everyone that has a COVID year has a tough choice," Boston said. "You could be somewhere you know the system. ... It took a lot of thought."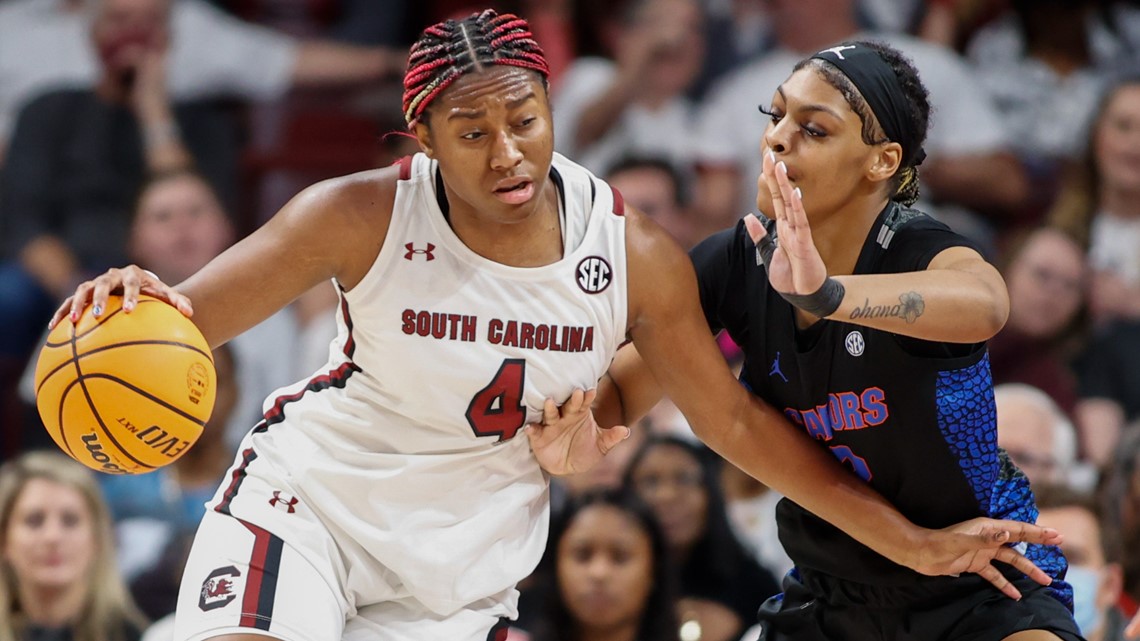 She was one of three South Carolina players taken in the first round. Laeticia Amihere went eighth to Atlanta and Zia Cooke 10th to Los Angeles.
"It's amazing experience really, because this group of girls have been through life together," Amihere said. "These four years haven't been only about basketball. Being able to be with them on one of our biggest nights is an amazing experience."
It's the 10th time that three players from the same team were drafted in the opening round, and the first since Oregon had three in 2020.
The Fever stayed close to home with their second pick of the first round, taking Indiana University's Grace Berger with the seventh overall selection.
Berger averaged 12.4 points in five seasons with the Hoosiers, adding 5.1 rebounds and 3.9 assists per game in her career.
The Fever also had a pair of picks in the second round, selecting shooting guard Taylor Mikesell from Ohio State and power forward LaDazhia Williams from LSU. With their last selection, Indiana went back to South Carolina to pick Gamecocks small forward Victaria Saxton.
Minnesota took Diamond Miller of Maryland with the No. 2 pick, and Dallas drafted Maddy Siegrist of Villanova with the third pick. Big East Commissioner Val Ackerman, who was the WNBA's first president, sat with Siegrist.
The Wings also drafted UConn guard Lou Lopez Senechal two picks later. She had transferred to UConn after a stellar career at Fairfield.
"It feels surreal, really didn't think I'd be here," Senechal said. "I've come a long way, gone through a lot of challenges."
Stephanie Soares of Iowa State went fourth to Washington. The Mystics quickly traded her to Dallas soon after selecting the 6-foot-7 center. Washington got back a future first- and second-round pick.
"It was a very interesting feeling," Soares said. "Pure excitement going to Washington, but now getting to go to Dallas. It's going to be a great next step to the journey."
Soares tore her ACL in January and will miss the upcoming WNBA season.
Stanford guard Haley Jones went sixth to Atlanta. Seattle took Tennessee's Jordan Horston ninth. Dallas chose Maryland's Abby Meyers with the 11th pick. Meyers started her career at Princeton before finishing with the Terrapins.
Minnesota closed out the first round taking French center Maïa Hirsch.