INDIANAPOLIS (WTHR) — After a day and a half of interviews with the media, gymnasts in town for the USA Gymnastics women's national team training camp finally got to hit the gym.
Their first day of practice consisted of physical abilities testing, then some lighter training to get their legs under them and get a feel for the equipment.
While there were no full routines or pressure sets happening, we did get an early look at how the athletes are coming along to start the Olympic year.
The gymnasts
There were a couple dozen gymnasts at camp — both juniors and seniors — including nine who are not on national team but got an invitation from staff. Here is everyone in attendance. An asterisk indicates a gymnast who is not currently on national team:
Sydney Barros
Simone Biles
Love Birt*
Skye Blakely
Sophia Butle
Jade Carey
Jordan Chiles
Kayla DiCello
Kara Eaker
Aleah Finnegan*
eMjae Frazier
Olivia Greaves
Laurie Hernandez*
Morgan Hurd
Shilese Jones*
Emily Lee*
Sunisa Lee
Lilly Lippeatt
Emma Malabuyo*
Grace McCallum
Konnor Mcclain
Riley McCusker
Katelyn Rosen*
Jamison Sears*
MyKayla Skinner
Faith Torrez*
Leanne Wong
The highlights
Yes, seeing Olympic champions Simone Biles and Laurie Hernandez up close and personal is a big draw for going behind-the-scenes. But neither of them were my highlights on the first day of training.
Grace McCallum — who has been known as a consistent piece of the American gymnastics puzzle for the past couple years — looked to be in great shape. In an interview with her, she said she hopes to bring consistency to the team, and it looks like she's doing just that.
There is something to be said about athletes who are efficient in the gym. Grace made the most of her short time on events, showing solid, competition-ready skills, passes and combinations.
Another highlight for me was seeing Riley McCusker back in action. As a likely member of the 2019 World Championship team, she ultimately had to pull out of the selection camp after being diagnosed with rhabdomyolysis, a muscle injury that can result in severe kidney damage.
She said the injury came from competing back-to-back meets last season, but she's back and looking healthy. She said she's hoping to bring her expertise on bars and beam to the 2020 Olympic team, and those elegant lines were on full display at training Monday.
[view:swiper_image_slideshow=panel_pane_swiper_image_slideshow=2035154/showcaptions]
The questions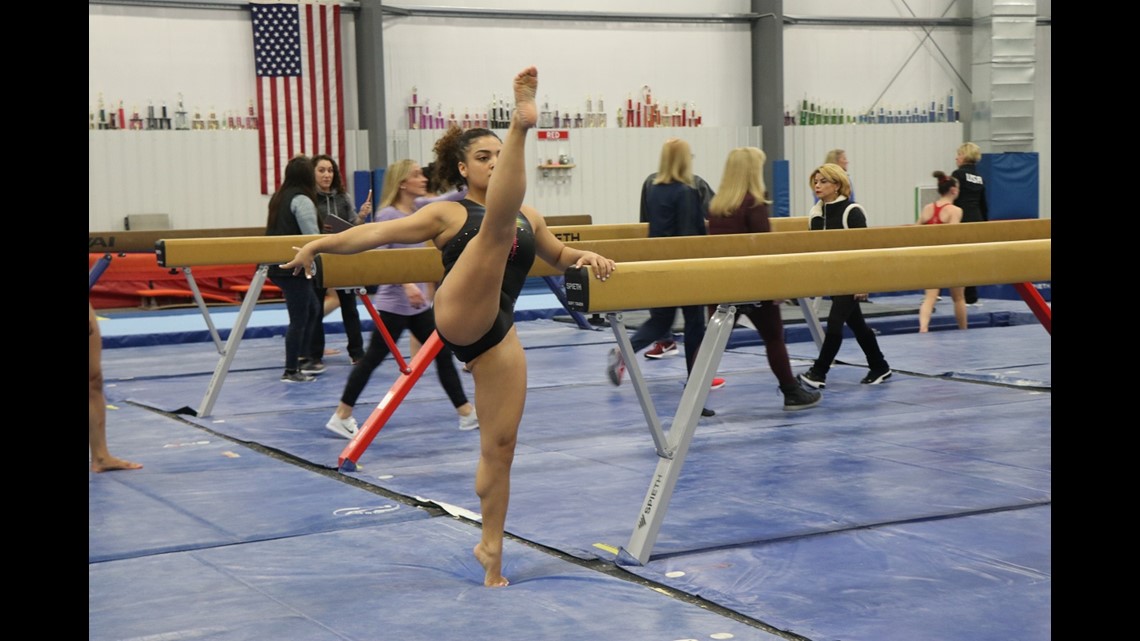 The biggest question for me remains the same as it was coming into camp: Where is Laurie Hernandez in her comeback? She took some well-deserved time off after Rio in 2016 and made a late decision to get back in the gym.
She knows the timeline is unusual but says her training is coming along well. That said, we still didn't see a whole lot from her in terms of competition readiness. Her physical fitness looks to be in pretty good shape, but it's still unclear what exactly her routines (or even parts of routines) will look like.
We didn't get to see any of her new floor routine — which she called a "big party" — but she said she's looking forward to debuting the changes this week. I'm looking forward to hopefully seeing a sneak peak on the second day of training.
The Culture
High-Performance Team Coordinator Tom Forster preached about being tasked with changing the culture of USA Gymnastics Sunday. We got to see some of that in action Monday.
The environment appeared to be pretty laid back and comfortable for the gymnasts. Biles told us one of the biggest things she's had to adjust to is realizing they're allowed to have some freedom to make mistakes. Yes, it's clearly a business trip and everyone is laser focused, but with mistakes came constructive criticism, and even a collaborative effort on how to improve between the gymnasts and the national team staff.
Tuesday is the last day for media access to camp, which officially ends Thursday morning. We'll have more behind-the-scenes content Tuesday as the gymnasts continue their training.