PHOENIX — Rihanna is putting in the work ahead of her Super Bowl halftime show, focusing so hard on what she promises will be "a jam-packed show" that her upcoming birthday and Valentine's Day almost slipped her mind.
"The setlist was the biggest challenge. That was the hardest, hardest part. Deciding how to maximize 13 minutes but also celebrate — that's what this show is going to be. It's going to be a celebration of my catalog in the best way that we could have put it together," Rihanna said.
At a media preview Thursday ahead of Sunday's matchup between the Philadelphia Eagles and Kansas City Chiefs, the music superstar and new mom said her appearance — her first live event in seven years — feels "like it could have only been now."
"When you become a mom, there's something that just happens where you feel like you can take on the world, you can do anything. The Super Bowl is one of the biggest stages of the world," Rihanna said. "There's something exhilarating about the challenge of it all."
A nine-time Grammy Award-winner, Rihanna has 14 No. 1 Billboard Hot 100 hits, including "We Found Love," "Work," "Umbrella" and "Disturbia." She and rapper A$AP Rocky recently welcomed her first child.
"At the end of the day, if it flops or it flies, my name has to stand by that. And so I really get involved with every aspect of anything I do," she said.
Halftime performance sponsor Apple Music held a moderated event Thursday, but moderator Nadeska Alexis was the only journalist allowed to ask Rihanna questions.
Rihanna joins a list of celebrated entertainers who have played during Super Bowl halftime shows, including Beyoncé, Madonna, Coldplay, Katy Perry, U2, Lady Gaga, Michael Jackson, Jennifer Lopez, Shakira and The Weeknd. Last year, hip-hop was celebrated with Dr. Dre, Snoop Dogg, Eminem, Mary J. Blige and Kendrick Lamar all performing.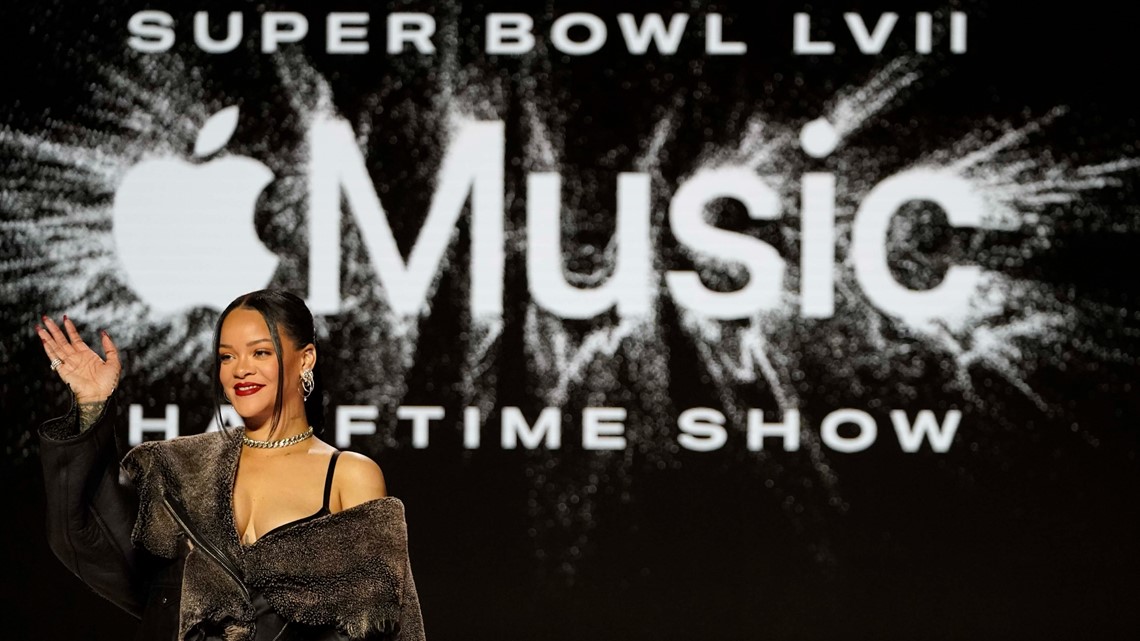 The singer had previously declined to perform in the 2019 halftime show out of solidarity with Colin Kaepernick. But she has said that the timing and circumstances this time around were right for her.
Oscar winner Troy Kotsur will perform the national anthem in American sign language. Colin Denny will sign "America the Beautiful" and "Lift Every Voice and Sing" will be signed by Justina Miles.
What happened to the 'Pepsi Halftime Show'?
Apple Music this year replaced Pepsi, which sponsored the show for the past 10 years. Terms were not announced, but analysts had expected the league to get at least $50 million per year for the rights.