INDIANAPOLIS — Indianapolis Colts defensive tackle DeForest Buckner joins us each Wednesday for Inside the Huddle.
The team has another huge game coming up Sunday, playing a divisional opponent in Houston in a matchup the team is focused on winning.
"We gotta have it," Buckner said. "I mean, Houston, big divisional game, can't take them lightly. And it's away, so guys gotta be on the details and need that sense of urgency this week."
We asked Buckner what he has seen of the Texans' rookie quarterback, C.J. Stroud.
"I mean, when he's got time and he's back there, he can make those throws, you know what I'm saying?" Buckner said. "You can see why he was a, you know, top-two pick and he also gets, you know, he's a rookie, he gets a little flustered when he's under pressure and little things like that, so we gotta do a good job as a defense with tight coverage and when the back end is making him hitch, as a D line, we gotta get there."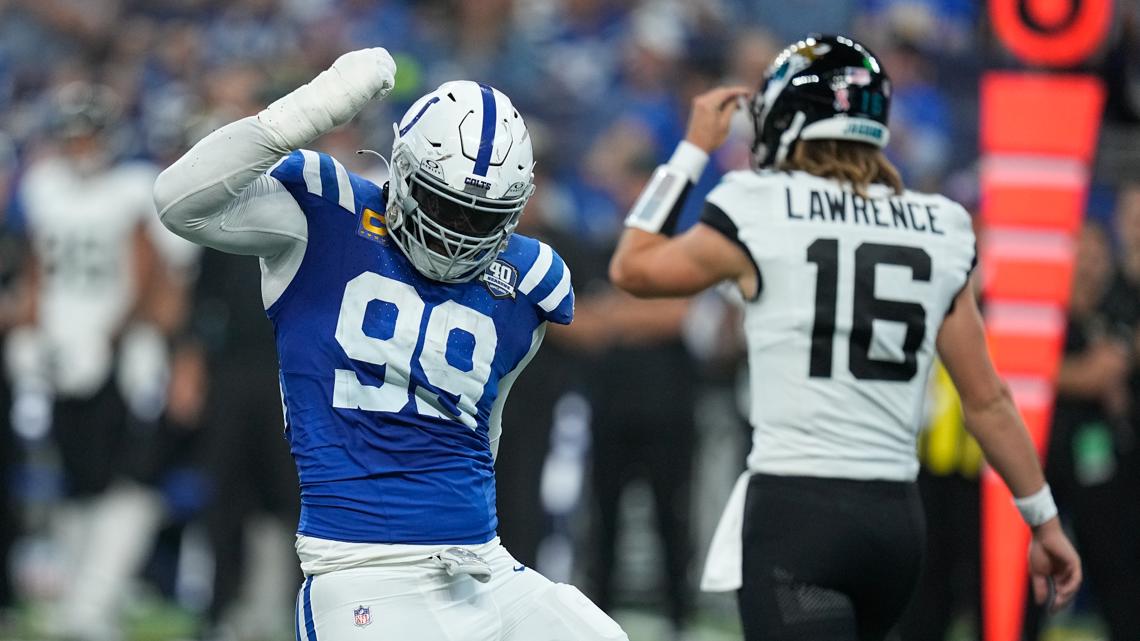 Buckner got the second touchdown of his career in last week's game against Jacksonville.
"Yeah, it was a crazy play," he said. "It was like first-and-20, you know, pre-snap read, I knew it was pass, I heard the protection call, and I knew I had the one-on-one. I had to hit a quick move, and I saw the back of Trevor Lawrence, and I was just thinking, 'I gotta get the ball out,' and when I hit him, I knew the ball came out, but I wasn't sure if, you know, they were going to make it an incomplete pass or if it was a fumble, so I got up, and I was trying to locate where the ball was and what was going on, and people were just kind of standing around, and Zaire came up and punched the ball out.
"In the back of my head, I'm thinking, 'I didn't hear a whistle,' you know, and all the other guys were like, 'Pick it up!' So I picked it up and, you know, obviously, I mean, turned around and started running, and I just saw (Colts tackle Bernhard Raimann) try to hit him with a stiff arm, and I reached for the goal line, and it was a touchdown," he said. "So it was a pretty cool, pretty cool experience."
Buckner said his phone has been busy with reaction to the play.
"I mean, after the game, yeah, it blew up, you know what I mean? And it was pretty awesome," Buckner said.
Inside the Huddle is brought to you by Republic Airways Lift Academy. Each week, Republic makes a donation to Riley Hospital for Children in honor of DeForest Buckner.
This week, we're honoring Riley Kid Damion Grimes.
"He's 11 years old. He loves playing sports, and he loves hanging out with his friends and family, so shoutout to you, Damion!" Buckner said.