BLOOMINGTON, Ind. — Former Indiana University punt returner Connor Delp is charged with two counts of rape, sexual battery and battery.
Delp posted bond Wednesday, May 10. His initial hearing is set for Friday, May 12 at 1 p.m.
On Nov. 13, 2022, a person reported to IU police they had been sexually assaulted, according to an arrest report.
The arrest report says the victim told police she met Delp through a mutual friend.
The victim told police Delp asked her to come to his apartment in the 400 block of East 20th Street on Nov. 10, so she invited a friend to come with her.
When the victim and her friend got to Delp's apartment, the victim told police there was another guy in the apartment who she didn't know.
According to the arrest report, the victim told police the four of them were in Delp's living room for several hours while drinking alcohol, believing she had approximately five drinks.
Then around 3 a.m. on Nov. 11, the victim said Delp led the victim and her friend to his bedroom to play video games.
The victim told police her friend fell asleep on Delp's bed when she said Delp grabbed her face to kiss her and touched her in "uncomfortable places."
According to the arrest report, the victim described Delp's actions as forceful when he removed both his and her clothing. The victim told police she tried to shake her head "no" but said she was too scared to say anything.
During the assault, the victim said her friend woke up and started shouting, which she said caused Delp to stop. The victim said her friend and she then left Delp's apartment.
Police then spoke with the victim's friend, who shared similar accounts of what the victim said happened.
According to the victim's friend, Delp also assaulted her when they went back to his bedroom. The victim's friend — now referred to as the second victim — told police Delp tried to kiss and touch her, but she said he continually told him "no" and pushed him off of her. After that, the second victim said she rolled over onto her side and eventually asleep.
The second victim told police she woke up to the first victim hyperventilating behind her on the bed. The second victim said she shouted, which caused Delp to stop what he was doing.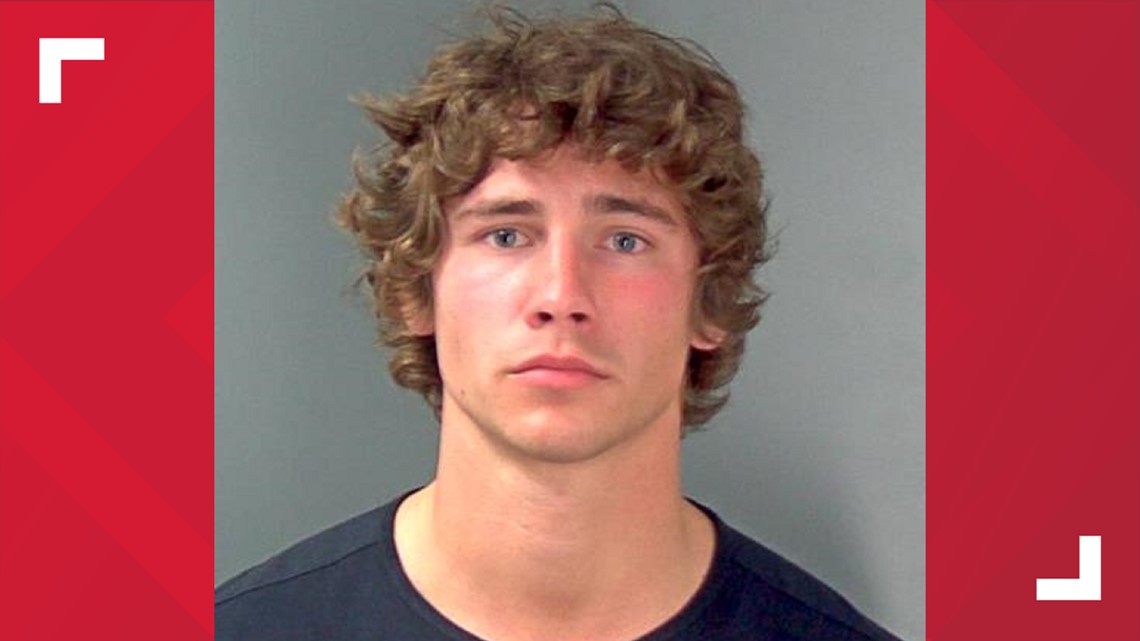 Then, police spoke with Delp, who had an attorney present, on Nov. 21.
According to the arrest report, Delp told police the second victim started kissing him while the first victim was playing video games while wearing headphones.
Delp said the first victim stopped playing video games and then the three of them kissed and engaged in sexual acts.
Delp told police the first victim and he mutually agreed to stop having sex. Delp said neither of the victims told him "no," pushed against him or cried during the incident.
Delp was suspended from team activities last November and dismissed from the program in January.
Delp made the team as a walk-on in 2021 but did not play as a freshman. Delp made his college debut in September against Western Kentucky.
Delp played high school football at Center Grove High School.
The charges were filed Monday, May 8, 2023.
A statement from Delp's attorney reads:
Connor Delp has a constitutional right to be presumed innocent of the criminal charges that have been filed against him. There are always two sides to every story. Connor Delp intends to vigorously defend against these charges in the appropriate forum – the courtroom.