INDIANAPOLIS — Who uses the most hair product? Who would be on your basketball team? 13Sports director Dave Calabro asks this year's Indy 500 drivers the tough questions.
And that means there's more than a little bit of fun during this annual question session.
Who uses the most hair product?
DEVLIN DEFRANCESCO: Helio Castroneves...100 percent.
DIXON: He needs a haircut. He almost had a Brazilian mullet going on there so.
HELIO CASTRONEVES: So right now, I have long hair...haven't been home.
JACK HARVEY: Probably me.
DAVE: You think you got Helio beat?
HARVEY: I mean, I still feel like his is darker than it should be at his age.
ROMAIN GROSJEAN: Oh, Helio...100 percent, Helio.
CONOR DALY: You gotta have enough product to keep that that hair dark and sleek.
JOSEF NEWGARDEN: Castroneves.
DAVE: What about Simon though?
NEWGARDEN: Simon looks like he's trying to be Helio Castroneves.
ED CARPENTER: They both, I think, have a decent amount of color and product.
CASTRONEVES: Depends the time of the day because mine is pretty thick.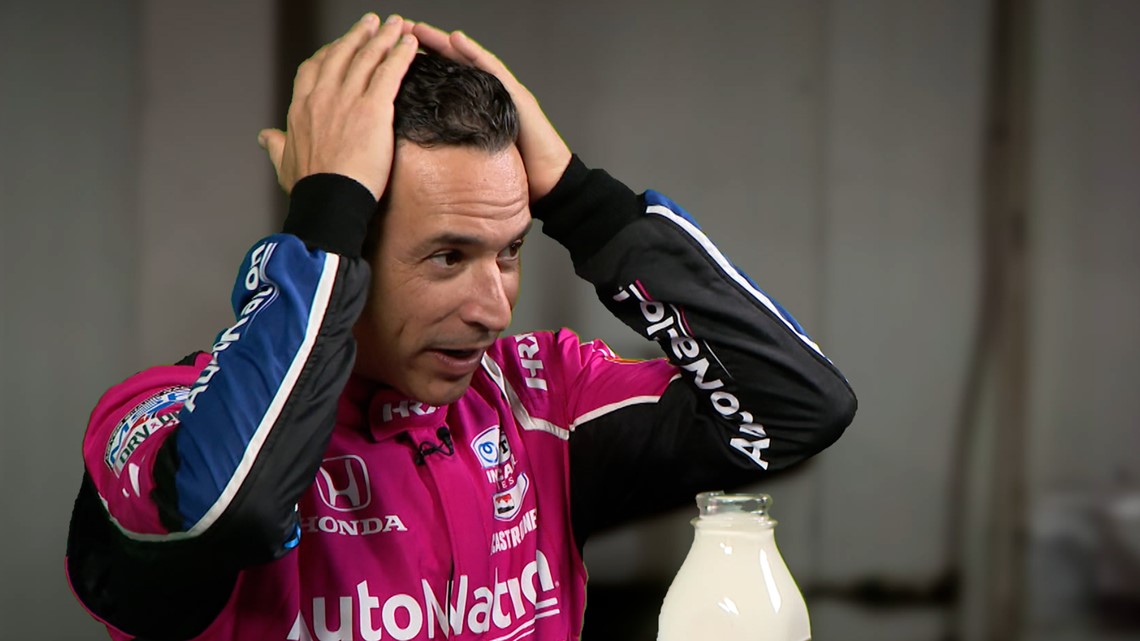 DAVID MALUKAS: All the old the old guys are the ones that wear a lot.
TONY KANAAN: Definitely not this guy. 100% Helio. He dyes his hair - has three types of gels.
STING RAY ROBB: I've never seen a guy with that much hair product before.
SANTINO FERRUCCI: His hair is so perfect.
GRAHAM RAHAL: But then again, I've also seen Helio just get out and his hair just like maybe it's just naturally...like it just goes there.
WILL POWER: He says it just sits that way.
CASTRONEVES: Who? Between you and I?
CASTRONEVES: What do you mean? Wow, let me see. I think I'm the one.
Who is on your three on three basketball team?
COLTON HERTA: Let's see who's very tall?
PATO O'WARD: Graham is tall.
KYLE KIRKWOOD: Graham Rahal.
SCOTT MCLAUGHLIN: Graham Rahal.
NEWGARDEN: Probably Graham.
DAVE: You're like the number one draft pick.
RAHAL: I'm a good center.
KIRKWOOD: And Alex Rossi.
MCLAUGHLIN: Alex Rossi because he's another tall guy.
HERTA: But he's uncoordinated.
KANAAN: Newgarden because he would just be a good blocker strong and just…
RAHAL: Why would I take Tony Kanaan? Because he would be like that little gnat on defense. That's just like so annoying, but he's kind of built you know, so you can't like push him over.
Who do you follow on TikTok?
CASTRONEVES: I don't have TikTok.
MCLAUGHLIN: I spend many hours looking at TikToks. There is some amazingly funny human beings in the world.
KANAAN: Well, I follow IndyCar but there is this account that is this guy...he goes out with a fart machine hidden and he walks by and just rips. My wife says I was stuck in fifth grade.