SPEEDWAY, Ind. — Follow along with our 13News team throughout Race Day as fans return to the Indianapolis Motor Speedway for the 105th running of the Indy 500. You can watch the race live on WTHR as the green flag drops at 12:45 p.m. But first, tune in for seven hours of team coverage from the track and studio as we help you get ready for the race.
Race morning at the Indianapolis Motor Speedway May 30, 2021


11:41 a.m. – Purdue University's band is keeping the energy up for race fans.
11:37 a.m. – A beautiful family and keeping Dan Wheldon's memory alive.
11:36 a.m. – That is a little intimidating.
11:33 a.m. – The weather is at least perfect for it today.
11:28 a.m. – Witnessing history this year.
11:17 a.m. – How does he look so calm?
Cars at the 2021 Indy 500
11:05 a.m. – Upper 50s now. Not bad Kelly.
10:56 a.m. – Check it out. The starting grid is set.
10:53 a.m. – The new owner of the Indianapolis Motor Speedway Roger Penske is in the house.
10:50 a.m. – Thanks for the memories Rich Van Wyk.
10:45 a.m. – Cars are out on the track as the start of the race is just two hours away.
10:37 a.m. – IndyCar driver Alex Palou is one cool customer on race morning.
10:35 a.m. – Senior Vice President at Penske Entertainment Allison Melangton talks with Scott and Anne on race morning.
10:33 a.m. – Good to see you and all those race fans behind you there at the track.
10:30 a.m. – We'll see you after the race Jennie.
10:20 a.m. – How good does this look?
10:19 a.m. – Indianapolis Mayor Joe Hogsett joined 13News for a Race Morning discussion.
10:12 a.m. – That was one great race.
10:02 a.m. – Dave catches up with former IndyCar driver and the pace car driver for today's race Danica Patrick.
9:45 a.m. – A century plus of race coverage combined. What a team.
9:40 a.m. – When the race airs live on WTHR Channel 13, it will be only the third time in recent decades it has happened for Indianapolis.
Here are some of the years it has happened:
1950 – there were "occasional live updates" according to IMS, but not green flag to checked flag coverage.
2016 – 100th Running with sell-out crowd
2020 (Aug) – Pandemic delayed and no fans
2021 – Limited capacity with the pandemic
9:34 a.m. – The temps are now into the 50s.
9:33 a.m. – For those of us who can't get this close, a great tour of pit lane courtesy of Dave Calabro.
9:31 a.m. – Glad the weather is so nice for you last Indy 500. Enjoy your retirement Rich!
9:29 a.m. – When you've been going non-stop for hours...you eat what you can when you can.
9:22 a.m. – We love seeing fans heading through those gates!
Fans at the 2021 Indianapolis 500
9:20 a.m. – Nothing beats the sound of May.
9:11 a.m. – What a team and so glad Rich Van Wyk gets to be at one last Indianapolis 500 before his retirement.
9:07 p.m. – With some great rookies, past winners and so much talent in this field. It's a tough pick.
9:02 a.m. – Back Home Again...
8:55 a.m. – Wish it could be more, but happy there's 135,000 fans able to attend.
8:53 a.m. – It's the only place to see the race live and full of great Race Morning coverage...what else would we be watching?
8:51 a.m. – Oh, we are Josef Newgarden...we are.
8:49 a.m. – Nice spot to be a few hours out.
8:46 a.m. – Gov. Eric Holcomb joins Scott and Anne for some race talk and news updates.
8:45 a.m. – On the floor...too funny.
8:41 a.m. – Good work Kelly...let's keep it this way.
8:40 a.m. – Great to see and good reminder.
8:36 a.m. – Heading to pit lane.
8:28 a.m. – What a difference a year makes.
8:26 a.m. – 13Sports Director Dave Calabro is ready for a busy day at the track.
8:19 a.m. – How nice is it to see fans back on Gasoline Alley?
8:17 a.m. – Good morning Speedway HS marching band.
8:15 a.m. – It is most definitely time.
8:04 a.m. – IMS owner Roger Penske shares a message with race fans. "We are so excited to host you at the Indianapolis Motor Speedway and honored to welcome you back home for today's running of the 105th Indianapolis 500."
8:05 a.m. – IMS President Doug Boles barely gets a minute to rest in the 24 hours around the race.
8:03 a.m. – And we didn't think we could get more pumped...
7:48 a.m. – Could not have said it better Dave.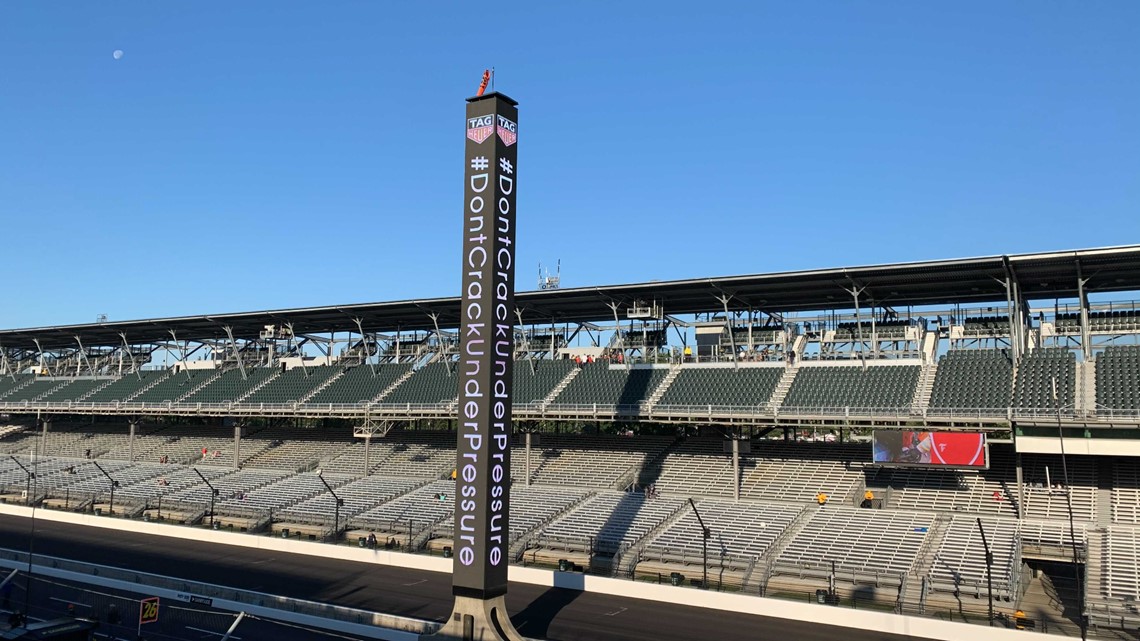 7:33 a.m. – Race Day proves it is never too early for corn dogs and curly fries.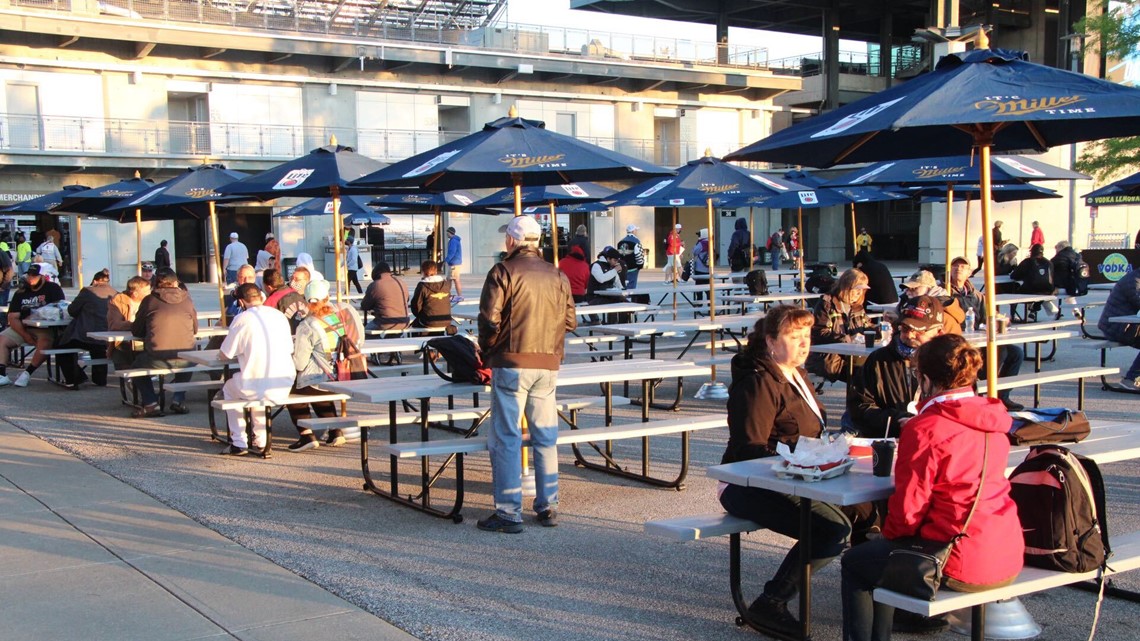 7:30 a.m. – It will be a beautiful day to go racing.
7:28 a.m. – The "mask ambassadors" are already out at IMS.
7:08 a.m. – We see you dedicated fans!
7:04 a.m. – Hand warmers on Race Day? Yeah, it's still a little chilly out there this morning.
7:01 a.m. – Yes, thank you to all the frontline workers!
6:52 a.m. – We ARE there! What a day to go racing.
6:50 a.m. – Stay warm guys. The sun is up now and it will start getting a little warmer out there.
6:45 a.m. – Last year, some of the IndyCar drivers helped keep fans' seats warm. This year, they surprised those same fans.
6:43 a.m. – The pace car is just incredible.
6:34 a.m. – The Indianapolis Motor Speedway is reminding race fans coming out today that they will be able to get their COVID-19 vaccine at the track, if they want.
For more information on vaccines and planning your shot, click here.
6:33 a.m. – Chuck is the best.
6:29 a.m. – It is good to be back!
6:26 a.m. – Absolutely right Will Power...nothing else quite like it.
6:23 a.m. – We are! We are!
6:10 a.m. – Just how cold is it right now out at the track? Just 42 degrees. That's how cold it got when A.J. Foyt won his FIRST race in 1961.
6:01 a.m. – Fireworks accompanied the gates opening. What a view!
6 a.m. – The gates just opened at the Indianapolis Motor Speedway as fans are returning for the 105th running of the Indianapolis 500 after the pandemic kept them away in 2020.
5:45 a.m. – How cool does the Pagoda look this morning...let's get those gates open!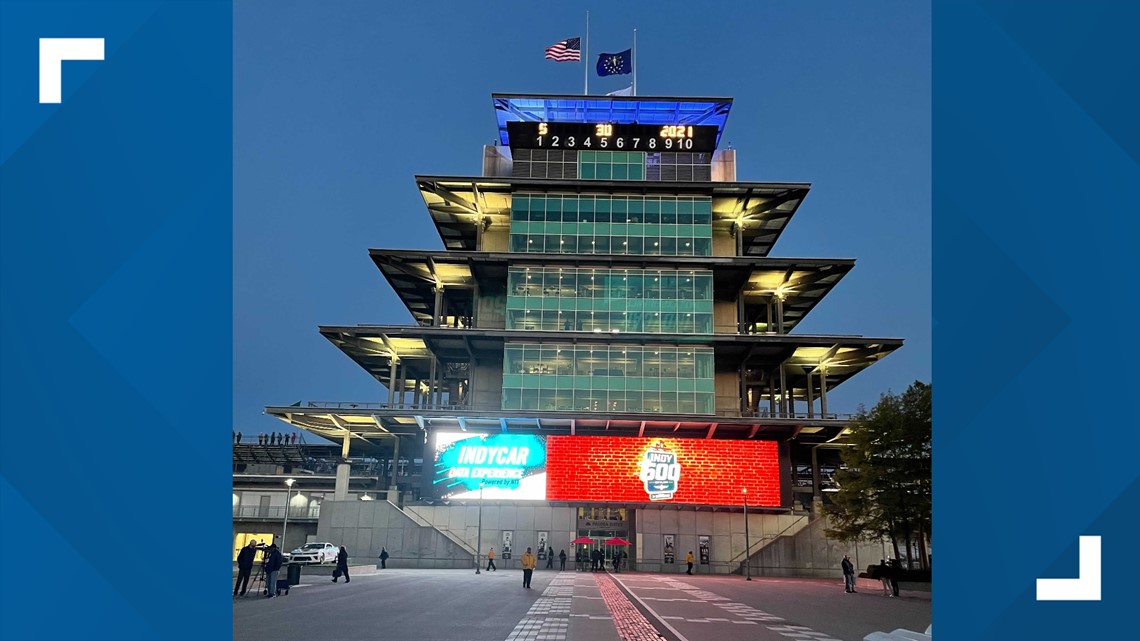 5:30 a.m. – We are expected a glorious race day with cool and dry conditions for the race. The Live Doppler 13 Weather team is calling for a chilly start when the gates open at 6 a.m. with temperatures in the low 40s. By race time, the temperatures should be in the mid 60s.
The forecast low temperature of 43 degrees would match that of 1971, when Al Unser won his second of four 500s. If the temperature drops below 43, we would have to go back to the 1960s to find a race morning that cold.

5:00 a.m. – 13News is on the air from the Pagoda at the Speedway!
It looks like at least one driver is up with us.