INDIANAPOLIS — It's called "The Greatest Spectacle in Racing" because the Indianapolis 500 is supposed to be one of the most dramatic and difficult races in the world.
Sure, it's an automobile race. But it's also very much entertainment, even if Marcus Ericsson vehemently disagrees.
Ericsson, looking to become the first back-to-back Indy 500 winner in 21 years, was the leader when a crash brought out the yellow flag. IndyCar ran three laps under caution before deciding to throw the red flag for an Indy 500-record third time, stopping the race for cleanup for the third time in the final 16 laps.
And, if IndyCar was going to throw the red, then Ericsson felt the series wasted two laps under caution — which created the situation in which the cars came off pit road to take the green and white flags at the same time.
Some found it all a bit suspicious.
Newgarden, after all, is a featured star in "100 Days to Indy," the docudrama about the race produced by Penske Entertainment. And he won a race at the track owned by his boss because of a ruling by race control never before seen quite the way it was executed until Sunday.
Newgarden dismissed his win being scripted or aided by the owner of Indianapolis Motor Speedway.
"Where does it stop? When is it too comfortable a scenario for Roger owning the track and Roger's car winning the race?" Newgarden told The Associated Press on Monday. "I don't think he will ever win that battle. Someone is going to find reason, whenever, to bring us down.
"I have so much respect for Roger," Newgarden continued. "I don't think there's anyone in the world who cares more about integrity than Roger Penske."
PHOTOS: Josef Newgarden wins 2023 Indy 500
Penske said after the race that he's tried to divorce himself as the speedway and IndyCar owner from competition decisions that affect the series and his race team. He spent decades on the timing stand for dozens of winning Penske drivers, but since purchasing the speedway and series at the start of 2020, he has shifted his focus from competition.
Yet he noted that under Penske leadership, tradition has shifted away from purity to trying to ensure the 300,000-plus spectators see a race to the checkered flag.
"I had nothing to do with (the red flag), obviously," Penske said. "We have a group that is certainly the officials of the track, and to me, we've said this before, I think all of you had said, we want to see a checkered flag, not a yellow flag."
In 107 years, the Indy 500 has ended under the yellow flag or red flag (for rain) just 19 times, but 10 of those endings have been since 2000. Since Penske's first 500 as owner in 2020, both last year and this year have had late red flags to set up a race to the finish.
There was no red flag in 2020, when the race ended under caution and was won by Takuma Sato as helpless Scott Dixon had to stay in line with no chance to try a late pass for the win. Dixon, a six-time IndyCar season champion but only one-time winner of the 500, said this week that the defeats that end under caution are the ones that bother him most.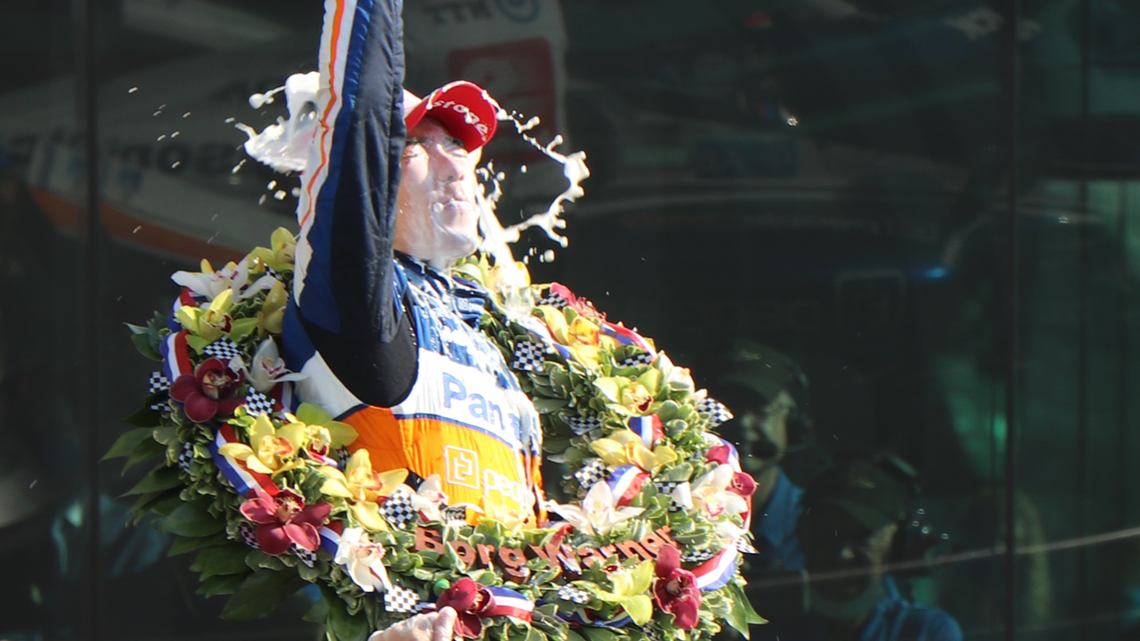 IndyCar said in 2020 there weren't enough laps remaining to stop the race for a final restart following a crash with five to go; four years later, the series now thinks two laps is enough for a red flag.
Tony Kanaan won in 2013 under caution, and even though he's one of the most popular winners in track history, he recognized that some found the finish of his crowning achievement anticlimactic. Kanaan on Sunday sympathized with Ericsson and third-place finisher Santino Ferrucci because of the odd one-lap shootout but insisted it was best for the fans.
"Guys like Santino and Marcus are mad, and you have Josef that's happy. But we need to think about the show," Kanaan said. "The biggest complaint we have every year was we shouldn't finish a race under the yellow. That's going to hurt someone. Actually 33 guys are pissed right now and one guy is happy. That's the reality.
PHOTOS: 107th Running of the Indianapolis 500
"Could have they have called (the red) earlier? Yes. Could have, should have, would have, but we ended under green, and that's what the fans kept asking us every time. I won under yellow, and everybody hated it at some point."
Ericsson is angry — and rightfully so — but he shouldn't be surprised that IndyCar wanted the race to end under green. His complaint actually should be how many laps were wasted before deciding to stop the race and a lack of standard guidelines from the series as to how red flags will be applied universally going forward.