JACKSONVILLE, Fla. — The Indianapolis Colts will be at home when the playoffs begin without them next week.
Indianapolis badly botched a chance to secure an AFC wild-card spot by losing at Jacksonville 26-11 in the final game of the season.
"It sucks, honestly, you know, walking off kind of in disbelief. It's hard to fully reflect on everything right now. It all happened so fast," Colts quarterback Carson Wentz said after the game. "But just even thinking back just to where we came from, [we] dug ourselves out of a hole. You know, we were in control of our destiny, and then the last two weeks, just didn't get it done. It hurts right now. "
It was their seventh consecutive road loss to the Jaguars. NFL rushing champion Jonathan Taylor was held to 77 yards, Carson Wentz turned the ball over twice leading to 10 points and Indy did little to stop the woeful Jaguars.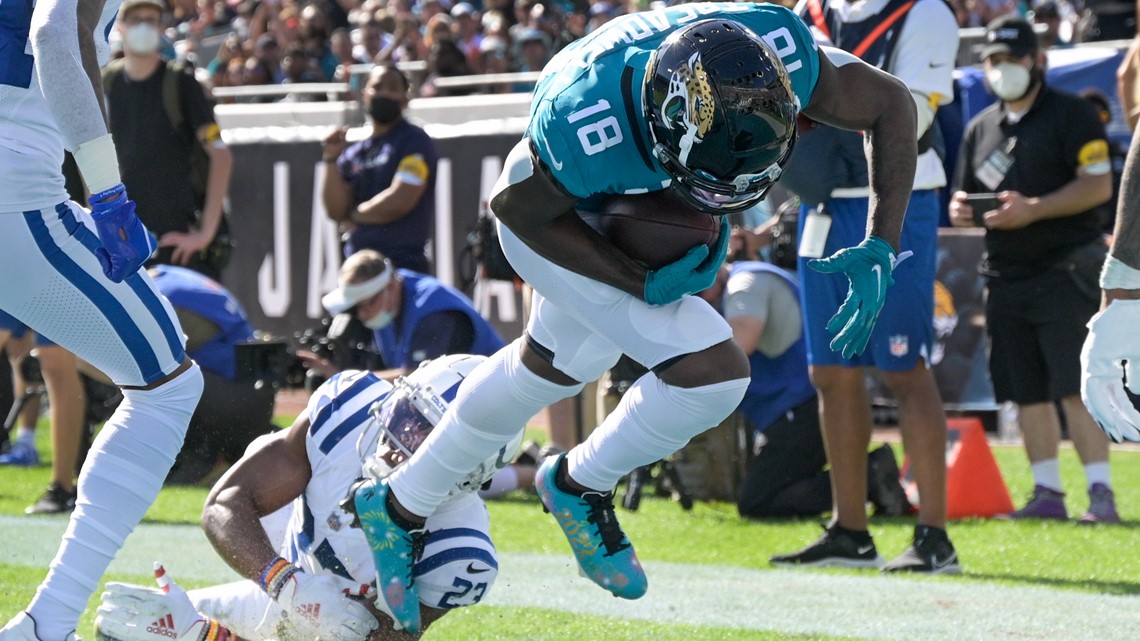 The Colts' playoff hopes were then officially dashed when the Pittsburgh Steelers beat the Baltimore Ravens 16-13 in overtime.
"I'm going to take some time, talk to Jack [Doyle], and, you know, just go through if I want to play one more year, I can play one more year. If not, then I won't," Hilton said. "I pretty much know what I want to do, but I just want to take some time to reflect."
4:23 p.m. - Carson Wentz threw for 185 yards and a touchdown in the loss, but also threw an interception and lost a fumble, while being sacked six times in the game.
Jonathan Taylor ran for 77 yards, his lowest output on the ground since the Tennessee Titans held him to 70 yards on Oct. 31. Michael Pittman Jr. led Indianapolis with six catches for 64 yards - all in the second half - and Indy's only touchdown.
Trevor Lawrence completed 23 of 32 passes for 223 yards and two touchdowns. Ryquell Armstead ran for 52 yards to lead the Jaguars, while Marvin Jones Jr. caught seven passs for 88 yards and a touchdown in the win.
4:07 p.m. - Jacksonville kneeled out the clock to clinch a 26-11 victory over Indianapolis.
4:01 p.m. - Jacksonville ran three times, then called timeout just before the two-minute warning on fourth down.
Trevor Lawrence kept the ball on fourth-and-2, spinning to a first down as the clock ran down to the two-minute warning and virtually clinching the upset win for the Jaguars.
3:57 p.m. - Justin Tucker has kicked a 46-yard field goal in Baltimore to tie the Ravens game with the Steelers, 13-13. A Steelers win would eliminate the Colts from the postseason, unless they come back to beat Jacksonville. A Ravens win would keep Indy's hopes alive.
3:55 p.m. - Laviska Shenault Jr. recovered an onside kick with 4:25 remaining. The Colts have no timeouts remaining, trailing by 15.
3:50 p.m. - The Colts have moved deep into Jacksonville territory with just over five minutes remaining. Carson Wentz had a run to the one-yard line, but it was wiped out by a holding penalty, setting up a first-and-20 from the Jaguars' 21-yard line.
Indianapolis found the end zone for the first time in the game with 4:26 remaining. Wentz found Michael Pittman Jr. for a 12-yard touchdown pass. The pair connected again for the two-point conversion, cutting the Jacksonville lead to 26-11.
3:48 p.m. - The Pittsburgh Steelers have taken a 13-10 lead in Baltimore. If the current scores hold, with Indianapolis losing to Jacksonville and Pittsburgh topping the Ravens, the Colts will be eliminated from playoff contention.
3:39 p.m. - Ryquell Armstead came up short of a first down on a second-down run, but Darius Leonard was flagged for unnecessary roughness on a late hit at the sideline.
Matthew Wright kicked his fourth field goal of the game, a 31-yarder, to extend the lead to 26-3.
3:34 p.m. - After an incompletion to T.Y. Hilton, Carson Wentz was sacked for the sixth time Sunday afternoon, then missed Hilton again. With 9:51 remaining, the Colts were forced to go for it on fourth-and-12.
Wentz threw deep for Parris Campbell, who had the ball go through his hands and hit the ground for an incompletion and another turnover on downs with 9:41 to play.
3:31 p.m. - Jacksonville ran the ball three times for six yards on their next drive, but ran more than two minutes off the clock before punting the ball back to Indianapolis.
Nyheim Hines returned the punt to the Indianapolis 43 to start the Colts next drive with 10:31 left in the game.
3:23 p.m. - After a pass interference call against Jacksonville on first down, Carson Wentz was sacked for the fifth time in the game on the next play. A completion to Zach Pascal on second down set Indianapolis up with third and goal from the Jaguars' 11-yard line. Wentz threw to Nyheim Hines, who caught the ball and was tackled near the one-yard line.
Jonathan Taylor was stopped short of the goal line on fourth down and the Jaguars took over possession with 12:53 remaining and a 23-3 lead.
3:22 p.m. - As the fourth quarter begins, NFL Next Gen Stats gives the Colts a 12% probability to win the game.
Third quarter
3:17 p.m. - Isaiah Rodgers returned the ensuing kick off 41 yards to the Colts' 45-yard line, then Taylor ran for 13 yards. But after a third-down incompletion, Carson Wentz completed a fourth-down pass to Michael Pittman Jr. for a first down.
Pittman caught another pass on the next play, a four-yarder to the Jacksonville 24 that brought the third quarter to a close. Pittman was injured on the play.
3:06 p.m. - One play after nearly throwing his first interception on the road this season, Carson Wentz was picked off by Damien Wilson at the Indianapolis 45-yard line.
One play later, Ryquell Armstead ran for 26 yards into the red zone.
On third down, Trevor Lawrence pulled in a high snap, eluded a tackle by Khari Willis, then threw for the end zone. Marvin Jones Jr. stretched to pull it in as he dragged his toes for a Jacksonville touchdown.
The score extended the Jaguars lead to 23-3 with 3:08 to play in the third quarter.
3:02 p.m. - Jacksonville gained just one yard on their ensuing drive and kicked the ball back to Indianapolis, who took over at their own 29-yard line with 6:59 left in the third quarter.
2:53 p.m. - Nearly stopped on another third-down carry, Jonathan Taylor spun free on third-and-2 and ran for 23 yards and a first down.
A holding call on Jack Doyle on first down backed Indianapolis up ten yards, then Carson Wentz appeared to throw an interception, but it was later ruled incomplete. Still, Rigoberto Sanchez came on to punt, giving the Jaguars possession at their own 20-yard line with 8:29 to play in the quarter.
2:47 p.m. - The Colts held the Jaguars' offense to just two yards on the ensuing drive. Matthew Wright's third field goal of the game pushed the Jacksonville lead to 16-3.
2:40 p.m. - One play after converting a third-and-3 with a pass to Jonathan Taylor, Carson Wentz was sacked for the third time in the game. He also fumbled the ball, which was is being reviewed via replay.
The ball was knocked free while Wentz tried to pitch the ball forward, but the fumble call was upheld on replay. Jacksonville took over at the Indianapolis 23-yard line after DaVon Hamilton's recovery.
2:29 p.m. - In the only other active game that could impact the Colts' playoff hopes, Pittsburgh and Baltimore are tied 3-3 at halftime.
Unless the Colts come back to win, either a Steelers win or a Ravens win plus a loss or tie by the Miami Dolphins will eliminate Indianapolis from the playoffs. The Dolphins host New England at 4:25 p.m.
(Editor's note: This playoff scenario has been corrected from a previous update.)
Indianapolis will also miss the playoffs if they lose to Jacksonville and the Chargers beat or tie the Raiders tonight at 8:20 on NBC Sunday Night Football.
2:25 p.m. - Trevor Lawrence completed 19 of 25 passes for 208 yards and a touchdown in the first half as Jacksonville built a 13-3 lead over Indianapolis.
Jonathan Taylor, the NFL's leading rusher, has been held to 18 yards on eight carries in the first half. Carson Wentz completed 4 of 7 passes for just 59 yards in the half. He has been sacked twice.
T.Y. Hilton leads Indianapolis receivers with two catches for 39 yards. Jack Doyle and Nyheim Hines have the only other receptions for Indianapolis at the midway point of the game.
Second quarter
2:15 p.m. - Trevor Lawrence has driven Jacksonville into Colts territory and had the drive extended by a pass interference call by Khari Willis on third-and-1 with 38 seconds remaining. Lawrence then completed a pass to Laviska Shenault Jr. for a first down. On the next play, offensive pass interference was called on Marvin Jones Jr., backing Jacksonville up to the Colts' 22-yard line. After a completion to Shenault and an incomplete pass, Jacksonville faces third-and-8 with 16 seconds left.
Lawrence found Laquon Treadwell, who was hit by Isaiah Rodgers, but pushed forward for a first down at the 2-yard line with eight seconds left in the half.
Lawrence threw incomplete to Shenault on first down, then missed Shenault on second down, forcing a field goal try to end the half.
Matthew Wright's 20-yard try was good and Jacksonville leads 13-3 at the half.
2:05 p.m. - Carson Wentz took an 8-yard sack on first down, then ran for six yards on second down, setting up a third-and-12 for Indianapolis from their own 23-yard line at the two-minute warning of the first half.
Wentz threw incomplete deep to Parris Campbell on third down, forcing a Colts punt. Rigoberto Sanchez ended up punting twice after a running into the kicker penalty forced a re-kick and Jacksonville took over at their own 27-yard line with 1:35 left in the half and two timeouts.
1:59 p.m. - Trevor Lawrence threw incomplete on third-and-2 from the Colts' 4-yard line and the Indianapolis defense forced a 22-yard field goal from Matthew Wright for a 10-3 Jacksonville lead with 3:06 left in the half.
1:51 p.m. - Trevor Lawrence threw his first incompletion of the game with 8:31 left in the second quarter after 12 straight completions to start the contest.
1:40 p.m. - Carson Wentz went right back to T.Y. Hilton to open the second quarter, completing a six-yard pass to the Jacksonville 38. Jonathan Taylor was again stopped short on a third-down carry, but converted on fourth down to keep the drive alive.
After a 10-yard run by Wentz, the Colts quarterback hit Nyheim Hines on a play-action pass to the Jacksonville 11. Hines fumbled when he was hit, but Taylor dove in to recover the ball.
Taylor was stopped for a loss on second down and Wentz was sacked by Josh Allen. Michael Badgley kicked a 41-yard field goal for the Colts' first points of the game to make the score 7-3 with 9:08 remaining in the first half.
First quarter
1:36 p.m. - Facing a third-and-7, Carson Wentz found T.Y. Hilton for a sliding 33-yard catch into Jacksonville territory on the last play of the first quarter.
They'll start the second quarter with a first down at the Jaguars' 44-yard line.
1:31 p.m. - Trevor Lawrence continued his perfect start with three more completions, but a holding penalty pushed the Jaguars back and forced a punt. Joseph Charlton's kick went into the end zone for a touchback.
1:26 p.m. - Kenny Moore II, who was injured on the opening drive of the game, is back in the Colts secondary for the Jaguars' second drive.
1:20 p.m. - Isaiah Rodgers took the ensuing kickoff out of the Colts' end zone and carried it 40 yards to the Indianapolis 39-yard line. Jonathan Taylor's first carry of the day went for eight yards, but came up short on a fourth-and-2 carry near midfield to turn the ball over on downs.
1:15 p.m. - Trevor Lawrence threw a two-yard touchdown pass to Laquon Treadwell to get Jacksonville on the board first with a 7-0 lead. Their opening drive went 75 yards in 12 plays and took more than eight minutes off the first quarter clock.
Lawrence was 8-for-8 passing for 83 yards on the drive.
Colts cornerback Kenny Moore II was injured on the play, but jogged off the field. His return to today's game was reported as questionable.
1:06 p.m. - Colts cornerback Rock Ya-Sin was helped off the field with an injury with about 13 minutes left in the first quarter.
1:02 p.m. - Rigoberto Sanchez sent the opening kickoff into the end zone for a touchback. Bobby Okereke and Al-Quadin Muhammad got to Trevor Lawrence on second down, sacking the Jaguars quarterback for a six-yard loss.
11:30 a.m. - Colts DT DeForest Buckner did not practice all week, but he is active for today's game.