ATLANTA — UPDATE: Georgia won 42-41 after an unbelievable finish that saw the Dawgs go ahead on a touchdown with about a minute to go, and then Ohio State miss what would have been the winning field goal as time ran down.
Georgia-Ohio State score: 42-41 UGA, GAME OVER
Check out live updates below gallery
The game has set an attendance record:
Live updates
12:35 a.m. | Here's AD Martin, who caught the winning touchdown for UGA, speaking to 11Alive's Maria Martin:
MIDNIGHT: HE MISSED. GEORGIA WINS.
11:59 p.m. | Stroud gets in trouble, chased out of the pocket but he's able to get away and heave it out of bounds. 8 seconds with the field goal attempt coming.
11:58 p.m. | Buckeyes take a shot with a pass, it gets deflected up but no one around for UGA to pull down the pick. 15 seconds.
11:57 p.m. | Buckeyes seem about content with their field position at this point. No yards on a first down run, Dawgs take timeout.
11:54 p.m. | Dawgs collapse the pocket... but Stroud breaks out, runs to the UGA 30. That'll put OSU in field goal range with 24 seconds to go.
11:53 p.m. | Stroud completes one to about the 45. 39 seconds on the clock as UGA has another injury pause.
11:52 p.m. | Look back at that TD:
11:51 p.m. | Dawgs get pressure on Stroud, he scrambles for about five yards. An injured Dawg stops the clock though. 39 seconds to go for OSU from their own 30.
11:50 p.m. | Touchback on the kickoff. Ohio State, crucially, doesn't need to go down the whole field. A field goal would win it for them.
11:48 p.m. | PAT is good. 42-41 Georgia with 54 seconds to go.
11:47 p.m. | TOUCHDOWN DAWGS. 10 YARDS TO ADONAI MITCHELL. 41-41 tie ball game with the PAT to come!!
11:46 p.m. | MASSIVE completion from Bennett down to the 15.
11:46 p.m. | Too many men on the field for OSU on that last play, five yards to Georgia. Lined up at the 50 with 1:49 to go.
11:45 p.m. | Bennett just avoids getting sacked and hits Bowers downfield at the 45.
11:42 p.m. | Big field goal for the Buckeyes though. Dawgs will need a touchdown.
11:42 p.m. | Dawgs get pressure, Stroud throws it away and it'll bring up fourth down with just a little less than three minutes left.
11:41 p.m. | Massive sack for UGA on second down.
11:38 p.m. | Buckeyes almost certain to get a field goal out of this possession. A touchdown would seemingly just about do it. And that's if they don't simply run out the clock.
11:37 p.m. | Huge blow to the Dawgs: On a 3rd and 8 with about 5:30 to go, Stroud connects for the first down.
11:30 p.m. | Yeah, Smith was very, very, very open on that TD:
11:28 p.m. | Bennett to Bowers for the two point conversion is good! 38-35.
11:27 p.m. | Holy MOLY. Bennett hits a wide open Arian Smith for a 76-yard touchdown on the first play of the drive.
11:26 p.m. | OSU actually punts this time. UGA will start at about their own 25.
11:23 p.m. | Incredible. Buckeyes punt unit came out, ran a fake and picked up the yardage.... only Kirby Smart had called a timeout before the play.
11:22 p.m. | UGA needed a three-and-out, and it looks like they just may have gotten it. Stroud broke for a run on third down and was taken down just shy of a first down.
11:15 p.m. | In a very disjointed trip to the red zone, a botched screen turned into a fumble which UGA recovered, then Bennett threw into tight coverage on third down for an incompletion. Dawgs take three points, 38-27.
11:13 p.m. | Per our reporters in the stadium, it WILL be a first down:
11:11 p.m. | They are gonna review this for the spot. Replay didn't make it look like it'll be an entirely clear call.
11:10 p.m. | Georgia goes for it on fourth and 6, a completion to Bowers comes up inches short.
11:07 p.m. | Big completion to Brock Bowers has UGA in striking distance at about the OSU 20.
11:02 p.m. | Dawgs pick up a first down on a screen for McIntosh to start their drive, time winds down on the third quarter.
11:00 p.m. | Buckeyes do connect on the field goal, making it 38-24.
10:59 p.m. | Looks like they'll actually avoid the penalty here after a review. Massive for the Dawgs:
10:58 p.m. | In one of the more baffling plays you'll ever see, UGA DB Javon Bullard takes a targeting penalty looking to break up a potential touchdown catch at the very back of the end zone on a pass by Stroud that was essentially a prayer of a heave, with about four Bulldogs bearing down on him.
10:52 p.m. | Stroud airs it out and UGA takes another really bad pass interference penalty. They are really struggling with the Buckeyes' aerial threat - very uncharacteristic for what's been a very strong Georgia secondary this season.
10:47 p.m. | Two rushing plays that gain negligible yardage and a sack of Bennett leaves UGA with a long field goal attempt that Jack Podlesny can't hit. Score remains 35-24 OSU. Rough night for Podlesny, who's now 1-for-3 on attempts.
10:44 p.m. | And they do wind up with nice field position. A solid little return by Kearis Jackson from a bit past the 50 gets the Georgia drive started on OSU's 32.
10:43 p.m. | Stroud airs it out on 3rd and long from about the 5, after a sack, and he nearly connected - but luckily for the Dawgs it slips past the fingers of the receiver and they'll get the ball back on a punt. Should have pretty good field position.
10:40 p.m. | Another flat drive for the Dawgs, and OSU takes over at the 10 after a punt.
10:30 p.m. | It looked in that moment UGA came back and took the lead that it would mean they'd start running away with things, but that definitely is not the case: Stroud marches OSU downfield again, lobs one in for a touchdown, and it's 35-24 Buckeyes.
10:25 p.m. | Not much going for UGA on the first drive of the second half. Punting back to US.
10:13 p.m. | There's also this nugget:
10:12 p.m. | Some halftime observations from our reporters Maria Martin and Reggie Chatman:
9:58 p.m. | UGA takes a couple shots at getting downfield, both incomplete, and they'll take the four-point deficit into halftime.
9:55 p.m. | As noted earlier, Kirby Smith identified line play as a real key for this game earlier in the week, and C.J. Stroud has just had a ton of time for the most part.
9:55 p.m. | OSU quick-strikes in return to get the lead back themselves, a 37-yard TD pass to a wide open Xavier Johnson. Buckeyes back on top 27-24.
9:51 p.m. | UGA drive stalls out, but they convert the field goal this time and retake the lead, 24-21.
9:45 p.m. | An illegal motion penalty ruined OSU's 4th down attempt, and Bennett hits Marcus Rosemy-Jacksaint on 2nd down of the new drive over the middle for a gain to the OSU 35.
9:40 p.m. | Big 3rd and 1 stop for the Dawgs, looks like OSU will go for it.
9:35 p.m. | McIntosh's stumble winds up not mattering, as Stetson scampers in for the score. 21-20 and it's a whole new ball game for the Dawgs!
9:35 p.m. | First play of the drive, Kenny McIntosh finds a big hole and was well on his way to a TD before he tripped at about the 15.
9:30 p.m. | Huge third down sack by Mykel Williams, and the Buckeyes will be punting back to the Dawgs with a lot of time still left in the half.
9:20 p.m. | Just when UGA looks a bit out of sorts with Bennett taking an odd penalty on an illegal forward pass, the quarterback hits Arian Smith on a long pass to the 10 and then Kendall Milton brings it in for a touchdown. Dawgs back in it! 21-13.
9:14 p.m. | C.J. Stroud evades about three UGA defenders and fires in a touchdown pass from about 15 yards out. 21-7 Buckeyes.
9:10 p.m. | Stetson Bennett makes a rushed throw on the first play of the new drive right into the arms of an OSU defensive back. Disastrous turnover has the Buckeyes on the Georgia 30.
9:08 p.m. | Buckeyes punch it in. 13-7.
9:04 p.m. | A really unfortunate pass interference call for the Dawgs gets OSU to the 2-yard line.
9:00 p.m. | Dawgs almost get a chance to recover a fumble after Kelee Ringo knocks the ball out of Marvin Harrison's hands on an OSU completion, but a couple UGA defenders run into each other and knock the loose ball out of the sideline.
8:57 p.m. | 7-7 after UGA converts the PAT, but Ohio State now mounting another drive into Dawgs territory as Stroud has completed three straight passes with time expiring on the first quarter.
8:44 p.m. | Kenny McIntosh takes a screen to the house and it's 7-6.
8:42 p.m. | A big run and a rollout passing play from Bennett to Brock Bowers has Georgia knocking on the door at the OSU 18.
8:40 p.m. | Bennett hits Dominick Blaylock for 20 yards and a fresh set of downs. When Stetson throws, good things tend to be happening for UGA.
8:39 p.m. | Another broken rushing play has UGA facing 2nd and 17 as they try to respond.
8:35 p.m. | Stroud hits Marvin Harrison Jr. for a 31-yard TD. The QB had a lot of time, rolled to his right as the pocket broke down and found Harrison open in the end zone.
8:33 p.m. | C.J. Stroud gets going for the Buckeyes - back to back completions of 10+ yards for first downs. Ohio State into Georgia territory.
8:30 p.m. | Bennett and the Dawgs had been humming on that drive - the QB was 4/5 for 48 yards. But nothing to show for it so far.
8:28 p.m. | UGA gets solidly into Ohio State territory, but a 3rd and 1 scramble by Stetson Bennett gets stopped well short of a first down. Dawgs then shank the field goal, game stays 0-0.
8:25 p.m. | Big sack on third down by Smael Mondon for the Dawgs, one of the standout defensive players who have stepped up as a team leader after the team lost an unprecedented amount of defensive talent to the NFL Draft. Buckeyes punt.
8:22 p.m. | Game kicks off with Ohio State receiving and then picking up a quick first down on a pass to Marvin Harrison Jr.
8:11 p.m. | It's almost time for kickoff!
8:04 p.m. | Uga has arrived.
8:01 p.m. | Georgia on the field ahead of kickoff.
7:37 p.m. | Georgia is on the field for warmups.
7:25 p.m. | UGA said kickoff is anticipated at 8:20 p.m.
7:12 p.m. | The line outside Mercedez-Benz stadium to get into the Peach Bowl.
7:11 p.m. | John Peters, a.k.a. "Big Nut" of Freemont Ohio, cheers, as teams warm up before the Peach Bowl.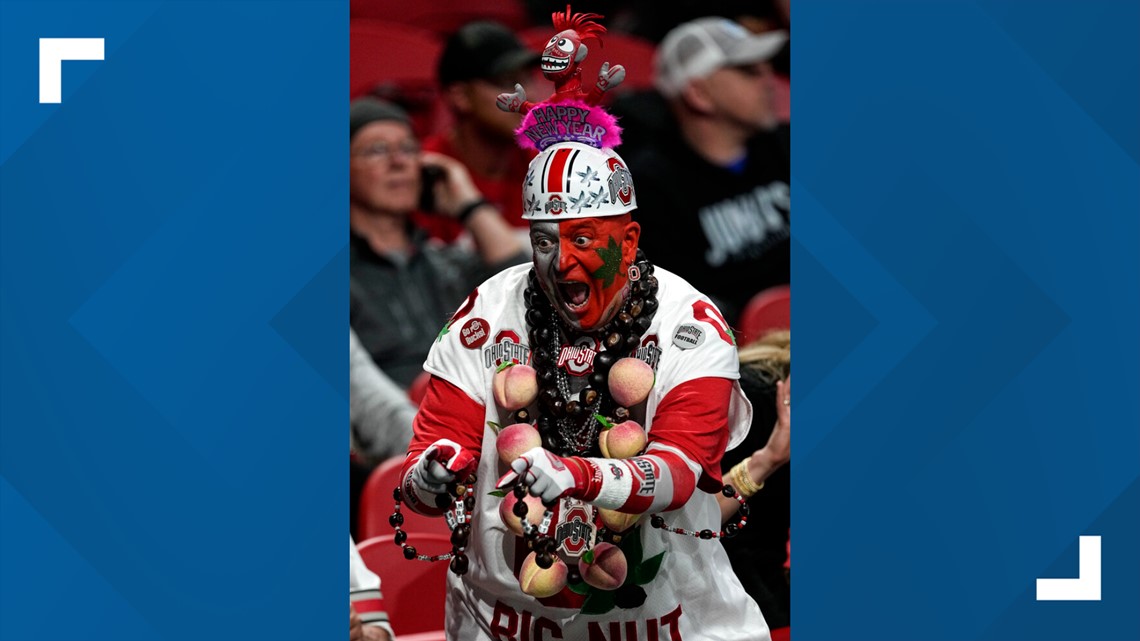 6:34 p.m. | The Dawgs have arrived!
6:28 p.m. | UGA wide receiver Ladd McConkey warming up ahead of kick-off.
6:20 p.m. | Georgia and Ohio State are playing each other for the first time in a decade -- with a stop in the national championship on the line. Both coaches used the words violence and physicality when describing what they thought this matchup would be like.
6:14 p.m. | Practice begins at the Benz.
5:53 p.m. | Buckeyes wide receiver Marvin Harrison Jr. and Ohio State arrive at the Benz.
5:31 p.m. | The calm before the storm at the Benz.
3:27 p.m. | 11Alive's Maria Martin and Reggie Chatman have arrived at Mercedes-Benz Stadium. They will have live coverage this New Year's Eve at the Peach Bowl.
MORE WAYS TO GET 11ALIVE