The way Kevin Pritchard and his staff saw it, the Pacers could have gone in three different directions once they learned that Paul George was not coming back after next year. They could have:
A. Bottomed out like the Philadelphia 76ers, could have brought in substandard players and a few lesser-known free agents and spent the next three years, or more, placing all their hope in the ping pong balls and the NBA Draft.
B. Joined the NBA arms race, traded for established, veteran players with post-season pedigrees and made a run at reaching the playoffs next season and beyond.
C. Traded for young players with what they hope is a significant upside while setting themselves up to have between $40 and $50 million in cap space after this coming season. That cap money wouldn't necessarily be used on free agents – as we know, big-time free agents almost never come here – but it would be used to allow the Pacers to make uneven trades, i.e. trade a $1 million player for a player making $25 million. The salary cap is expected to stay flat next season, and the Pacers are set up to be one of the very few teams with the flexibility to make those kinds of moves.
Obviously, they went for Option C.
"We got two Lottery players who were part of a 47-win (Thunder) team," Pritchard said. "There's been speculation we want to start over. That's not the case. We'll be very competitive and have a team we can grow with. The Pacers don't start at the very bottom. Very rarely in our storied history have we gone to the very bottom."
Now, there's only one way the Pacers could screw this whole thing up: By winning. By winning more than anybody expects them to win. By somehow making the playoffs in an Eastern Conference that has two good teams – Cleveland and Boston – and a whole lot of chattel.
This team needs to get back in the Llottery, a place they haven't often resided in the last few decades. When they have, they've hit paydirt, drafting Paul George and Myles Turner. On paper, this is becoming the team Pritchard wants: Good enough to compete and grow together and be somewhat entertaining, and not good enough to make the post-season. (Well, Pritchard didn't exactly say he wants to miss the playoffs, but you get the point).
Mind you, they thought about diving into their own version of "The Process," the interminable and painful approach the Philadelphia 76ers adopted. But neither Pritchard nor owner Herb Simon could bear the idea of presenting the fan base with a purposefully awful team that wouldn't win 25 games. Simon, in particular, understands he needs to put fans in the seats and couldn't wrap his head around the concept of bottoming out. The man is 82 years old; he's not interested in a long-term rebuild or the idea of tearing the whole thing completely down.
So the Pacers took the middle road.
And it makes sense – unless they surprise everybody and somehow make the playoffs, which would be a great story and the absolute worst thing that could happen to this rebuilding franchise.
Could it all go terribly wrong? It could. It absolutely could. Half of the Eastern Conference is in the throes of a complete rebuild, so a sub-.500 record might be enough to make the post-season. What's important to note, though, is the Pacers are trying to rebuild while adding young players while maintaining cap flexibility for next summer and beyond. Very few teams, maybe a handful, will have cap room next summer, setting themselves up for uneven trades and other teams' salary dumps, so it's not unreasonable to think Indiana could improve and improve quickly. Pritchard has overseen rebuilds before, taking the Blazers from 21 victories to 31, then 41, then 54, and he's done it in a smaller market – although he says he doesn't believe in the notion of small markets and adds, "We'll compete with everybody."
We figured the Pacers would get pennied on the dollar, but then came all the rumors, especially the ones out of Boston where they were reportedly offering everybody outside of Bob Cousy, and local fans' appetites were whetted. Suddenly, it seemed like the Pacers could pull off the impossible, re-tool their team despite the fact that George was a one-year rental who had his eyes on the Los Angeles Lakers. Then this Oklahoma City deal came down, came down just before the start of free agency when the Pacers feared they would lose what was left of their minimal leverage, and most of us said, "Huh?"
"It was hardly what I would call a robust trade market," Pritchard said. "For teams in go-for-it mode, (trading for George) was high-risk, low reward."
And all those juicy rumors?
"I'd say less than 5 percent of them were true," he said. "A lot of those offers are put into the media for a reason. A lot of times if it hits that level, it's not going to happen or wasn't real."
Now, in retrospect, it would have made the most sense to deal George at last year's trade deadline. "Could we have gotten more if we'd traded him then?" Pritchard said. "Yes." But the Pacers believed, perhaps foolishly but earnestly, that George was in this for the long haul, and the franchise desperately wanted to reach the playoffs, as they usually do.
Was that a mistake? In hindsight, absolutely. In hindsight, they would have drafted Draymond Green instead of one of the eight Plumlee brothers. In hindsight, they would have taken Tony Parker with the 27th pick of the 2001 draft, rather than Jamaal Tinsley. In hindsight, they should be NBA champions.
In other words, I'm not going to clobber them for that decision.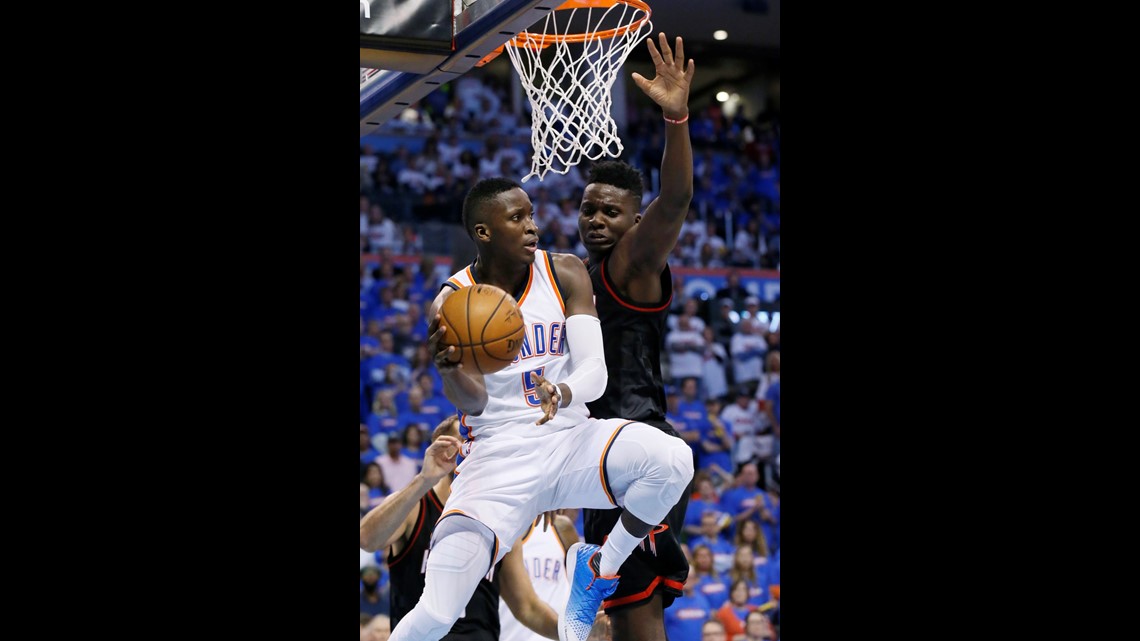 Clearly, the key to the whole thing is Oladipo, who the Pacers view as a potential 20-point scorer who plays spirited defense. The former Hoosier averaged 15.9 points last season with the Oklahoma City Thunder, but knows that if he sees the basketball with more frequency, is his usage rate goes up, he can be more of an alpha player. Oladipo didn't utter a negative word about OKC or life with ball-dominant Russell Westbrook – the MVP's usage rate last year was the highest in history — but it seems to make sense that getting the ball into Oladipo's hands will be a higher priority here than it was in Oklahoma City.
"I do feel like I have an opportunity to show more than I did my first four years in the league," he said.
"We were talking on the plane," Pritchard said. "Most coaches and executives know about usage rate, and Victor said, `My usage rate should go up this year.' I was both impressed and shocked."
One thing about Oladipo, you know he will work. He lived in the gym in Bloomington. And remember: He was not named to the Big Ten all-conference team before his junior year, then exploded and became just the fourth player in IU history (with Scott May, Kent Benson and Calbert Cheaney) to win national Player of the Year honors. Before that season, he was rated as the 84th best player in the country and the 19th best small forward, then blossomed and ultimately became the second player drafted in the 2013 draft.
"Victor, to me, can be a very, very special player," said Collison, who played in Sacramento and saw a lot of Oladipo last season. "Sometimes it just takes having an opportunity and being in the right situation to take off. I've been watching his game a long time and think this is a situation where he can really take off."
In Sabonis, they have a player they view as a future enforcer, a physical player whose offensive skills in college have not (yet) translated to the NBA. But he's 21, just coming off his rookie year, so there's ample room for growth. "What attracted us to (Sabonis) so much was, it's underappreciated in this league, but he will set screens," Pritchard said. "He can rebound. He's willing to play physical. He gets guys open and he's an underrated passer, and so when bigs can do that, it puts five guys out there who can potentially make plays."
In Collison, they got a professional point guard who likely will allow the Pacers to use Lance Stephenson off the bench. Nobody is suggesting Collison is the point guard for a title-contending team, but at age 29, he's experienced enough to be somewhat of a team leader.
In Bogdanovic, they got just what Pritchard was talking about during Friday's introductory press conference: He's a shooter. Not the best shooter in the league or even close, but assuming C.J. Miles won't return, he figures to be the best the Pacers have to offer. "I think something will happen on that front in the next 48 hours," Pritchard said. His timeline was wrong: Moments after the end of the presser, the Bogdanovic signing was reported.
The Pacers absolutely, steadfastly refuse to bottom out, and there's some nobility in that. At the same time, this franchise now has a head start on a rebuild, adding young players while setting themselves up nicely in the salary-cap realm. Good enough to be competitive, not good enough to make the playoffs.