DETROIT (WTHR) - It was roughly an hour, maybe less, before Sunday's Purdue-Butler NCAA Tournament game, and there was Isaac Haas, casually tossing up left-handed shots, then grimacing as he used both hands to cradle basketballs tossed in his direction. On his right arm, around the elbow, he wore an oversized brace, so big, it could warrant its own area code.
"It looks like something Rob Gronkowski might wear, right?'' Haas was telling me later.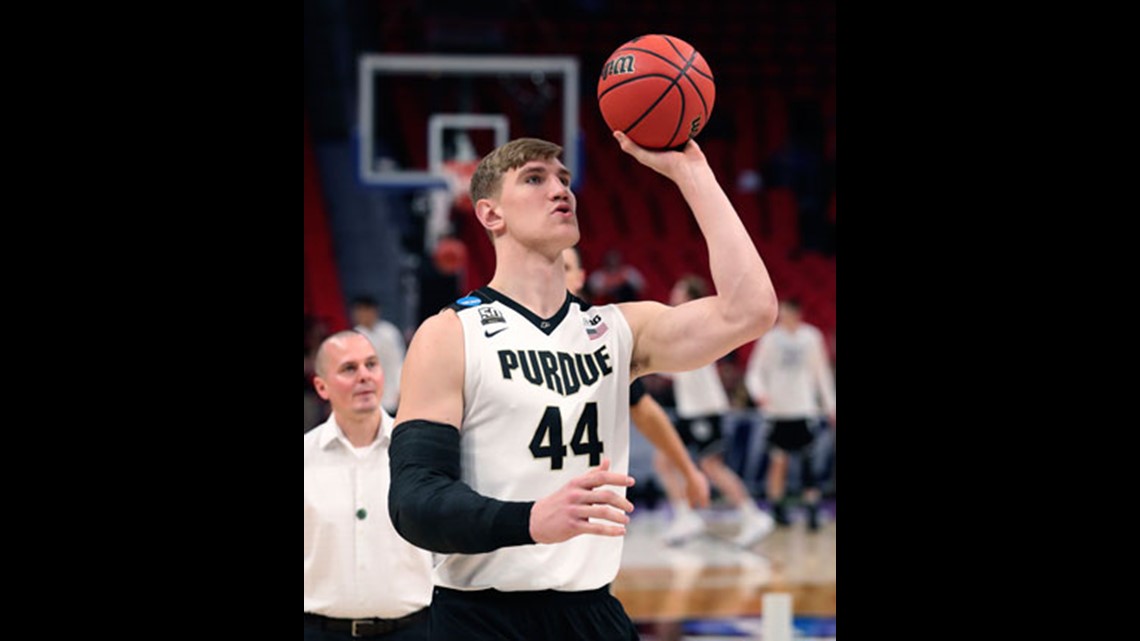 The point was, and the point is, Haas is trying to play, to take Purdue deep into this tournament, even after they took a giant step into the Sweet Sixteen Sunday with a 76-73 victory over 10th-seeded Butler. It's not a show with Haas; he genuinely wants to play, genuinely thinks he can still play when Purdue plays No. 3 seed Texas Tech next week in Boston.
"If we can get a brace that's OK'd by the NCAA, I think I can give it a shot,'' he said in the post-game locker room. "Why not?''
Then a trainer slipped a sleeve onto Haas' right elbow, and he quivered in pain.
Matt Painter wasn't quite as sanguine as his player, but did leave open the possibility of a Willis Reed-like comeback despite the fact the program reported Friday that Haas was done for the season and would require surgery. Painter told Haas this: If you can make right-handed free throws and grab rebounds with both hands, I'll consider getting you back on the court. Until then, forget about it.
"He fractured his elbow,'' Painter said. "He needs to have surgery. Don't get away from the facts, no matter what he says.''
Later, though, he opened the door again: "I hope he can play. If he can, great.''
Even if Haas can't give Purdue any scoring or rebounding, he can provide something almost as important: inspiration. Make no mistake, this team, and especially its seniors, are playing for Haas. That's not just an easy, saccharine narrative: These players, and particularly the co-seniors like Dakota Mathias, P.J. Thompson and Vincent Edwards want to keep this run going, past Texas Tech, presumably past Villanova, all the way to the Final Four.
"That's what we talked about before the game: This was for Isaac,'' Dakota Mathias said. "Our senior class, we've been through a lot together. I think this is the first game he's missed. So to go out there and play for him, everything he means to this program, it just felt good to win for him.''
During warmups, Haas' Purdue teammates noticed. The left-handed baby hooks. The drills where he moves a step or two to his right and tries to corral a loose ball with both hands. They noticed the grimaces, the clenching of the right hand. They saw him trying, even if common sense said it probably wasn't worth the effort.
"For him to just show that fight, to try to play after fracturing his elbow two days ago, and wanting to get a second opinion, that shows how tough he is and how much he cares about Purdue,'' Thompson said. "…All of it (is about winning for Haas). When one of your soldiers goes down, you've got to step up.''
In the meantime, Purdue got what it usually gets from its seniors – Thompson (14 points), Vincent Edwards (20 points), Mathias (11 points) -- and the Boilers got something they rarely get from their bench players, who ultimately made a monstrous impact in the game. Matt Haarms, Haas' replacement, finished with seven points, six rebounds and two blocked shots in 29 active minutes.
Grady Eifert was very physical, grabbing five rebounds and getting one steal in 17 minutes. There were contributions by Ryan Cline (2-of-3 from the field and 5 points), Nojel Eastern and Jacquil Taylor. If Purdue can get this kind of bench play the rest of the tournament, yes, they can make dopes like me look foolish for counting them out of Final Four contention.
But there's still a long way to go.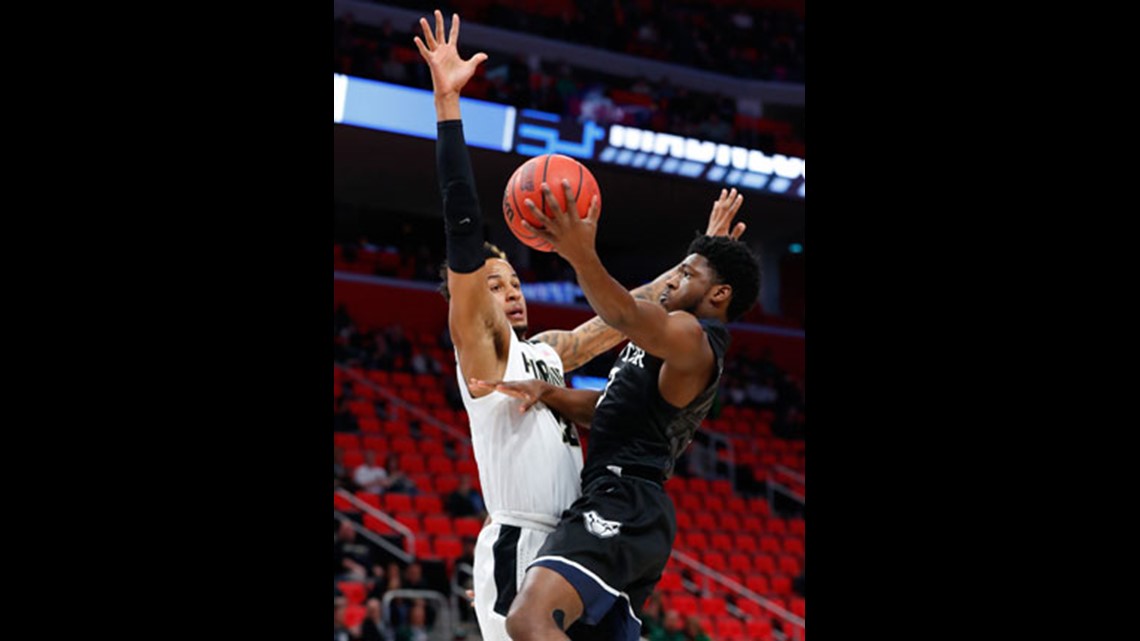 The Boilermakers didn't just overcome Haas' absence, they overcame a Matt Painter brain cramp. Painter desperately needed to sub out Vincent Edwards, who had two early fouls, before a late-first-half Butler possession. Instead, Edwards committed a foul with three seconds left in the half, forcing Painter to start the second half with Edwards on the bench.
Bonehead move. And Painter knew it.
"I made a mistake there,'' he said. "…Carsen (Edwards) shot a three, which surprised me – but really, it shouldn't have surprised me. But I should have called a timeout there because I had one and I should have taken him (Vince Edwards) out, so that was on me.''
Purdue almost gagged this game away in the final minutes when they lost their poise and came away with several empty, even awful, possessions. Butler was behind by just 73-71, but then Vincent Edwards had his second Lebron-esque run-down block in two games, swiping Kamar Baldwin's shot attempt into the fourth row. Then came the shot, the Mathias shot, with 14.2 seconds remaining, a pure three-pointer that gave Purdue a 76-71 lead.
"Is that the biggest shot you've ever made?'' I asked Mathias.
"What's second?'' I wondered.
"I don't know right now,'' he said. "This is one, two and three.''
After the game, I told Haas that several players, especially the seniors, have expressed the desire to "Win It For Isaac.''
"Man, they should be playing for themselves,'' he said. Then he paused and smiled. "Although that does feel pretty good, I can't lie. But they should be playing for themselves. They worked just as hard as I did.''
Purdue is heading back to the Sweet Sixteen for the second year in a row and the fourth time during the Painter Era. Haas will be with them, either as a player or as a cheerleader. Either way, he figures to have an impact.