ORCHARD PARK, NY (WTHR) - Colts wide receiver Kamar Aiken was not in a cheerful mood, not after his questionable penalty negated a game-winning two-point conversion, not after taking a pregame shot to the nose from an unwitting official who didn't see the Colts wide receiver standing nearby. But when asked about the Arctic conditions that faced the Colts and Bills here at New Era Field, the waves of lake effect snow that enveloped the stadium, the whipping winds that sent the snow sideways and rendered visibility almost nonexistent, he couldn't help but shake his head and laugh a little at the abject absurdity of the exercise.
"I'm out there running routes,'' he said, "and the snow was up to my calves. My calves!''
The Colts, we have now learned, can lose under any conditions, this one a 13-7 overtime loss to the Bills. In the warm-and-toasty dome. In the heat of Los Angeles. In a white-out here in Buffalo. Well, we don't know if they can win during a plague of locusts, but there's still one more road game, in Baltimore. According to the National Weather Service, roughly eight inches of snow fell on Orchard Park, N.Y., during Sunday's game, turning the yard lines and hash marks into little more than a rumor. It was mildly entertaining and sometimes hysterical, punts thunking into the snow when they hit the ground, players diving into snowbanks and emerging like snow-covered yetis. The Buffalo area was expecting 18 to 24 inches, so hopefully the Indy media will make it back home in time for Thursday's Broncos game.
As always, the Colts did a whole lot to beat themselves. To wit: Late in regulation, Chuck Pagano completely mismanaged the clock in a manner that was truly egregious and downright negligent, providing general manager Chris Ballard with yet another reason to make a change at season's end.
Here's how it went down: With the game tied, Frank Gore ran the ball to the Buffalo 25-yard line with 52 seconds left in regulation. At this point, the Colts could have taken a shot or two into the end zone, or they could have, should have, had Jacoby Brissett or Gore run right to set the ball on the right hash marks so that Vinatieri could kick from the spot his teammates had originally cleared for an earlier kick.
But because this is Pagano and the Colts' largely clueless staff, the Colts stood over the ball and did nothing, just let the clock wind down before Brissett spiked it with seven seconds remaining. Now Vinatieri, who first came to prominence with his majestic 2001 kick in the snowy Tuck Rule game in New England, had to kick from deep snow rather than from the right hash mark, where an area had been cleaned for a previous kick. Worse yet, the Colts had burned through all their timeouts earlier, which gave them no time to clear a spot. (And if you were thinking of the late Ron Meyer and the infamous Snowplow Game, you were not alone).
Well…he missed, wide left.
When I asked Vinatieri later if he understood why his offense let the clock run without trying to get closer or moving it to the right hash mark, he gave me a conspiratorial look of disgust.
"I don't know, you'll have to talk to the coaches about that one,'' he said, biting his tongue. "I was expecting a little bit more time to, you know – whatever. …In a perfect world, we have a timeout. The big guys with the big feet can get out there and I can say, `This is where I need cleaned off.' But I thought I had that last one, to be honest with you. I kicked it and it started kind of where I thought it would but I should have started it outside the upright.''
Talk to the coaches, he said.
And Pagano, as has become an unsettling custom every couple of weeks, took the blame for screwing it up. Six years into his tenure, he's still making fans – and his players – shake their head in disgust and confusion. And make no mistake, he's lost elements of this locker room, players confiding in off-the-record asides that they are over Pagano and his game-day mishaps.
"Yeah, I screwed up,'' he said. "That's on me. To get over there, get on the right hash and we didn't accomplish that. At worst, get out there and do a quarterback (sneak) middle right, get it over the right hash and then run it on third down and kick it on fourth down.
"I wanted to be closer. We wanted to be on the right hash. We called a play to the right and Frank cut back and we have time to get another play called. I screwed it up; that's on me. That's the bottom line. We had to kick from the middle and try to move a bunch of snow around. We just kicked from the spot. It's not on Vinny, it's on me.''
Vinatieri? He just seethed.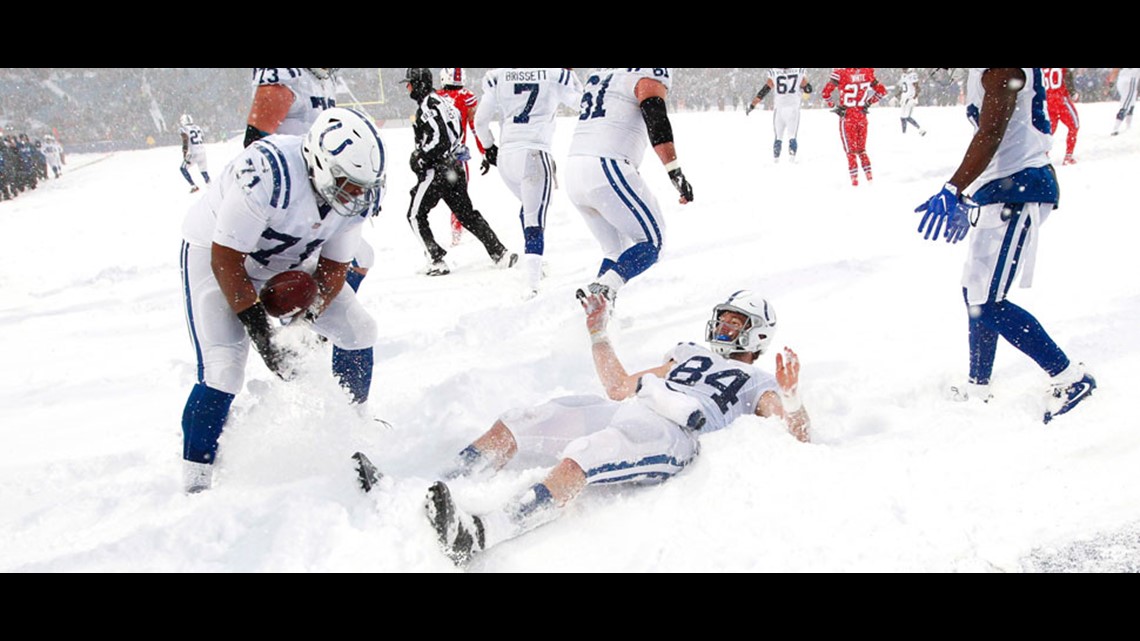 Earlier, the Colts thought they had the game won in regulation, scoring on a Brissett pass to Jack Doyle – a rare pass in a game where the two teams combined for 97 rushes for 390 yards. That's when Pagano did absolutely the right thing, going for the two-point conversion because A) you're 3-9 and what do you have to lose and B) the kicking game was an absolute adventure.
Brissett then found a wide-open Doyle, again, for the conversion, but Aiken, who is allowed to block his defender one yard down the field, was penalized for offensive pass interference for blocking and setting the pick to spring Doyle free.
"I'd make that same play nine times out of 10,'' Aiken said.
Pagano wanted to scream about the call, but decided to keep his money in his pocket. "Until I see the tape, you know, it's a two-point play, we're on the 2-yard line and nobody can see any yard lines. I couldn't tell where the ball was the whole day.''
Another day, another creative way to lose. The final insult came when LeSean "Shady'' McCoy ran 21 yards for the touchdown late in overtime, and that was that. The question is, was it a good bad game, or a bad good game? Confusing. The conditions were almost comical, like a U.S. Open course where the rough can hide a family of four and the world's greatest golfer are made to look like 12-handicap hackers. Here were some of the greatest athletes on earth, and they fell like they had donned hockey skates for the very first time. There was Josh Ferguson, taking a kickoff and tripping on a mogul, plopping into the snow like a giddy schoolchild on a snow day. There was Chester Rogers, taking a punt and becoming another unwitting victim of the snow monster. The national TV sideline reporter, Steve Tasker, himself a former Buffalo Bill, called it the "worst conditions'' he'd ever seen since he started playing here in the late '80's – and that's saying something.
"There's not a pair of cleats out there (that are going to work in nearly a foot of snow),'' Pagano said.
Television did not do the conditions justice. Let's just say that those poor folks operating snow blowers and shovels, clearing off the field during every break, deserve a good night's sleep and maybe a Christmas bonus. The spotters in the press box? They had a devil of a time establishing where the ball was being spotted, much less figuring out what was happening when the visibility was negligible early in the game.
Is he on the 30 yard line?
The South Florida guys, and there are a bunch of them, didn't particularly enjoy it.
"In any way, was it fun to play in that stuff?'' I asked Gore.
"No,'' he said. "Not really. You just have to take those choppy steps, you know what I'm saying? You can't just go and hit the hole the way you want.''
At least one Colt was in his element, no matter how inhospitable. Anthony Castonzo, Indy's left tackle, was in his Chicago-area backyard all over again, playing maul-ball with his buddies.
"I can't remember having that much fun playing football,'' he said. "That was a lot of fun. Obviously, we'd like the result to be better. I wished for a heavy snowstorm. It's like you're a kid again. We were just talking about the fact that game plans kind of get thrown out the window, and it just become man-on-man football playing in the snow. I don't think there's anything more fun than that.''
When it was over, the crowd – and bless them for showing up in big numbers – celebrated with a cascade of snowballs. The Buffalo players soon followed suit. Meanwhile, the Colts walked off solemnly, they're slimmer-than-miniscule chance of making the playoff lost in a snowbank, the harsh winds stinging their faces, reminding them of the long, cold, dark winter to come.